Welcome to the 766th Tablescape Thursday! Have you ever done an online search for unique flatware? Every so often I do that just to see what fun, whimsical flatware has been created. I love a beautiful elegant table setting, but my favorite tables are the fun ones, those tables that make you smile or feel a bit like a kid again. Sometimes it's the flatware that can really bring a bit of magic or fun to a table.
After sharing my table last week with this hilarious shark flatware, it put me in the mood to see what other unique flatware patterns were out there. Wow! There are a lot of new ones, ones I've never seen before!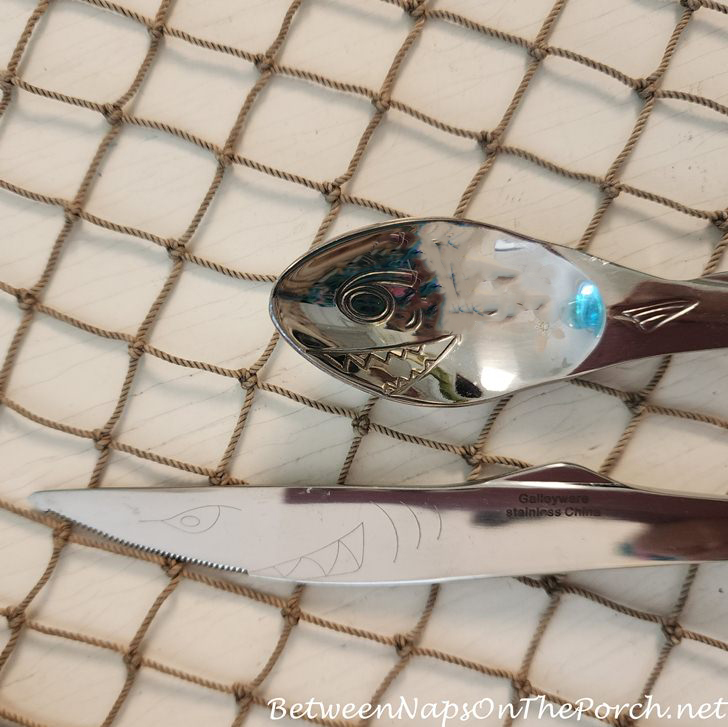 I have a lot of gold-rimmed dinnerware and whenever I use it in a table, I always wish I had a set of gold-toned flatware, or at least flatware with some hints of gold. I really love the mix of stainless and gold in this pattern. It adds the look of gold without feeling too over-the-top or too formal. It's also super reasonably priced at just $28 for 4 place settings! (Flatware is available here: Gold & Stainless Flatware.)
I love the look of bamboo flatware and have used faux bamboo flatware in tables before.
I really like the look of this gold bamboo flatware! I'm making that a goal this year–to add a set of gold flatware to my flatware collection. This bamboo pattern is available here: Gold Bamboo Flatware. I found several more gold flatware patterns here: Gold Flatware.
In early spring, I set a table that was all about the bees! I used this fun, bee-embossed flatware that I've had for many years in that setting. (Flatware is on sale here: Bee Flatware.)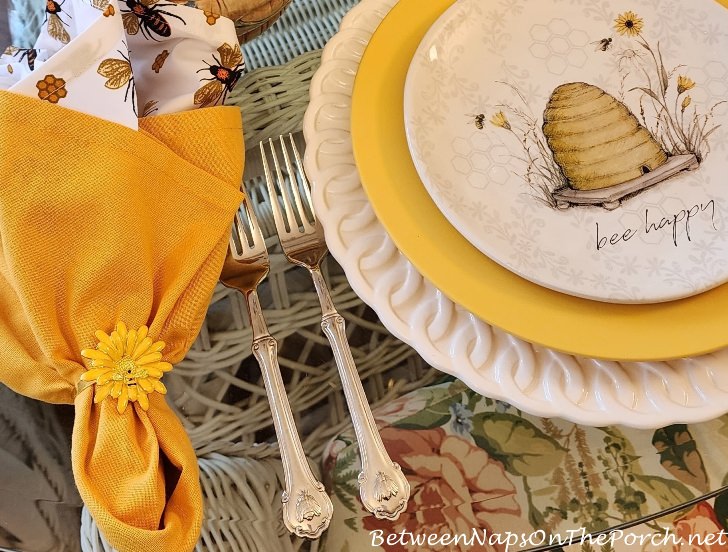 I'm so tempted to buy a set of this bee-autiful flatware! I love its honeycomb design and that's it made right here in the USA! I could see using it in many a spring tablescape. (Bee flatware is available here: Honeybee Flatware.)
I've never been tempted to buy black flatware until I came across this pattern! Based on its 4.7 rating in the reviews, it appears to hold up well to regular use. This would be so striking in an elegant table setting. I could also see it in a whimsical, Halloween tablescape. It's available here: Black Silverware Set for 8 with Steak Knives.
I think this tropical jungle pattern is my favorite of all the black flatware patterns I found. Do you see the hummingbird, the parrot, the flamingo, and the sloth? Love it! This whimsical, tropical flatware is available here: Tropical Jungle Flatware.
I love, love, love this floral butterfly pattern, too! I had no idea there were so many great, black flatware patterns out there! I definitely want to add a set to my tablescaping arsenal this year! You'll find this butterfly/floral pattern available here: Black Floral Butterfly Flatware.
Another fun black flatware pattern! This one definitely has a more modern feel, doesn't it? I like it though…very different! You'll find this checkered pattern here: Checkered Flatware.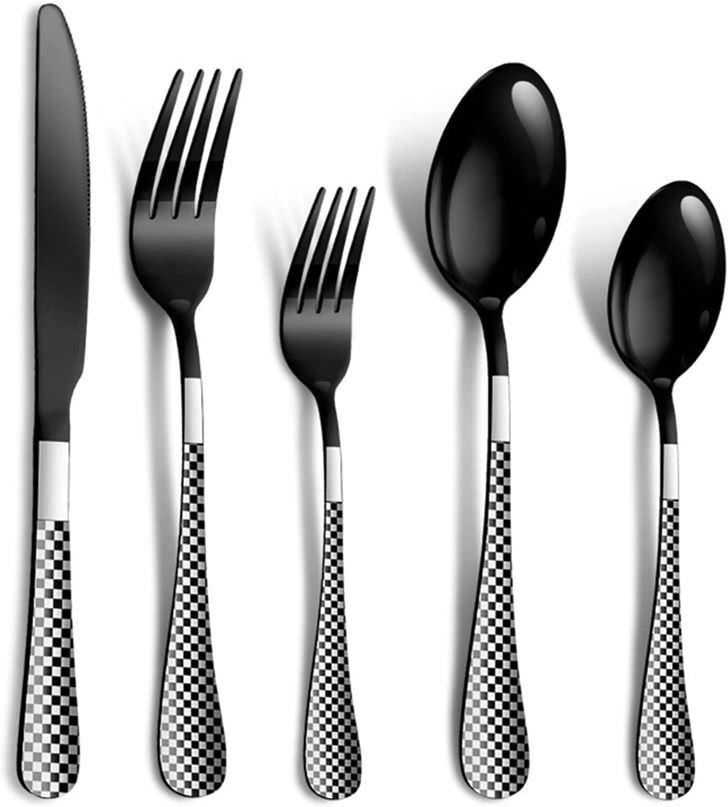 I have this flatware and it is so much fun to use! Here's how it looked in a Halloween/fall table setting. It pairs well with wicker/rattan chargers, too!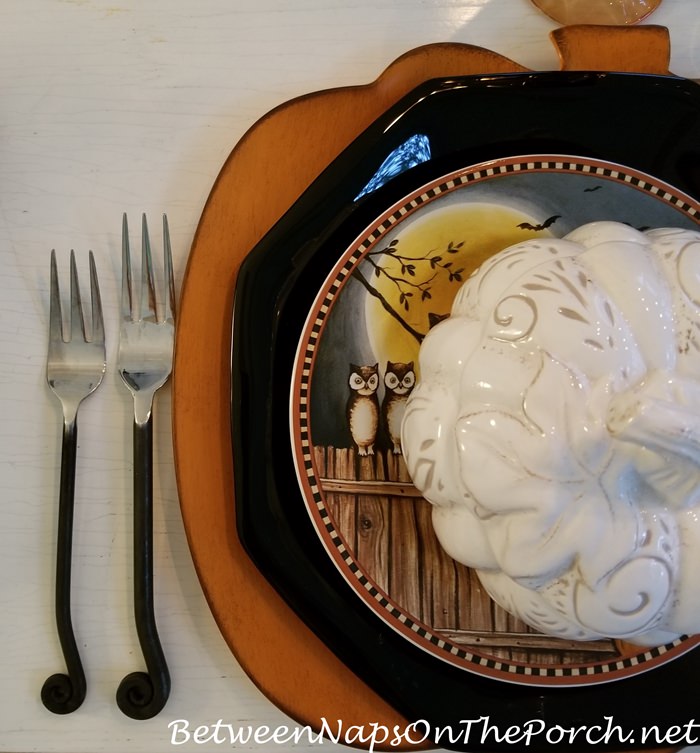 This whimsical flatware is available here: Curly Handle Flatware.
Wouldn't this flatware go great with my recently purchased flamingo napkins?! lol You'll find this fun flamingo flatware (also very reasonably priced) available here: Flamingo Flatware.
This next flatware brought back so many memories of my trip to Hawaii a few years back where I saw turtles peacefully sunning themselves on the beach. I had never seen that before and it was such a great experience.
I think I developed a turtle crush after that because I added these cute sandals to my summer wardrobe not too long afterward. (Sandals are still available here: Turtle Sandals.)
This would be such fun flatware to use during the summer months in beach-themed tables! You'll find it available here: Turtle Flatware.
Another great beach-themed pattern–they even captured the look of sand in the background of the design! I already have several beach-themed flatware patterns, but I love them so much I can never have too many! This pattern is available here: Shell, Anchor Nautical Flatware.
Such a cute nautical anchor and rope pattern! Arggh, so many great beachy patterns! You'll find this flatware available here: Nautical Anchor Flatware.
I have a friend who loves Palm Tree motifs on everything! Roberto Coin makes an adorable Palm Tree necklace that I've been eyeing recently. Palm trees make me think of soft ocean breezes and wonderful seaside vacations. This set is also very reasonably priced and is available here: Palm Tree Flatware.
Here's another wonderful pattern I would love to acquire! Soooo, I was just thinking, I love so many of these beach-themed patterns, it would be fun to buy a 20-pc set (4-place settings) of some of these, and use more than one pattern in a beach-themed table! Doesn't that sound like a fun idea? I think that's what I'm going to do–instead of buying 8 or 12 place settings of one pattern, I think I'll buy 4 place settings (20-pc set) of the patterns I most love and then mix/match them for a beach-themed table! What do you think? (This Seashell flatware is available here: Seashell Flatware.)
Which pattern was your favorite from all of the above? Do you own any black flatware or gold flatware? Do you like mixing different flatware patterns in a table setting?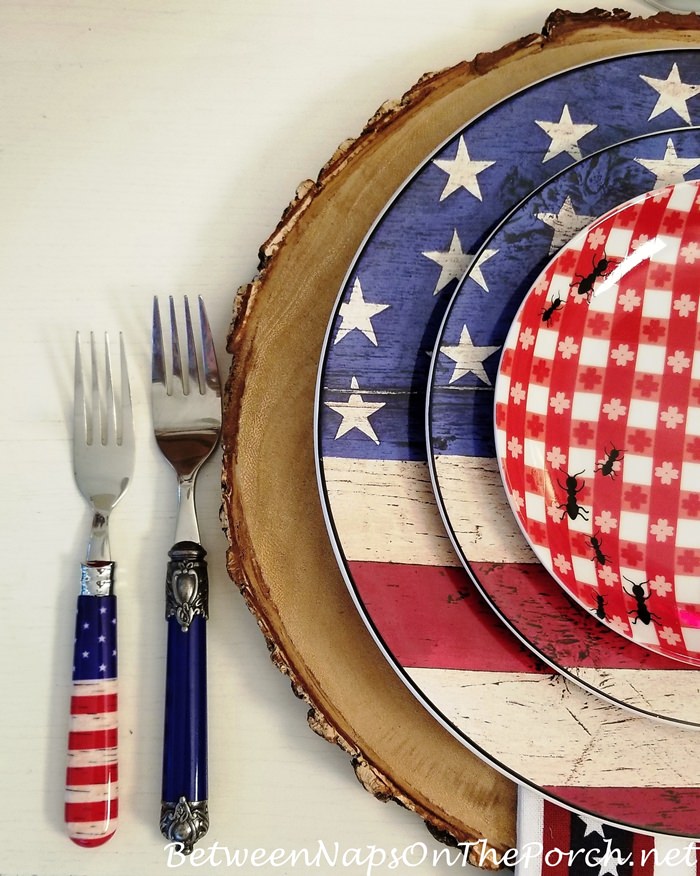 Looking forward to the beautiful tables linked for this week's Tablescape Thursday! (If you enjoyed this post, subscribe for email updates when a new post is up here: Subscribe for post updates.)
Tablescape Thursday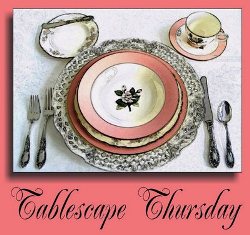 If you are participating in Tablescape Thursday, please be sure to add your permalink below, and not your general blog address. To get your permalink, click on your post name, then copy and paste the address showing in the address bar, into the "url" box when you link up. You'll need to include a link in your post back to the party to link up and participate. That's so visitors to your blog will be able to find the party and the other Tablescape Thursday participants. Please link up table-setting-related posts only for Tablescape Thursday. Please link up table-setting-related posts only for Tablescape Thursday.
You are invited to the Inlinkz link party!
*If a post is sponsored or a product was provided at no charge, it will be stated in post. Some links may be affiliate links and as an Amazon Associate, I may earn from qualifying purchases. *