We've been having beautiful autumn days here in Georgia. The nighttime temps are a bit chilly but then the days warm up so nicely–definitely the kind of weather where layering is in order. I tend to do a lot of layering even in the dead of winter because I don't like wearing a coat unless I'm going to be outside for an extended period of time.
I don't normally find a coat necessary if I'm just out running errands since I'm leaving a warm house, getting into a car that's toasty warm in just a few minutes, and running into a shop that's also heated. Then I'm just doing the reverse to head back home–so no coat needed. Plus, I really don't like driving while wearing a bulky coat–it just feels so awkward and uncomfortable to me. Does anyone else feel like that when driving while wearing a heavy coat?
Since I run around coatless much of the winter, one of my favorite fall-winter wardrobe hacks is layering with a vest. I purchased this vest below in this pretty ivory color a few years back and it's definitely a favorite. I love the ivory color because I can layer it over any of my sweaters and it always goes beautifully. If it's only a moderately cool day, I'll wear a long-sleeve, shirt underneath, but if it's really cold out, I'll wear a sweater underneath with a long sleeve t-shirt under the sweater. That works perfectly–no bulk, just toasty warmth!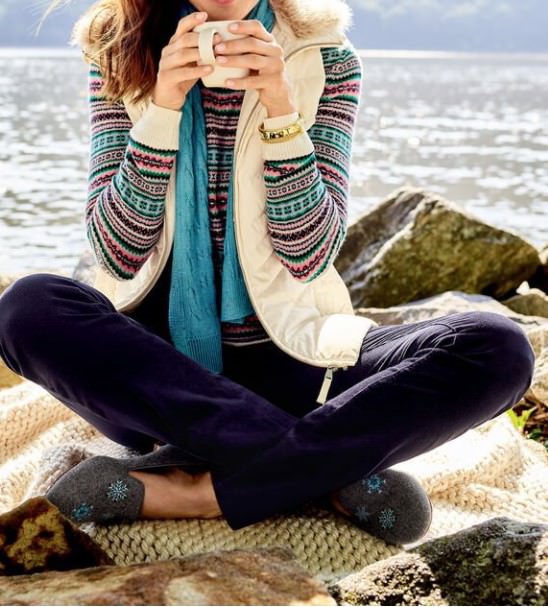 I love this vest so much, I ended buying a similar one in red. Both work great with the colors in my fall/winter wardrobe.
This is the last day, but Talbots has a great sale going on right now that's 40% off any one item with the code WARM and 30% off everything else.
I very much recommend this vest if you love wearing sweaters in the fall and winter and love to layer, as I do. If you only buy one, consider getting it in the ivory color since it will go with all your sweaters and tops. That's the one I wear the most during fall and winter. Black would also be a good choice for pairing with most sweaters/shirts. You'll find this vest available in nine colors here: Vest in 9 Colors.
I have this in my cart right now. I love a tunic top because of how long they come down. I really like the design of the neck on this one–it looks warm but without that suffocating feeling you can sometimes get with a turtleneck. You'll find it on sale here: Split-Neck Fair Isle Tunic.
Another Favorite in My Winter Wardrobe
When I'm wearing pants or jeans, you can pretty much count on them being from Talbots. I love, love, love their "curvy" fit since they fit me as if they were bespoke with no gap in the waist. During the wintertime, I like to wear corduroy pants since I find them so much warmer than denim, but I don't want any extra bulk. Their cords are perfect-warm without a lot of bulk! So far this fall, I've purchased them in the colors Indigo Blue, Black, and the Ivory color below. I love that they are available in both the slim-ankle style and the jeggings style.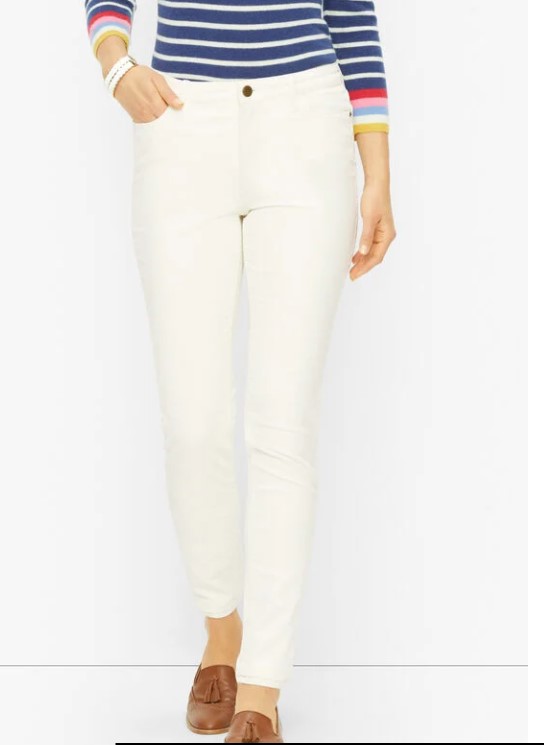 I've been buying my jeans and pants in the jegging style for years now. One thing I've noticed with the corduroy jeggings is they are not quite as fitted as their denim jeggings. I like that for winter–find it to be warmer. Also, you could even wear tights under these if you wanted extra warmth since they aren't as fitted as the denim jeggings. This is a picture from a previous year but this best shows the slightly relaxed fit of the corduroy jeggings. I really do like this more relaxed jegging for winter. If you need some beautiful, warm cords for fall/winter, you'll find them on sale in the Jegging style, in both the regular and the curvy-fit here: Stretch Corduroy Jeggings in both Regular and Curvy Fit.
A Little Story: I had never worn jeggings before a BNOTP reader mentioned them in a comment a few years back. I thought they were a style that would only look good on the very young—like teens and 20-somethings. Boy, was I wrong! They are sooo much more slimming than regular pants. I'm only 5'4″ tall and regular style pants tend to make me look a lot shorter compared to jeggings. When I wear jeggings, I feel like it takes 20 lbs off my frame, as compared to regular pants.
I think they look best with a longer top that covers part of your tush, that's the way I wear them. If you are older (like me) and don't think that you can wear jeggings. I would encourage you to try them to see what you think. You can always return them if you don't like how they look. It's pretty much all I wear now since they are so much more flattering than regular pants–also a lot more comfortable since they normally have some stretch built-in. I'm so thankful for the person who mentioned she wore nothing but jeggings in a comment many years back! I totally get it now! You'll find them on sale in the Jegging style (in both the regular and the curvy-fit) here: Stretch Corduroy Jeggings in both Regular and Curvy Fit.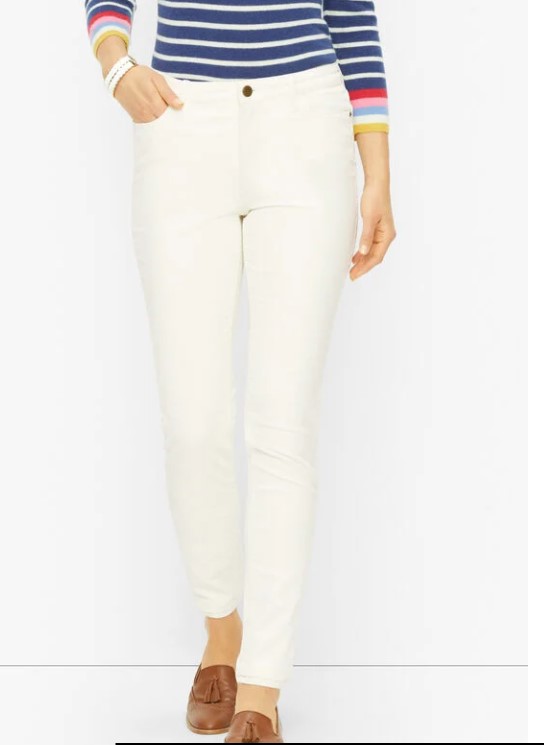 If you prefer a straight leg style cord (like below) over a jegging style, you'll find the straight-leg cords on sale in both Regular and Curvy-fit here: Straight Leg Corduroy in both Regular and Curvy Fit.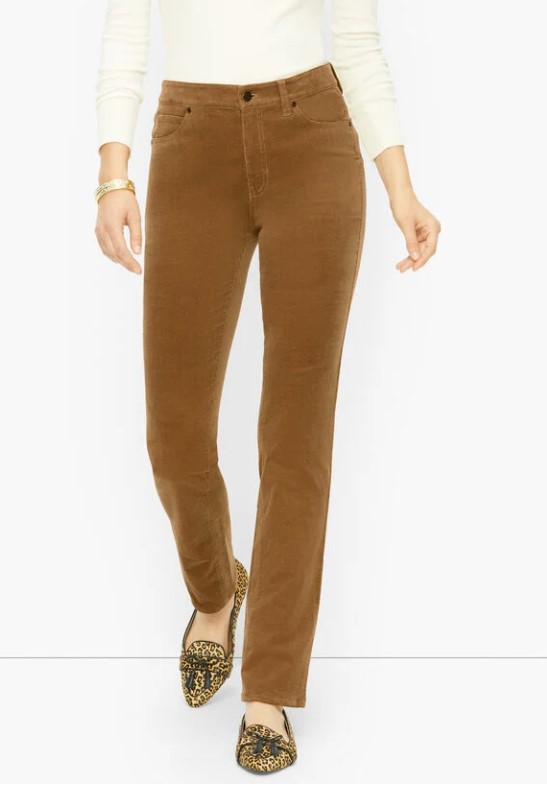 The denim/jeans that I tend to wear the most in winter are these black jeans below. This is how they look in the Jeggings style. Again, I find that they are super flattering and magically seem to take pounds away–love that!
Here's how they look in the slim-ankle style–not quite as fitted as the jegging style. You'll find these available here in all styles and fits (regular and curvy) here: Black Denim Jeans.
Winter Boots
I always love to check out their boots when they are having a sale. I love the style of these! You'll find them on sale here: Faux Sherpa Trimmed Boot. (Don't forget to use the code WARM to get 40% off one item, then everything else will be 30% off.)
I really like these Sorel boots but I don't think they are included in the sale.
If you love the look, you'll find them here: Sorel Shearling Trim Waterproof Boot.
These caught my eye because they have that croc look but they are really just leather that's embossed to look like croc. Love the look! You'll find them on sale here: Leather Boots.
Happy Autumn Shopping!
*If a post is sponsored or a product was provided at no charge, it will be stated in post. Some links may be affiliate links and as an Amazon Associate, I may earn from qualifying purchases. *