When I visited my friend, Marie's beautiful home a few days before Easter, her home was decorated in the most wonderful, fanciful way for spring. Though I've posted a couple of times sharing her spring decor, I wasn't able to share everything. I could not let you miss out on her darling bunny tails and egg garland! At the end of this post, I'm sharing a few items that I ordered and arrived today. I love them all and thought you would enjoy seeing them, too.
Marie's Fanciful Spring Decor
You may remember Marie's darling spring/Easter tree in the breakfast area of her kitchen from this post: A Visit to Marie's Beautiful Home for Easter. It stays up year-round and gets decorated for the various seasons and holidays.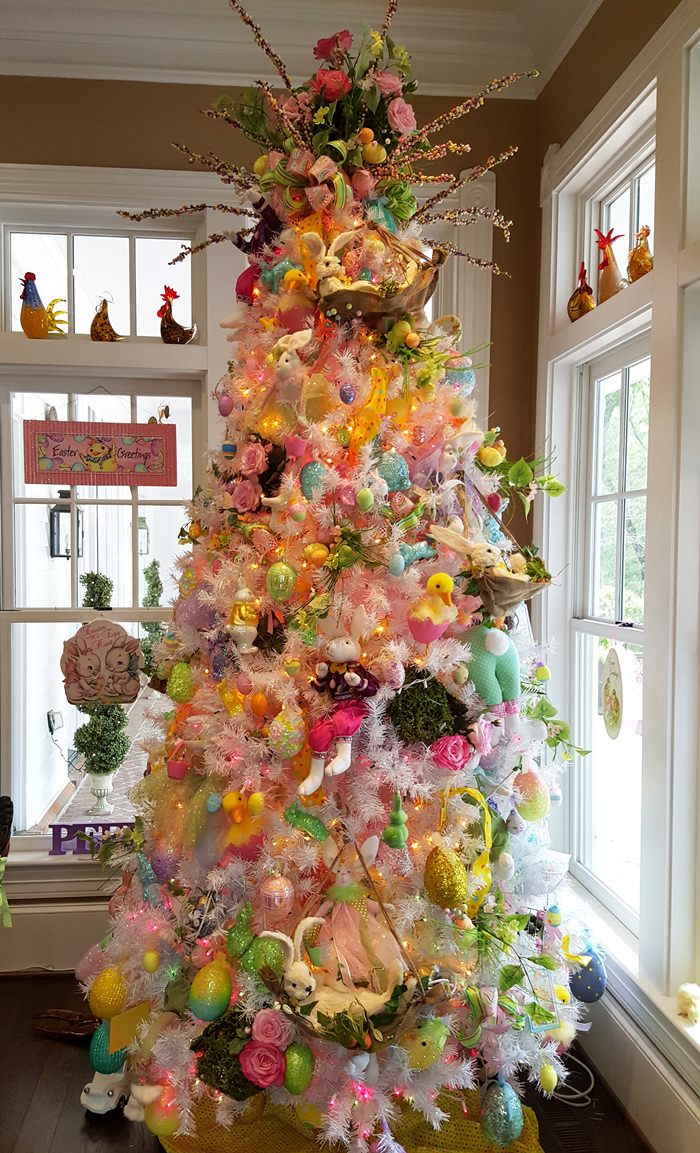 Just across from the breakfast area is Marie's kitchen. (Photo below is from a previous post.)
For spring, Marie added two adorable bunnies to the space above her cooktop/range area. Aren't they absolutely perfect there!
Here's a photo showing this whole area. Sorry it's blurry, but thought it was worth including in this post to give you an idea of how beautiful this area is in Marie's kitchen.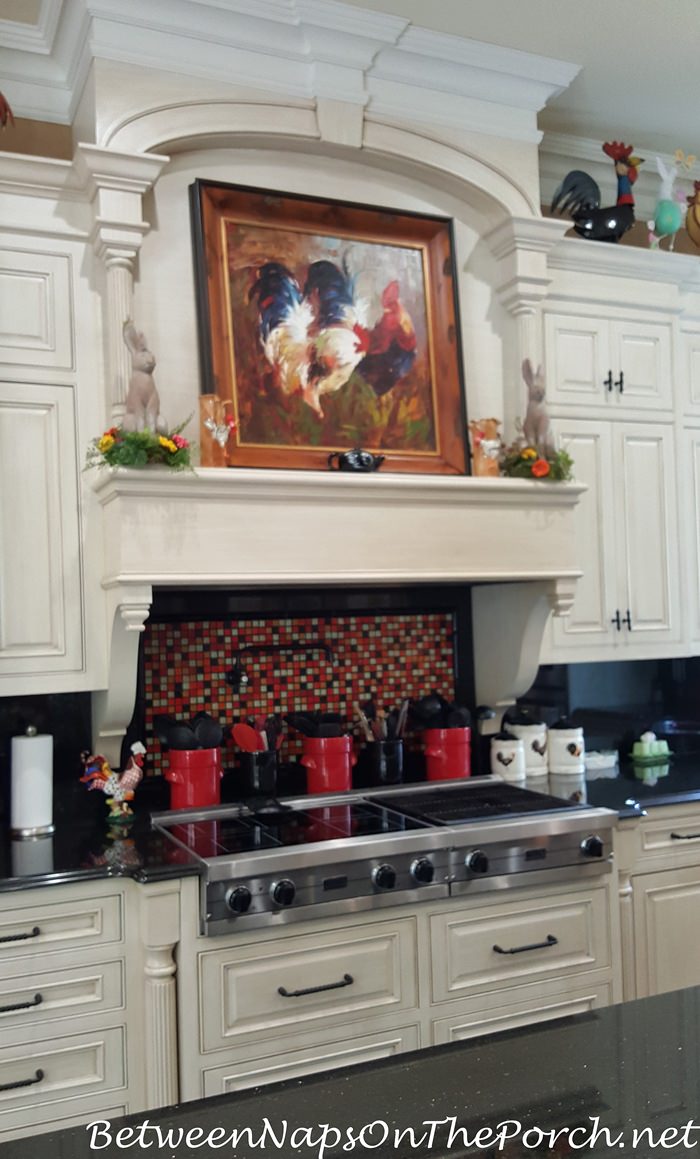 I laughed out loud when I saw her bar chairs around the large kitchen island. Love them! 🙂
Marie wasn't home that day for me to ask where she found these, but they are awesome! Actually, they wouldn't be that hard to make, would they? They could be held together around a chair with a bit of velcro. I may have to make some for next Easter for my porch dining table chairs.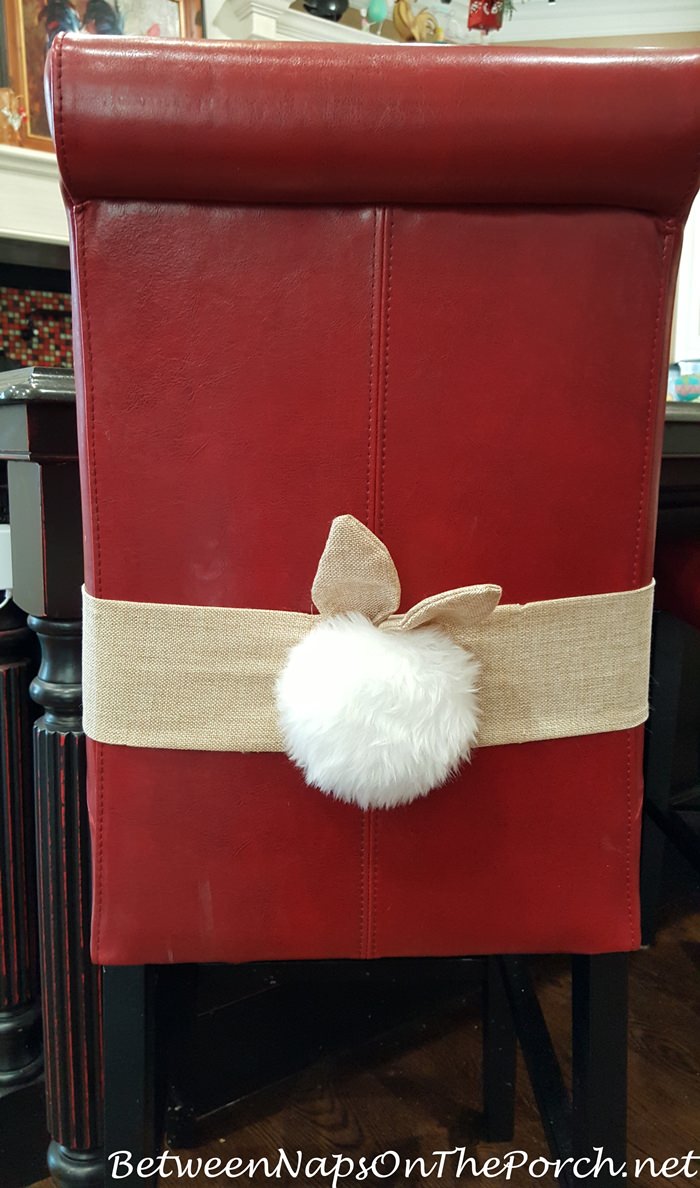 Marie always plans well in advance for each season/holiday. You may remember when I shared this preview of some garland she had ordered in early spring. Several folks ask to see where she used the garland. I meant to share that in a previous post so thanks for the reminder.
Here's where that beautiful spring garland ended up, decorating Marie's main staircase handrail.
My camera really couldn't capture how pretty it was! It's gorgeous in person!
Love garland on your staircase? Who says it has to only be for Christmas! Marie found her egg garland at Pier 1.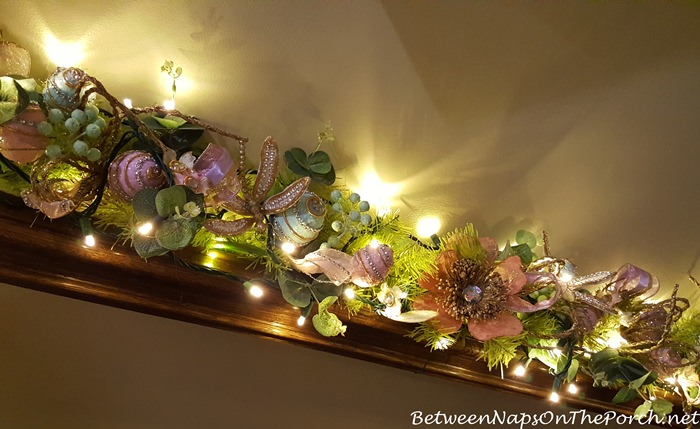 I love this little vignette Marie created for her butler's pantry off the kitchen. Marie's home is a magical, fairly land, no matter the time of year. I so love sharing it with you!
Some Goodies Arrived Today
You know how sometimes you order something and hope it won't disappoint–then it arrives and it's even better than you expected! That was my day, today. I've been in an earring mode lately and I came across these beautiful Swarovski crystal butterfly earrings online for just $20! I figured there was no way they would be as pretty in person as they were in the photos for that awesome price, but the reviews were so good I decided to take a chance.
I noticed the information about them stated: "Environmentally friendly material copper alloy with white gold plating makes it exactly the charm earrings you want and no worry about sensitive ear." My ears can sometimes react to earrings but since these were covered in white gold plating, I though I'd give them a chance. I've been wearing them all evening and so far they aren't bothering my ears at all. Yay!
They arrived in the cutest box, you would think I had ordered them from a luxury brand with this packaging! Tucked inside the box was a small pink cloth that's perfect for polishing the butterflies if they get smudged with perfume or fingerprints.
This photo doesn't do these earrings justice! I'll have to take a photo tomorrow in natural light. They are really beautiful and larger than I thought they would be. I was afraid they would be small, but they are the perfect size!
At only $20, I ordered them in blue, as well. They are available here: Swarovski Butterfly Earrings.
Update: Here's a better photo of the earrings. I just love 'em! 🙂
The other earrings I ordered and that also arrived today are these Swarovski Zirconia "diamond" stud earrings. Since real diamond studs aren't in my budget at the moment, well at least not in a size that you can actually see with the naked eye, I decided to give these a try.
I ordered the 2 cttw size (1 cttw per ear) and they are beautiful! They aren't too big, in fact, I think I'm going to order them in the next size up, as well.
Since they are platinum-plated, I'm hoping they will not create issues with my sensitive ears, either. At only $15, I'm willing to take a chance. They are available here: Platinum-Plated Swarovski Zirconia Stud Earrings.
The other thing that arrived was this body glide anti-blister stuff. A YouTuber I follow highly recommended it for when you're wearing new shoes that could cause a blister. I had placed it on my wish list, but never got around to ordering it. Big mistake!
Recently, I purchased new sandals for summer and though they are leather, they are really stiff. After they arrived, I wore them around the house with thin socks and thought I had broken them in. Ha!
I wore them on a recent shopping trip and I now have a big blister on my left pinky toe. As soon as I got home that day, I ordered this anti-blister stuff and it came today. Once my blister heals and I can wear my sandals again, I'm going to give it a try. The reviews look pretty good so I'm hoping it will help me avoid getting another blister until the leather softens up some on my sandals.
Anyone ever use this before and did it work? It's available here: Anti-blister Body Glide.
So glad I was able to share more of Marie's beautiful home decorated for spring and Easter. Happy Spring, dear Friends!
*If a post is sponsored or a product was provided at no charge, it will be stated in post. Some links may be affiliate links and as an Amazon Associate, I may earn from qualifying purchases. *