Last week for Tablescape Thursday, I shared a fun St. Patrick's Day table setting with a Shamrock Cookie Tree centerpiece. If you missed that tablescape you'll find it here: St. Patrick's Day Table Setting and you'll find the recipes for Shamrock cookies and icing here: Shamrock Sugar Cookies and Icing Recipes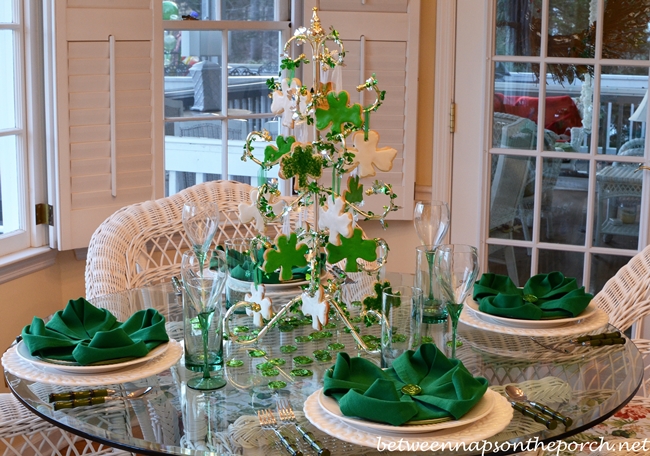 The tablescape also included a napkin fold in the shape of a 4-leaf clover. Several folks asked for a tutorial showing how to make this fold so I got busy created one I hope will be helpful.
This fold can be a bit tricky at first but it really isn't hard once you get the hang of how each leaflet is made. So don't let it intimidate you; it really isn't that bad at all. 🙂
Square Napkins Work Best
This fold is best made with napkins that are really good and square. Some of my napkins were not square and it made the fold a lot more challenging. So, save yourself a lot of frustration and use napkins that are nice and square.
Tip: This fold is best made atop an ironing board since you'll need to press the folds with a hot iron once during the folding process.
Okay, lets get started.
Start by placing your napkin on a flat surface with the non-printed or "wrong" side facing up.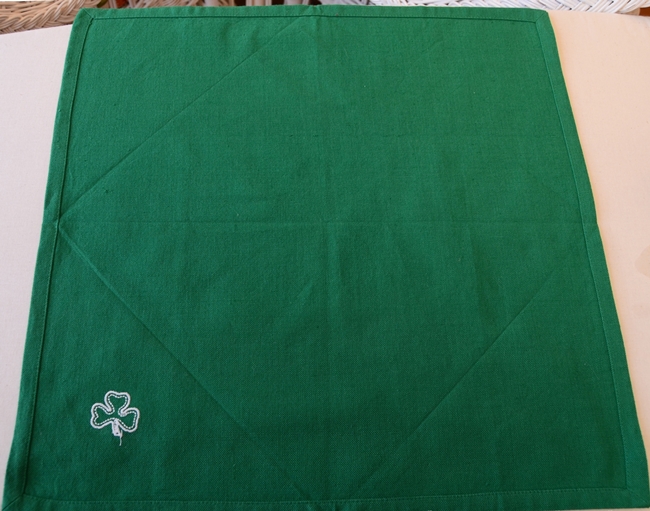 Fold the bottom left and right corners upward and inward toward the center of the napkin.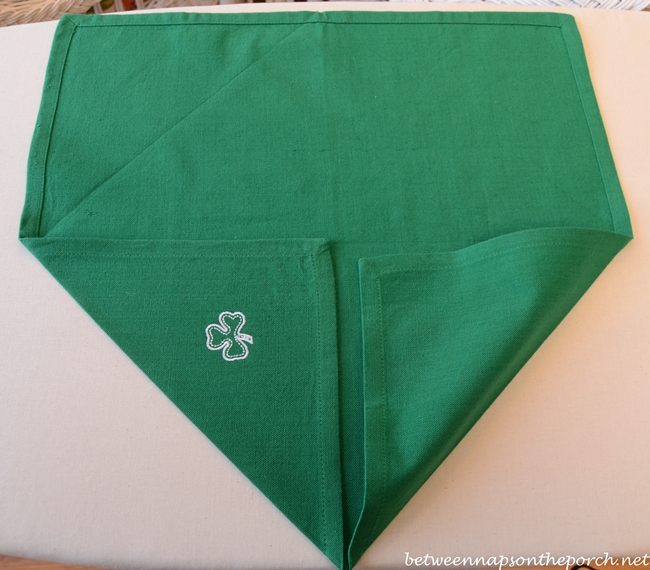 My napkin had a little shamrock on it but it ended up hidden in the end.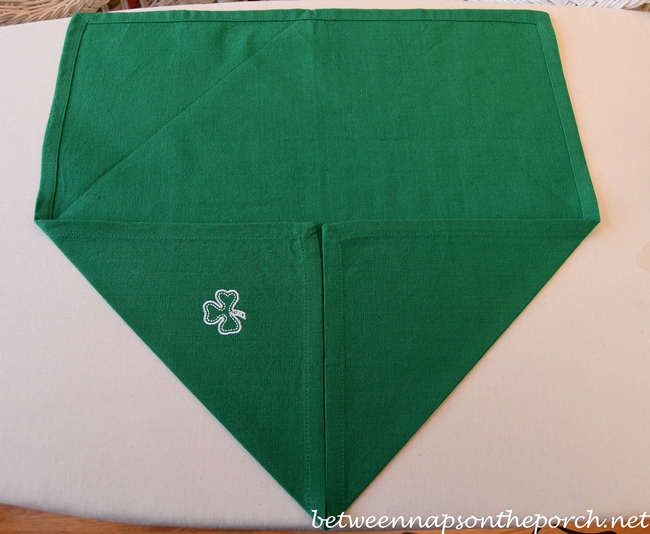 Next, fold the top left and right corners downward toward the center of the napkin, as well.
Here's the only time you'll need the iron. Press down the folds you just made with a hot iron.
Now turn your napkin over.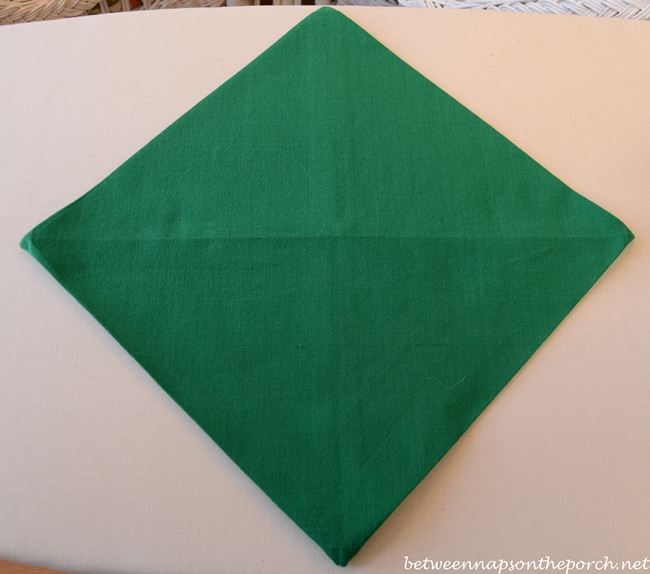 Again, you'll fold all the corners inward toward the center of the napkin.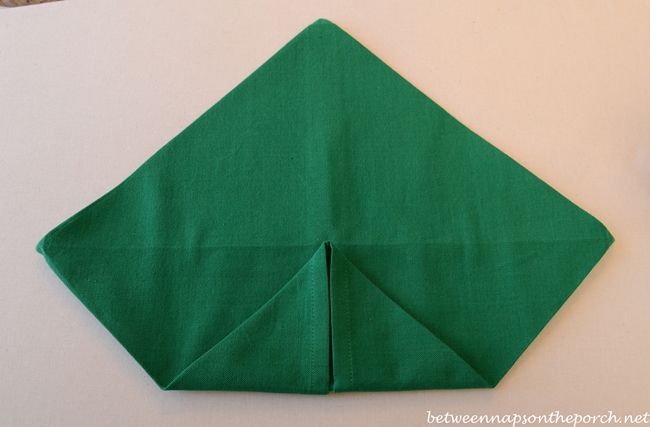 Continue folding all the corners inward, as shown.
Here's how your napkin should look once all the corners are folded inward toward the center.
This is where it gets a little tricky. We're going to create the four leaves of the clover. Start with one corner and fold it upward to where it's standing straight up. Just leave it standing up as shown below
See where the arrow is pointing in this picture below? It's pointing about one and a half inches (1 1/2 inches) or half-way down the back side of that folded up section. With a pinching type motion, using your thumb and forefinger, pull the fabric out and upward where the arrow is pointing. This is going to pull a little fabric up and out from underneath your napkin.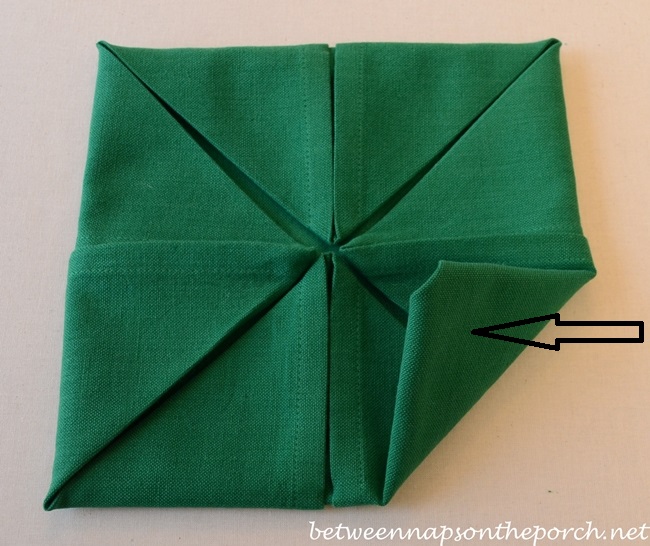 Once you pull out on the fabric with your pinched thumb and forefinger, your napkin will look something like this. Looks kind of messy doesn't it?
Next you'll just tuck the fabric down on top, creating a little valley with the extra fabric you pulled out from underneath your napkin. This was the part that threw me for a loop at first.
It isn't hard once you realize, all you're doing is pulling some fabric upward from underneath the napkin and then using that excess fabric to create a little valley. (Note the valley created where arrow is pointing below.)
Repeat this process for all four corners, first turning the corner upward as shown below so you can access the fabric on the back. Then pinch up the fabric about half way down the back with your thumb and forefinger so you can pull the fabric outward and upward from underneath the napkin in that corner.
Here's how it looks right after you've pulled the fabric out and upward…kind of messy. But that's okay because you're going to use your fingers to make a little valley between that front section and the fabric you just pulled out from underneath.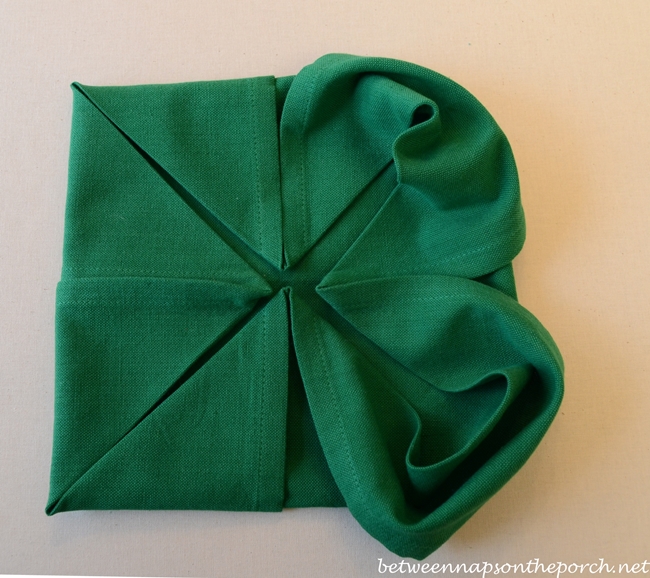 Again, here's how it will look once the valley is created.
Tip: There are two ways you can leave these sections looking:
1. You can leave the leaflets flat like you see in the top right section,
or
2. You can leave them looking kind of full and fluffy like I left them on the bottom right section. I personally prefer the fuller, fluffier look so I folded the rest of the napkin that way.
Once you have pulled the fabric out from underneath all four corners and have created the little valleys for each section, your napkin will look like this. Place a mint, coin, shamrock or any decorative piece in the center of your fold to hide where all the sections come together.
This fold creates a large, eye-catching display. It really is a show-stopper of a fold. Place your 4-Leaf Clover napkin in the center of your place setting for a beautiful, dramatic look. Enjoy the ooohs and ahhhs of your family and dinner guests. 🙂
Like creating fun napkin folds? You find 10 additional napkin folds including a bunny fold for Easter and several for beach themed table settings here: Napkin Folding Tutorials They are also listed under the Tablescaping category at the top of BNOTP if you ever need them for the future.
*If a post is sponsored or a product was provided at no charge, it will be stated in post. Some links may be affiliate links and as an Amazon Associate, I may earn from qualifying purchases. *