Welcome to the 542nd Tablescape Thursday!
Yesterday I stopped by Pier 1 to see what new goodies they had in for spring. The first thing that caught my eye when I walked in the door was this fluffy pile of bunny ears and cottontails. lol
I had to see what they were so I looked a bit closer. Ohhh, they're little burlap wraps to go around the back of a chair. Sooo cute! Would love a set for my chairs on the porch! If you need some of these for your spring decor, you'll find them here: Bunny Cottontails.
I was so happy to see they brought back the driftwood chargers I bought last year when I created a surprise tablescape for my daughter-in-law, son and grandsons.
While visiting with them last summer, I put this summer/beach themed table together while they were away for a few hours.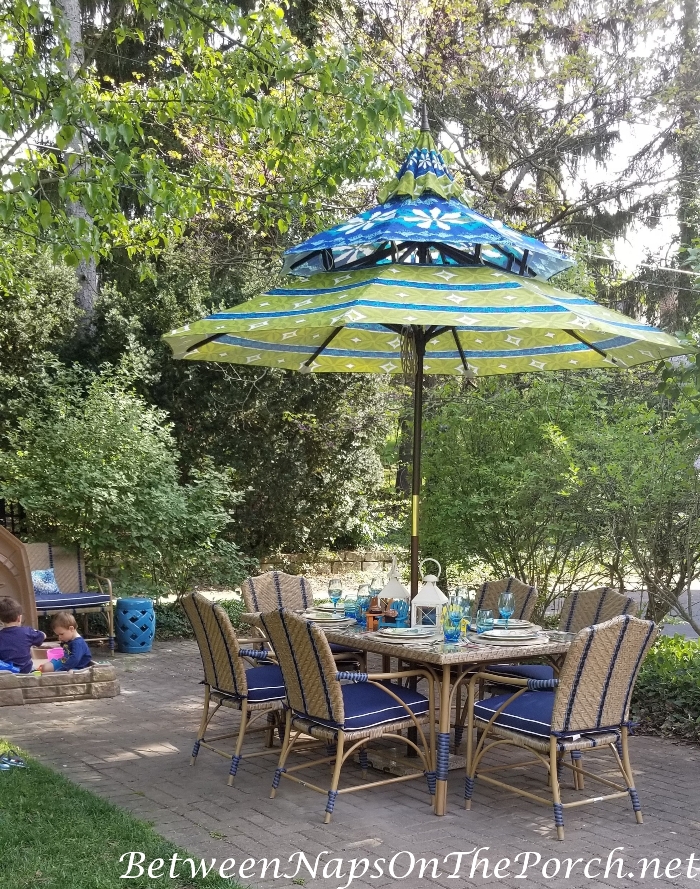 The driftwood chargers worked great in this outdoor setting. See this table in full here: Summer Table.
I liked the driftwood chargers so much, I ended up purchasing a set for myself before I left to head back home. Here's how they looked last summer in a 4th of July table setting out on the porch. As you can see, they are quite versatile going from a beach/seaside themed table to a patriotic one. They are one of my favorite chargers and I'm sure you'll be seeing them again this summer. (See this table in full here: Beach-Themed Table for the 4th of July.)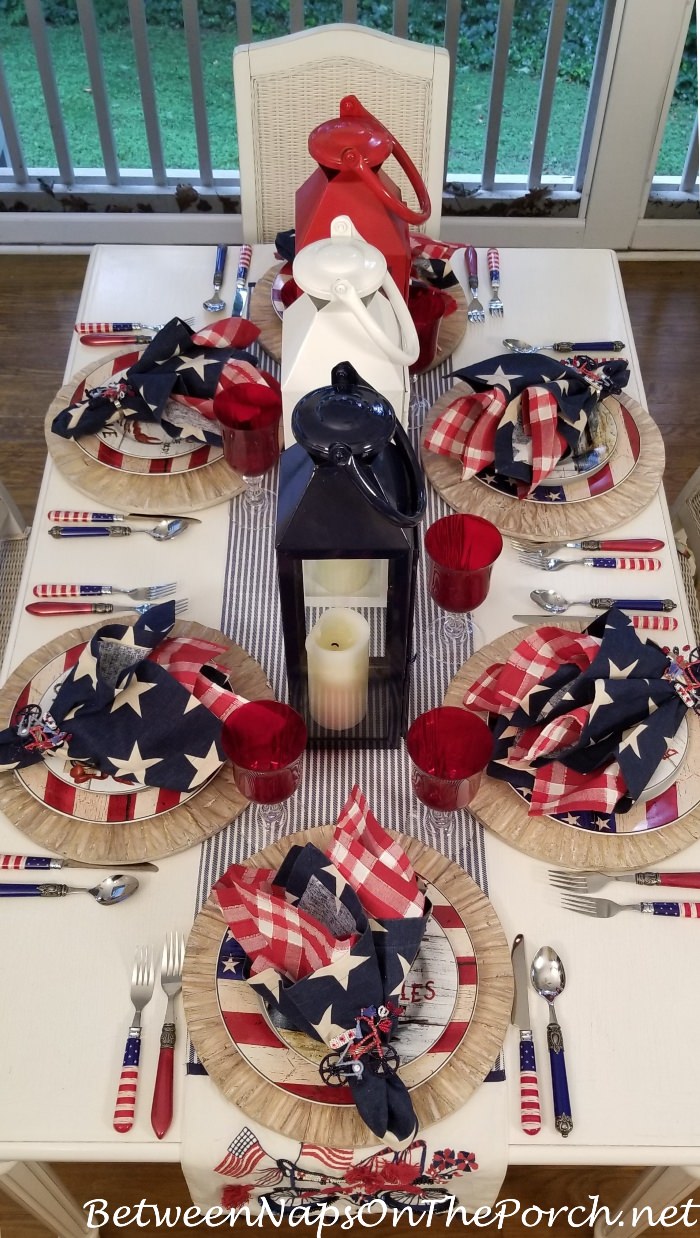 Love the scalloped-edged gingham plates they paired the chargers with in this setting. If you prefer soft, subtle colors for your summer tables, this would be beautiful! Chargers are available here: Chargers. Gingham plates are available here: Gingham Plates.
For the bird lovers…so cute! These are available here: Birdie Plates.
They have so many cute patterns in for spring. This one is done in a very soft finish, not shiny like most dinnerware. Notice the yellow edged rim. I really like that, makes me think of sunshine.
If you don't like bold colors but prefer a softer palette, this is a beautiful one for summer! You'll find it available here: Spring Floral.
This beautiful setting caught my eye.
Surprisingly these plates are melamine. Melamine has so dramatically improved over the years, I thought they were ceramic until I touched them.
You'll find this pattern in two different designs/sizes here: Dinner Plates and here: Floral Plates.
Another pretty summer pattern I saw during my visit…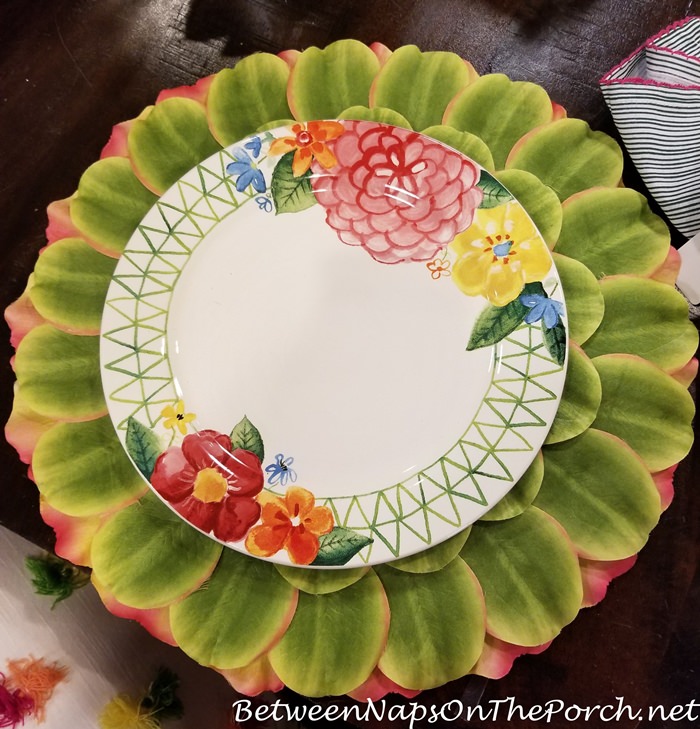 These were my favorite from this visit. Just look at that bunny face! I think I will need 6 of these salad plates for a spring table this year. Sooo cute! You'll find them available here: Bunny Plates.
As I was leaving the store, I saw this beautiful marble and wood serving board. I love it! Wouldn't it be perfect in a kitchen with a mix of wood/butcher block countertops and a marble island? I may have to go back and buy this piece…it was so beautiful in person! You'll find it here: Marble/Wood Server. There's a heart-shaped version here: Heart Wood/Marble Server. I love them both but I think I like the round one best.
I love these soft Peony dishes that are currently on sale…so pretty! You'll find them on sale here: Peony Plates for Spring.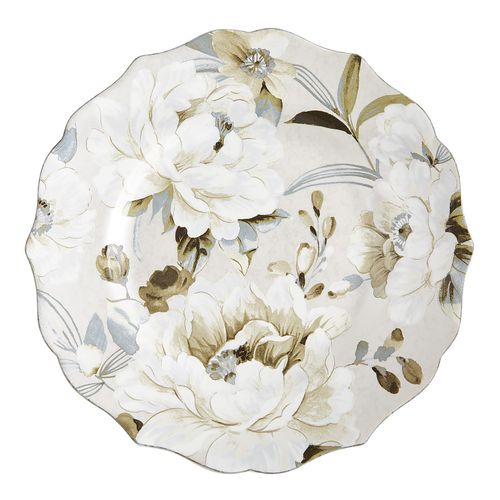 Pier 1 has all their napkins, table runners and table cloths on sale right now. The selection in my local store wasn't the greatest. I found it's much better online. Check out all the linen/napkins here: Linen Sale. I really like some of their spring table runners!
Happy Spring Shopping!
Tablescape Thursday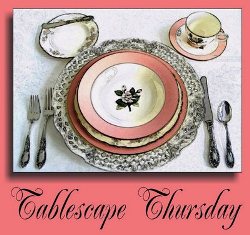 If you are participating in Tablescape Thursday, please be sure to add your permalink below, and not your general blog address. To get your permalink, click on your post name, then copy and paste the address showing in the address bar, into the "url" box when you link up.
You'll need to include a link in your post back to the party to link up and participate. That's so visitors to your blog will be able to find the party and the other Tablescape Thursday participants. Requiring a link back also prevents businesses and scammers from linking up to sell their products. (Yup, that really happens, unfortunately.)
This party has ended, click button below for the links to all who participated.
*If a post is sponsored or a product was provided at no charge, it will be stated in post. Some links may be affiliate links and as an Amazon Associate, I may earn from qualifying purchases. *