It's been a minute since I've really felt like myself. Yesterday I committed to something that I wasn't sure I was really up to. I'm so glad I did because I think it was the best thing I could have done. I was trying to chase down some of these adorable cozy pumpkin pillows. You may remember when I shared these in a recent post. I tried to resist them but it was futile. I love anything that even hints of cozy and these were just too adorable.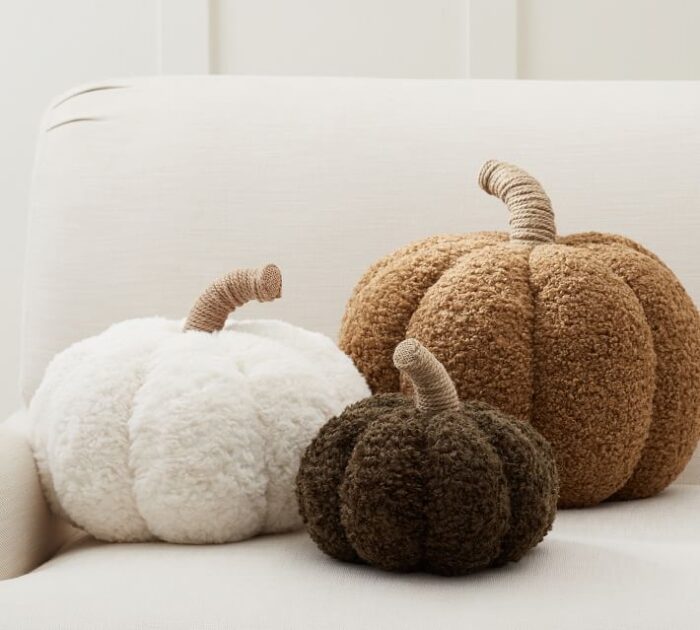 I located the ivory colored one in a local Pottery Barn and it's being shipped to my home. When I found the large brown one in another PB, the sales associate asked if I wanted to pick it up. It was available in a pretty, outdoor shopping area here called Avalon. Avalon is always fun to visit because there are some great shops there that aren't usually available to shop in person–shops like Vineyard Vines, Orvis, Sundance, J. McLaughlin, West Elm and Anthropologie. There's even an Apple store and I noticed a shop called Onward Reserve is coming soon.
I hesitated a second, then decided to go for it even though I wasn't feeling that hot yesterday. I'm so glad I did because the walk I took around Avalon did me a world of good. Ever since my outing this morning, I've felt the most back to normal I've felt in a few weeks. Maybe it was all that fresh air and just the excitement of actually shopping in person again. It's gorgeous weather here right now in Metro Atlanta. The temps were in the 70s/80s and it def still felt like summer today.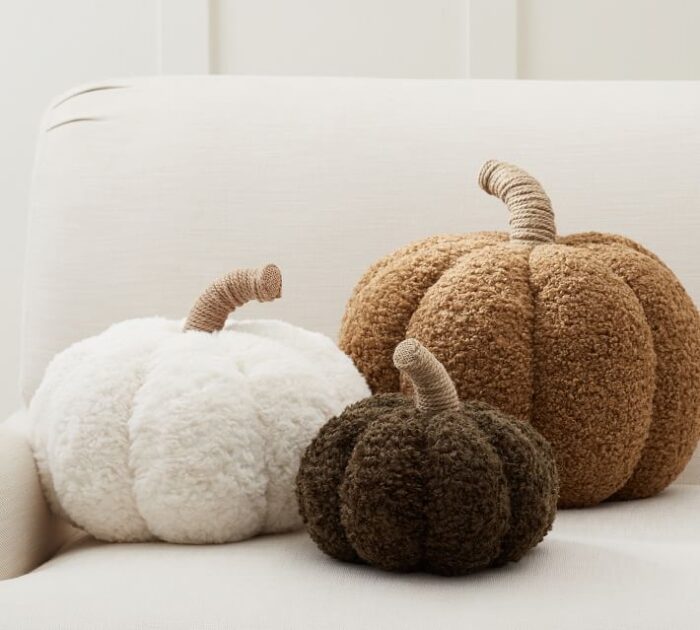 The sweater I had ordered from Talbots arrived while I was in Ohio. Originally, I had planned to order it in this camel color below. At the last minute, I changed my mind and ordered it in navy. After seeing it, I realized the navy was way too similar to the black one I already have in this style. I stopped by Talbots today and fortunately, they had it in the camel color so I was able to see it in person.
If you've been thinking of ordering this sweater, you don't need to size up. I had sized up to a medium when I ordered it in the navy so I could wear it over thicker sweaters/tops, but the medium was actually too big. I ended up exchanging the navy for a small in the camel color and it fits great with still plenty of room for a sweater or turtleneck underneath. I do love the camel color! This has taught me I need to stay with my first instinct when choosing a color. You'll find it available here in several colors: Sweater.
So about those pumpkins…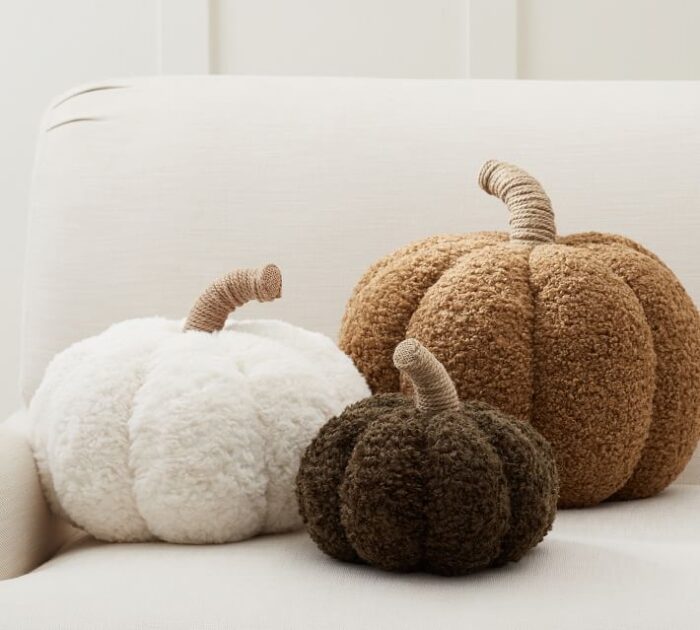 I'm still waiting for the other two colors (ivory and loden) to arrive but here's where the BIG brown one has landed for now.
I love it!
They refer to these pumpkins as pillows but there's no way anyone is going to use this big pumpkin as a pillow. lol I love it though as a decorative piece. It definitely feels cozy to the touch. I was told that these have been really popular and keep selling out as soon as they restock them. If they are available online as you're reading this, you'll find them here: Cozy Pumpkins. If they aren't available, check back. I wouldn't be surprised if they get more in since they've been so popular.
While in Pottery Barn, I spied this table and snapped a quick picture for you.
Here's a close up of the dinnerware.
After I picked up my big 'ole fluffy, brown pumpkin, I was feeling so good I decided to check out Sundance. I still can't believe we have a Sundance here in the Atlanta area. Sundance is owned by Robert Redford (at least, I think it still is) and they always carry beautiful, whimsical Boho/western-style clothing. I love browsing even when I don't buy anything. If you do find something you love, you definitely won't see yourself coming and going because their clothing tends to be really unique.
You may remember a few years back when I shared these adorable Old Gringo boots that I purchased from their online store.
I love these boots sooo much! I need to pull them out and wear them some this fall.
I don't think they are available now since I purchased them several years ago, but you can see all the boots they currently have in stock here: Boots. Update: They have some that are similar here: Flower Boots.
I have always wanted to own a pair of their beautiful embroidered jeans, but whenever I see them online, they are always being worn by young girls who appear to be in their 20s. I've come very close to ordering them, even going so far as to call their customer service for advice on sizing, but in the end, I've always chickened out figuring they wouldn't work for my body shape. I can be hard to fit in jeans because when they fit my hips and my tush, they usually gap out in the back at the waist.
By the way, I'm linking to all the items I'm sharing in this post at the very end of this post, so if you see something that catches your eye, check the end of the post where you'll find picture links to those pieces. I'll try to include them all.
While I was in Sundance today, I asked the ladies working there (they all appeared to be around my age) if they had any embroidered jeans they thought would work for me. They recommended a pair and I was shocked to find they actually fit! These were the ones I purchased below.
The style I purchased is called the Jackie and I was told that all the Jackie jeans should fit the same.
These are available here: Embroidered Jeans.
I was so excited that their Jackie jeans fit, as soon as I got home I went online to see what other designs they had in the Jackie style. These are also Jackie jeans and they are currently on sale!
Are these not made for me?! I couldn't believe it when I saw the bird design!
I immediately purchased a pair in the same size I had purchased in the store today. You'll find these on sale here: Embroidered Jeans on Sale.
In case it's helpful for sizing, I wear a size 6 in Talbots "curvy" style jeans (both skinny and straight-legged) I took a Size 29 in the Sundance embroidered jeans. These jeans have a lot of stretch, so they are very forgiving. They are 98% Cotton and 2% Spandex.
If you're my age, don't think you're too old to wear Sundance clothing or Sundance denim jeans. Several of the sales associates who were around my age were dressed in Sundance clothes and they looked fabulous!
I have this thing for Fair Isle sweaters. I had zero Fair Isle sweaters a few years ago and I've been gradually adding one or two per year to my wardrobe. This may be the one I add this year.
This photo shows it much better than my indoor lighting shot above. So pretty! You'll find it available here in two colors here: Fair Isle Sweater.
I had to check out their shoes/boots. They always have a unique, can't-find-it-anywhere-else selection! I've tried to link to some of these shoes/boots at the end of this post.
These look so comfortable!
I wish I had taken the time to try these on. I love how they look!
This sundress is currently on sale but it's almost sold out. I've linked to it at the end of this post.
See all the clothing that's currently on sale here: Current Sale. This sweater was on sale when I started this post but unfortunately, it sold out while I was working on the post.
I love this sweater and it's in stock in several colors. I don't think it's currently on sale. I've also linked to it at the end of this post.
Another sweater I really like! I like the length of their sweaters, great for us shorter folks.
This gorgeous dress is currently on sale and you'll find it here: Floral Blue Dress.
Same for this Poppy shirt, it's currently on sale here: Poppy Shirt.
I was smitten by their beautiful crocheted bed linens. The prices on these pillowcases were much better than I expected, $25 per pillowcase if I'm remembering correctly. (They are linked at the end of the post.)
This sheet set is stunning! Really pretty!
I was surprised to see this pillow is on sale. I've included it in the links below.
Happy shopping! I hope this outing did you as much good as it did me, today! Have a great weekend!
Click any photo below to access that item.
*If a post is sponsored or a product was provided at no charge, it will be stated in post. Some links may be affiliate links and as an Amazon Associate, I may earn from qualifying purchases. *