Welcome to the 463rd Tablescape Thursday!
Recently Elena and her beautiful family gathered together to celebrate the birthday of four family members. Elena lost her dear sister, Anna earlier this year so for Elena this party was more a celebration for Anna who would have turned 63 last month.
Elena wrote, "As I'm sure you know, a new tablescape can come to life based on one pretty thing that catches your eye—in this case, it was lavender and blue French vintage fashion salad plates. There were four different styles of dresses, and so I had two of each style for my main dining room table.
These styles would come from the 50's and the early 60's. These plates reminded me of Vogue vintage patterns, the kind of sewing patterns Anna was fearless about taking on. She was an expert seamstress by the time she was about 13 years old."
Elena is a good seamstress, too! She found a beautiful tablecloth for her table, but it wasn't quite the right size. She was able to cut and redesign it to the perfect size for her table. Elena said, "I found a pretty lavender organza tablecloth which I had to cut to size. It was too long and not wide enough, but by careful sewing, cutting and attaching wide lavender ribbon to the right edges, my tablecloth was a perfect size. I am a not much of a seamstress, so I think my sister Anna would have been proud of me."
For the table runner, Elena found a beautiful midnight blue runner with a raised "rose" design. (Table runner is available here: Table Runner.) Elena said, "I found the dark blue sparkly round placemats at Pier One, they are so pretty! They were also on sale. Yay!"
I just noticed that all the placemats are currently on sale at Pier 1 here: Placemats.
Elena found the purple napkins here: Napkins. (Scroll down at that link to see them in many different colors.) She found the sheer organza napkin covers here: Organza Napkins.
Elena chose her Oneida Michelangelo flatware for this table setting. The blue goblets are Marquis by Waterford.
Such a pretty table setting! The fashion-themed salad plates add so much fun and whimsy to this elegant tablescape. Love the beautiful lace charger plates! They are available HERE and HERE.
Elena said, "So my vintage fashion plates led me to Vogue patterns…
…which led me to vintage Barbie things. As girls, my sister and I loved Barbie dolls and we loved playing the "Queen of the Prom" game together.
Elena said, "In the last photo, you will see more detail on the board to my vintage Barbie Queen of the Prom game. This game is SOOOO politically incorrect by today's standards—LOL–but that's one of the things I love about this game! The object is to be the first to go to the high school prom and land on the pink crown on the center of the board (where you are crowned Queen of the Prom!). But before you can enter the prom, you MUST buy a formal gown, (by saving up your allowance and babysitting money) have a steady boyfriend (choice of four) and you also have to join a high school club and become president."
Elena explained more about her vintage game, "As part of the decorations in the dining and living room, I posted on rustic white wood plaques more photos from the cover of the Barbie Queen of the Prom game and actual playing cards from the game.
"The Barbie Game, Queen of the Prom. A fun game with real-life appeal for all girls. And of course according to the box cover, real life girls' favorite pastimes are dating, school activities, and shopping. See what I mean about lack of political correctness LOL! You can see that the boyfriends to choose from are Ken, Tom, Bob and Poindexter. Of course, everyone wanted to go steady with Ken. :)"
Elena broke down the 1961 pricing on the dress playing cards in today's dollars:
Silken red flame $35 ($286.23 in today's dollars)
Let's Dance $40 ( $327.12 in today's dollars)
Solo in the Spotlight $50 ($408.80 in today's dollars)
Enchanted Evening $65 ($531.57 in today's dollars)
Elena said, "I decorated my sideboard with a framed vintage Vogue pattern, a metal dressmaker form, little Eiffel towers, a purple satin rose runner, the board from my Queen of the Prom game, and FIVE vintage reproduction Barbies. If you'll notice from the photos, there are five Barbies on my sideboard."
Elena said, "The group of four together showcase the four formal gowns featured in Barbie Queen of the Prom. From left to right, "Solo in the Spotlight" (black), "Let's Dance" (blue), "Enchanted Evening" (pink ) and "Red silken flame" (red and white). I bought these vintage Barbies and their outfits on eBay.
When I was six years old I had exactly one Barbie, a very expensive Christmas present which cost three dollars. But in my family, there was never enough money to buy genuine Barbie clothes, so my mom would make Barbie outfits for me and my sister with old socks, scraps of felt, etc. When I was little I never dreamed that someday I would have enough money to buy more than one Barbie and the beautiful prom gowns."
"I also included on the sideboard a Barbie in her vintage wedding gown—just because!!! This last Barbie was something so beautiful, too expensive—as a little girl, I never dreamed of owning such an expensive and beautiful Barbie outfit!"
Thanks so much to Elena for sharing this elegant, whimsical table setting. The Barbie "Queen of the Prom" game was a fun step back in time and definitely gave us a few giggles. Wish the prices on the dresses were still the same! lol
Pssst: I post almost daily to Instagram. Follow Between Naps on the Porch on Instagram here: Between Naps On The Porch.
Here's a list of where Elena found many of the items she used in her tablescape. I've also linked to several in the post itself.
Resources:
· Rosanna Purple French Parisian Fashion Model salad plates—eBay
· Pink and white scalloped Gracie dinner plates—Homegoods
· Arte Italica pale blue lace charger plates—Wayfair
· Dark blue sparkle beaded round placemats—Pier One
· Dark blue satin rosette table runner—eBay
· Flatware—Oneida stainless steel Michelangelo
· Marquis by Waterford blue Brookside water goblets—Evine
· Purple cotton napkins—Cost Plus
· Pale blue organza napkin sheaths—Always Elegant on eBay
· Pearl and crystal napkin rings—Steinmart
· Miniature sewing machines—Homegoods
· Miniature ceramic Eiffel towers on table—Homegoods
· Crystal candle holders—Waterford, from Evine
· Lavender pillar candles—Hobby Lobby
· Metal dressmaker form on sideboard—Hobby Lobby
· Miniature metal Eiffel towers on sideboard—Hobby Lobby
· Various silvertone cake pedestals on sideboard—Homegoods
· Purple satin rosette table runner on sideboard–eBay
· Lavender satin rosette table runner on console table holding sewing notions–eBay
· Vintage Barbie dolls and their outfits—eBay
· Barbie Queen of the Prom game—I don't know where I got it, it was a gift and it is over 50 years old LOL!
· Vintage Vogue dress patterns—eBay and Etsy
· Laser cut frames for patterns and Barbie photo—frames, Krylon spray paint and matting material from Michaels
· Miniature black and white dressmaker form—Hobby Lobby
· Miscellaneous sewing notions—JoAnn's—EXCEPT for my (practically antique) tomato pincushion which I've had for at least 47 years. My sister Anna had a pincushion just like mine, is there any other kind of pincushion? :0)
Looking forward to all the tables linked for this week's Tablescape Thursday!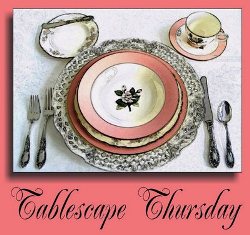 If you are participating in Tablescape Thursday, please be sure to add your permalink below, and not your general blog address.To get your permalink, click on your post name, then copy and paste the address showing in the address bar, into the "url" box when you link up.
You'll need to include a link in your post back to the party to link up and participate. That's so visitors to your blog will be able to find the party and the other Tablescape Thursday participants. Requiring a link back also prevents businesses and scammers from linking up to sell their products. (Yup, that really happens, unfortunately.)
Please Note: After 1 week, party links are still available to view by clicking on the blue button below.
*If a post is sponsored or a product was provided at no charge, it will be stated in post. Some links may be affiliate links and as an Amazon Associate, I may earn from qualifying purchases. *