Two weeks from now I'll be taking off for Ireland. (If you missed that post, you'll find it here: Luxury Travel to Ireland Without the Luxury Price.)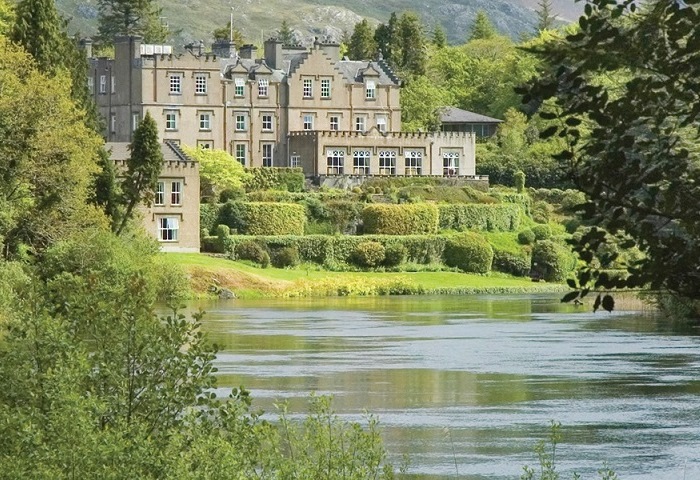 I purchased a Frye leather tote bag to use on this trip. When it arrived, I loved it so much, I purchased it in a second color called, Walnut. I love the contrast stitching on the "walnut" bag and the warm, rugged appearance of the "saddle" bag.
I have to confess, I'm obsessed with these bags! Honestly, every time I pick them up and look at them, a big smile breaks over my face. It's so hard to find true quality products these days, items that are made the way things used to be made. These bags will last me a lifetime and will probably be handed down to my son and daughter-in-law one day.
If you need a beautiful, quality-made leather tote bag, you'll find both of these available on sale here: Frye Tote and here Frye Tote. It's also available in three colors including yellow here: Frye Tote.
I called Delta yesterday to find out if laptops are allowed in carry-on bags now for travel between the U.S. and Ireland. As is the norm these days, I got a recording saying their representatives were all busy and someone could call me back in two hours. This happened the last time I called them. I guess it's going to be their regular way of doing business now. By the time the call was returned, I was in Home Depot shopping for something I needed to complete my big cabinet project.
I asked my question about laptops and after putting me on hold three different times for a total of around 20 minutes, the Delta employee I was talking with was still unable to give me an answer. She just kept coming back on the line every 10 minutes or so to apologize for the wait and to say that she couldn't find the answer to my question in their system and was trying to find someone she could ask. I finally hung up after she put me on hold for the 4th time. I couldn't hold on any longer since Home Depot would soon be closing.
All that aside, if I am eventually able to determine if I can take my laptop along, I think I've decided how I'm going to do it this time. Normally, I use this rolling carry-on bag that I purchased a couple of years ago. (This bag is still available here: Rolling Tote.)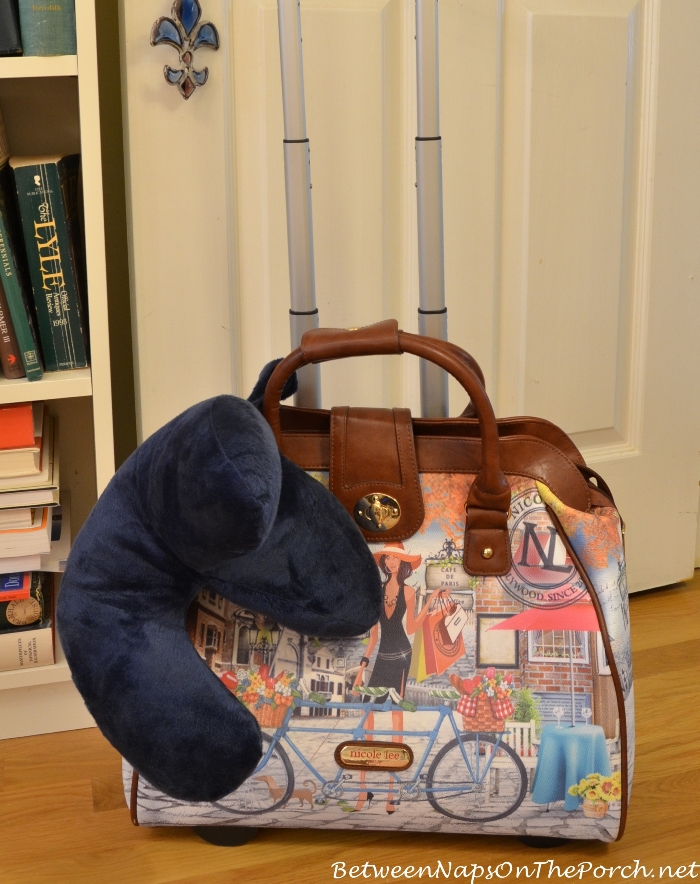 It has accompanied me on every trip except the one to Kenya where we were instructed to bring only non-wheeled, soft-side luggage like duffle bags. This was necessary due to the limited luggage space on the small planes we took out to the bush and back.
The luggage compartments are teeny, tiny as you can see in this photo of one of the planes we flew on during that trip. Other than that trip, I've always used my rolling bag so I wouldn't have to carry my laptop through the huge Atlanta airport.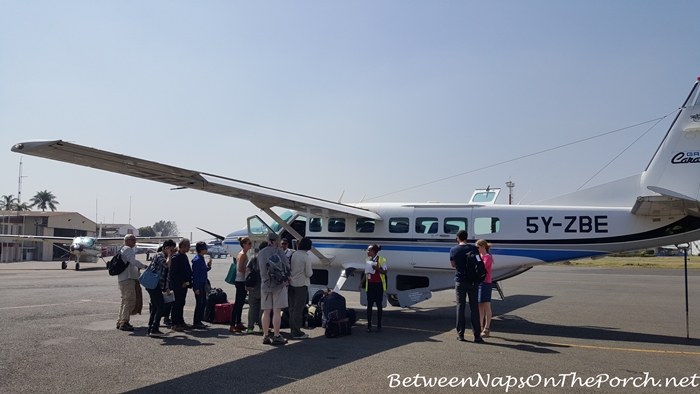 You guys convinced me in the comments on a previous post (Thank you!) that I do not want to lug a laptop through the airport on my shoulder. You're right, that would not be any fun! But I'm itching to use one of my totes on this trip, so I think what I'm going to do is make the tote my "personal item." Usually my personal item is my handbag.
I checked the measurements online for Delta and the tote falls within the size limit allowed as a "personal item." So the plan right now is to put my laptop and mouse inside my rolling carry-on, along with a change of clothing and some toiletries. I always carry one change of clothes in my carry-on bag so if my suitcase decides to go on vacation somewhere else without me, I'll at least have one other outfit I can wear.
The rolling carry-on bag will go in the overhead bin and I'll keep the tote bag with me. It should fit easily under the seat, although if I have a bulkhead seat (which I think I do at least on one of the flights) there will be plenty of room in front of me.
So what will I place inside my personal item…the tote?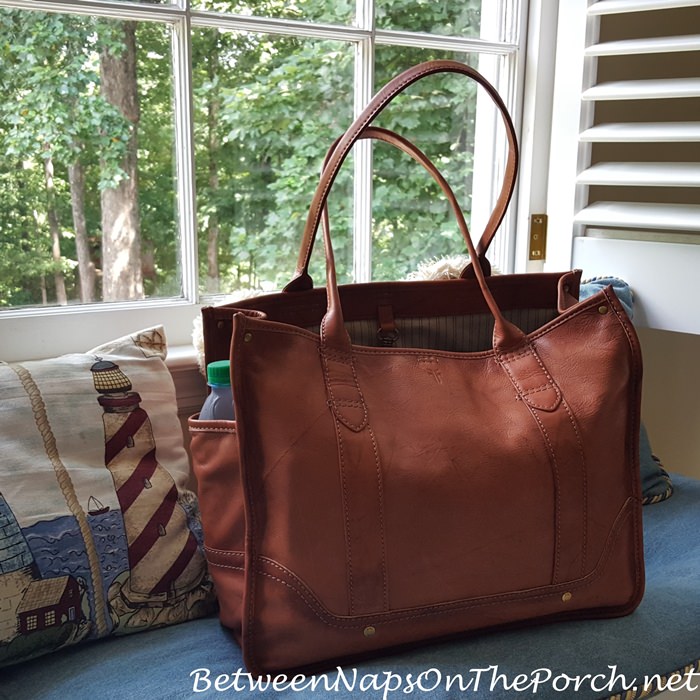 As you may recall from a previous post, I purchased a nifty tote organizer to go inside.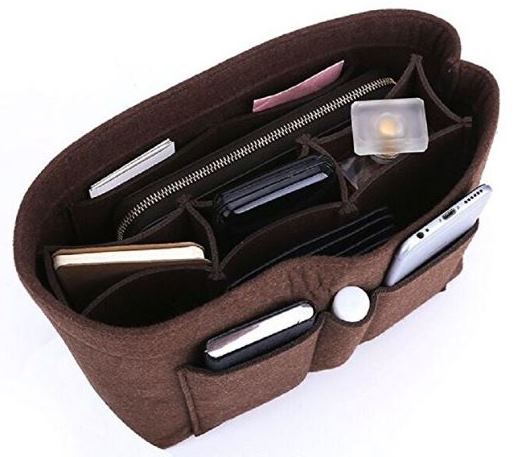 Here's how it looked inside the bag in a previous post. In this photo, I tried it out with my laptop and iPad just to see how they fit. I actually used it this way this past weekend when I traveled out-of-state to visit family. It worked great! I love this organizer because it keeps the bag from sagging under the weight of my laptop, a common problem with most tote bags unless an organizer is used inside.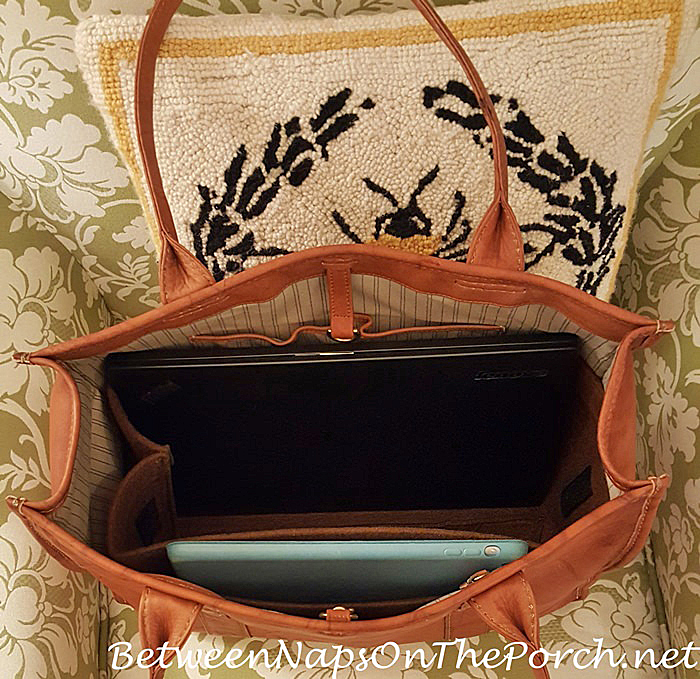 After I purchased the second Frye tote in the "Walnut" color, I realized the dark brown organizer I had purchased was the perfect color for it. So I moved it over into the "walnut" Frye tote bag. You'll notice I took the center organizer section out since I like having the center open. I'm using this organizer mainly for support/structure and for the side pockets on the inside and outside of the organizer. Bag organizers also help keep your tote clean inside, protecting the interior.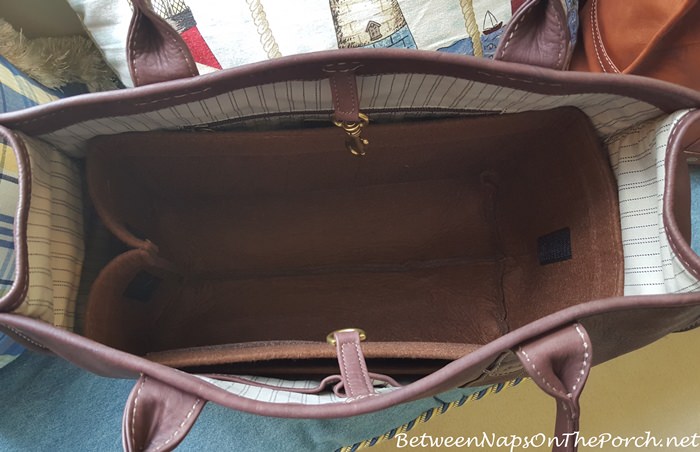 I decided to purchase a second organizer in beige for the other tote. I know I could just move the original organizer from bag to bag, but I really like the structure and support an organizer gives a tote, so I prefer to have one inside each bag full-time. Plus, these organizers are so inexpensive compared to what most organizers cost, it makes it a no-brainer to just go ahead and buy one for each bag.
I went with the X-Large size for my Frye totes, but they come in several sizes. (This organizer is available in six colors here: Tote Bag Organizer.)
Here's how the tan/beige one looks inside the lighter brown tote. I've tucked several items inside including my travel handbag, travel pillow, medicine keeper, a book and my noise canceling headphones.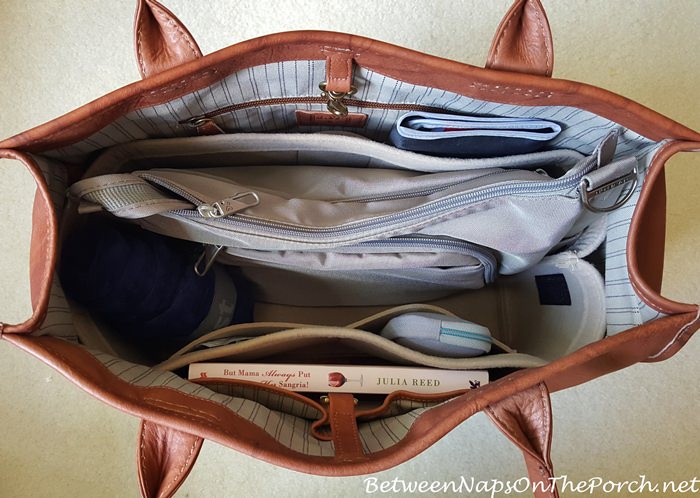 The book I'm taking along on the trip is by one of my favorite authors, Julia Reed. It's titled: But Mama Always Put Vodka in Her Sangria!: Adventures in Eating, Drinking and Making Merry. I love Julia's sense of humor and she always has great recipes in her books. (This book is available here: But Mama Always Put Vodka in Her Sangria!)
Pssst: If you enjoy Julia's books, be sure and check out: Julia Reed's South: Spirited Entertaining and High-Style Fun All Year Long.)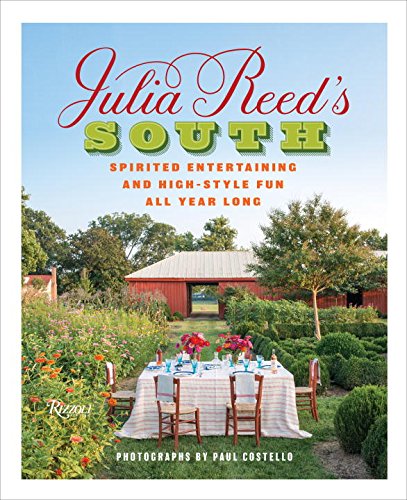 My most favorite book by her to date is One Man's Folly. It's wonderful and available here: One Man's Folly: The Exceptional Houses of Furlow Gatewood. I wrote a quick review of One Man's Folly in THIS post.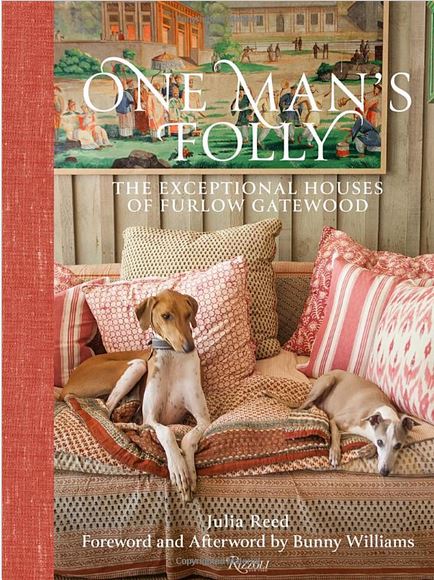 The Plan
So here's my current thinking. I'm planning on stashing my new travel handbag inside the tote (as shown below) because I want to place my passport, credit cards, etc… inside the handbag. I don't want to carry them inside the tote and then have to transfer them over to the handbag upon arriving in Ireland. This way, I can just unzip my handbag to access my passport, credit cards, etc… as I need them. There's still plenty of room left over in the tote if I need to fit something else inside.
Also, I've discovered I don't have to actually carry the tote. I placed it atop my rolling carry-on and it fits nicely, resting right on top when tilted. So I can just grip the handles of the tote along with the handle of the carry-on, when pulling it along. The tote isn't that heavy though, so I may just carry it over my shoulder.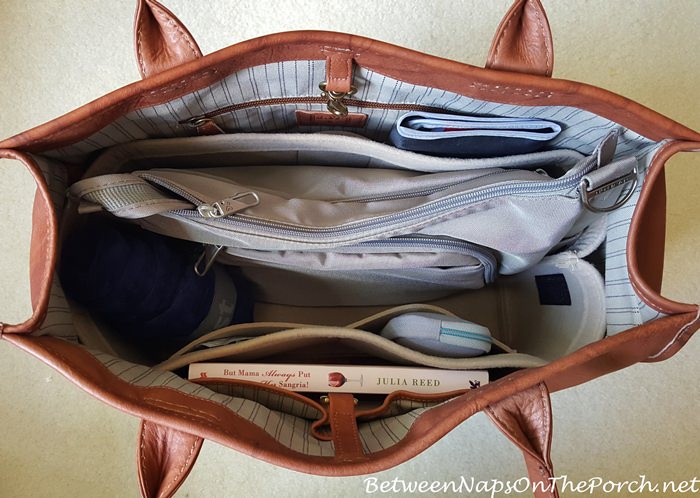 Here's how the interior of the organizer and tote look minus the handbag. I have a water bottle stashed away in one of the side/end pockets of the bag in the photo below. The blue item in the bottom is the travel pillow I purchased for my Morocco trip. The small gray zip bag is my noise canceling headphones. Another pocket has sanitizing wipes for wiping down the tray table, seat arms, etc… (Yes, I actually do that!)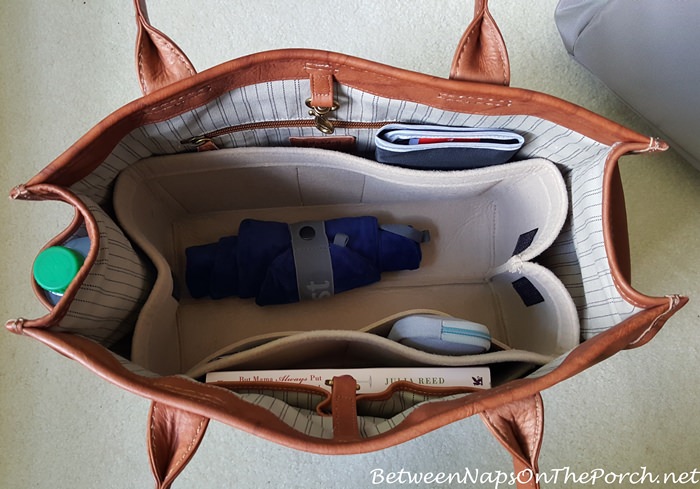 It worked so well, I'm taking it again. (It's still available here: Travel Pillow.)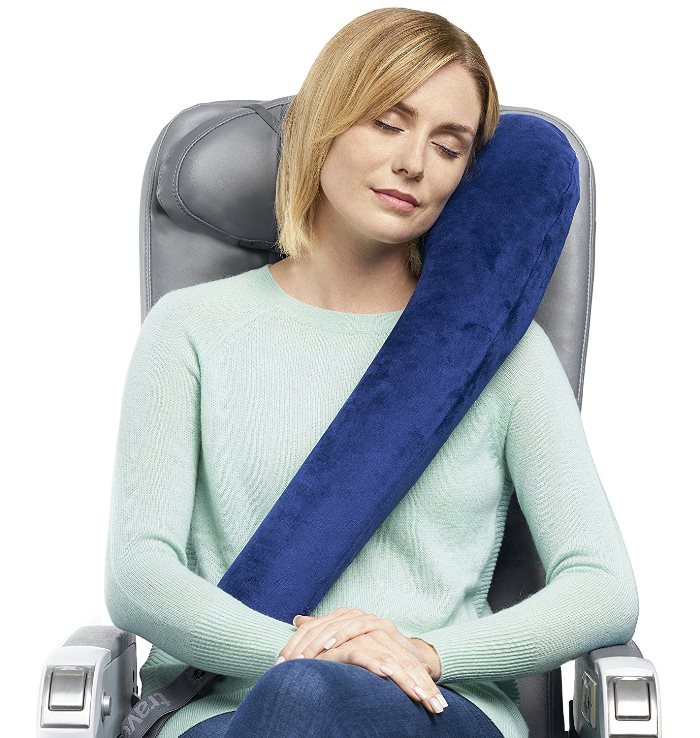 See that flat, skinny thing in the top right corner, tucked in one of the outside pockets of the organizer.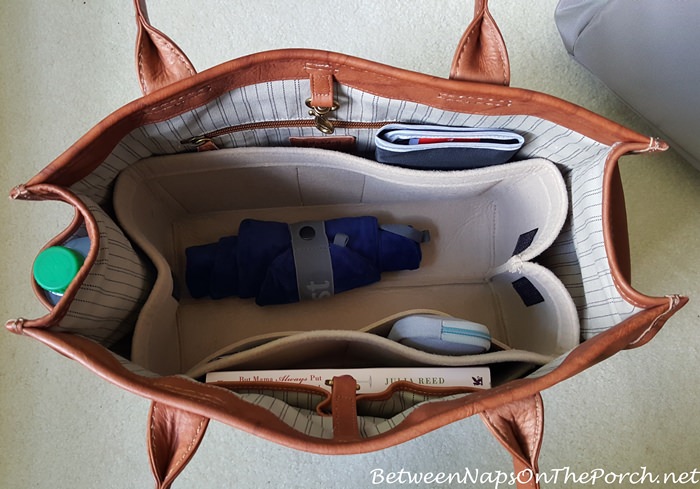 That's a new medicine/pill organizer I just purchased. I always pack any medicines, probiotics, etc… that I think I might need in my purse or carry-on, but I don't like how bulky the typical travel pill box can be. This one folds up flat and has individual zip pockets for each day. My trip will be 10 days so I'll need to double up on a couple of the pockets.
Here's how it looks when closed up…very slim which is what I wanted. (This pill organizer is available here: Pill organizer.)
Update: A few folks have suggested carrying the bottles that medicines come in, just in case TSA should ask to see those. I've never run into an issue with that but apparently when traveling internationally, some countries can be strict about that. So it's probably a good idea to put the bottle inside your handbag or carry-on bag.
I'm sure I'll be adding a few more items into the bag before I take off, but this is a start for now.
Almost Done!
I've made some great progress on the garage-cabinet project, still waiting on two cabinets that should arrive this Monday or Tuesday. I'm looking forward to sharing the progress with you on Monday. I expect to have this project completed by the middle-to end of next week. Yipee!
Love travel? You'll find all my travel posts linked here: Wanderlust.
Have a wonderful weekend, Dear Friends!
Pssst: I post almost daily to Instagram. Follow Between Naps on the Porch on Instagram here: Between Naps On The Porch.
*If a post is sponsored or a product was provided at no charge, it will be stated in post. Some links may be affiliate links and as an Amazon Associate, I may earn from qualifying purchases. *