Thanks so much for all the kind comments left on my post about creating a new Instagram page for sharing some of my fave fashions, handbags, perfume, etc… I've had a few folks who expressed concern in the comments of that post that I would no longer be sharing those things here on the blog.
Please don't worry because nothing is changing concerning what I share here at the blog. The new Instagram account (Under Moonlight and Magnolias) is just an additional way for me to share those things I think you will enjoy a bit more spontaneously, sometimes the very same day they happen.
For example, a special scarf I had requested several months back, finally arrived. I drove into Atlanta and picked it up, then once I got back home I was able to share it in real-time that same day via an unboxing video at Under Moonlight and Magnolias.
I'm sure I'll eventually create a post sharing some of my fave fall fashions along with some of the items I've added to my wardrobe for fall, but it was great being able to share the scarf with you in such a spontaneous, real-time post. That's how Instagram works, I can pop something up very quickly where sharing something in a blog post takes a lot more time and planning.
If you like that idea, being able to see and hear from me in a more spontaneous real-time way, consider following my posts at my Instagram accounts below:
Follow me at the Between Naps On The Porch Instagram where I share home, garden, travel posts here: BetweenNapsOnThePorch.
Follow me at the Under Moonlight and Magnolias Instagram where I share fashion, handbags, jewelry, perfume related posts here: UnderMoonlightAndMagnolias.
Again, nothing will change regarding what I'm posting here at the blog. The new Instagram account, Under Moonlight and Magnolias, is in addition, a way to share with you a bit more spontaneously the things I think you'll enjoy.
August Favorites
I'm forever stealing lamps around here. When I added my home office, I stole several lamps from various rooms around the house to dress the office. Over the years I gradually replaced most of those, but I still had a few holes here and there. I also had one I just didn't like that much and had been hoping to replace.
The lamp I wanted to replace was this one. This lamp used to be out on the porch, then it was moved here when I found a better one for the porch. I've never liked it, it's just took dark. I prefer a lighter finish. Also, the shade was in terrible condition. It had deteriorated over the years and starting to fray.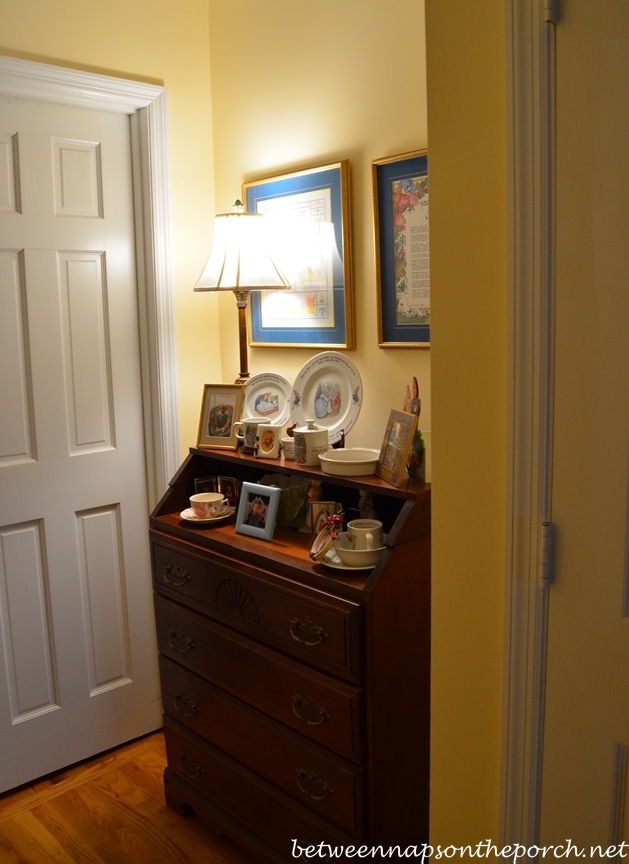 Recently I searched on eBay for brass candlestick lamps. Those are my favorite for when I need a skinny, tallish lamp for a somewhat tight space. I LOVE how candlestick lamps take up very little space, perfect for those places where tabletop or surface space is at a premium.
I found two Baldwin Brass lamps online and asked the seller for more information about their condition. I don't like it when cleaning chemicals have been used on lamps and the brass has been pitted. He told me they were in excellent conditon with no pitting or damage. I didn't order them right away but a few days later I received an offer from him via eBay for 20% off the pair. I love Baldwin Brass and couldn't resist since it was a good deal for quality brass lamps.
One ended up here in the upstairs family room, I seemed to be blogging about this room a lot lately! I forgot where I stole the lamp away to that used to be here. Oh, I remember, I put it in the office and stole the one from the office…
…to go on the console when I added it behind my Peloton bike. See what I mean about the roving lamps in this house! lol
The other Baldwin Brass lamp replaced the darker "antiqued" lamp that had been here. Neither lamp came with a shade when I purchased them. I'm sure the original ones had long ago deteriorated, as shades tend to do.
I purchased two of the same lampshade, a shade I had purchased once before, and I'm very happy with them. The quality is really nice and the price is reasonable. It's so hard to find shades that aren't plastic or drum-shaped these days, so I was thrilled to find these and have been pleased with the quality.
If you're in need of a good lampshade, they make this one in several sizes. I love its shape, so elegant! You'll find it available here, although I think sizes and stock are somewhat limited: Lampshade.
If you're in need of lightbulbs, these are the bulbs I purchased a few weeks back and I really like them. They are bright and produce a beautiful, pleasing indoor light: Lightbulbs. I will definitely order more if/when I need them.
Fashion Art for the Dressing Room
Another little project I've been working on lately is adding a couple of fashion prints to my dressing room area. I recently added one to the wall just left of one of the closet doors in this dressing/exercise room. I hung it down low so I could enjoy it when I'm working on my laptop at the little desk/dressing table in this room.
I liked it so much, I decided to order a second fashion print. It's on order and should arrive in the next week or two. I chose a dark brown frame for this print and it included a double mat.
If you need a similar frame, you'll find this one here: Frame.
This is the other fashion print I've ordered below. I have this bag and adore it! I purchased the same frame/matting to go with it. Can't wait until it arrives so I can hang it with the other fashion print.
If you would love to decorate your dressing room or bedroom with some beautiful fashion prints featuring some of your favorite fashions/brands, you'll find them available where I purchased mine here: Fashion Prints. I really like how the artist signs each one with a little note on the back of the print!
Handwash and Lotion on Virgin Atlantic Airlines
When I was flying back from England in Premium Class with Virgin Atlantic at the end of July, when I went to the bathroom they had the MOST WONDERFUL smelling hand wash and hand lotion in their bathroom. I made a point to memorize the name because I knew I had to have some of that in my life once I got back home.
I've had a heck of a time finding a place to purchase it online here in the U.S. It's apparently a small, but growing, British company. Their blogs states they just launched in 2011.
I found the handwash here: Noble Isle Sea of Green RoaringWater Bay Luxury Hand Wash. I ended up buying the lotion from a seller on eBay, but I guess I bought the last bottle because I don't see it there now. There are a few more stores online that appear to carry it, but I don't want to link to them since I know nothing about them and if they are legit. (See my update a few more paragraphs down…I finally found someone who carries it!)
You can buy it directly from Noble Isle online HERE, but the shipping cost is quite high. I did purchase a bottle of lotion for my son from their Whisky and Water Luxury Bath & Shower Gel. I purchased it from another online shop but not sure if he has received it, so again, I don't want to link out to them until I know that it has been delivered.
Anyway, this stuff smells amazing!!! I love it and just had to share it! It's unlike anything I ever smelled and it's definitely luxurious. I have it here on my desk and love using it all throughout the day. It's not going to last long, as much as I'm using it. I need to find a source for it here in the U.S. with free shipping!
Update: I had ordered some Noble Isle Whiskey and Water s Bath & Shower Gel for my son from an online shop called, Bath & Unwind. My daughter-in-law just texted me this afternoon that it has arrived, so I feel comfortable recommending them. Just Google "Noble Isle Sea of Green, Bath & Unwind" and it should pop right up. Shipping was free when I ordered for him, so hopefully, it is still free.
Best Conditioner Ever!
I've talked about this amazing hair conditioner several times here on the blog but just had to mention it again because it is by far, the best conditioner I've ever used! I love it! You'll find it available here: Kerastase Conditioner. Usually, you only see it available in salons so I'm grateful to be able to find it online.
Dealing with Gray Eyebrows!
The only thing worse than getting gray hair is having to deal with gray hair popping up in my eyebrows! Ugh! I color my eyebrows but when new grays start popping up, this Charlotte Tilbury Eyebrow Gel is amazing! When applying it, I've found a light hand is best. It takes very little and works great! It lasts all day and sometimes even into the next day. You'll find it available here: Charlotte Tilbury Eyebrow.
Best Toiletry Bag for Travel
I had to include this awesome hanging toiletry bag in this month's favorites. I really enjoyed using it during my recent visit to see family. You'll find it available here: Toiletry Bag.
Read more about it in this previous post: RHow I Replaced Three Toiletry Travel Bags with One Awesome Bag.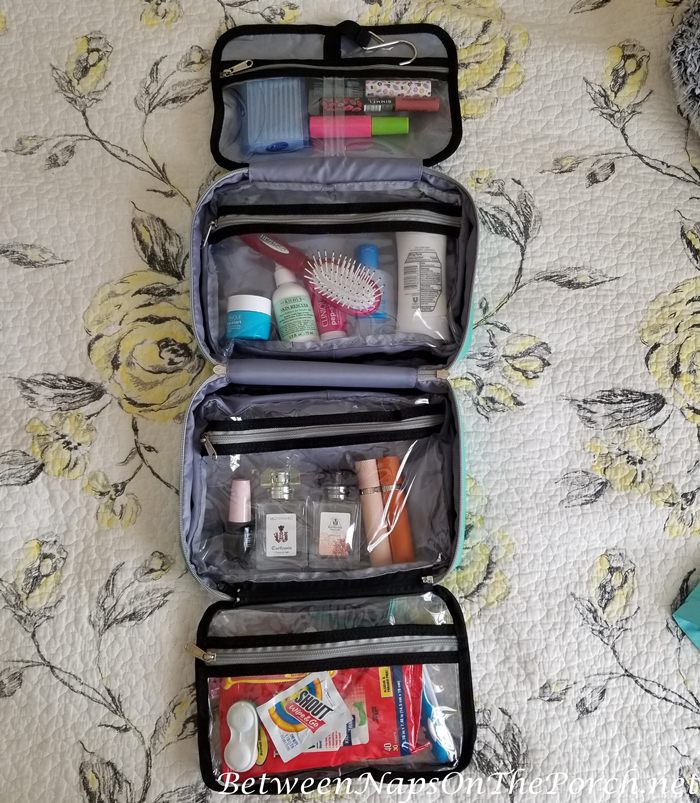 Best Way to Remove Cat/Dog Hair from Furniture, Quilts, etc…
If you have pets, this is the best pet hair remover tool I've found. I used it to remove kitty fur from my grandson's new quilts and it worked great! To use it, you just roll it back and forth, back and forth like you would a vacuum when vacuuming. It's amazing how much it picks up the first time over a surface!
It's super fast and very easy to empty. It's sooo much better than those roller hair removers with the sticky tape you have to keep pulling off to get a fresh sheet. I wish this hair remover had existed when I had pets here at home! You'll find it available here: Pet Hair Remover.
Fun for the Kitties
I bought two cat toys while visiting my grandsons and the cats loved both. I mentioned one in my July favorites here: July Favorites. This was the other one I purchased. The cats LOVED it! Check out the reviews if you have some bored kitties who could use a little exercise and entertainment. 🙂 You'll find it here: Tower Cat Toy.
That Blue Chest!
Of course, I have to mention this darling chest we used in my two grandsons' bedroom makeover.
I liked it so much, I purchased one for my upstair family room once I was back home. You'll find it available here: 3-Drawer Chest.
Hope you enjoyed this rundown of my August favorites! See you tomorrow for Tablescape Thursday!
*If a post is sponsored or a product was provided at no charge, it will be stated in post. Some links may be affiliate links. *