I awoke this morning long before daylight. The numbers on the ceiling showed 4:00. Apparently my body is still on Morocco time which is 5 hours later. Ugh. After laying there for about an hour, I gave up on sleep and got on up.
So what do you do at 5:00 AM? I gave both the benches on the front porch (and the porch itself) a good wash, they were seriously covered in pollen.
I took this photo later in the morning. Hope my neighbors didn't see me out washing benches at 5:00 in the morning. After vacuuming acorns, I guess nothing would really surprise them. lol
Much better!
Help a Birdie Out
Next I ordered some nesting material for the birds. Yesterday, as I was headed up the front staircase, I stopped and looked out one of the sidelights. An adorable little wren was hopping around on the front porch with her beak stuffed full of what looked like little pieces of straw. In her search for nesting material, she was taking little pieces of fibers from my door mat. So, so cute! In the short video below, it's hard to see, but her beak is filled to the brim with little short pieces of straw/fibers.
During the wee hours of the morning, I went online and ordered two types of nesting material. I paid a little extra for shipping so they would be delivered today. Clearly we are in need of some good nesting materials around here pronto! 😉
The first one is natural coconut fiber, the same thing that's used in my door mat. It had very good reviews and is available here: Coconut Fiber. I thought my little wren might enjoy it since she likes my coconut fiber door mat.
The other one I ordered was this: Nesting Material.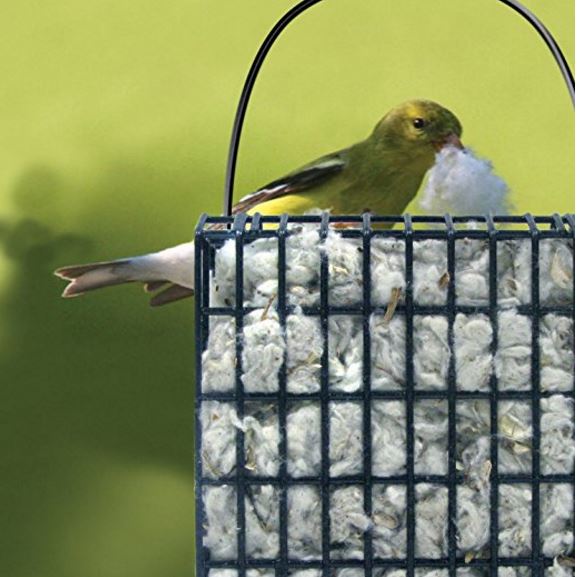 I plan to stuff some of both materials into one of my suet feeders with the large openings and hang it where the birds can find it. I have two of THESE suet feeders and I'm only using one to hold suet right now, so the other one should work well for nesting material. You'll find find the suet feeder I'm using for the nesting materials, HERE.
Update: Here's a photo showing how it looks with the nesting materials inside. I hung it outside near my feeders and the birds are using it. I've noticed pieces of the nesting material sticking out where they've been pulling it out for their nests. 🙂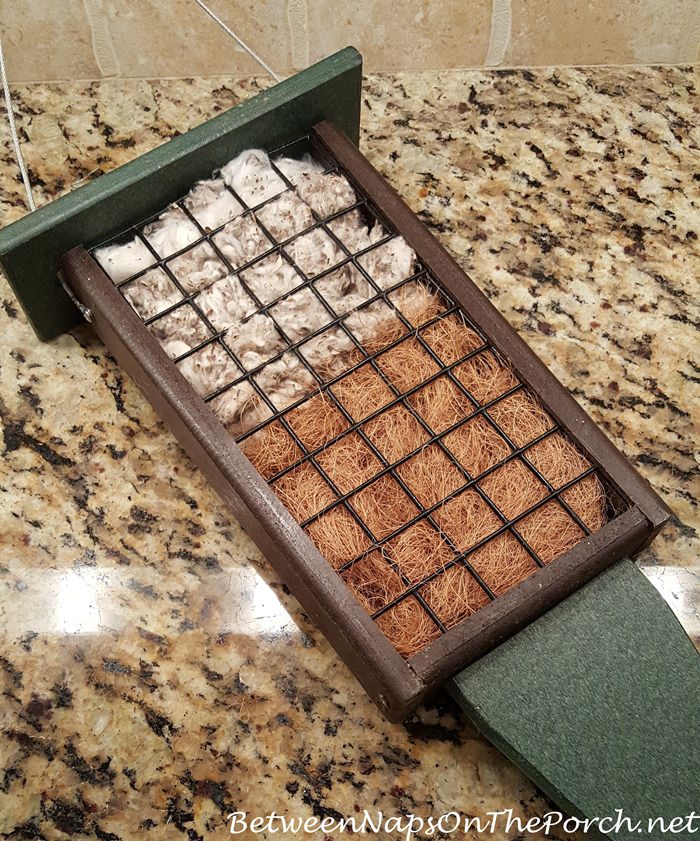 Yesterday I ran a bunch of errands including stopping by my local Wild Birds Unlimited. In addition to seed, I purchased some live meal worms since my bluebirds (and other birds) love the extra help with feeding their babies this time of year.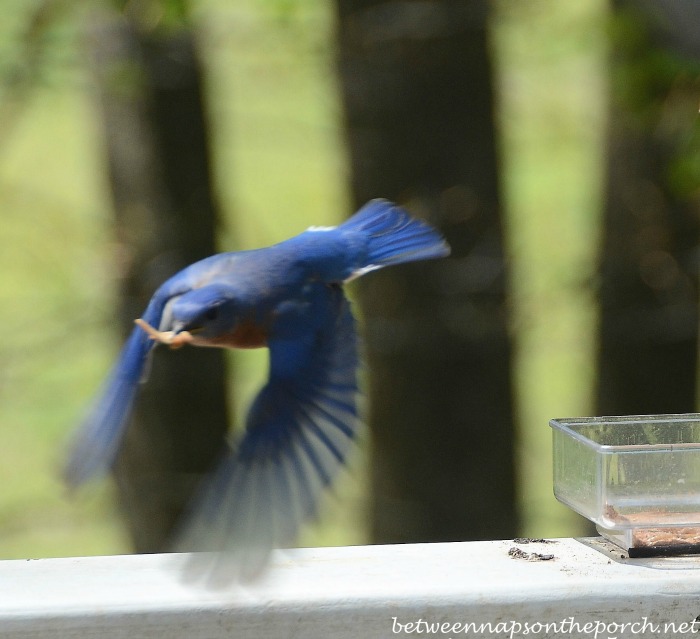 I didn't have any apples in the house, so I cut up some blueberries and added a bit of oatmeal for them to munch on. You can see the bluebirds feeding in this previous video: Bluebirds Eating Mealworms.
Tulips are Blooming!
I noticed this morning when I was outside cleaning the porch benches at O'dark:30, the tulips I purchased from Keukenhof gardens in South Holland last spring…
…came up while I was in Morocco.
Here's a couple of photos I took once it was light out. They look a bit bedraggled from all the rain we've been having.
Glad they came up! I need to dig them up after the foliage dies back since they won't come back next year without some help in the refrigerator.
A few of the ones around the mailbox were just beginning to bloom when I left. They are gone and it appears a few more are coming up.
I haven't been too impressed with them so far. I'll share another photo when more are up and blooming.
Remember when the violas looked like this right after I planted them?
Then this happened. Someone (you guys thought it might be a deer based on the footprints) ate them right down to the ground…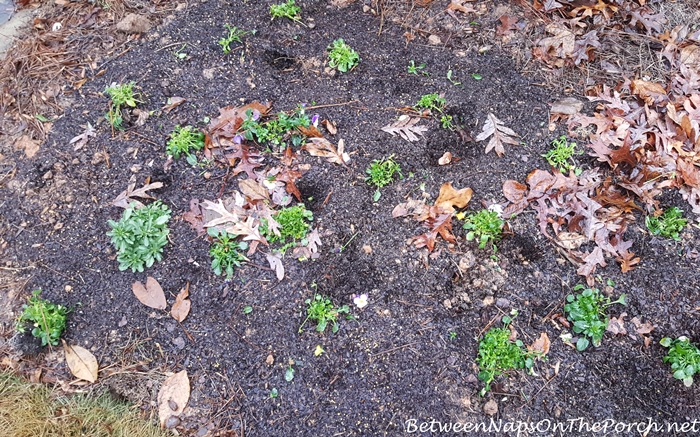 …even pulling some completely out of the ground.
It was recommended in the comments on that post that I try this product below. It worked–no more deer damage! I sprayed it on twice, about 10 days apart. It's a natural product and won't hurt animals. It's available here: Repellent. I think I may reapply it sometime soon, just for extra protection.
So far, it seems to be working!
This arrived while I was gone, a vintage/antique hat rack. You may remember I purchased it on Etsy a while back. It had to come all the way from Bulgaria, so it took a while.
I plan to lower my travel list bucket map and hang it above the map for my sunhat storage. (Map is available here: Map.) I think I'll take down my little deer and find a new spot for it. Will share how this area looks soon, probably for Metamorphosis Monday.
I wore the sunhat shown below every single day I was in Morocco. It was perfect for the trip and I couldn't have done without it! It packed really well. I placed a bunch of socks and a t-shirt inside the top part and placed it inside the suitcase, right side up. Then I packed around it, placing items atop the brim which kept it in place inside the suitcase. That worked perfectly, both coming and going. (Sunhat is available here: Sunhat.)
Tree Update:
Remember the three little Leyland Cypress trees I planted in October 2014? (See that post here: Leyland Cypress Trees Offer Screening and Privacy.)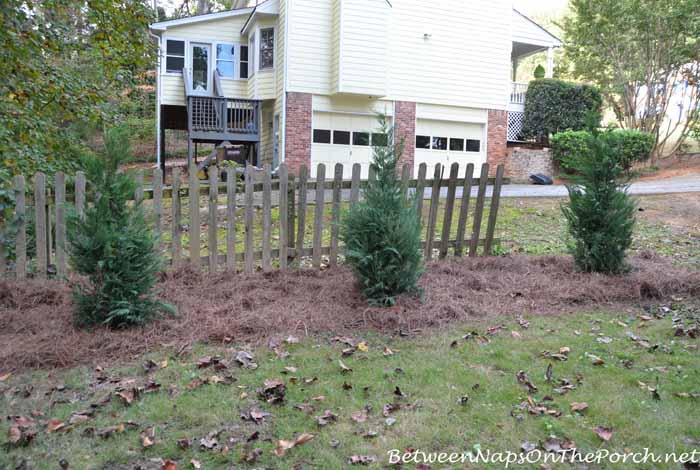 Look at how much they have grown! Good 'ol generic Triple 13 fertilizer (13-13-13) helps, nothing seems to make my plants grow better.
Another year and the Leyland Cypress trees will be providing screening again for the screened porch that's a full story up. They are just starting to stick up above the second level now. Love how fast they grow!
Happy Weekend, dear Friends! I'll be sharing some photos from the Morocco trip soon. I need a bit of time to organize my thoughts. I had a lot of mixed feelings on this trip. Parts I absolutely loved and some parts were difficult for me. So much to tell, I have no idea where to start!
Any weekend plans? It's gorgeous here! Hope it's pretty where you live, too!
Oh, and if you have plans to visit Atlanta, stay far, far away from I-85. Part of it is non-existent right now and it's going to be that way for quite a while, they are saying several months. Just Google to read more. I was headed into Atlanta last night to shop at Lenox Square. I turned on the radio to check traffic and turned right around and came home. Definitely pays to listen to the traffic report before getting on any roads around here!
*If a post is sponsored or a product was provided at no charge, it will be stated in post. Some links may be affiliate links and as an Amazon Associate, I may earn from qualifying purchases. *