Welcome to the 507th Tablescape Thursday!
Last night I attended the Luau they host every Wednesday night at the resort where I'm staying in Maui. Every chair you see below was filled once the party got underway.
As we arrived we were greeted with a Mai Tai drink. Have you ever had a Mai Tai before? I had not. This one was very low on alcohol and super sweet. Not sure if they are always that way or not. I didn't get a second one and just drank water the rest of the night.
In case you were wondering (as I was) what's in a Mai Tai, per Wikipedia:
The Mai Tai is a cocktail based on rum, Curaçao liqueur, orgeat syrup, and lime juice, associated with Polynesian-style settings. "Maita'i" is the Tahitian word for "good"; but the drink is spelled as two words, sometimes hyphenated or capitalized.

The Mai Tai became such a popular cocktail in the 1950s–60s that many restaurants, particularly tiki-themed restaurants or bars, served them. The Mai Tai was also prominently featured in the Elvis Presley film Blue Hawaii. Today, the Mai Tai is synonymous with Tiki culture both past and present.
For a while, it looked as if our Luau would be rained out. The wind really picked up but luckily the dark clouds passed us on by.
A Luau is a traditional Hawaiian party or celebration with food and entertainment. Per Wikipedia, the typical food that would be served during a Luau are poi, Kalua pig, poke, lomi, salmon, opihi, haupia and beer.
Wikipedia states:
In ancient Hawaiʻi, men and women ate their meals separately; also women and the rest of society were not allowed to eat foods that were not common or foods that were only served during special occasions. However, in 1819, King Kamehameha II removed all the religious laws that were practiced. King Kamehameha II performed a symbolic act by eating with the women, thus ending the Hawaiian religious taboos. This is when the lūʻau parties were first created.
After everyone had arrived, the story of how a pig is normally roasted for a Luau was shared. The pulled pork that was served on our buffet that evening had been prepared in advance, but the couple who were sitting across from me had visited Maui seven years before, and when they attended a luau during that trip, the pig that was roasted was actually served that evening.
There are several Luau parties that take place at various locations around Maui. Some are very well known and require advance reservations…something to keep in mind if you visit Maui one day.
This was how the food was served for our large group: two tables were set up with food and we lined up down either side to serve ourselves.
The food was okay, about what you would expect at a large-group buffet. I didn't bother to take a photo of the dessert which consisted of three large pans of "scoop and dip" type cake substances. They all three reminded me of desserts like Watergate Salad or 7-up Salad, only in cake form. Again, this was the typical "commercialized" meal you would have at a large buffet…not my favorite.
I'm not the most patient person in the world. The entertainment was taking forever to get going so I got bored and said my goodnights to those around me and decided I would watch the show from my balcony. The following photos were taken from the balcony of my room.
The desk in my room where I sat sorting through photos is literally right beside the door to my balcony, so I could work, watch the show and hop up to take photos when a new group would take the stage.
The highlight of the show was the flame thrower…is that what he's called?
A second flaming stick was brought out later in the show, so he was twirling and tossing two at once before the show ended.
Have you ever attended a Luau? I noticed a lot of folks were swimming and enjoying the pool just on the other side of the fence, so apparently after you've attended one Luau, you don't necessarily feel compelled to attend future ones. It was a fun and interesting experience, so I'm glad I went. Can't come all the way to Hawaii and not attend at least one Luau, right?!
Pssst: I post almost daily to Instagram. Follow Between Naps on the Porch on Instagram here: Between Naps On The Porch. If you enjoyed this post, subscribe for free email updates when a new post is up here: Subscribe for post updates.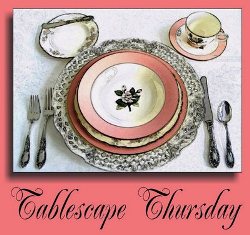 Tablescape Thursday
If you are participating in Tablescape Thursday, please be sure to add your permalink below, and not your general blog address.To get your permalink, click on your post name, then copy and paste the address showing in the address bar, into the "url" box when you link up.
You'll need to include a link in your post back to the party to link up and participate. That's so visitors to your blog will be able to find the party and the other Tablescape Thursday participants. Requiring a link back also prevents businesses and scammers from linking up to sell their products. (Yup, that really happens, unfortunately.)
*If a post is sponsored or a product was provided at no charge, it will be stated in post. Some links may be affiliate links and as an Amazon Associate, I may earn from qualifying purchases. *