Welcome to the 441st Metamorphosis Monday!
How was your weekend? Hope you had a great one! Mine was really good, though it started out a bit discouraging. On Friday I was expecting the delivery of one of each of the cabinets pictured below. I've ordered two of the cabinets shown in the photo on the right below, let's call it the "drawer cabinet" for the sake of this post since it has drawers. And I've ordered four of the cabinet on the left, which I'll refer to as the "shelf cabinet," since it's all shelves.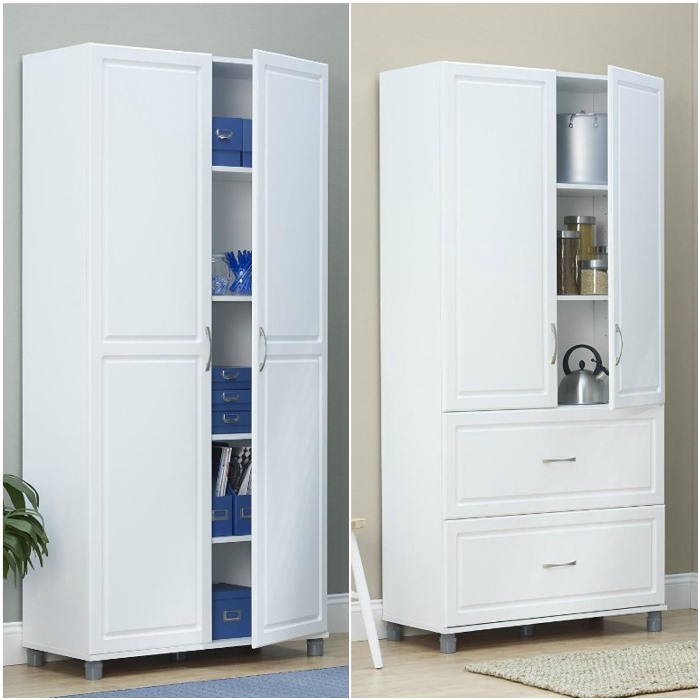 Little recap, in case you missed THIS previous post: I've been storing the dishes, glassware, flatware, etc… that I use when entertaining and creating posts for Tablescape Thursday in various cabinets and closets around my home. I'm fortunate to have a lot of closets, cabinets and storage space in my home, but I would prefer everything be in one place where it would be easier to find and access, particularly my holiday dishware.
So I've ordered six storage cabinets to place down one side of my garage. The garage opens up to my breakfast room, which in turn leads out to my screened porch, two rooms where I love to entertain and create table settings for Tablescape Thursday. So the garage is really the perfect spot for storing and accessing a lot of my tablescaping goodies.
Delivery Ups and Downs
The first drawer cabinet arrived this past Friday around 11:30 AM via a monstrous, big truck. I couldn't believe it when it pulled up to the front of my home, it looked like I was moving or having several rooms of furniture delivered.
I was outside pulling weeds around the mailbox when the truck arrived. The shelf was on a wood pallet and the delivery guy asked if I wanted him to leave it on the pallet. He said some folks like to keep the pallets. I declined since I've read that they are sometimes treated with harsh chemicals or can harbor insects, so I wouldn't want to build anything with the wood.
The delivery guy used a lift-gate thing on his truck to lower himself and the cabinet to the ground. From there he pushed the cabinet to my garage using a hand-cart. After he left I got busy unpacking the large box, reading the instructions and sorting/counting all the parts and pieces. There were a lot of parts and pieces! lol
A short while later, the bird feeder I ordered last week arrived. I couldn't wait to attach it to a post I had painted a few days before, and I knew exactly where I wanted to place it in my front garden.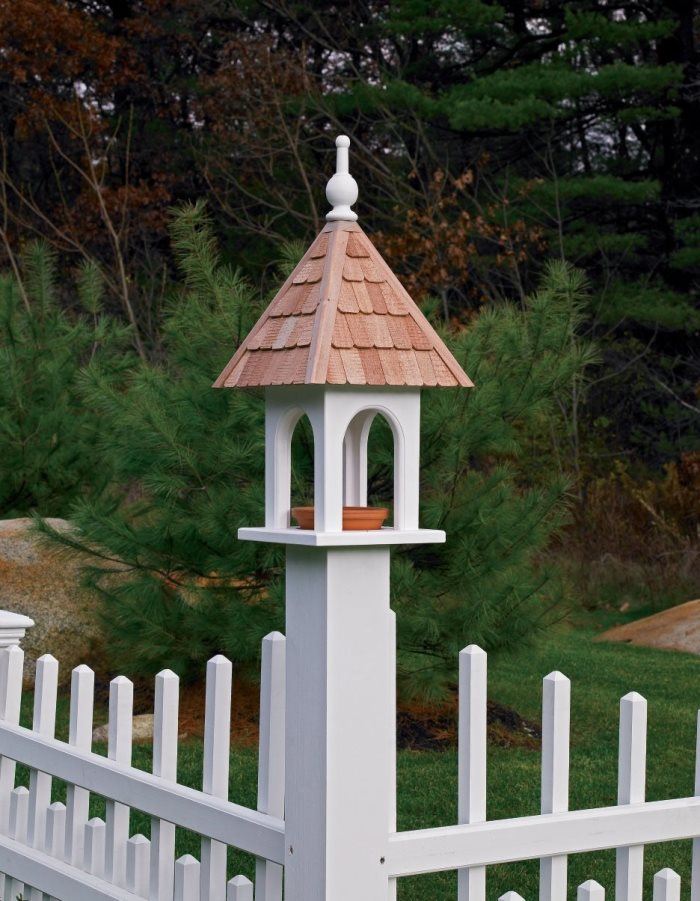 When I opened the box I found this inside: the Loretta Bird House. It's a cute house, but not the Loretta Bird Feeder I ordered. I went inside long enough to visit Amazon online to complete the info for a return/exchange. Unfortunately, they didn't have any more available at the price I had paid except from a seller with less than stellar feedback, so I may wait to reorder it.
Update: Just ordered the feeder again, should have it by the end of the week, I hope. The Phoebes on my front porch may have fledged by then, but I'm sure it will come in handy for other birds.
I got back to work on assembling the drawer cabinet in the garage. It's been super hot and muggy here this past week, but I just kept drinking water and persevered, determined to get it built. I love putting something like this together, although this cabinet had a few tricky parts. It's not hard to put together, just very different from anything else I've ever assembled.
If you buy one of these, be sure and read all the instructions, including the ones in teeny, tiny print. If anyone is interested, I'll post a tutorial sharing the tricky parts to watch for on the assembly. This cabinet is available here: Cabinet with Drawers.
A short while later I was interrupted by another cabinet delivery. UPS was here with one of the shelf cabinets. As I walked toward the truck to ask the UPS guy to bring the box to the garage door which was closer and easier to access, he asked if I had a scale. He was exclaiming over how heavy the box was as he struggled to get it off the truck. He felt there was no way it could be just 145 lbs as stated in the info he had on the package.
Apparently, the cut off for delivering something via UPS is 150 lbs, or at least it is for their regular drivers. I later found out that the drawer cabinet (not the one he was delivering) does weighs over that, that's why it had been delivered that morning via a delivery company on a giant truck and not via UPS.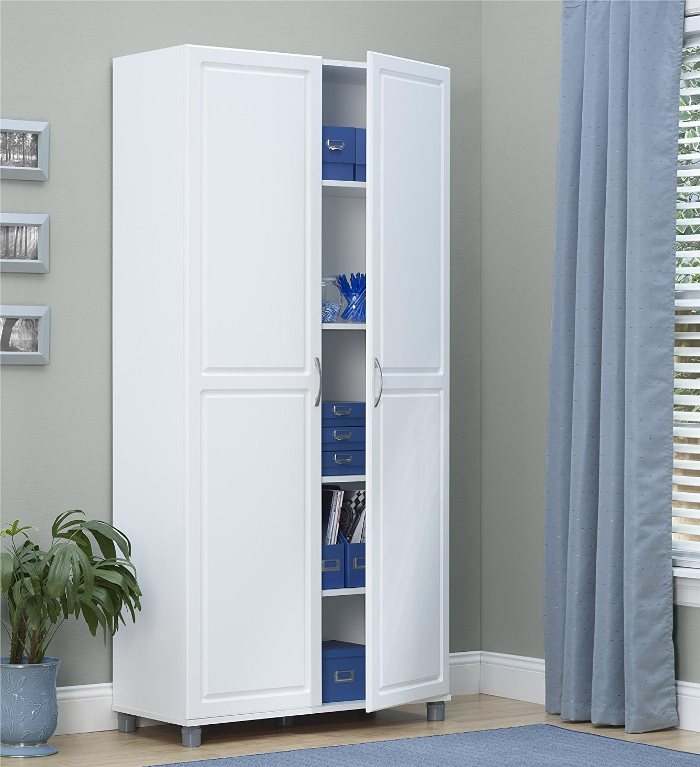 As the UPS driver struggled to get the shelf cabinet out of his truck, I could see the box was broken in the middle and actually bending over. Knowing there were two long cabinet side walls and two long doors inside the box, that was not a good sign.
When he got the box to the garage, he weighed it on my home scales and it showed 139 lbs, although it was difficult to weigh such a long, bending/broken box. Again, I told the driver that I was concerned about the cabinet since the box was literally bent and gashed open at the spot where it was bent. He offered to open it and told me I could refuse it if it was damaged.
He opened it and we could see both side panels of the cabinet was broken in half. I signed saying I was refusing it and the delivery guy struggled to get it back to his truck. I wish I had thought to take a picture of how it looked to share it with you, but it was so hot and there was so much going on, I didn't think about it at the time.
Three deliveries and two fails…not the best start to the day. I worked all day in the hot garage assembling the drawer cabinet. The work was enjoyable, despite the heat. It was quite the workout, all the pulling, bending, lifting, etc… Even after it got dark I continued to work, determined to see something productive and positive come out of this frustrating day.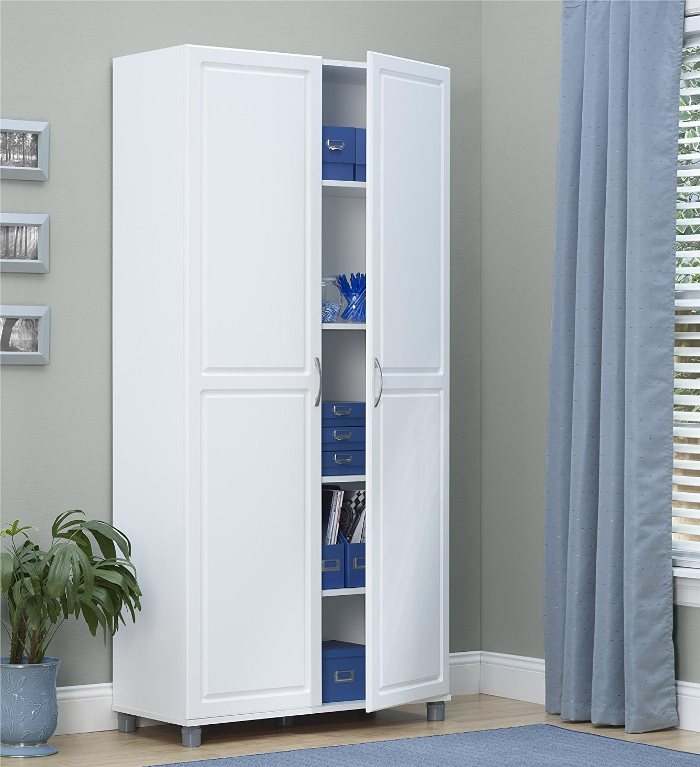 So here's how the drawer cabinet looks assembled. Ignore the empty boxes on the top, those are just sitting there temporarily until I can order an extra shelf.
On Saturday I decided to play, trying out some of the items I planned to store in the two drawer cabinets. The plan was to store my chargers and napkins in one drawer cabinet and flatware, napkins and tablecloths in the other one. You're not supposed to place more than 40 lbs on each shelf, so I weighed various stacks of chargers to come up with the right pairings for each shelf.
See that stack of chargers on the top shelf on the left. That one stack weighs 29 lbs! Ceramic and glass chargers are very heavy. Rattan, plastic and grapevine chargers are much lighter. I have chargers made from all those elements.
I plan to add another shelf since that would allow for more storage. I drove over to the local big-box store to see if they had shelves that would work, but the ones I saw there were not wide enough and were much too shallow. I'm pretty sure I can order extra shelves, so I'll call the customer service number tomorrow to get that done. I think all my chargers will fit in the top of this one cabinet after I add one more shelf.
While I wait for the other cabinets to arrive, including the other drawer cabinet, I decided to see how this style cabinet would work for my flatware collection. My flatware was one of the other things I had planned to store in this cabinet.
In this older photo (sorry about the blurriness) my current flatware storage is visible there in the very top of the closet. Each time I need to access it, I have to pull out a stepladder and a flashlight since it so dark on that top shelf. Then I have to kind of poke my head up into the closet to see what's on the very top since the bins are stacked 5 bins high. Not a lot of fun!
Here's how it's looking so far in the new cabinet. Again, I need to order another shelf from the company that makes this cabinet. It comes with two shelves but I really can't stack more than two rows of flatware on each shelf since flatware is pretty heavy and the shelves aren't supposed to hold more than 40 lbs each.
See those empty bins along the top? I don't have plans to buy more flatware right at the moment, but if I come across a great deal on a unique or pretty pattern some time, I want to have the matching bins available. I found these bins in Home Depot today. I had planned to use my old bins, buying just a few more for any future flatware additions, but unfortunately Home Depot no longer has them. So I just went ahead and replaced them all since they are only .98 cents each. I like the white lids on these, ties them back to the cabinet nicely.
Once I get the extra shelf for this cabinet, I may use that shelf for platters or dishware and store the currently empty bins away in the basement until they needed. Or, I may spread out my existing flatware bins over all the shelves, so that the current shelves aren't supporting quite so much weight. I'm barely within the limits of what each shelf is supposed to hold. Stainless/metal flatware is heavy!
I found additional shelf supports in Home Depot yesterday, you can see those sticking out of the side walls above the top layer of bins in the photo below. Once the company that makes these shelves opens Monday (they aren't open on weekends) I'll order another shelf for this cabinet and the other drawer cabinet that will be delivered Tuesday.
By the way, if the spacing on the shelves/bins looks a bit odd, it's because I'm working with the existing shelf-support holes in the cabinet walls. If I eventually begin filling up the other bins with flatware, I may get brave enough to drill new holes in the cabinet walls in order to evenly space out all the shelves. I could even get two rows of bins on the bottom shelf if I did that. Not looking forward to doing the math on that task, though. I'd be so irritated with myself if I miss-measured and drilled new holes, and they weren't perfectly spaced out and level. Ugh. So I'm going with the current spacing for now.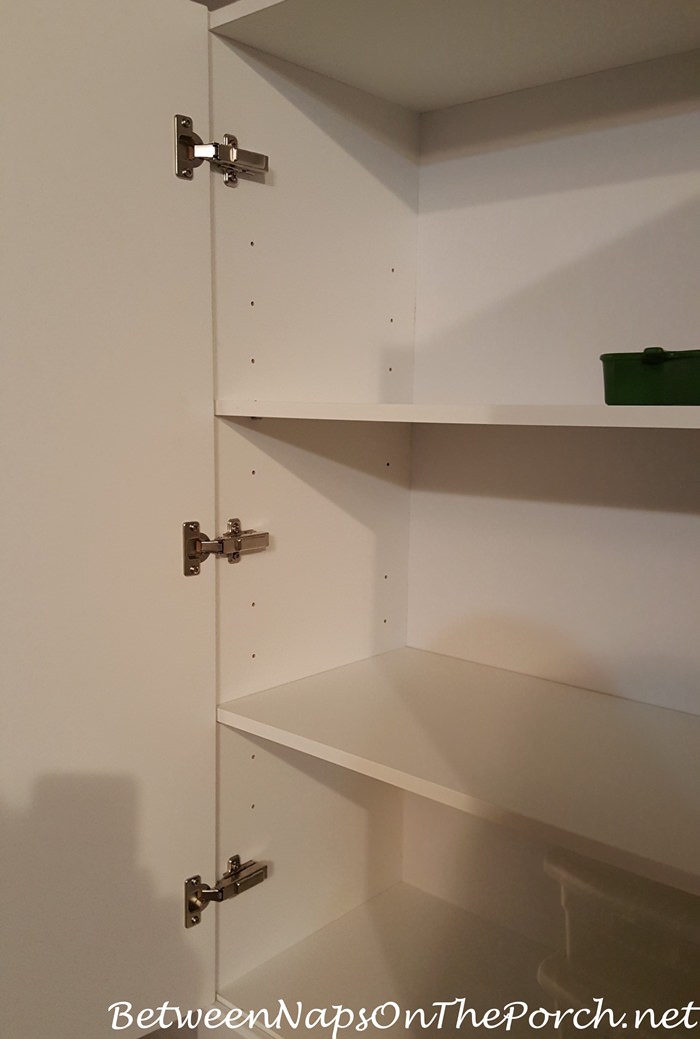 I've started filling the two drawers with dinner napkins just to see how much would fit in each drawer. I've been storing my napkins in a chest that was part of my son's old bedroom set growing up. The drawers in that chest are wider from front to back than the drawers in this cabinet. But the drawers in this cabinet are much deeper and a wider from side to side, so they hold close to the same amount as the chest did.
The drawers are so deep, I could probably fit all my napkins into two drawers, but I'll most likely spread them out over three of the four drawers in the two drawer cabinets. That way I'll be better able to access them if they aren't packed in so tightly. I'll use the 4th drawer to hold either tablecloths or napkin rings…not sure which, yet.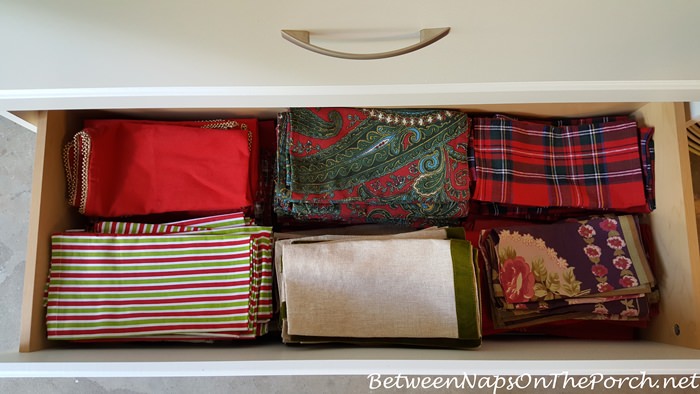 The other cabinets will be arriving tomorrow, except for the one re-ordered to replace the damaged one. I'm not too worried about the other drawer cabinet since it will be delivered on a big truck with the equipment to handle heavy packages, but I am worried about the shelf cabinets since they will be coming via UPS and those cabinets are at the max weight of what they deliver for home delivery. I'll let you know how that goes, hopefully they will all arrive in one piece.
Update: Don't worry about the shelves tipping. They are level since I adjusted them with the feet as the directions indicate and as soon as the other cabinets arrive and I get them all built/assembled, I will be anchoring each one to the garage wall with the anchor/screw provided with the cabinet.
I can't wait to share all the cabinets with you once I get them built and filled. It will take time to get them all assembled, but it should go faster now that I've put one together. I think the shelf cabinets will also be easier and faster to assemble since they don't have drawers.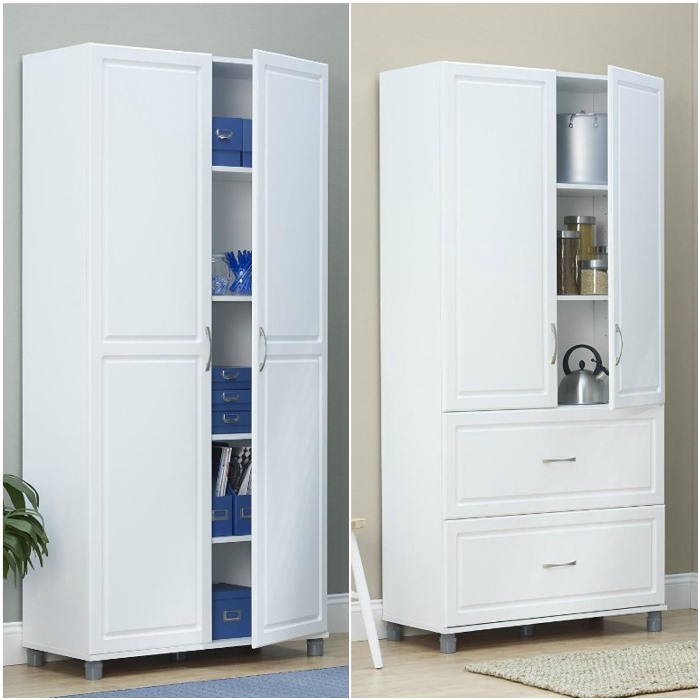 Invisible Splinters
Anyone know how to get out an invisible splinter? I was pulling some weeds last week and I must have pulled or gotten into something that's thistle-like. I had several of these super fine, almost invisible, blond/light-colored things that got stuck into several fingers. Most were still sticking out a little and though they are almost invisible because they are so light-colored and fine, I was able to pull them out.
But one got pressed deeper into my index finger on my right hand and it has added a new complication to building and tightening screws, especially since I'm right-handed. The frustrating thing is I can't see the splinter, but my finger is slightly swollen where it's located. Trying to remove it with a needle is like shadow boxing with a ghost. It's so light-colored and so fine, it's impossible to see, and I think it's pretty deep inside my finger.
If you have any ideas on how to get it to the surface, let me know. I've never had a splinter that I couldn't get out, but it's hard to remove something that's pretty much invisible deep under the skin.
Pssst: I post almost daily to Instagram. Follow Between Naps on the Porch on Instagram here: Between Naps On The Porch.
Looking forward to all the great Before and Afters linked for this week's Metamorphosis Monday!
Metamorphosis Monday
Metamorphosis Monday is a party that's all about Before and Afters. If you are participating in Met Monday, please link up using the "permalink" to your MM post and not your general blog address.
To get your permalink, click on your post name, then just copy and paste the address that shows up in the address bar at the top of your blog, into the "url" box for InLinkz.
In order to link up, you'll need to include a link in your MM post back to the party so the other participants will have an opportunity to receive visits from your wonderful blog readers.
Please observe these few rules:
Please link up Before and After posts that are home, gardening, decorating, crafting, painting, sewing, cooking, fashion or DIY related.
Be sure to include a link back to the party in your post, so your readers will be able to find and visit the other bloggers who are participating.
Do not link up to the party if you're doing so to promote or sell a product.
To those who are linking up: If you notice a shop or store linking up to sell products (yes, unfortunately that does happen) please let me know so I can remove their link from the party. No one wants to click a link expecting a Before and After, only to find a spam link to an online business/store.

*If a post is sponsored or a product was provided at no charge, it will be stated in post. Some links may be affiliate links and as an Amazon Associate, I may earn from qualifying purchases. *