Summer is still very much with us here in Georgia with temps in the upper 80's and low 90's every day. I love the hot weather so I'm not complaining.
Though it's not feeling one bit like fall, I came across a beautiful fall wreath recently that I couldn't pass up. I usually have a hard time finding a wreath I like because often they are just too small. I like a nice big wreath that fills out my door.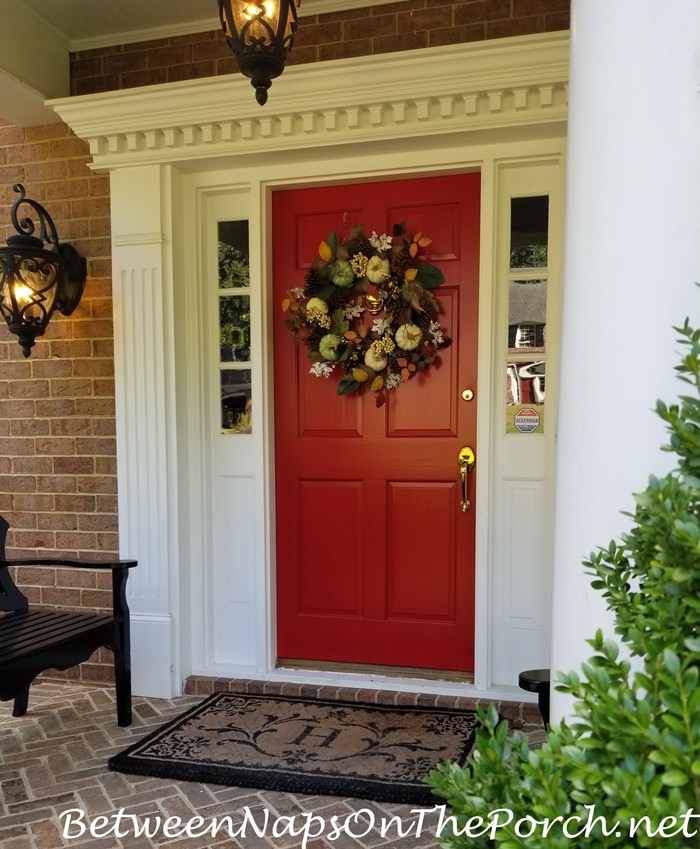 Also, finding a fall wreath that works well on a red door can be a bit tricky since so many autumn wreaths are heavy in the colors orange and red. I needed a wreath with a lot of other colors other than just orange and red to avoid having the wreath disappear into the door.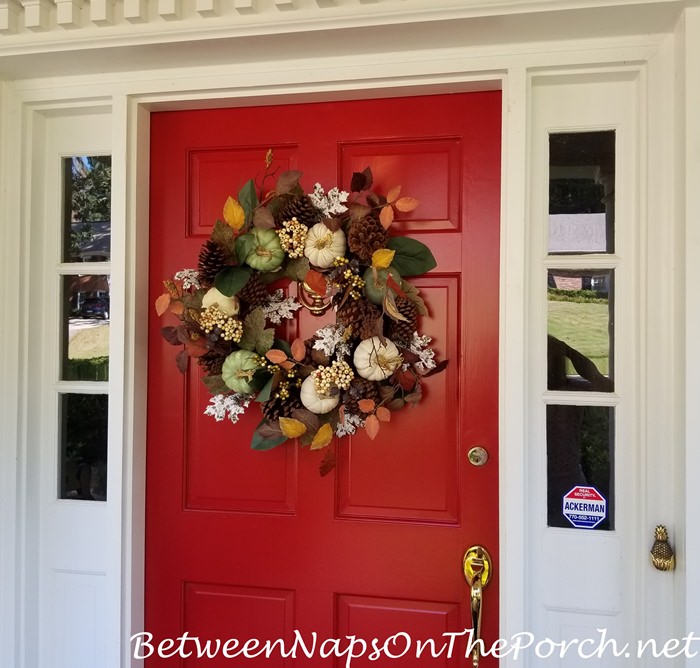 I love the mix of colors in this wreath with its pretty green and white pumpkins, mixed with autumn brown and golds. I also really like the random splash of white birch leaves…at least I think those are birch leaves. Do birch trees have whitish leaves?
When wreath shopping, I also look for a good size wreath that really fills out the door. 22″ wreaths usually look too small on my door. This one is 24″ and it's pretty much the perfect size.
Welcome to my home, dear friends! Come right in! I'm so glad you're here!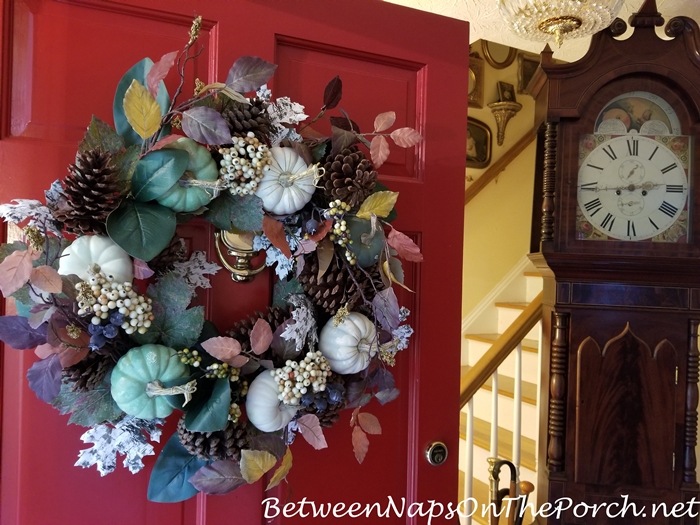 This wreath is even prettier in person than I can really show in a photo. It looks so pretty against a white surface, too.
If you think it would work well on your door this fall, you'll find it on sale here: Autumn Wreath. (Use the code SAVEMORE for additional discounts if you end up buying more than a wreath.)
Psst: If you need something to push you over the amount needed for the extra discount, I can recommend these adorable pumpkin chargers I just purchased. They are available here: Pumpkin Chargers. I can't wait to use these in a Halloween table soon.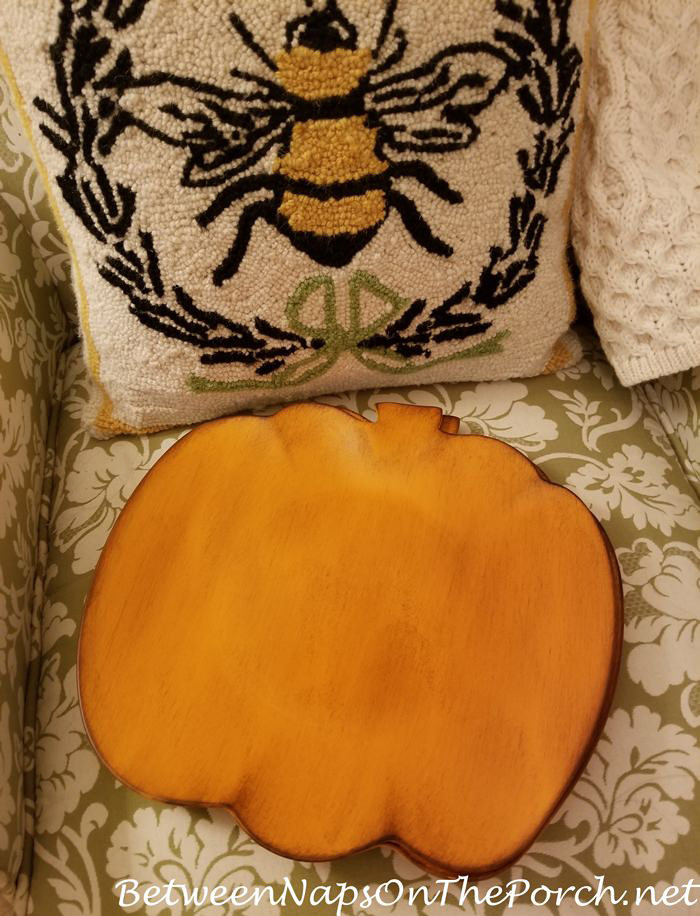 There were so many beautiful wreaths on sale. I loved this one, too. It's slightly bigger than the one I have on my door. It would look beautiful on a red, green, blue or black door. It's on sale here: Golden Fall Wreath.
If you're looking for something unique for your autumn door, I love the next two "wreaths!" Is this not the cutest?! Adorable!
You'll find Mr. Fox on sale here: Fox Wreath for Fall.
This one is super tempting for my back door since I often hear owls hooting away in my backyard. I LOVE that sound sooo much! This adorable wreath is on sale here: Owl Wreath.
If you're looking for a Halloween wreath, here's a cute one featuring a haunted house. It's on sale here: Halloween Wreath.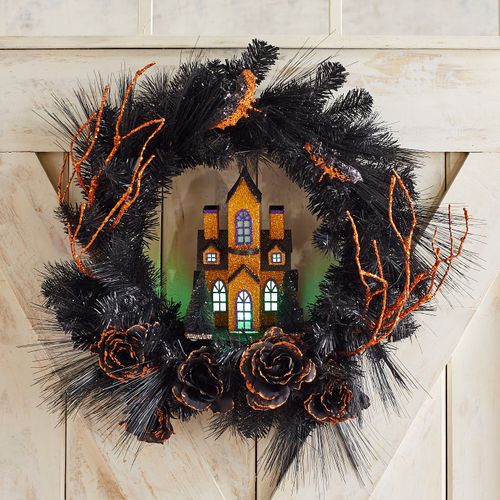 This one is sure to get some laughs on Halloween night. It's available here: Halloween Wreath. I love the colors! I may order this one for my front door this year.
I loved the simplicity and elegance of this wreath. It's more expensive than the others, partly because it's a good bigger at 30 inches. It's also all natural, made from preserved farm-raised botanicals.
It contains eucalyptus, oats and various grasses–I think it's gorgeous! It would be stunning hanging above a fireplace mantel. I don't think I would use it outside unless you live in a dryer climate and have a deep covered porch. I absolutely love its soft green color! I bet it would also be beautiful hanging in a kitchen on one of those really large oven hoods.
It's currently on sale here: Preserved Green & White Wreath.
Pssst: If you end up buying something else, don't forget to use the code SAVEMORE for additional discounts on the sale prices. You'll find many more beautiful fall/autumn wreaths on sale here: Autumn Wreaths.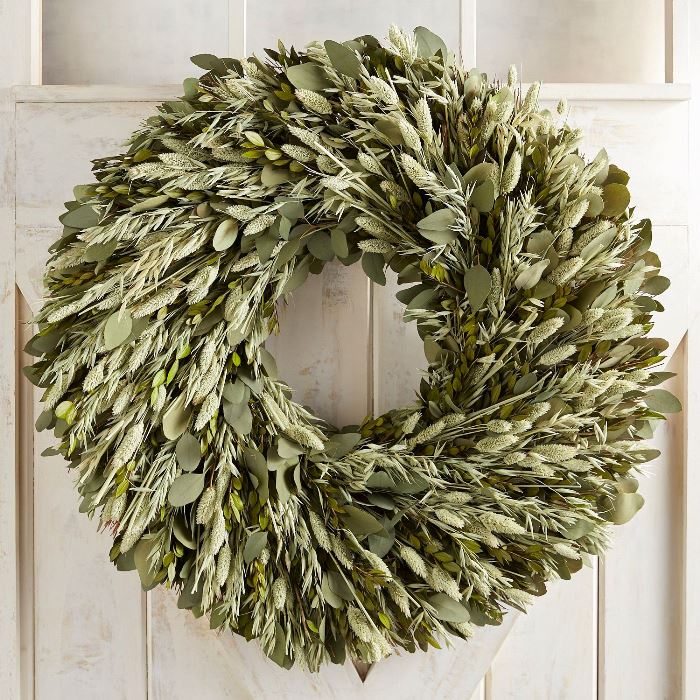 I'll leave you with this beautiful wreath that's not really a fall wreath, but I still love it! It would be beautiful in a little girl's bedroom. It would also make a lovely Christmas wreath. It's on sale here: Stars and Moon Wreath.
Have you started decorating for fall, yet?
*If a post is sponsored or a product was provided at no charge, it will be stated in post. Some links may be affiliate links and as an Amazon Associate, I may earn from qualifying purchases. *