Do you consider yourself an Introvert or an Extrovert, or somewhere in between? I'm pretty sure I'm more of an Introvert since I can spend days and days at home alone and never get bored. Between books, movies, home projects, puzzles, and online entertainment, I have to really work at it to get bored.
If you're finding this time depressing or a real struggle, probably the best antidote is getting out for a walk in the neighborhood. We took a long, almost six-mile walk through the surrounding neighborhoods a few days ago and even though we kept our distance, it was nice waving and chatting at a distance with neighbors who were working outside.
I've been thinking a lot lately about things we can do at home that are relaxing and enjoyable during this time. Most of the ones I'm sharing in today's post can be done completely alone or with another family member who is living with you.
If you've ever had an interest in birding, this is a great time to really get into it even more. The shop where I purchase all my birdseed back in Georgia and here in Ohio, Wild Birds Unlimited, has arranged it where their customers can call and order whatever they need over the phone, paying with a credit card. Then the customer can just pull up to the curb, pop their trunk and they'll load the seed right into the trunk.
Spring is such a great time for birdwatching because the birds are all super active right now as they begin the nesting season. It always brings me so much joy to see the beautiful birds in my area feeding at the feeders I have hanging just outside my kitchen window. I'm a little sad that I'm not home this spring to feed the bluebirds who nest every year in my yard, but I did hang a feeder here at my son/dil's home last fall and I've enjoyed filling it for the birds who visit their backyard.
If you're in need of a great feeder, I have two favorites that I can definitely recommend. The one below is my absolute favorite since it's easy to fill and completely squirrel proof. Though it's squirrel proof, it's not always raccoon-proof. lol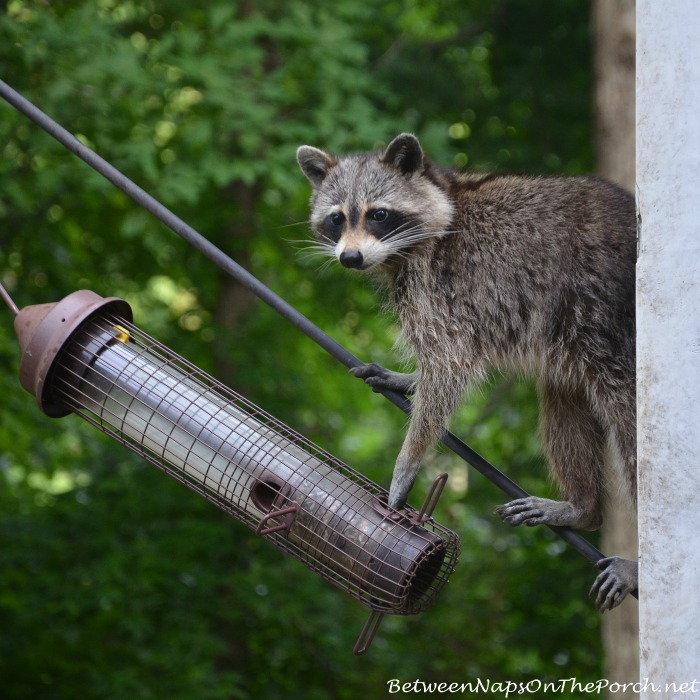 It's also easy to fill and easy to clean. This is the feeder I purchased for my son's back yard last year and my grandsons have really enjoyed birdwatching and looking up the birds in their birding books. If you're in need of a feeder, you'll find this one here: Bird Feeder.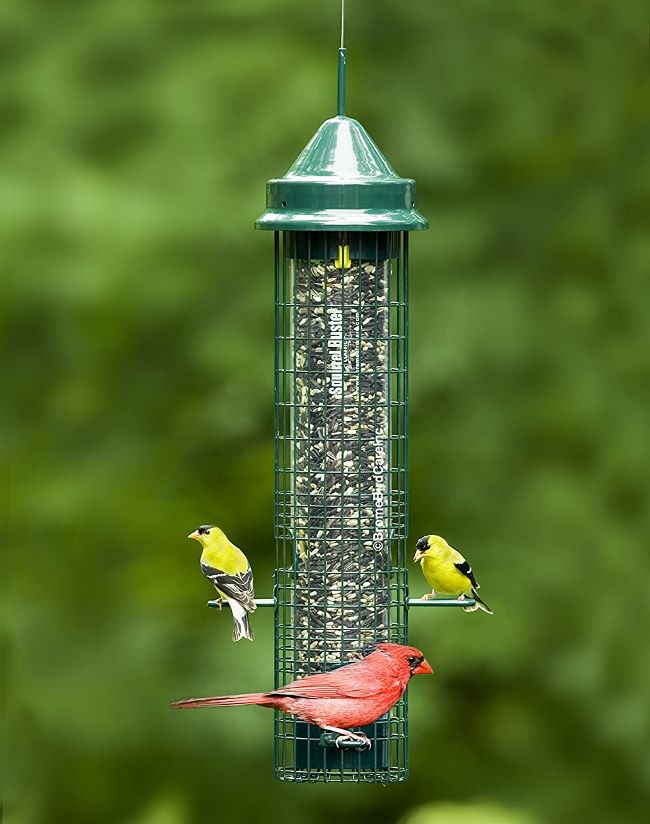 This is the other feeder that I use in my backyard. Cardinals and bigger birds who require a perch love it because it has a nice, big perching ring. They can also perch on the feeder above, but this one is a bit more comfortable for larger birds.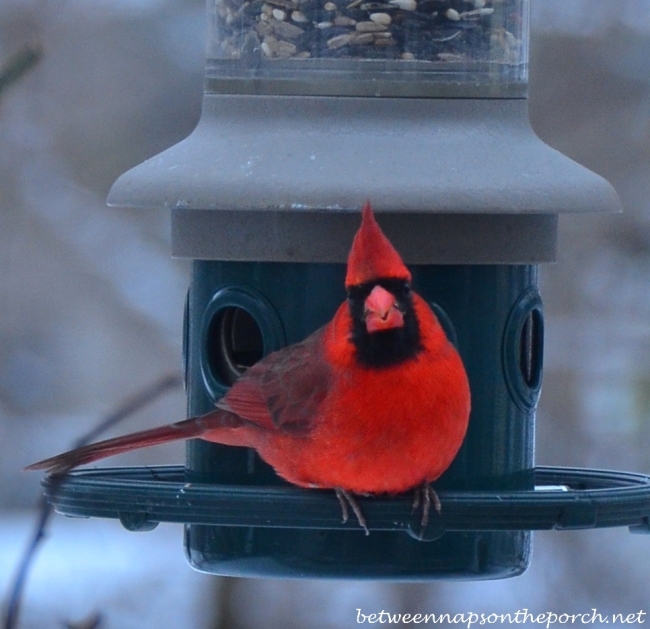 Bluebirds love it, too. Bluebirds love shelled sunflower seeds. They don't have the right kind of beak to crack the shell off of a seed, but if you buy a small bag of the No-Mess Sunflower Seed, they will eat from the feeders, too. Their favorite it mealworms, though! The ones I normally buy are currently sold out (arggg) but you'll find other brands available here: Mealworms.
It's also squirrel proof, shutting down if a wily squirrel tries to raid it. You'll find it available here: Bird Feeder.
Puzzle Time
One of my favorite past times throughout the year is puzzling. I hadn't put a puzzle together in years until a couple of years ago, now I'm addicted! There are so many amazing ones I've wanted to share with you. I've had several emails and comments from BNOTP readers asking for puzzle recommendations and several folks have asked about the puzzle board I use to put mine together.
Unfortunately, just like toilet paper, there are virtually no great puzzles left anywhere online. Amazon is wiped out and even the websites of the puzzle manufacturers state they have been overwhelmed and are no longer even taking orders! Is that not crazy?!
I searched high and low and as of the time I was putting this post together, the few I'm sharing below are the only ones I could still find available online. I've been working on this post for a few days and I can't tell you how many times I've added a puzzle to the post, only to find it sold out the very next day. So if the few I'm sharing below are still available and you want one, don't wait. It will be gone by this evening or tomorrow if it isn't already.
I thought this one was adorable. As of this writing, it was still available here: Cats with Puzzle
A few months back I put this delightful puzzle together. It depicts many of the scenes/events/places in the wonderful plays of William Shakespeare. It comes with an insert that explains all the different scenes in the puzzle and in which play they appear. If you love Shakespeare, you'll find this puzzle here: The World of Shakespeare.
Here's one more I found that I'm sure will soon be gone. A gorgeous seaside scene with a beautiful stone cottage and a wonderful old lighthouse. Seaside Lighthouse Puzzle.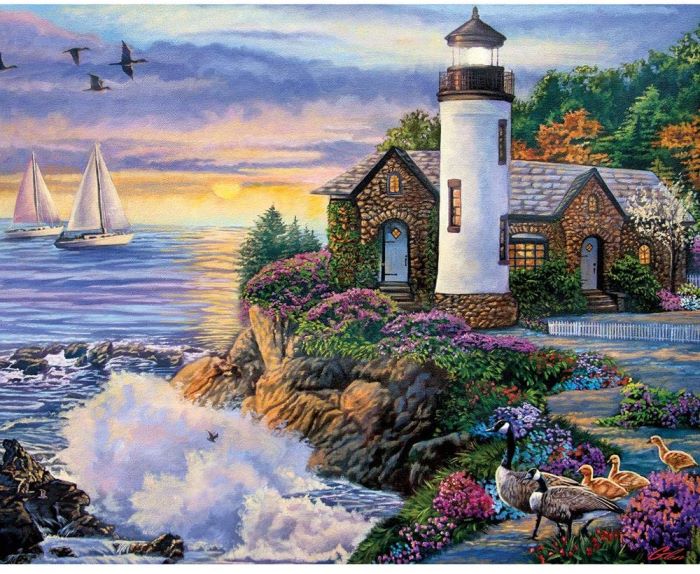 I just discovered this puzzle a few days ago and unfortunately, it's sold out. It's called Bemused Bookseller and I'm pretty sure I know what's going on in this scene because I've experienced it myself when purchasing pre-loved books. I even wrote a post about it but can't find it right now. If I do find it, I'll come back and add a link to the post.
The name of the bookstore is Bound to Please Book Shop. Love that!
Apparently the bookseller is a buyer/seller of pre-loved books based on the writing on the box, and it appears she's found something pretty amazing tucked inside one of the books. What do you think it is? I see cards with hearts and roses on them, do you think she's come across a sweet love letter? I see more letters down under her arm and beneath the book.
The doggies in their bed are so cute! Do you see the kitty asleep on the ladder? I love a puzzle that tells a story. If you would love doing this puzzle, you'll find it here: Bemused Bookseller. Hopefully, they will get more in soon.
I've had several emails/comments lately asking about my puzzle board. It was available until just recently but I think it's currently showing sold out like so many things are right now. I have two that I've been enjoying using. I've had this one in my office for a few years.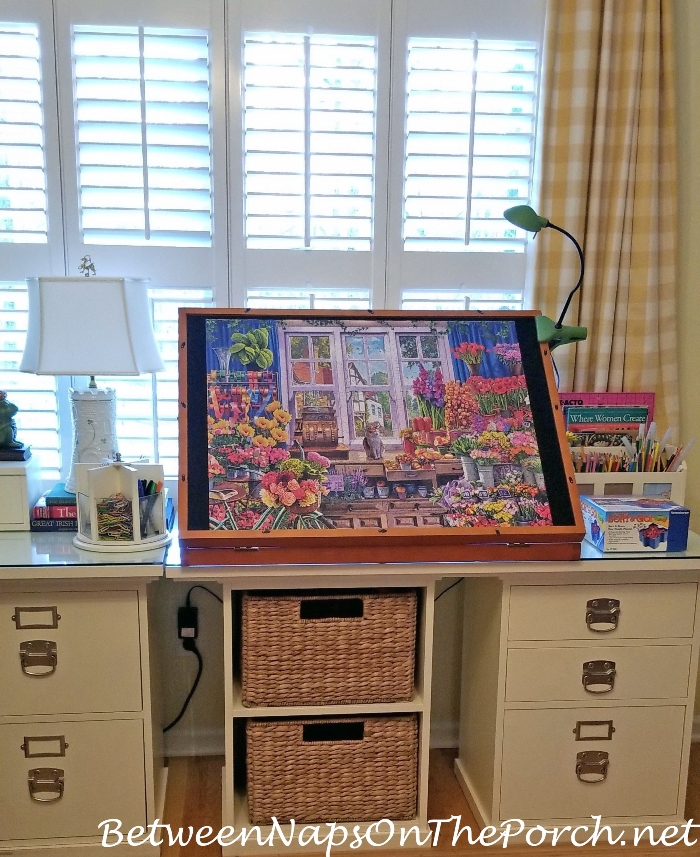 I purchased this one last year while visiting my grandchildren. They love working their puzzles on it or helping me with puzzles I already have going. A puzzle board greatly saves the back and I love that it can be easily closed up and moved at any time without disturbing the puzzle.
When they are available again, which will hopefully be soon, you'll find them here: Puzzle Board.
More Games to Keep You Busy
This sounds really interesting and has great reviews: 4.6 stars after 1,087 reviews. I think I'm going to order one, I love games and puzzles! You'll find it here: Games, Puzzles, Trivia Challenges.
If you love word search games, this looks like a good set. You'll find it here: Word Search Games.
This sounds really intriguing! It's a game you can play by yourself or with up to 4 players. I ordered it this evening. You'll find it here: On The Dot.
Books
I listen to a ton of books on Audible each year. This is my favorite non-fiction for 2019. It has a 4.8-star rating after 4,666 reviews so apparently a lot of people have really enjoyed it. It's that good!
Some of the "habits" mentioned in the book, I've been doing for years, probably due to my passion/love for organization. I LOVE finding little hacks, small changes or techniques that end up making a huge difference or improvement in my everyday life. You'll find this book available here: Atomic Habits. It's definitely a book I will listen to over and over again because it contains so much great information.
I rarely listen to fiction anymore but I've heard so many good things about I Capture the Castle, I decided to check it out. I'm really enjoying it so far! If you like a fast-paced book, you may find it too slow. If you enjoy a book that pulls you into another world with really interesting characters, I think you'll enjoy it.
Acorn TV
I ditched cable TV a few years back and haven't missed it at all, but I love watching British mystery and comedy shows online on Acorn TV. Agatha Raisin is one of my favorites. There are a lot of great mystery shows on Acorn TV, as well.
Acorn TV is ridiculously inexpensive, I think I pay around $5 a month. Totally worth that and more! Check it out here: Acorn TV.
Movies
If you're looking for some fun movies, I've listed a few of my faves below. I haven't seen Local Hero, yet but it has great reviews and sounds like the type of movie I would enjoy, so I've added it to this list. I plan to rent it sometime soon.
I was a little hesitant to put The Red Violin on this list, even though I love the movie. The reason I was reluctant to include it is because I only watch and want to recommend happy, uplifting movies. Unfortunately, The Red Violin starring Samuel L. Jackson, starts off with a sad situation, but once you get past the tragic opening (which thankfully is short) it's a wonderful movie with gorgeous scenery, beautiful music and costumes, and an intriguing storyline. If you can take some initial sadness, the rest of the movie is excellent!
Waking Ned Devine (Comedy)
Leap Year (Romantic Comedy)
Emma (Comedy/Drama)
Local Hero (Comedy)
An Affair to Remember (Romance)
A Beautiful Day in the Neighborhood (Drama…I haven't seen this one yet.)
Doris Day Movies (Romantic Comedies)
The Red Violin (Drama/Adventure) It's also available here: The Red Violin.
Please share any fun, happy or uplifting movies that you know and love. We all need some smiles and happiness to help get us through the days ahead.
As I think of more ways/ideas to help pass the time, I'll create another post to share those.
Stay safe, my Friend! We are all in this together!
*If a post is sponsored or a product was provided at no charge, it will be stated in post. Some links may be affiliate links and as an Amazon Associate, I may earn from qualifying purchases. *