This is definitely another "Instagram-Made-Me-Do-It" project.
So, I was minding my own business one day, checking out a fave Instagram account when I came across this picture below.
I immediately recognized that infamous Hermes orange and the iconic brown ribbon Hermes uses to tie all of their wonderful packages.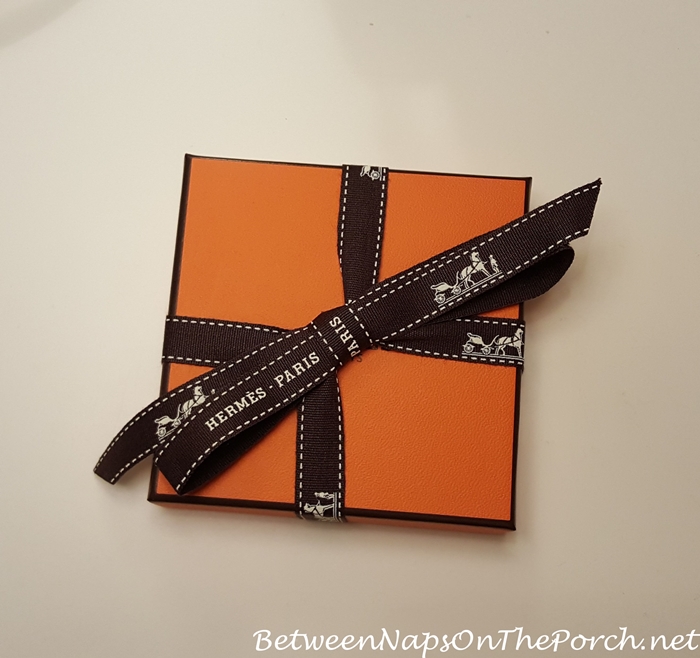 I had never seen this particular scarf before and loved it! Leave it to Hermes to come up with such a whimsical, clever design. Later when I had some time, I researched a bit online to find out more about the scarf.
In reading online I learned that the scarf, named Bolduc, was originally produced by Hermes in 1998. Bolduc in French is the decorative ribbon used to wrap gifts. This scarf was designed by Jean-Louis Dumas, a member of the Hermes family and the same artist who designed the Africa scarf I previously shared in this post: Africa Scarf.
Hermes scarves, like everything Hermes makes, are beautifully crafted. A new scarf design takes an average of 18 month and 800 hours of engraving and silk screening to produce! I'm not sure if Hermes has produced Bolduc again in more recent years, but they may have since they do bring a few designs back each year.
Later on Pinterest, I stumbled across this photo of the room where the scarf is actually on display. I couldn't get the photo above out of my head since I'm a big fan of Hermes products and love their handbags, scarves and bracelets. Those magical orange boxes have a tendency to make my heart beat just a little bit faster.
The Bolduc scarf is not currently in production, so it wasn't available for sale at the Hermes website. I kept my eye out and last May I came across one online and purchased it. It had never been worn and was in pristine condition.
Since purchasing it last year it has been tucked away in its orange box, waiting for me to decide just how I was going to frame it. I knew framing a silk scarf would not be an easy task, so I decided to take it to a professional frame shop in my area.
In looking at framing options, I knew I didn't want to frame the scarf with a white frame as I had seen in the inspiration photo. Though I loved how it looked in the photo, I wanted to use a frame that wouldn't create quite as much contrast against the scarf.
Then the choices got really interesting! Have you ever heard of museum glass? I've only had one other item professionally framed and that was many years ago. I don't recall any mention of museum glass back then. Once I saw it, there was no going back.
This was the same "example" the frame shop had on their counter. The difference between the appearance of regular framing glass and museum glass was unbelievable. Regular glass created such a glare/reflection! I had never realized how much glare could change the colors of the object under the glass. The museum glass had virtually no glare and the colors stayed true and beautiful. Once I saw this sample, I knew I had to go with museum glass, which unfortunately increased the framing cost by $100.
For now I have my scarf hanging on the wall in my dressing room off the master bedroom. It's right behind my Peloton bike, not the most ideal spot, but I do enjoy seeing it there when I ride or get dressed in that room each day.
The frame is looking rather gold in these photos, but in person it's more of an burnished, antique-silver color that works well with the lettering on the ribbons.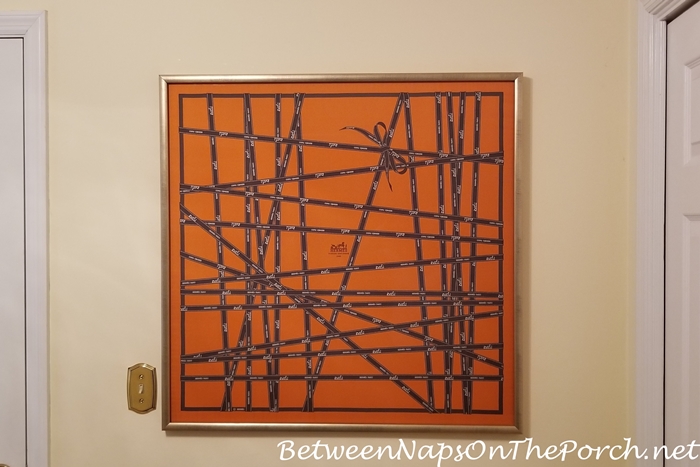 I'm very happy with the museum glass. It totally kills any glare from the light overhead, as well as the light coming in from the window that's to the left in that room.
I tried to capture a close-up for you so you could see how clear the museum glass looks. It really looks like there's nothing there, like you could reach out and touch the scarf. I'm pretty much ruined now, not sure I'll ever be able to have anything framed again without using museum glass. Arggg!
Did you already know about this magical glass? Have you used it to frame anything special? I was surprised to see it can be purchased online for framing, it's available here: Museum Glass.
Here's an illustration I found online that shows how it's designed. Pretty amazing stuff! I wonder if it's really what museums use–or maybe they use something similar, but even better.
Hope you found this post helpful for the next time you need to have something professionally framed. Even though it increases the cost, for those really special pieces I think museum glass is definitely worth it.
*If a post is sponsored or a product was provided at no charge, it will be stated in post. Some links may be affiliate links and as an Amazon Associate, I may earn from qualifying purchases. *