A while back I shared a new idea I had just discovered for storing silver jewelry. I needed a better method for storing mine because keeping it stored away in little tarnish-free bags also kept it out-of-sight and out-of-mind. As a result, I never wore it.
This was the storage system/piece I purchased and today I thought I'd share exactly how I've decided to use it and something awesome I just recently discovered about it. (This jewelry storage/keeper is available here: Silver Jewelry Keeper.)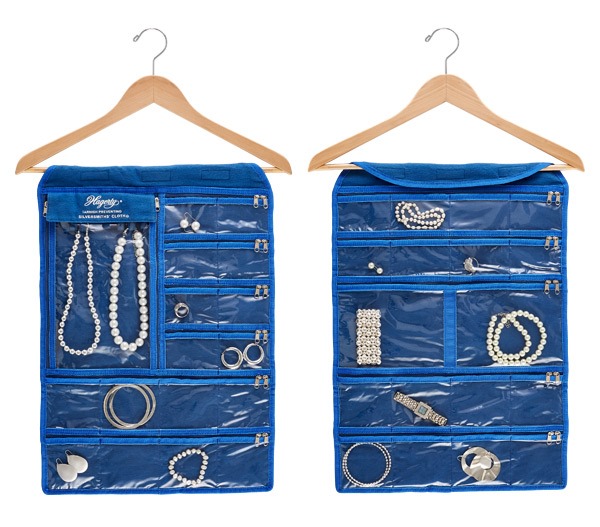 How's It Working?
So far, I'm very pleased with how it's working. My silver jewelry is staying tarnish free and I love how easy it is to see each piece. There's no more having everything tucked away in bags where it's completely hidden and out of sight.
When I first purchased this 2-sided jewelry keeper, I noticed the spot designed for storing necklaces. I was glad they included that feature, but I found it somewhat cumbersome to use–that was until I finally noticed that it actually unzipped on both sides! How had I missed that?
What a difference it made when I realized I could unzip both sides (and not just one) to access the area where necklaces are supposed to be hung. (Notice how it's unzipped below.) So if you purchased this piece back when I first blogged about it, just wanted to make sure you saw what I initially missed.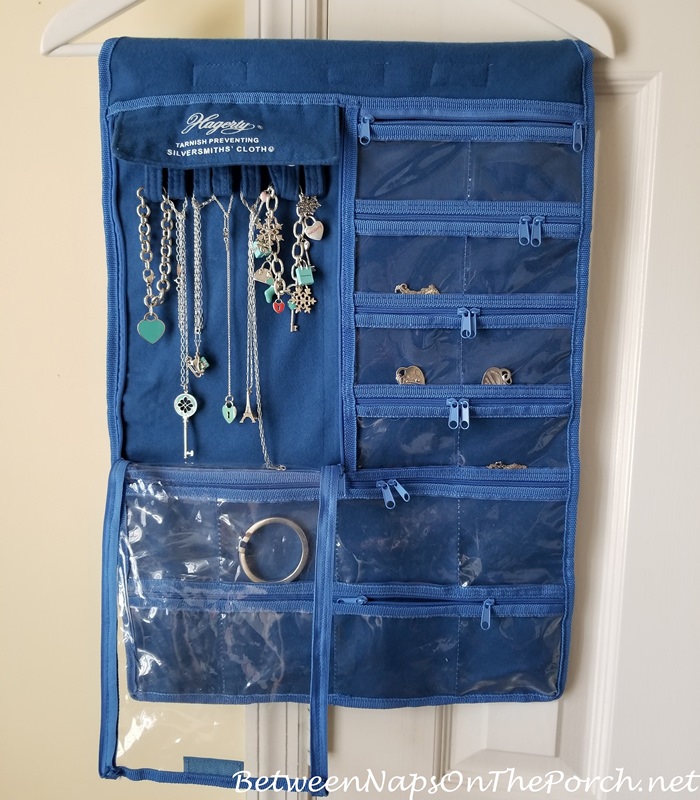 I've made two significant changes in how I'm using this section of the jewelry keeper.
1. for necklaces that are super long, I've kinda loosely tied them around the loop. You may recall the loops unsnap at the top. To keep the longer necklaces from bunching up at the bottom of this storage section, I just loosely tied them around the loop.
2. The other thing I did was instead of storing my bracelets in a pocket as I had been doing, I moved them over to this area, as well. If I eventually acquire another necklace, I may have to move the bracelets back to a storage pocket. But for now, I like having them hanging here where I can better see them. Plus, I think it's a lot better for the charms I have attached to my charm bracelet if they aren't all piled onto each other in one of the storage pockets.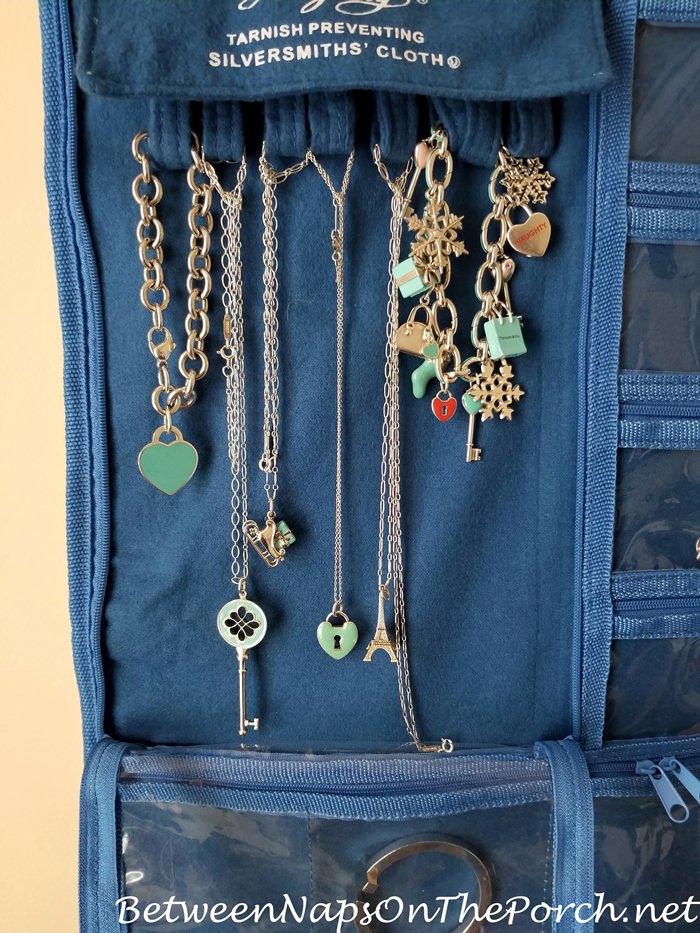 I primarily wear this bracelet at Christmas time since most of the charms are Christmas related. The other side of the "Naughty" charm says, "Nice." Ha! Of course, with my love of handbags, I had to have a little purse charm. I added the teeny, tiny little red heart as an unexpected surprise on the bracelet. I love hearts!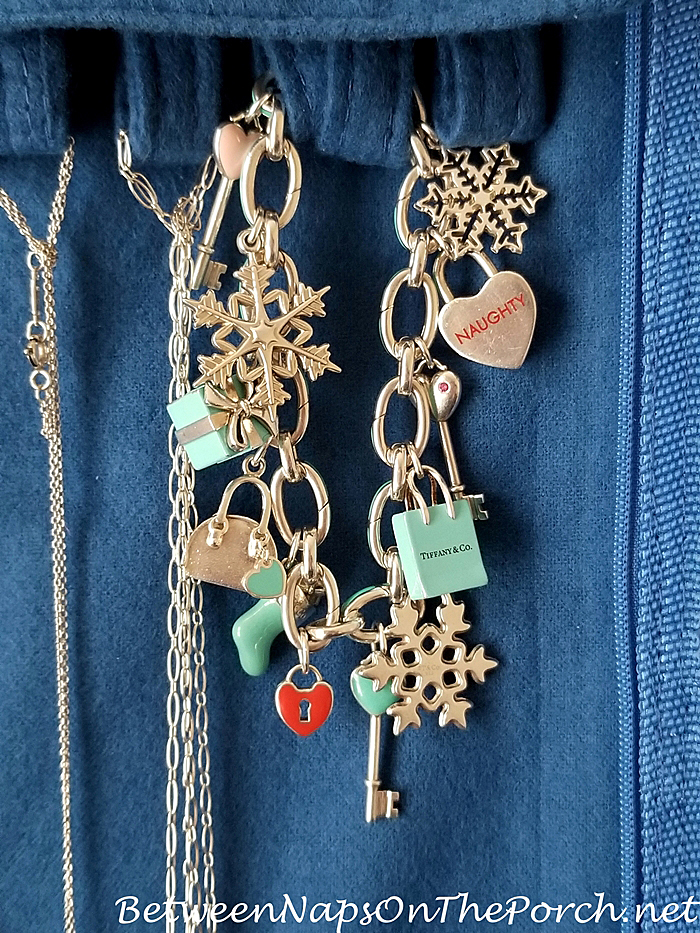 A Tip for Finding That Elusive Item, The One You've Been Wanting a Long Time
I actually had two goals in mind when I wrote this post. One goal was to share how great this silver storage system is working out and exactly how I'm using it, but the other goal was to share a system I have discovered really works for finding or locating an item you've been hoping to find but was no longer in production or available to purchase.
You may remember back in November 2016 in THIS post, I shared how I had been hoping to find this particular Tiffany & Co. charm for my bracelet. I wasn't collecting charms the year it came out, which was quite a few years ago, but I've been told it was a popular charm and sold out immediately. I don't know why Tiffany doesn't bring back the charms that were so popular. Arggg!
I've often searched for the "Bow Box Sled Charm" on eBay without any luck. (Not sure why it's called a sled since it's obviously a sleigh. Ummm…)
During one of my eBay searches a year or two back, I actually found it, but it was being sold as part of a bracelet full of charms. I already had a few of the charms showing on the bracelet or I would have been tempted. I finally decided to use the eBay "alert" system. Have you ever used that?
Whenever you search for something on eBay, if the item is not found, eBay will offer you the opportunity to, "Save this search to receive email alerts and notifications when new items are available." as shown in this screen capture below.

I was stunned when the charm actually popped back up again! There was a "Make an Offer" option and the seller accepted my offer. So after years of searching, I was finally able to add the Bow Box Sled Charm to my charm collection. I've decided to wear it alone on a chain because I've noticed my "enamel" silver pieces are starting to show a little wear from wearing them on my bracelet since the charms have a tendency to bang into each other.
So if there's some super elusive piece you are trying to collect (doesn't have to be jewelry, could be anything!) set up an alert at eBay. That way, when/if it finally does get listed for sale there, you will be the first to be notified. I do not believe I would have ever been able to find this charm if it hadn't been for their alert/notification system. It does work!
After using this silver jewelry storage system for a while now, I definitely feel it works well for keeping silver jewelry, tarnish-free. I'm super pleased with how it's working and love that when I'm in the mood to wear a piece of my silver jewelry, I don't have to stop and take time to polish it every time.
If you're looking for a good way to keep your silver jewelry from tarnishing, you'll find this silver jewelry keeper here: Silver Jewelry Keeper.
One tip: Be sure to polish your jewelry before putting it inside the jewelry keeper so it starts out tarnish-free. This silver jewelry keeper won't remove tarnish, but it will keep it from tarnishing again for a very long time.
If you only need a single pouch for a bracelet or a small item like a napkin ring, you'll find this size here: Silver Storage Pouch.
If you have quite a few large silver pieces, like silverplate pitchers, candlesticks or trays, you'll find their larger storage bags here: Silver Storage Bags for Larger Pieces. I've purchased quite a few of the larger bags over the years to store my silver candlesticks, pitchers and trays since I was worried about wearing away the silverplate from polishing them too often. The bags have worked really well!
Hope you find this post helpful! Looking forward to Tablescape Thursday tomorrow. I'll be going back to the old Linky system for tomorrow since several folks have been having trouble seeing the links for Metamorphosis Monday and Tablescape Thursday.
*If a post is sponsored or a product was provided at no charge, it will be stated in post. Some links may be affiliate links and as an Amazon Associate, I may earn from qualifying purchases. *