A few weeks ago I shared a shocking discovery. I looked down and found lots of tiny holes in one of my favorite Lilly Pulitzer shirts.
I had no idea what had caused them, but it prompted me to look at my other Lilly Pulitzer Etta shirts.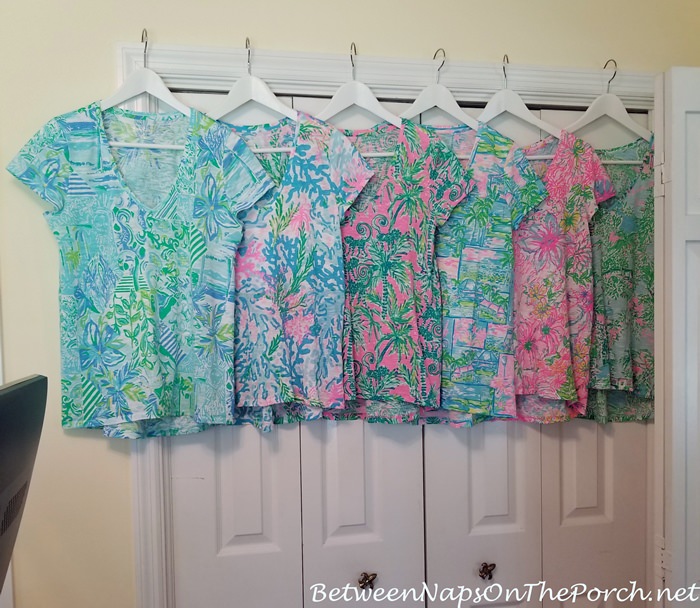 They alllll had holes–every last one of them!
In reading many of the reviews on the Lilly Pulitzer website, I discovered this was a common complaint about this shirt. Some folks saw holes in their Etta shirts after only wearing them once.
In the comments on that post (My Lilly Pulitzer Shirts are Turning Into Swiss Cheese!) many of you felt it could be caused by the button on my shorts/pants rubbing against the light-weight, thin, Etta shirts. Since the holes were pretty much in line with the button on my Talbots shorts, the shorts I most often wear with my Etta shirts, I had to agree. I contacted Lilly Pulitzer via email and they never replied back. I guess I need to get in line behind all the other folks complaining of this same issue in the reviews on their website.
Update: A few people suggested maybe the holes were caused by a bug. That's def not it. The holes have only occurred in the Etta tops and nothing else in my closet, the holes are all in the exact same area (in front of the button area) on every single shirt. Plus, check out the 1 and 2-star reviews on this shirt here that all mention the same holes in the same area: https://www.lillypulitzer.com/etta-top/001504.html.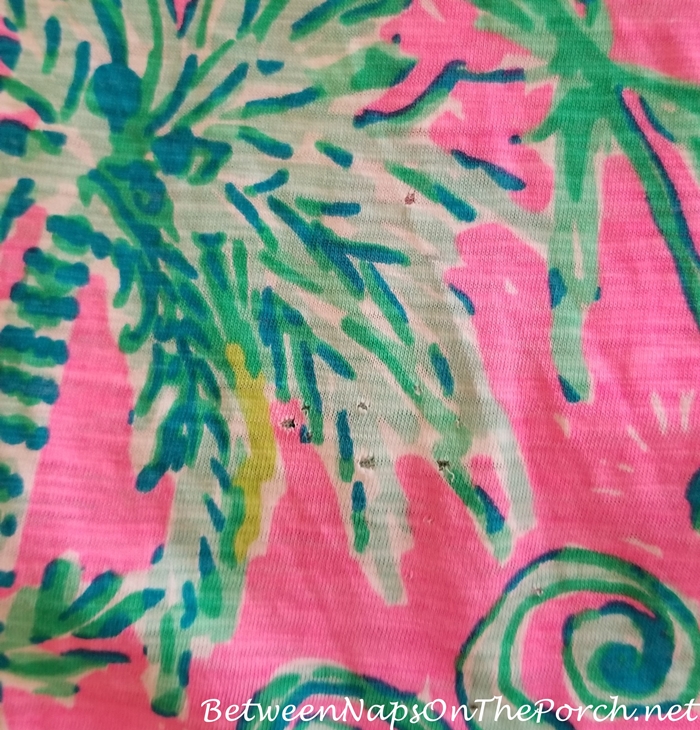 A few of you mentioned in the comments on that previous post that it was possible to buy button covers. I had no idea such a thing existed since this was my first experience with holes mysteriously appearing in my tops, but then I've never purchased tops this light/thin before. I decided to give the button covers a try.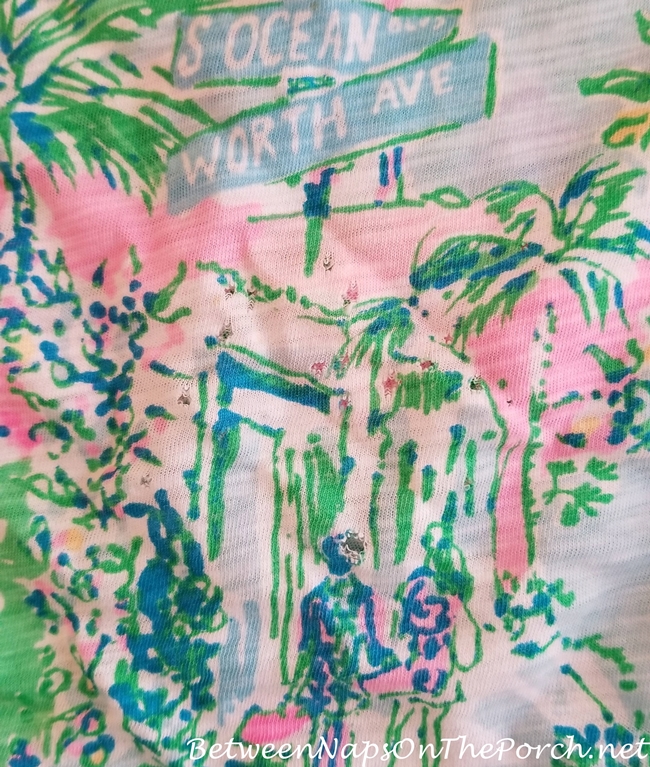 On closer inspection of my favorite scalloped Talbots shorts, I discovered something I had never noticed before. Some had a button waist…
…and some did not.
As you can see in the photo below, this pair doesn't have an outside button.
It closes with a button on the inside and little metal tab thingies.
But some of my Talbots shorts do have buttons. Here's how the button looks with a clear, silicone cover over it. So far, I've added the silicone covers to two pairs of shorts. Has it helped? I think it has! The existing holes on my shirts don't seem to have gotten any worse and I don't think I have any new holes.
These are the covers that I purchased. They are mainly designed to fit over metal jean buttons but they will stretch to fit over a bigger button.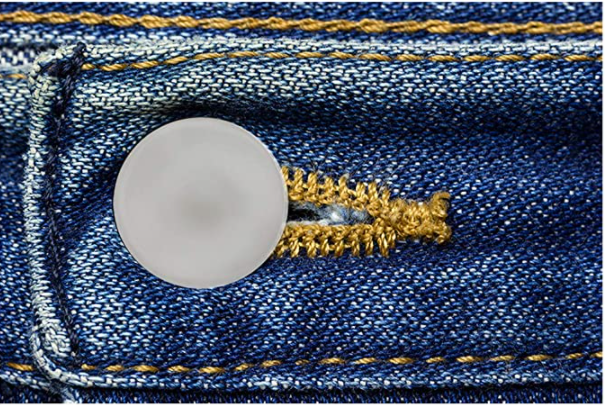 It's a bit of a struggle to get them over the bigger Talbots short's button, but once they are on, they are on! Also, they wash well and do stay on in the wash. I've had no issues washing my shorts with a cover on the button.
So far, I'm very pleased with how these are working. I'm going to put them on all my shorts since I'm still wearing my holey Lilly Pulitzer Etta shirts here at home and even occasionally when I run out on a quick errand. The holes are so tiny and the print is so busy, when I stand in front of a mirror, I can't even see them. You have to really look for them to know they are there. If you would like to try these covers on your shorts/jeans buttons, you'll find the ones I purchased here: Button Covers.
*If a post is sponsored or a product was provided at no charge, it will be stated in post. Some links may be affiliate links and as an Amazon Associate, I may earn from qualifying purchases. *