Welcome to the 456th Metamorphosis Monday!
Sorry this is going up a bit late. The painters are here finishing the staining of the basement door so I've been downstairs working with them this morning.
The makeover of the two decks on the back of my home is complete. I like the brown railing a lot more than I ever thought I would. The stain color is Sherwin Williams, Lodge Brown.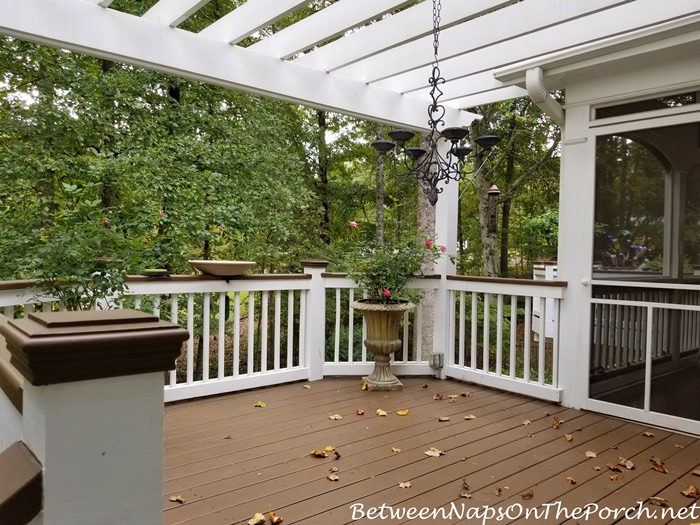 Before, when the railing was white, it showed everything.
I have a lot of trees in the backyard, so each time I had the deck and railing pressure washed, it would look like this again in no time.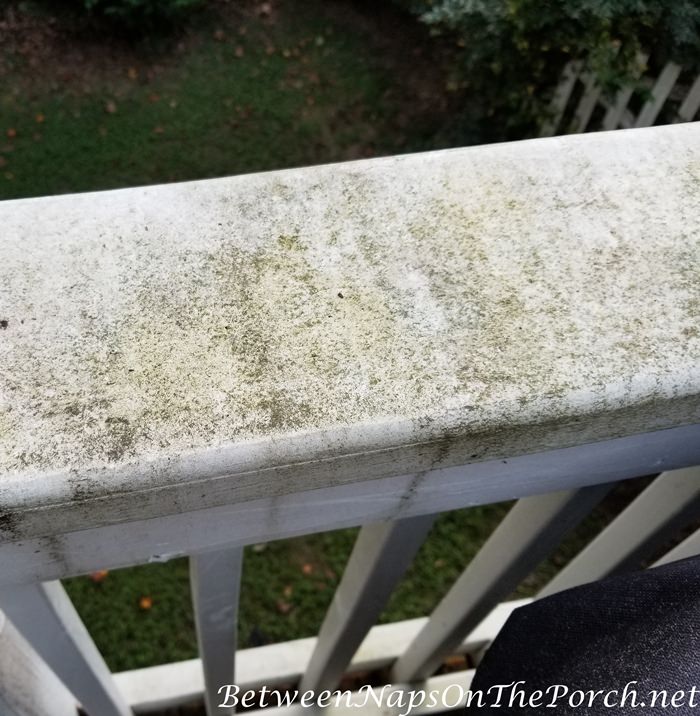 Very frustrating!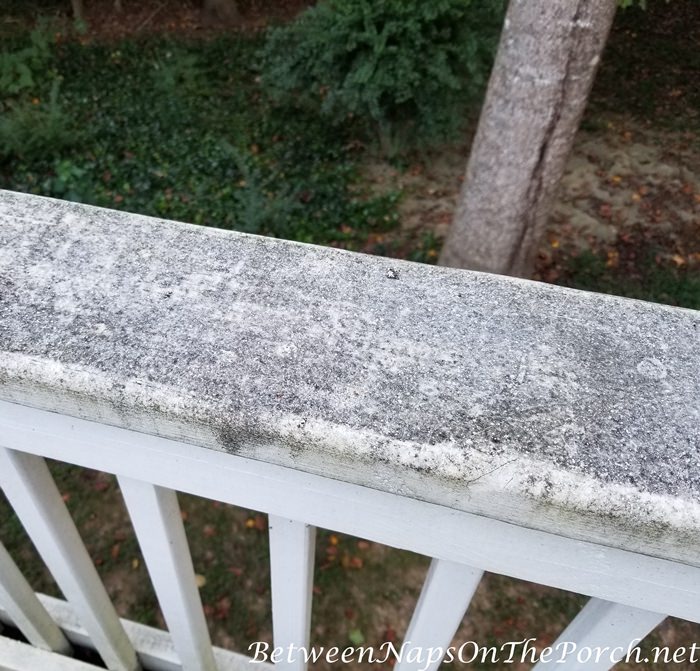 I've added back the birdbath. The birds really, really missed it while it was gone during the recent cleaning/staining of the deck. As soon as I added it back, it was covered up in chickadees, cardinals, goldfinches, bluebirds and wrens. They all came for a sip and the chickadees and bluebirds jumped in for baths…at the same time! I wish I'd had my camera downstairs to capture that, it was sooo cute watching them splashing around together!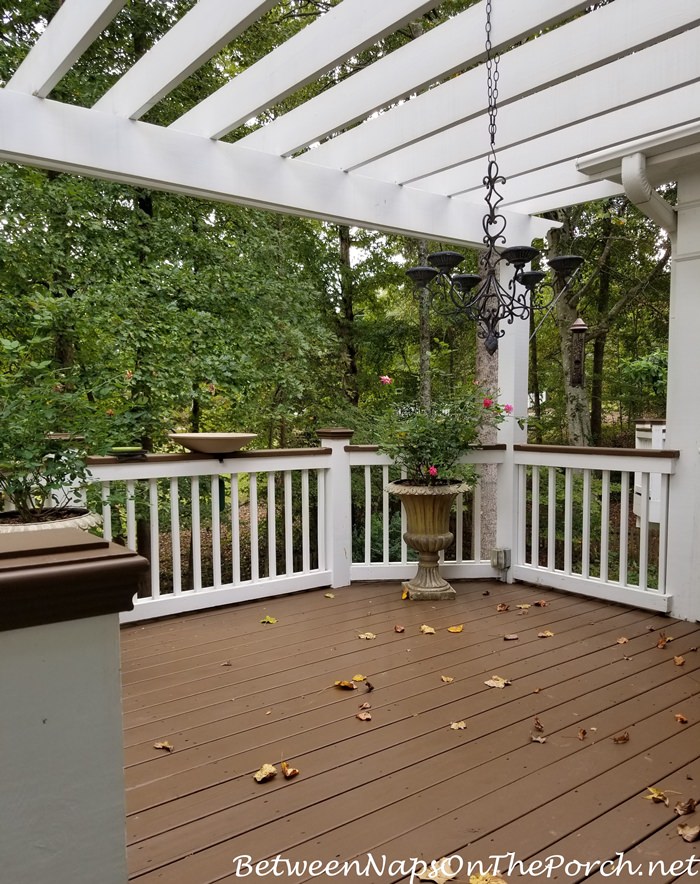 If you have a deck rail, consider adding one of these bird baths to the railing. It will attract more birds than seed will! Seriously! The birds are always looking for water, especially during periods when it isn't raining very much.
The birds and squirrels love it during the summer…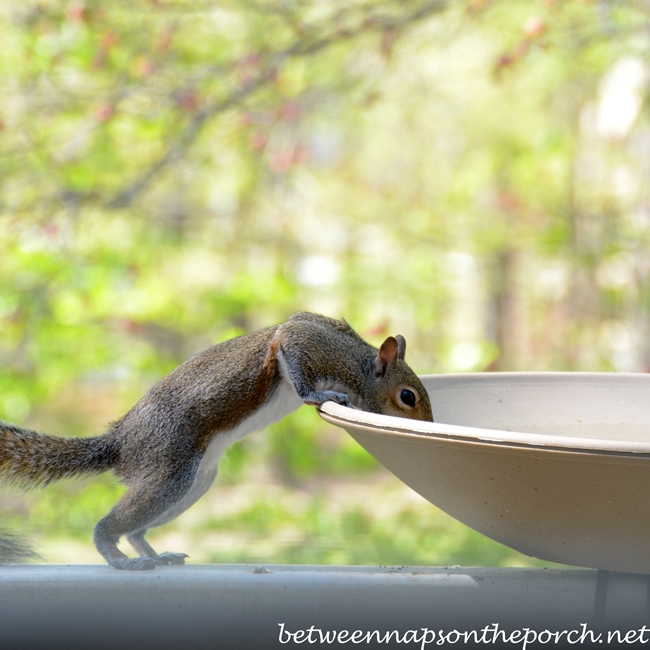 …and they are especially thankful for it come wintertime since it's a heated birdbath and doesn't freeze over. This is the one I have here: Heated Bird Bath. I plug this one in when the temps start dipping below freezing since the birds can have a difficult time finding water during the winter months when things freeze over.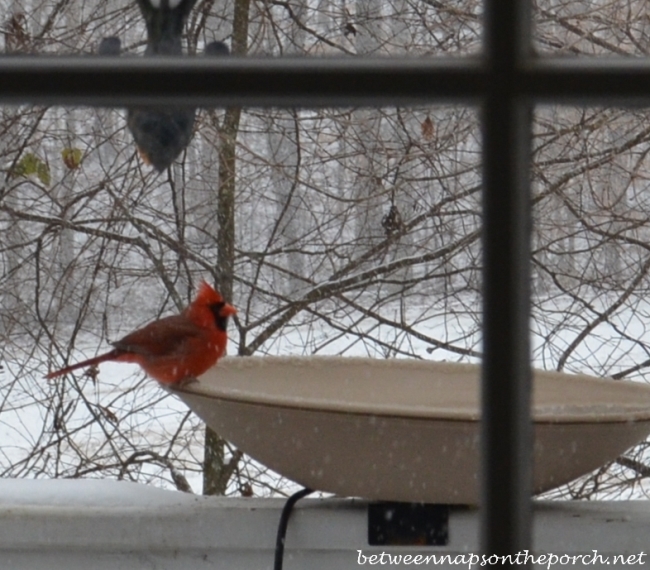 I also hung the outdoor candlelier back up. I purchased it many years ago from Smith & Hawken. I'm not sure if I'm going to repaint the old metal furniture I had here, or buy new. The old furniture is so rusted, I'm very tempted to just replace it.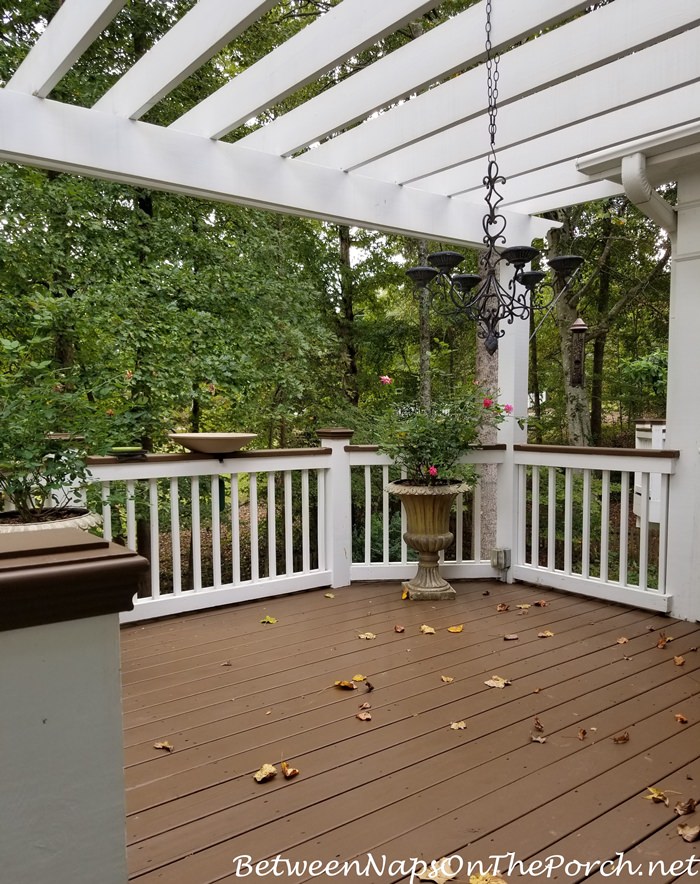 The Other Deck
So, what about the other deck? This is the furniture that had been here for many years…probably 15+ years. After so many years, the umbrella eventually fell apart.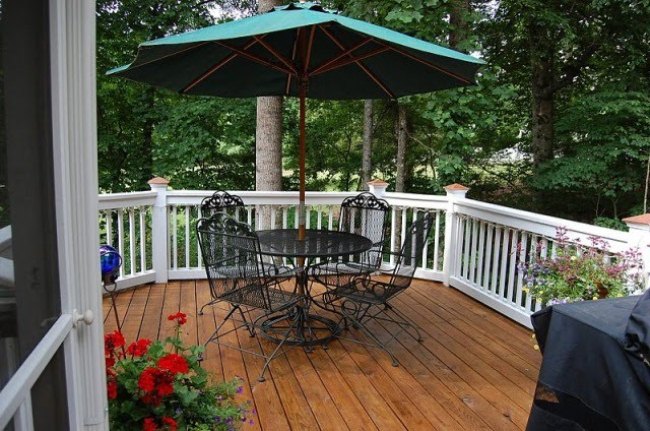 Next, I purchased this umbrella from Pier 1–loved its multi-layered "pagoda" style. It looks a bit big for the table in this photo, I do love a big umbrella for full coverage, though. This umbrella is still available, although they may not have the same color as the one I purchased. You'll find it here: Pagoda Umbrella.
After I took this photo, I put the umbrella back inside my laundry room so it would stay clean until needed. I never really used it more than a couple of times, so recently I gave it to my son and daughter-in-law after I purchased new furniture for this deck.
The colors in the umbrella are a great match for their outdoor furniture seen in this previous post: A Secret Garden Party.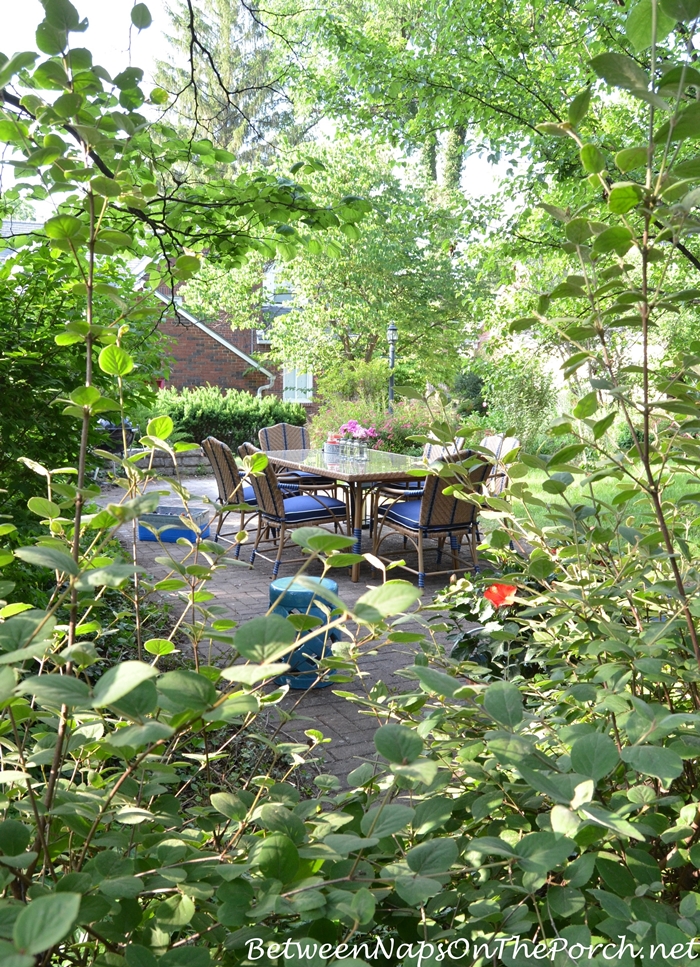 Update: Here's how the umbrella looks with their furniture. Looks like it was made to go with their outdoor dining furniture!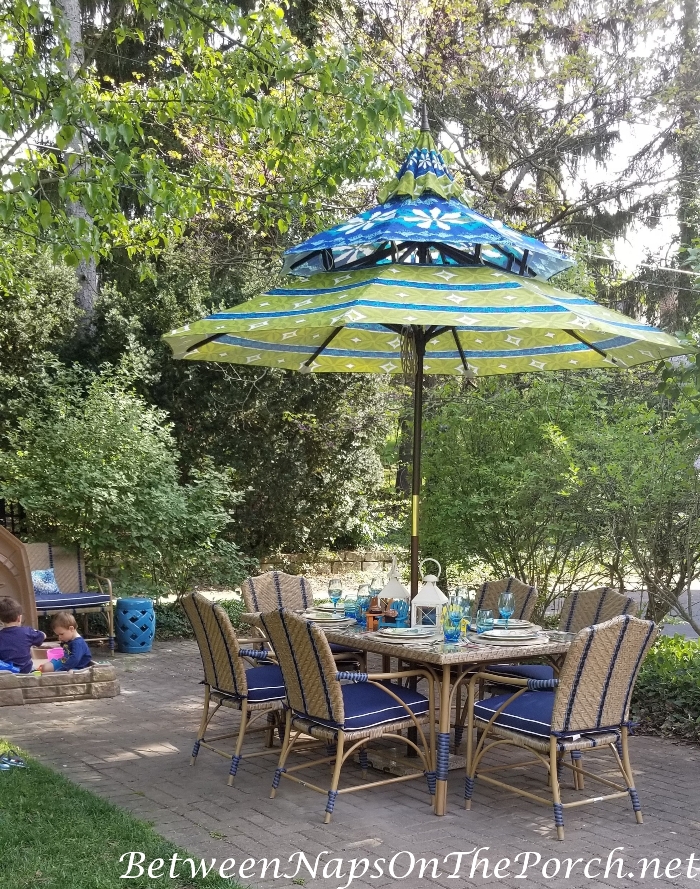 Toward the end of summer, I was shopping in Home Depot when they were clearancing out their patio/deck furniture sets. I've always thought I needed to use a round table on this deck due to the shape of the deck, but at $299 for a full set of dining furniture, I decided to take a chance and try something different.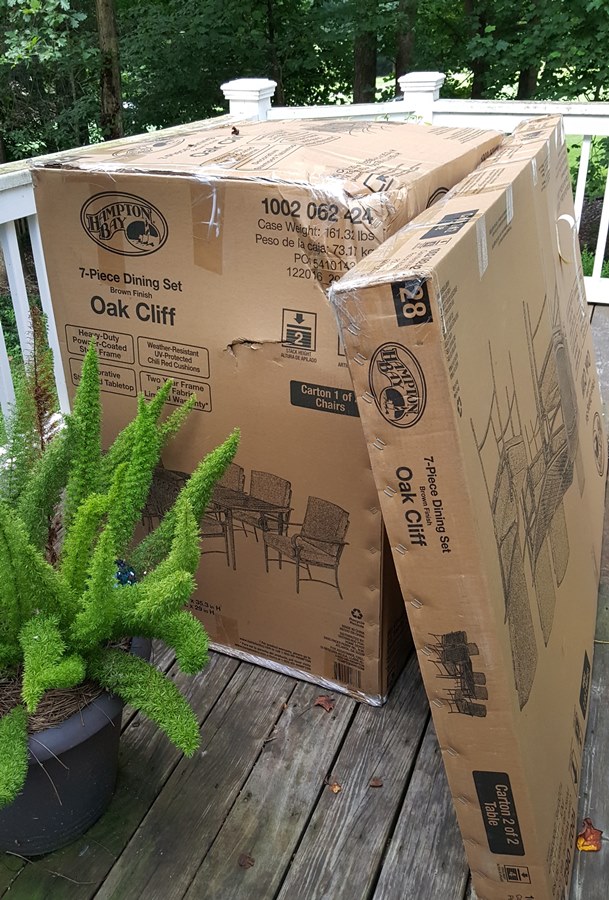 Here's a photo showing how the deck looked before this recent cleaning. I had cleaned both decks around a year ago and had stained one, but never got back around to staining this one because I didn't like the stain I had chosen and used on the other deck. So I was stuck…trying to decide which direction to go.
So how about an "After" photo!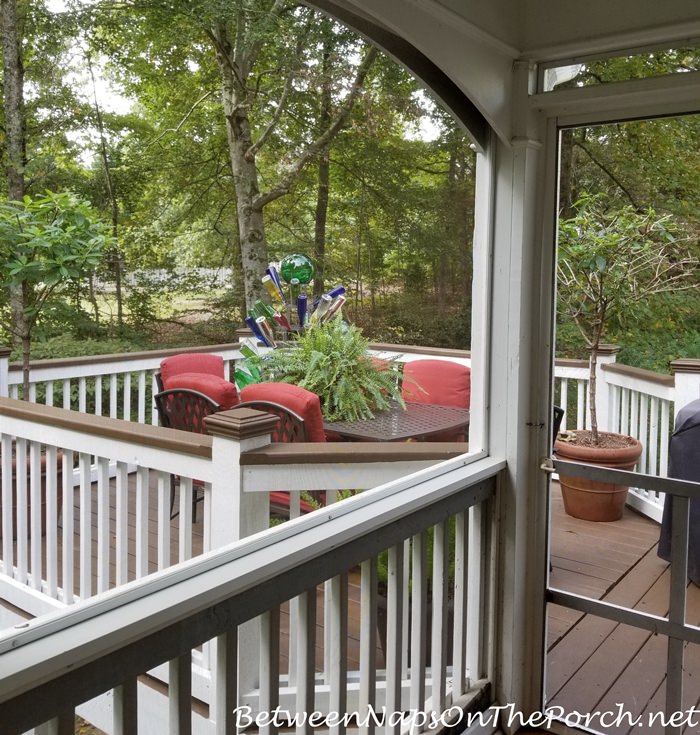 This is how this deck is looking now with the Sherwin Williams, Lodge Brown solid stain. I decided to go with a solid stain (even though the deck cleaned up nicely once it was washed) because it's supposed to be easier to keep clean.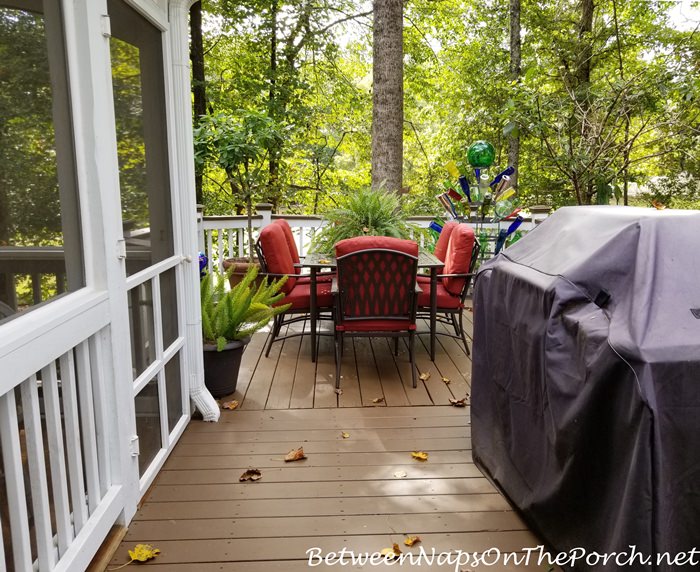 The rails got the same treatment. It took two coats of stain/paint to cover the previous white paint.
Still looks like summer here, but the leaves are just starting to change and fall. In another month all these trees will be bare.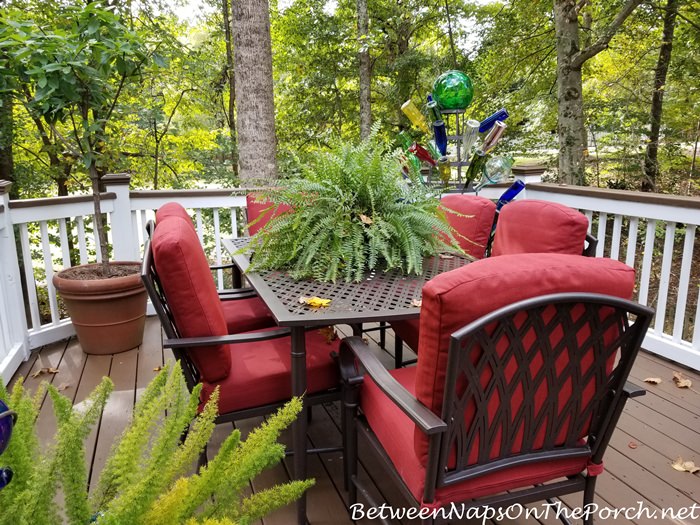 I really do like this table and for $299 for the table, six chairs and cushions, it was an awesome end-of-summer deal. Looking forward to creating a tablescape on it sometime for Tablescape Thursday!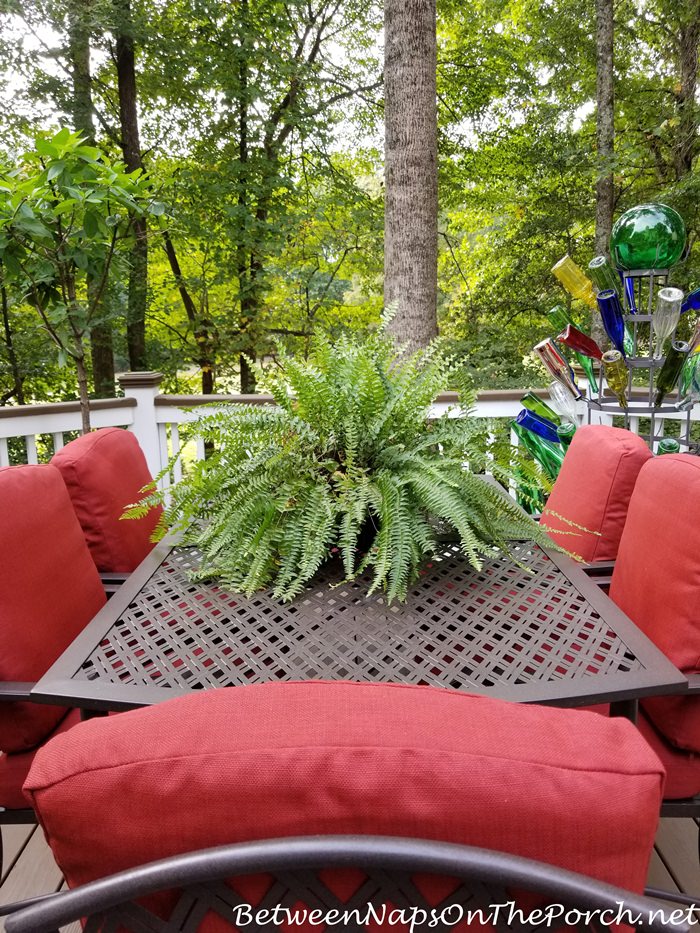 A view looking across to the other deck…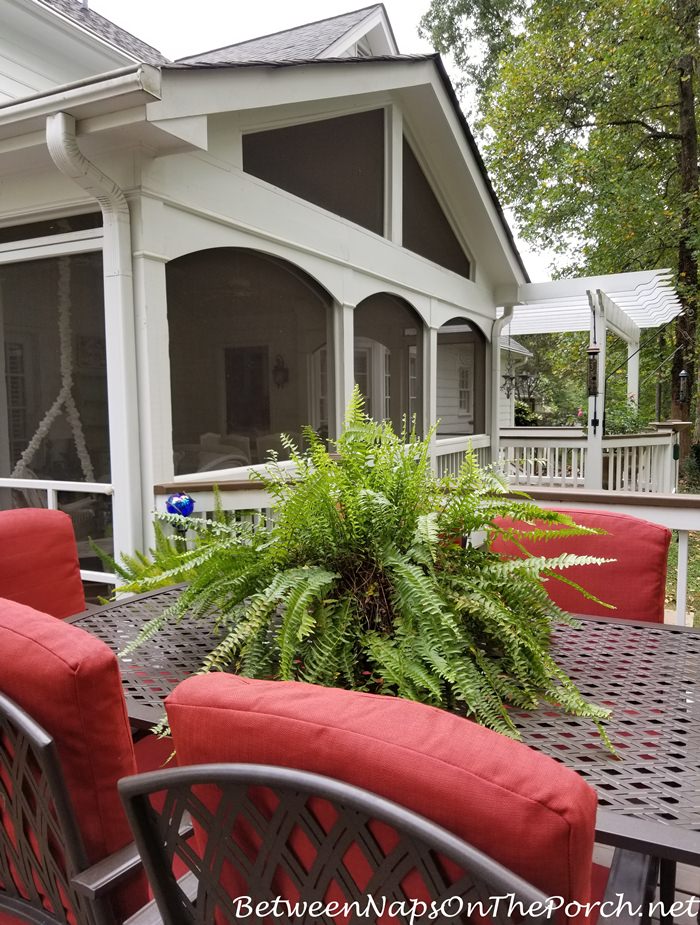 A "just-for-fun" view from behind the bottle tree. 🙂 (Read more about bottle trees in this previous post: Bottle Trees.)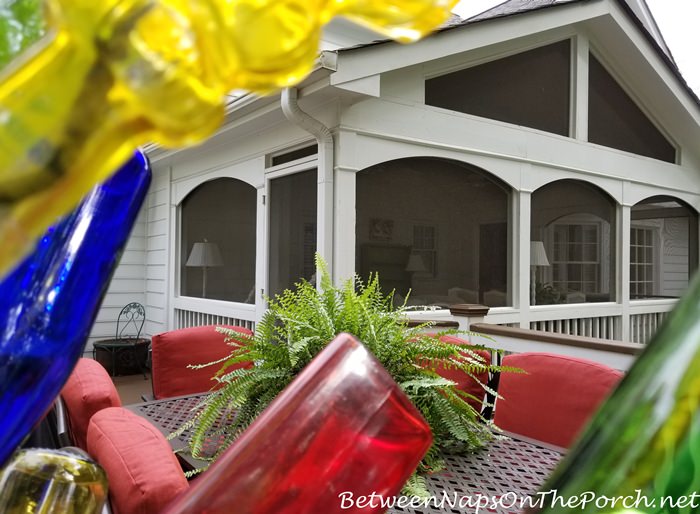 Looking forward to all the great Before and Afters for this week's Met Monday!
Pssst: I post almost daily to Instagram. Follow Between Naps on the Porch on Instagram here: Between Naps On The Porch. If you enjoyed this post, subscribe for free email updates when a new post is up here: Subscribe for post updates.
Metamorphosis Monday
Metamorphosis Monday is a party that's all about Before and Afters. If you are participating in Met Monday, please link up using the "permalink" to your MM post and not your general blog address.
To get your permalink, click on your post name, then just copy and paste the address that shows up in the address bar at the top of your blog, into the "url" box for InLinkz.
In order to link up, you'll need to include a link in your MM post back to the party so the other participants will have an opportunity to receive visits from your wonderful blog readers.
Please observe these few rules:
Please link up Before and After posts that are home, gardening, decorating, crafting, painting, sewing, cooking, fashion or DIY related.
Be sure to include a link back to the party in your post, so your readers will be able to find and visit the other bloggers who are participating.
Do not link up to the party if you're doing so to promote or sell a product.
To those who are linking up: If you notice a shop or store linking up to sell products (yes, unfortunately that does happen) please let me know so I can remove their link from the party. No one wants to click a link expecting a Before and After, only to find a spam link to an online business/store.
*If a post is sponsored or a product was provided at no charge, it will be stated in post. Some links may be affiliate links and as an Amazon Associate, I may earn from qualifying purchases. *