Welcome the 208th Tablescape Thursday!
The daisies and a few of the mums from last week's bridal shower tablescape were still hanging in there, so I couldn't resist using them in another setting. Hope you enjoy.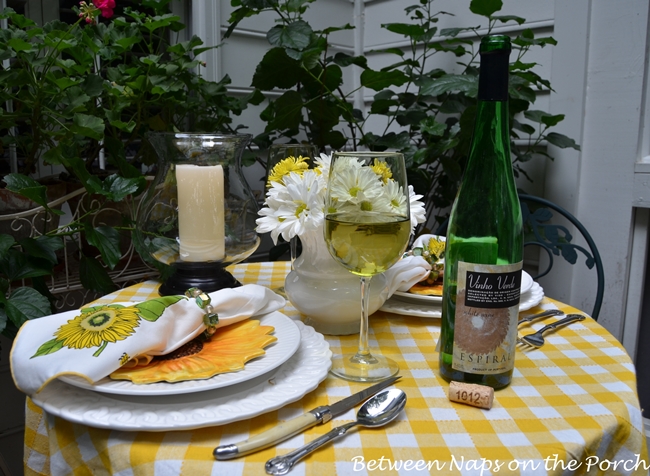 Whatever a man's age, he can reduce it several years by putting a bright-colored flower in his buttonhole.
Mark Twain (Samuel Langhorne Clemmons-1835-1910)-American humorous writer
Nobody sees a flower – really – it is so small it takes time – we haven't time – and to see takes time, like to have a friend takes time.
~Georgia O'Keeffe
Flowers… are a proud assertion that a ray of beauty out-values all the utilities of the world.
~Ralph Waldo Emerson, 1844
Give me odorous at sunrise a garden of beautiful flowers where I can walk undisturbed.
~Walt Whitman
Tis my faith that every flower enjoys the air it breathes!
~William Wordsworth, "Lines Written in Early Spring," Lyrical Ballads, 1798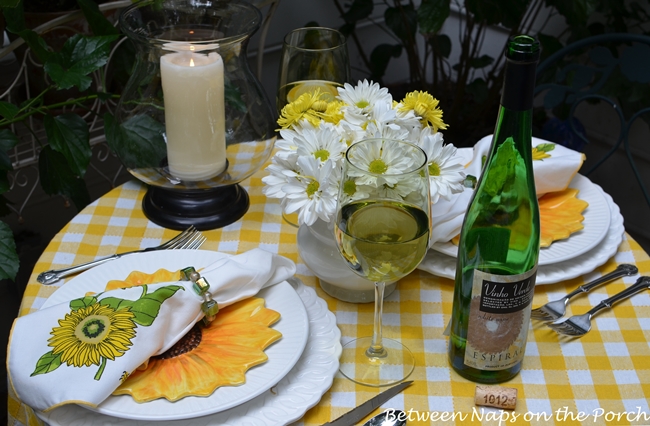 I know a bank where the wild thyme blows,
Where oxlips and the nodding violet grows,
Quite over-canopied with luscious woodbine,
With sweet musk-roses and with eglantine.
~William Shakespeare-A Midsummer Night's Dream
Sunflower plates are from Pier 1, several years ago.
Some people are always grumbling because roses have thorns. I am thankful that thorns have roses.
~Alphonse Karr (1808-1890) French novelist
God gave us our memories so that we might have roses in December.
~James Matthew Barrie (1860-1937)-Scottish novelist
Sunflower napkins were a thrifty find while out antiquing/thrifting.
Flowers have an expression of countenance as much as men or animals. Some seem to smile; some have a sad expression; some are pensive and diffident; others again are plain, honest and upright, like the broad-faced sunflower and the hollyhock.
~Henry Ward Beecher, Star Papers: A Discourse of Flowers
Bee Flatware is available here: Bee Flatware.
I perhaps owe having become a painter to flowers.
~Claude Monet
The knife has a tiny bee on the top edge of the handle. Love using these with the bee flatware.
Let us dance in the sun, wearing wild flowers in our hair.
~Susan Polis Shutz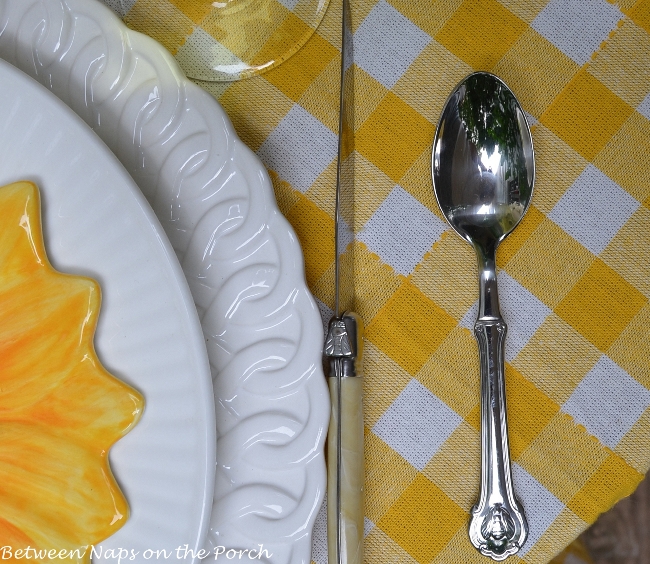 "I must have flowers, always, and always."
~Claude Monet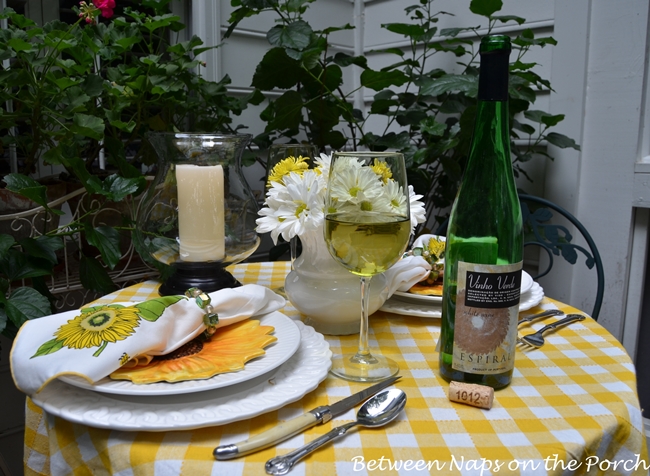 You'll find lots more spring/summer table settings here: Spring & Summer Tablescapes or click on the Tablescapes category at the top of BNOTP.
Looking forward to the tablescapes posted for this Tablescape Thursday!
Reading this post via e-mail or RSS feed?
*If you are reading this via email or RSS feed, to view all the tablescapes linked for Tablescape Thursday, click HERE.


Please Read:
If you are participating in Tablescape Thursday, please be sure to add your permalink below, and not your general blog address. To get your permalink, click on your post name, then just copy and paste the address that shows up in the address bar, into the "url" box when you link up.
You'll need to include a link in your post back to the party in order to link up and participate. That's so visitors to your blog will be able to find the party and the other Tablescape Thursday participants.
If you would like to use the Tablescape Thursday logo button in your post, just copy and paste it to your computer and upload it to your post as you would any photo.
Please, don't add your post name/blog name ALL IN CAPS…it tends to create big spaces between the rows of links. Thanks!
Let's try something fun today! Please visit the person who linked before you and after you…that way everyone will get some visits. Hope you'll visit more, of course!


*If a post is sponsored or a product was provided at no charge, it will be stated in post. Some links may be affiliate links and as an Amazon Associate, I may earn from qualifying purchases. *