This was the picture that really got me going on antlers, this time around. I've always loved seeing shed antlers used in wreaths and in other decorative ways and I've always had a passion for brown transferware. Phoebe Howard combined them for this wall and wow, I loved it the minute I saw it! I wish I could ask Phoebe Howard what inspired her to create this–what made her think to combine them. Do you think the homeowner had a collection of transferware and roe deer antlers already?
This beautiful room pictured in Country Living, belongs to designer, Ann Stillman O'Leary. I love everything about it: the brick that hasn't been painted, the pops of lime green, the rich warmth of the leather and of course, I love the antler collection above her grandmother's chest.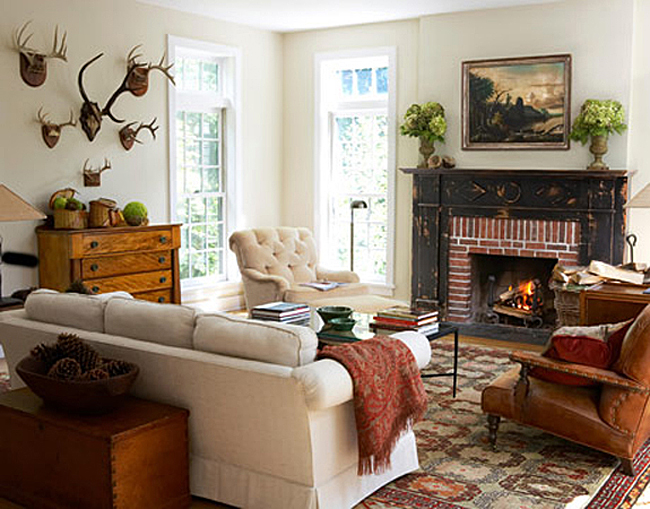 Image above and below from Country Living
Here's a closer view of the antler display over the tiger maple chest.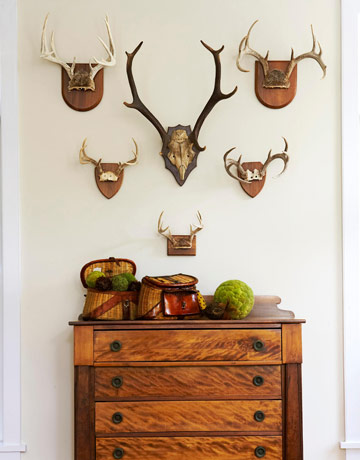 I managed to squeeze a faux deer head into my office recently.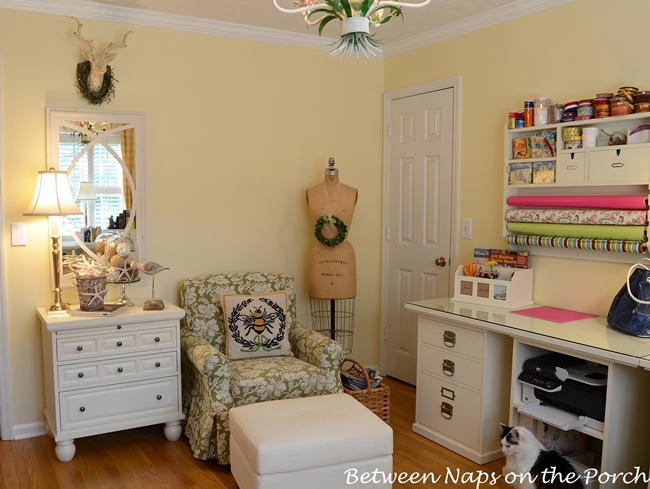 Here's a closer photo from the Horchow website. You can see more of this guy in this post: Deer Head with Rosemary Wreath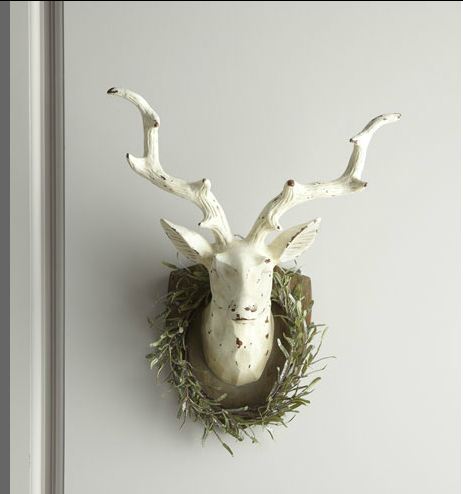 A couple of weeks ago after spotting the deer head at Horchow, before ordering him I looked around online to see what else was available. I had to save a few of these to share with you…they take faux deer heads to a whole new level. The following pictures are from Etsy shops and the sources are linked below them.
Deer heads aren't for cabins and rustic interiors anymore. Isn't this a hoot?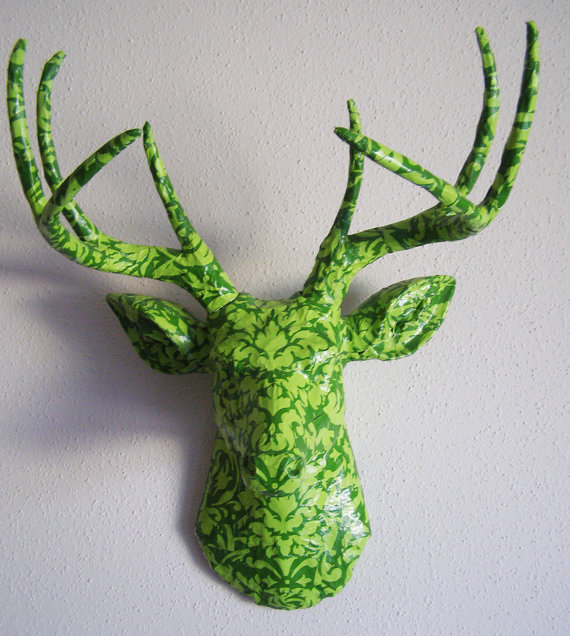 Another fun one! Love his blue nose. Didn't they do a great job with the placement of the pattern?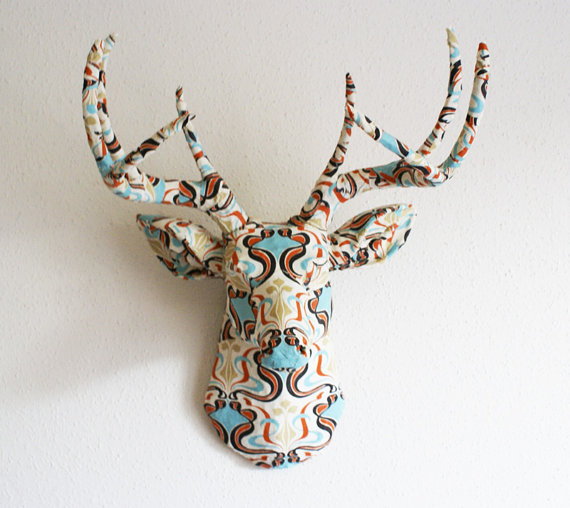 They even have them in a damask look.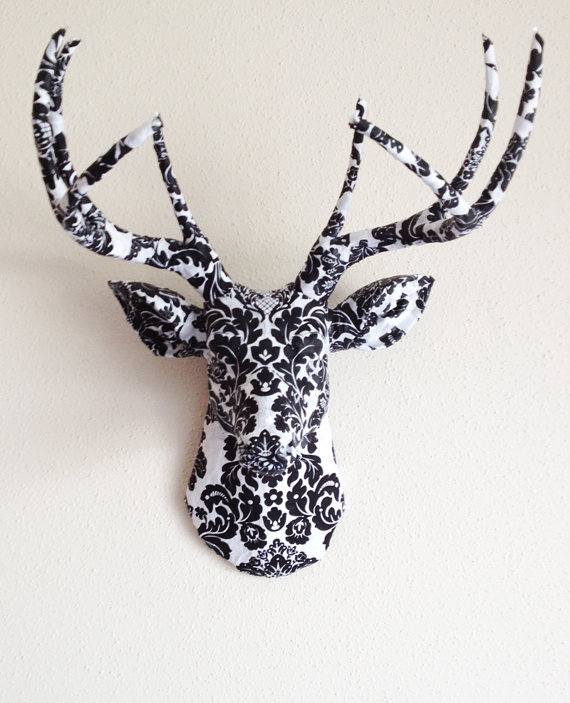 Source for pic above and below
Love it!
Then there's Suzanne Kasler's Atelier antler wall…love it, too.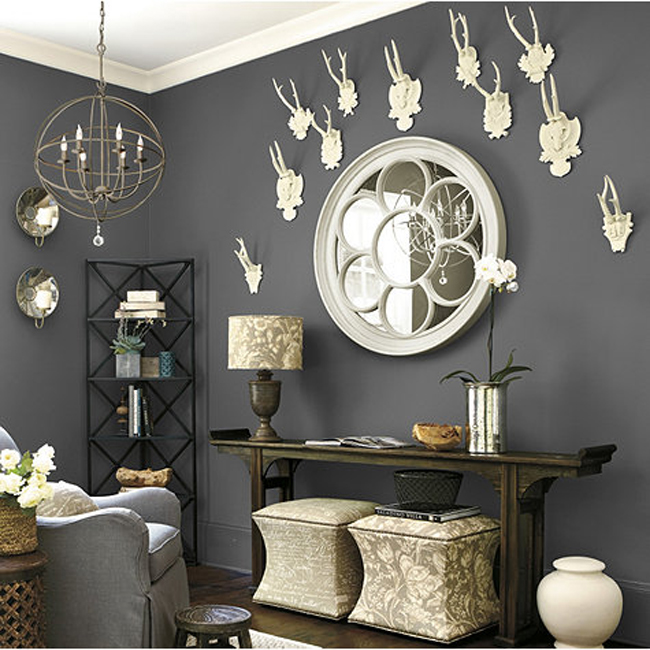 Source for pics above and below
Another wonderful space with the same white deer antlers from Ballard Designs.
I would still love to copy designer, Phoebe Howard's idea. I just don't think my pocket book wants me to buy that much vintage brown transferware and roe deer heads, though. 😉 Maybe I can start collecting now, just one plate at the time.
Are you collecting anything right now, one at the time?
*If a post is sponsored or a product was provided at no charge, it will be stated in post. Some links may be affiliate links and as an Amazon Associate, I may earn from qualifying purchases. *