Welcome to the 414th Tablescape Thursday!
Before we dive into Tablescape Thursday, I just wanted to say thank you so much for all the great information you shared in the comments on my last post. As I figure out more about what has been causing the reactions I've experienced when eating certain foods, I will do a follow-up post. The "latex" connection several folks mentioned really caught my attention for several reasons. I won't go into all that now, it would take too long and today is about pretty tables, but I'll be sure to do a follow-up post at some point to share anything I've learned in case it proves helpful for anyone else dealing with food sensitivities.
If you follow Between Naps On The Porch on Instagram, you know I managed to finish the shell and sea glass chargers. Oh, Happy Day! 🙂 Pssst: Follow BNOTP on Instagram here for updates and fun finds: Between Naps On The Porch
I'm so happy to have them done. I couldn't have made these without Doris Day's help. I went on a Doris Day movie watching marathon and that really helped make this project less tedious.
It was cloudy out when I first started taking photos, a storm had just passed through.
I went with a beachy/nautical theme for this table, inspired by the shell and sea glass chargers.
If you're interested in making your own set of shell chargers, you'll find a detailed tutorial here: Shell Chargers. That tutorial was for just using shells, but you can mix in sea-glass or anything you wish with the shells.
For the napkin rings, I chose wood napkin rings (found in Kohls) that I embellished with shells back in 2008.
For the centerpiece I went with one of my favorite lanterns for beach themed tables. Its shape always reminds me of a lighthouse. The starfish glasses are from the Shoreline Collection that was available in Kohl's back in 2008.
A sassy mermaid has taken up residence inside. She's sitting on a soft bed of sand, surrounded by shells. I found her wandering aimlessly around inside Marshall's in early spring and brought her home so she wouldn't have to sleep there. 😉 I was afraid summer was going to end before I could share her with you in a table. Isn't she a cutie?!
I see blue sea glass peeking out at us in this setting.
The flatware is a favorite with its nautical "sailboat" pattern.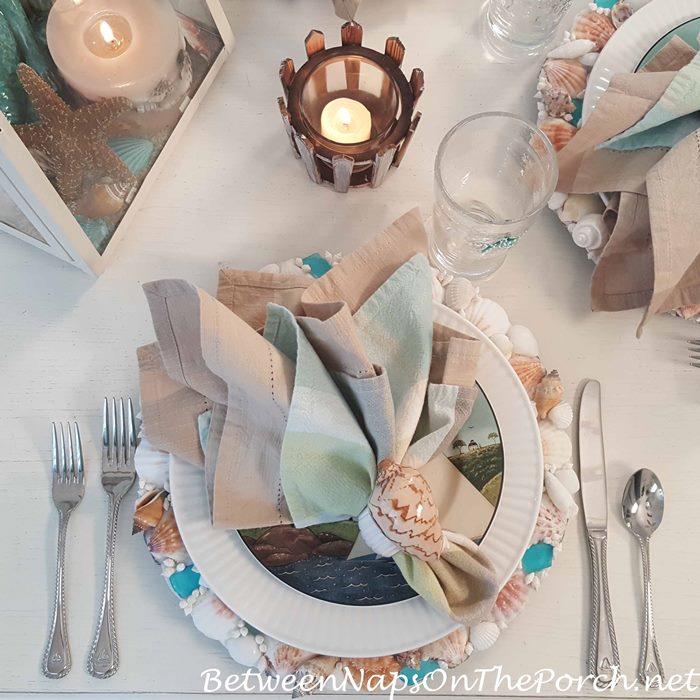 Here's a closer photo of it from a previous table setting. This sailboat flatware is currently available HERE for only $31 for four place settings! Such a better deal than what I paid several years ago!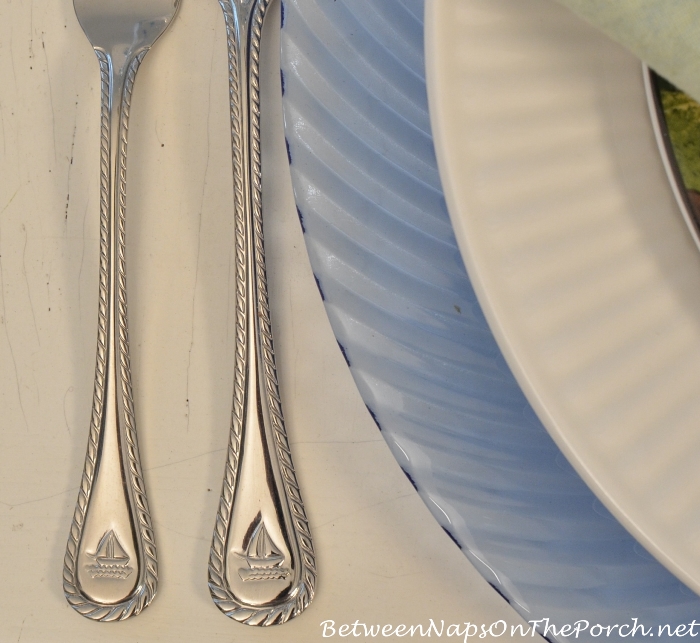 The salad plates are Coastal Breeze by David Carter Brown. I found them on eBay a few years back. Do you think the sailors will see a mermaid today? It could happen, ya know! 🙂
Hope you enjoyed this summertime, nautical table. It thrills me to set another summer table because I know soon we'll be thinking "Autumn."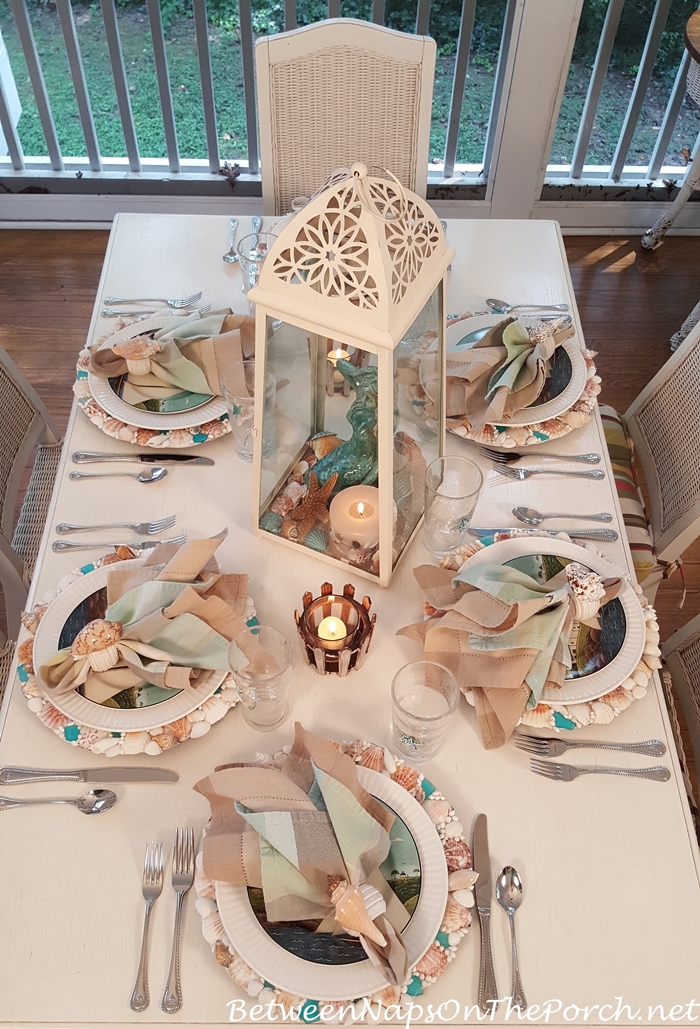 Looking forward to all the beautiful tables posted for this week's Tablescape Thursday!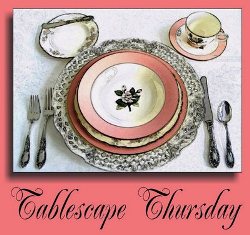 If you are participating in Tablescape Thursday, please be sure to add your permalink below, and not your general blog address.To get your permalink, click on your post name, then copy and paste the address showing in the address bar, into the "url" box when you link up. You'll need to include a link in your post back to the party to link up and participate.
That's so visitors to your blog will be able to find the party and the other Tablescape Thursday participants. Requiring a link back also prevents businesses and scammers from linking up to sell their products. (Yep, that really happens, unfortunately.)
Please, don't add your post name/blog name ALL IN CAPS…it tends to create big spaces between the rows of links.
*If a post is sponsored or a product was provided at no charge, it will be stated in post. Some links may be affiliate links and as an Amazon Associate, I may earn from qualifying purchases. *