Welcome to the 773rd Metamorphosis Monday! Or, maybe it's more like a wrestling match! It was past time–normally I swap out my summer bedding for my winter bedding around the first week of October. I think I'm late this year because it really hasn't felt that fallish. We've been having some wonderfully warm days. The leaves have really started falling now, though–so it was time, past time!
My biannual swapping of the bedding is not for the faint of heart! Ha! It is quite the production and literally turns into a half-day job! This is how I normally prepare my spring/summer bed skirt for storage. Actually, I do this for both the summer and winter bed skirts in an attempt to minimize the wrinkles during storage. After I have it laid out as shown below, I fold the right side over/atop the left side which creates a long section that gets folded twice more. Then into the top of a bedroom closet, it goes.
I snapped this photo late last night. Things are still a bit wrinkled, especially the bed skirt. I will leave the skirt alone for a few days to see if some of the wrinkles fall out. In the meantime, I think I'm going to order the handheld steamer I shared in a post a few days ago and use that to steam out any wrinkles that don't fall out on their own.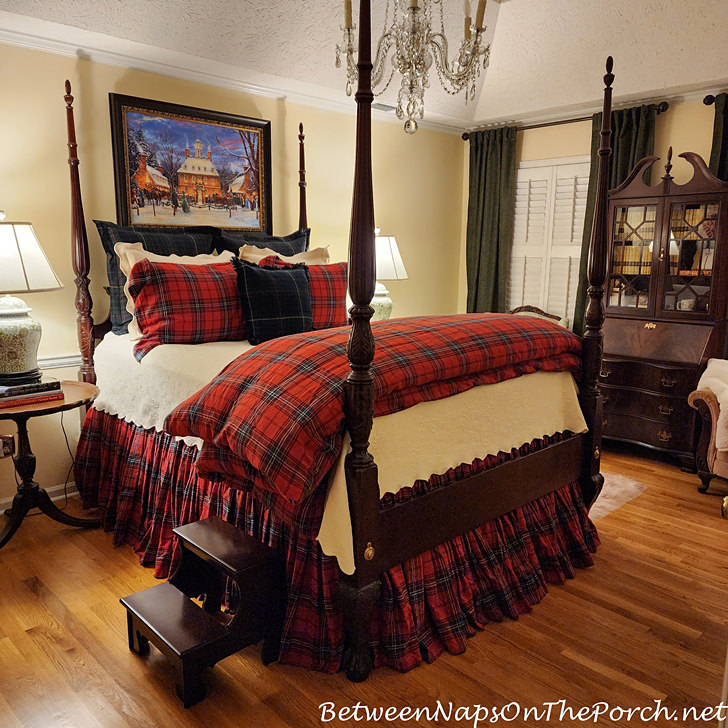 So let me describe the labor-intensive, crazy process of changing my spring-summer bedding out to my fall-winter bedding. First of all, I blame everything on the mattress! This is alllll the mattress's fault! Arggh! My previous mattress would stand up on its side when you tilted it off the bed. Not so much this one! This one feels like you're trying to move 10 dead bodies and standing it up is a big, fat challenge. It sorta wants to just collapse on itself. It's NOT one of those super-heavy, foam mattresses, so I have no idea why it's like this. It's a "firm" BeautyRest that I purchased at Macy's a few years back. Imagine if I had gone with a softer one–can't even imagine what that would be like to move!
Anyway, it's incredibly heavy and super awkward to move on your own! So, because the mattress becomes a 3-year-old having a meltdown tantrum in a store, refusing to stand or walk, I have to move every single bit of furniture that's on the right side of the bed in this photo below in order to get to the bed skirt to change it out. Thankfully, a few years back I put those thick, chair-leg protection pads on the bottom of all the furniture so I could easily slide all of the furniture off into my dressing room.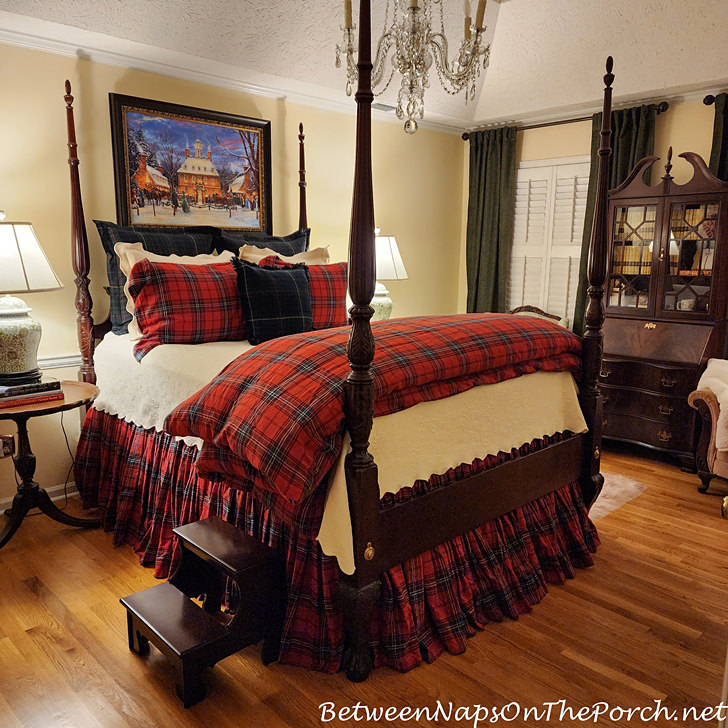 After vacuuming the floor really, really well, the chair that's barely visible on the right in the photo below gets slid into my dressing room, and the secretary gets moved all the way to the corner of the room where the chair was before. Then the other chair (just barely visible in the left corner) gets slid into my dressing room. The bedside table on that side, which is a large round skirted table, also, gets slid into the dressing room after the lamp and everything on it gets removed. Inevitably, when all of that furniture is moved out, I find dust bunnies and molding that hasn't been dusted in a while, so the whole process comes to a complete halt while I clean for 20 minutes. Once all the cleaning is done and I'm satisfied with how things look, I take the bottom of the drapery panels and loop them up and over the top of the shutter panels to ensure they are out of the way, then it's time to drag the 10,000-pound mattress behemoth off onto the floor.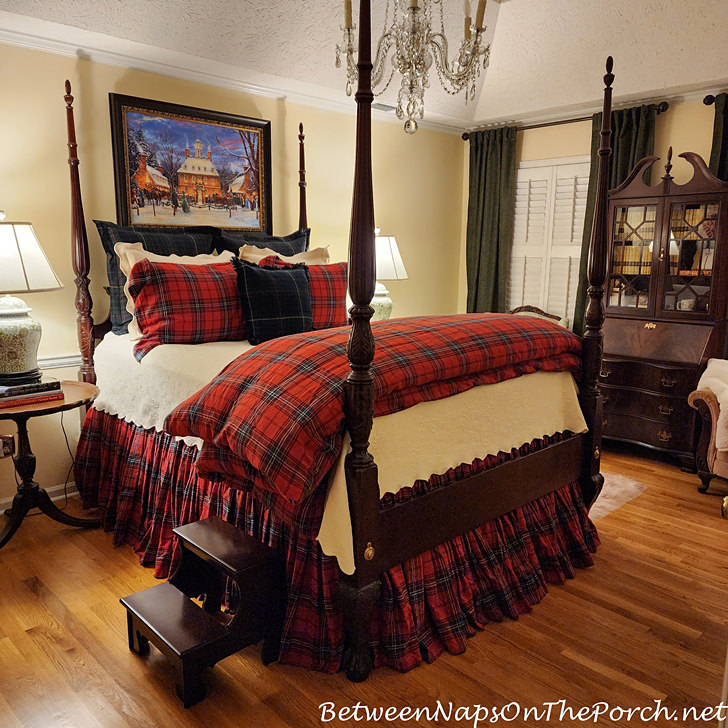 Finally, I'm able to put the winter bed skirt onto the box springs/bed. In the midst of all this, there's a bunch of washing of bed linens and pulling out new linens from the closet that takes place–so lots of starts and stops along the way. Getting the mattress back off the floor and onto the bed isn't a party either, but I've gotten pretty darn good at it! Fortunately, the bed skirt always stays in place as I reposition the mattress back on top. Thank the heavens for that! I shouldn't complain about this process, though–it forces me to make sure all the hidden molding and hidden corners in this room get thoroughly cleaned at least twice a year. Come April 1st, it all happens again when it's time to change to my spring-summer bedding! I think the next time I go mattress shopping, I'm going to make sure the mattress is light and stiff enough that it can actually stand up on its own when pulled off the bed! Ha!
I'll leave you with my favorite photo of this bedding. Happy Thanksgiving to you dear, friends! ♥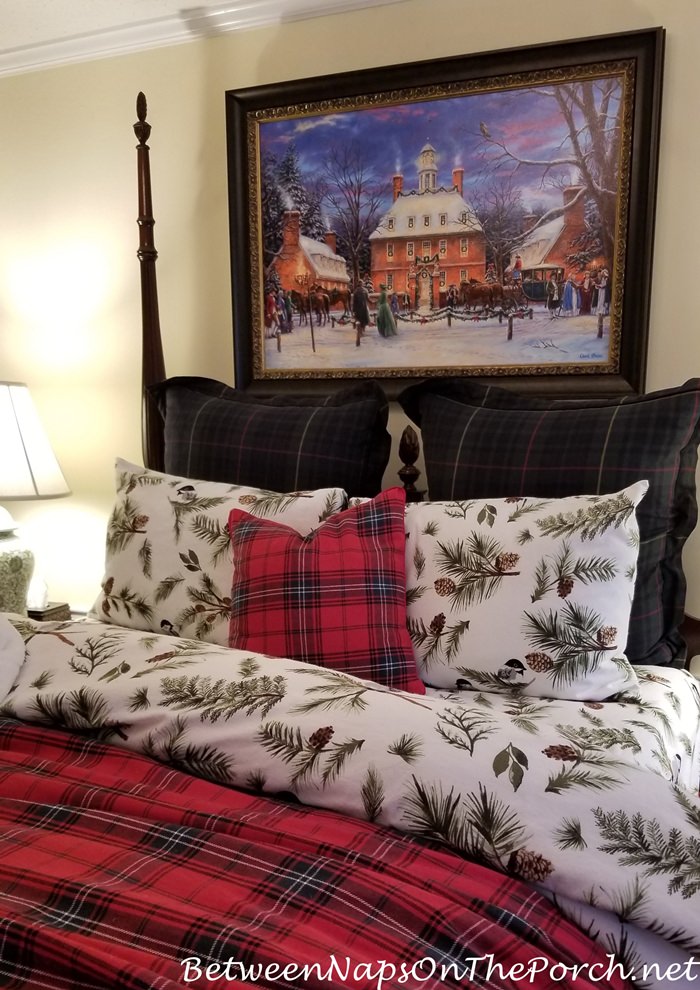 Looking forward to all the great Before and Afters linked for this week's Met Monday! Pssst: Did you know Between Naps On The Porch is on Instagram? You'll find me on Instagram here: Between Naps On The Porch. Like to know when a new blog post is up? Subscribe for email updates (it's free) and your e-mail will never be shared. Subscribe for free post updates here: Subscribe.
Metamorphosis Monday: Metamorphosis Monday is a party that's all about Before and Afters. Please link up your Before and After projects like DIY projects, room makeovers, craft projects even recipes. Please do not link up Table Settings, save those for our Tablescape Thursday party on Thursday. If you are participating in Met Monday, you'll need to link your post to the party using the "permalink" to your MM post and not your general blog address. To get your permalink, click on the name of your post, then copy and paste the address that shows in the address bar at the top of your blog, into the "url" box for InLinkz when prompted.

You are invited to the Inlinkz link party!
*If a post is sponsored or a product was provided at no charge, it will be stated in post. Some links may be affiliate links and as an Amazon Associate, I may earn from qualifying purchases. *