If you're a jigsaw puzzle lover, chances are you'll occasionally work a puzzle that you'll want to keep and frame. I completed one a couple of weeks ago that I knew from the beginning I would want to keep and possibly frame for sentimental reasons. Nancy Drew and I were best buds when I was around 8-11 years old. I wanted to to be just like her when I grew up! 😉
I've never framed a puzzle so I did a bit of Googling to see what the process is for framing one. Almost all the information I found online suggested using various glue-type products that were applied by pouring the glue right over the top of the puzzle. Yikes!
Yes, that works and it will hold a puzzle together for framing, but all the tutorials I found said that it also changed the appearance of the puzzle, sometimes giving it a mat finish. Plus, it's super messy and sticky! Not wanting to change the appearance of my puzzle, I searched a bit more to see if there were any other alternatives.
In my Googling I found this product, Puzzle Presto Peel and Stick Puzzle Saver
and ordered a couple of packages. I ordered the size that is supposed to work for a 1,000 piece puzzle since that's the size of the Nancy Drew puzzle, as well as most of the puzzles I typically buy.
Here's how the peel and stick pieces looked out of the package. (See picture below) There are instructions on the back of each piece and they are excellent. The process is so unbelievably easy, you hardly need instructions.
The first step in this process is turning your puzzle over. I always assembled my puzzles on a puzzle board that came with a hardcover, so that makes the process of turning the puzzle over pretty easy. (See the puzzleboard I use here: Puzzleboard.)
If you assembled your puzzle on a table or a similar surface, you'll probably need to slide your puzzle onto a very hard, flat piece of cardboard, then place another hard piece of cardboard on top in order to flip/turn your puzzle.
I find some puzzle pieces interlock so well together, you can sometimes slide your fingers up under the top/side edges and left the puzzle up vertically to move it, but not all puzzles are that "tight" once assembled.
Before peeling off the backing on the sticky sheets, it's a good idea to experiment around to see which way you want to apply them. At first I thought I'd apply them this way, but there was so much overlap, I wasn't sure if that was a good idea. It turns out, that would have worked fine. Having a larger overlap doesn't matter at all.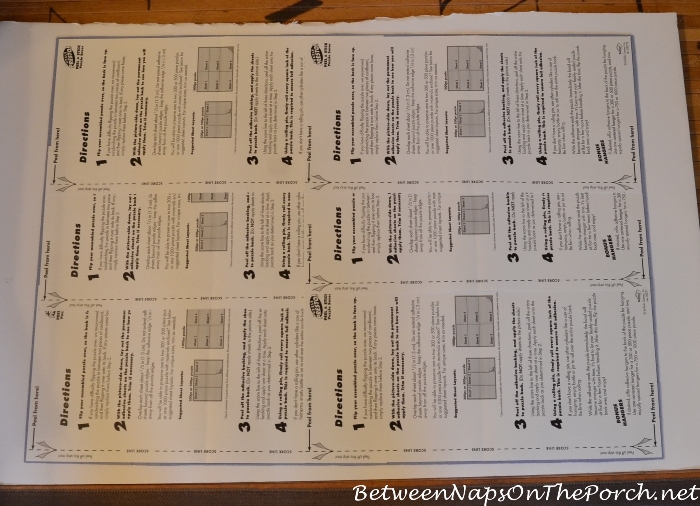 I ultimately decided to place them on the back of the puzzle this way, starting in the left corner and working my way across the puzzle. One thing I loved, when you apply the sheets, there is no need to worry about a bubble or anything like that getting trapped under the paper. The sheets go down super easy and smooth. This process was so easy, it's almost scary!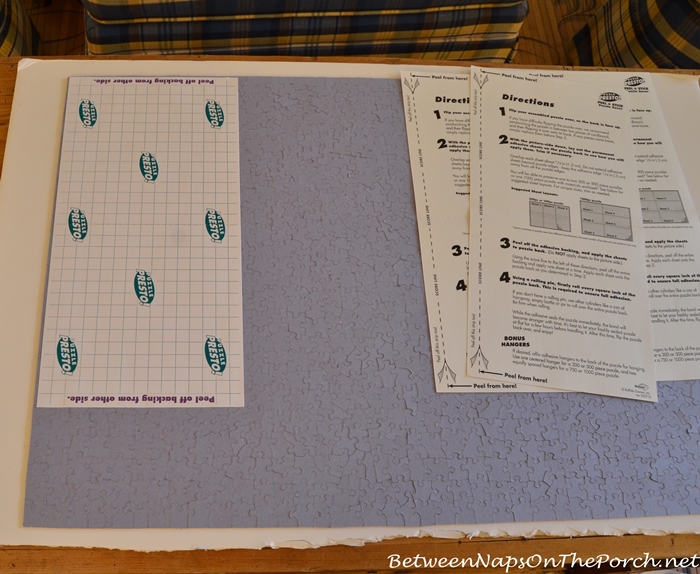 As you apply each sheet, you overlap it onto the previous sheet by about 1/2 inch. As mentioned, it's okay if it overlaps more than a 1/2 inch.
The directions warn you to not extend the adhesive sheets over the edge of the puzzle. Instead, you want to keep the edges of the adhesive sheets about 1/8 of an inch away from the puzzle edges. Again, this was easy, not a problem.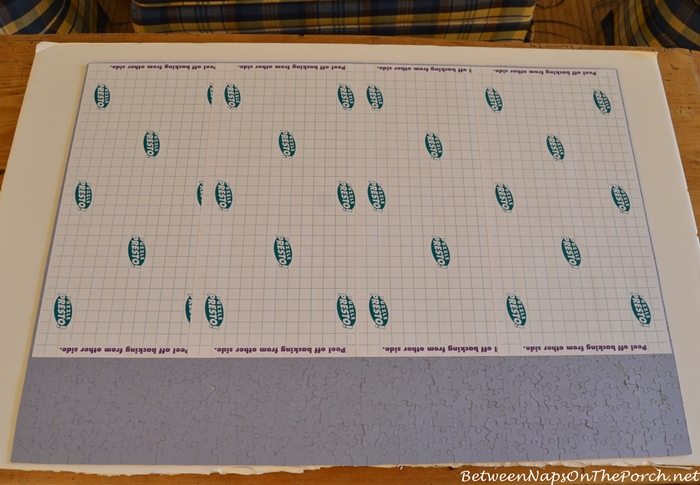 Here's where I placed the last two sheets…they went across the bottom. (I took this picture below just before peeling off the back protective sheet that has the instructions.)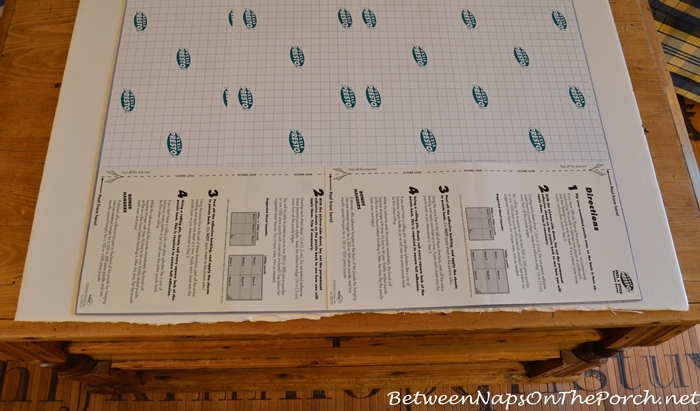 Once you have the adhesive sheets in place and smoothed out, the directions suggest you use a rolling-pin to completely smooth everything out. They recommend you apply firm pressure to ensure all the puzzle pieces are pressed well down onto the adhesive paper. I was especially careful around all the edges, making sure those were pressed down and well attached.
Once the rolling is done which takes like 45 seconds, the directions recommend you wait a few hours before lifting the puzzle up. That gives the adhesive sheets time to do their magic and create a strong bond.
This whole process from start to finish took about 15 minutes at the most, and that included stopping to read directions a bunch. I could probably do it in about 10 minutes now that I know how it works. It's so easy!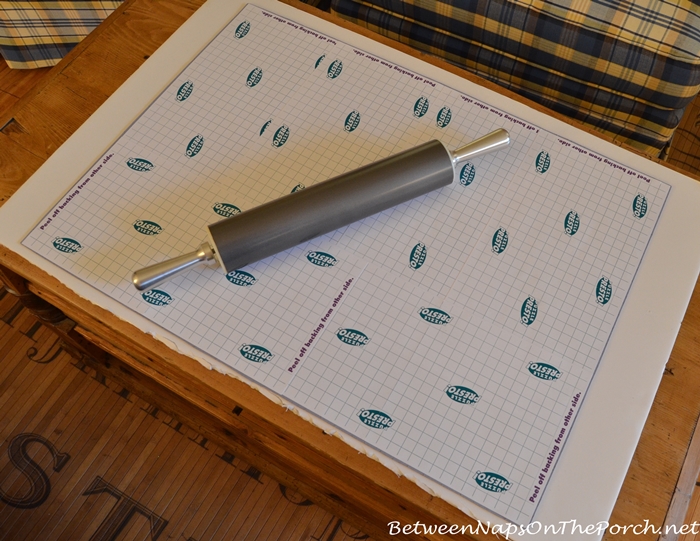 The puzzle saver came with an adhesive hanger but I didn't use that since I plan to frame this puzzle. I'll most likely use an inexpensive poster-type frame for it.
You know your puzzle is stuck well when you can do this! 🙂 I'm very happy with how the Puzzle Presto Peel and Stick Puzzle Saver
worked. I also love that the puzzle still looks exactly the same as it did before, something you don't usually see when using the glue method. Will definitely be using this system again if I ever decide to save another puzzle for framing.
This puzzle Peel and Stick saver is available here: Puzzle Presto Peel and Stick Puzzle Saver. If you're a Nancy Drew fan, the puzzle is available here: Nancy Drew Puzzle
You'll find the puzzle board I love to use when working my puzzles here: Puzzle Board It really saves my back and will hold puzzles up to 1,000 pieces in size. Plus, it makes flipping a puzzle for framing very easy since it comes with a hard cover that fits on top over the puzzle to keep the puzzle free from dust when you're not working on it.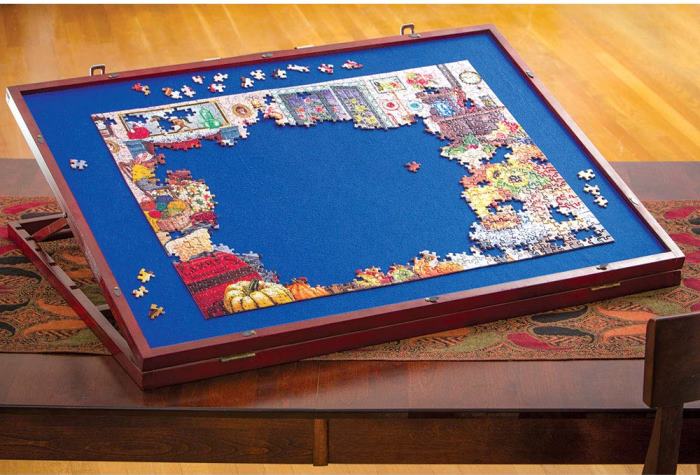 Pssst: I post almost daily to Instagram. Follow Between Naps on the Porch on Instagram here: Between Naps On The Porch.
Subscribe for post updates (they're free) here: Subscribe.
*If a post is sponsored or a product was provided at no charge, it will be stated in post. Some links may be affiliate links and as an Amazon Associate, I may earn from qualifying purchases. *