Welcome to the 642nd Metamorphosis Monday, a blog party sharing fabulous Before and Afters!
In Saturday's post, I mentioned that I was contemplating making a pretty big change here in my upstairs living/bonus room.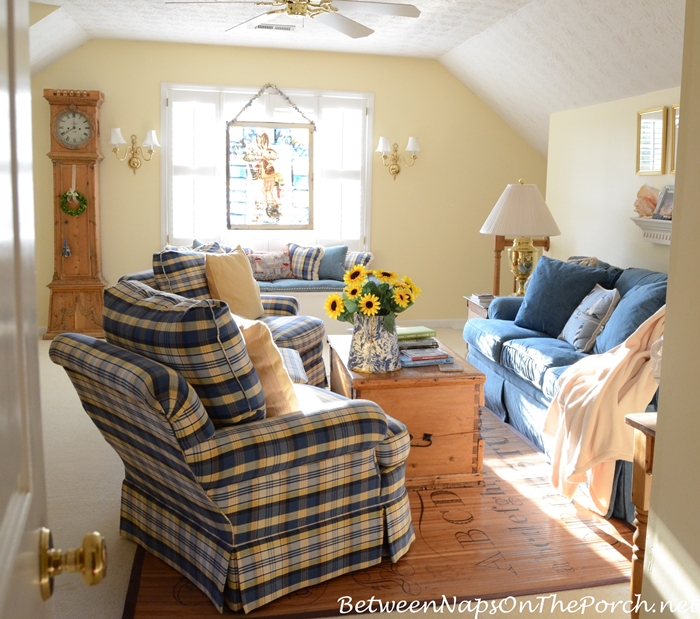 This room is a bright, airy room with four windows: two windows at the end and two dormer windows that face the front of the house.
One dormer…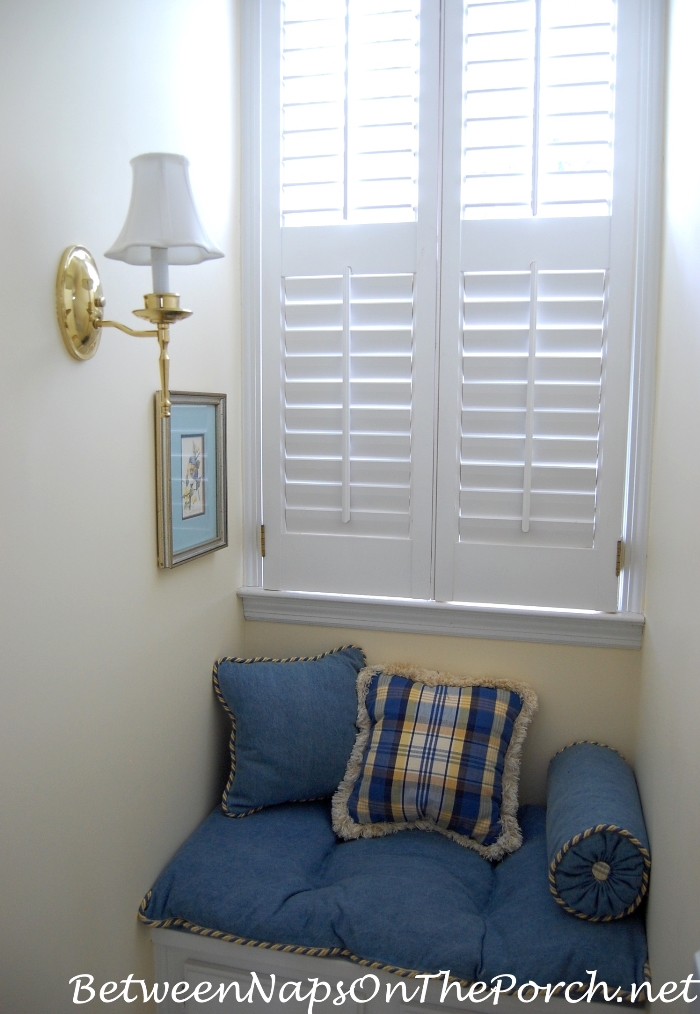 The other dormer…(photo taken at Christmastime)
Here's a look back toward the door where you enter into this room from the upstairs hallway. Since this room is over the garage, it's a pretty big room.
Over the years I've made a few changes, like removing the painted window I had hanging over the double windows.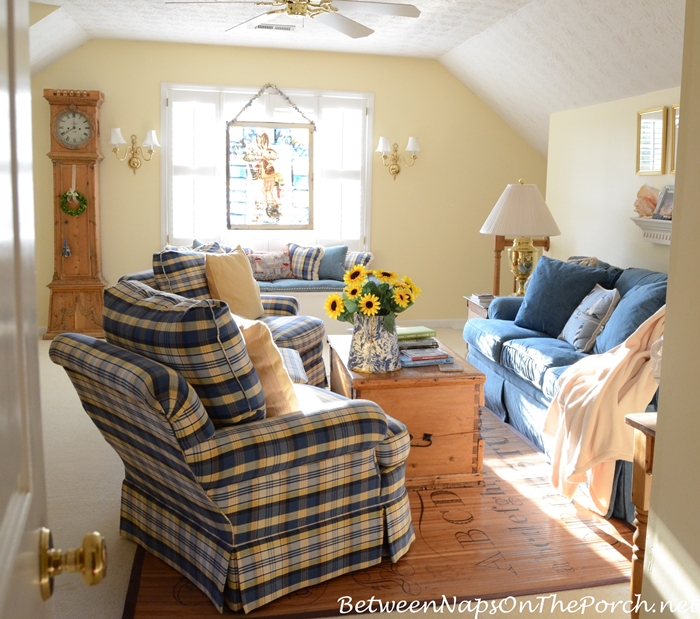 It landed here in the garage over the potting bench I assembled and painted in this previous post: Paint a Potting Bench Periwinkle Blue. (Potting Bench is still available here: Potting Bench.)
Recently, I added a blue, painted chest to the wall over near the clock.
I fell in love with that chest when my daughter-in-love and I completed a dinosaur-themed makeover in my grandsons' bedroom. (Chest is available here: Blue Chest.)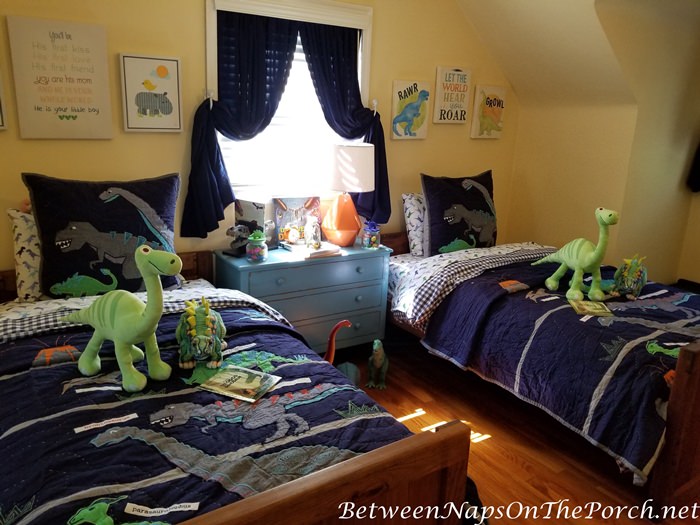 This room has a little secret…
…a back staircase.
The staircase goes down, then makes a right-hand turn where there are a few more steps that take you into the laundry room, which leads right into the kitchen.
Adding the little blue chest created a pretty view when coming up the back stairs from the kitchen.
This past weekend I moved the Danish Bornholm Grandfather clock out of the bonus room and into the upstairs hallway. I love how it looks here when coming up the front staircase.
Here's where it is in relation to my office.
So what am I toying with doing here in this room now that the clock is no longer on this wall?
I once blogged about how I would love to add shelving for books to this funny, little, slanted wall going down the back staircase.
What if I did something a bit more drastic? What if I removed the two sconce lights and covered that whole wall, including the back staircase wall, with built-in bookcases?
Something like this… (Book is available here: Built-Ins.)
I envision the bookcases following the slant of the ceiling and I am thinking of even having them above the window. I love that look when I've seen it in pictures, a shelf going over the top of a window. Although, I also love the look on the front of the Built-Ins book, too.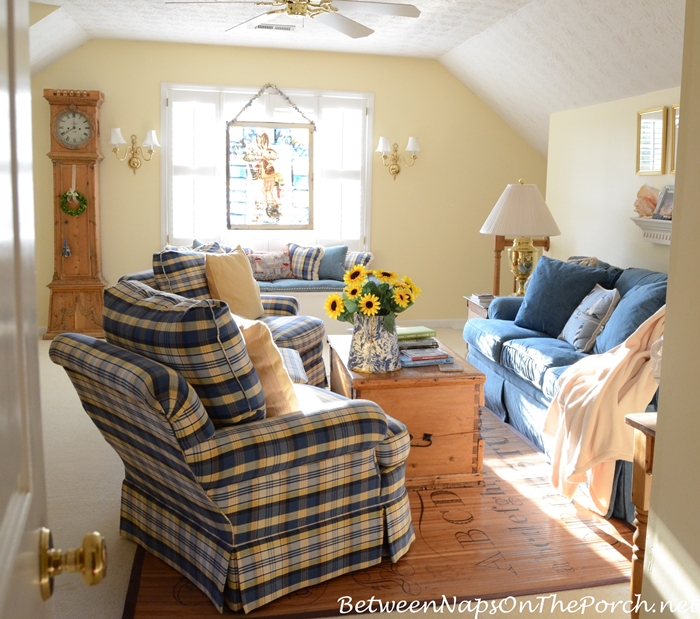 I was thinking the bookcases would need to curve/slant back in here at this end when they reach the staircase, the way you see a corner cabinet do in some kitchens, then the bookcases could continue down this wall, only they would be more shallow. With the molding removed, the shelf that's already here is around 6 inches deep.
Six inches is deep enough to hold a lot of books, like this one below. Although, we may be able to make the shelves an inch or so deeper in that area.
Can you envision it: built-in bookshelves on that back wall surrounding the window seat and going down the back stairway? I would probably have the window seat rebuilt, adding drawers underneath for storing throws and such. Currently, the top lifts up and tons of my son's old board games are stored inside. It's always a pain to have to remove all the pillows and the long cushion to retrieve items from that storage space, so built-in drawers would work much better.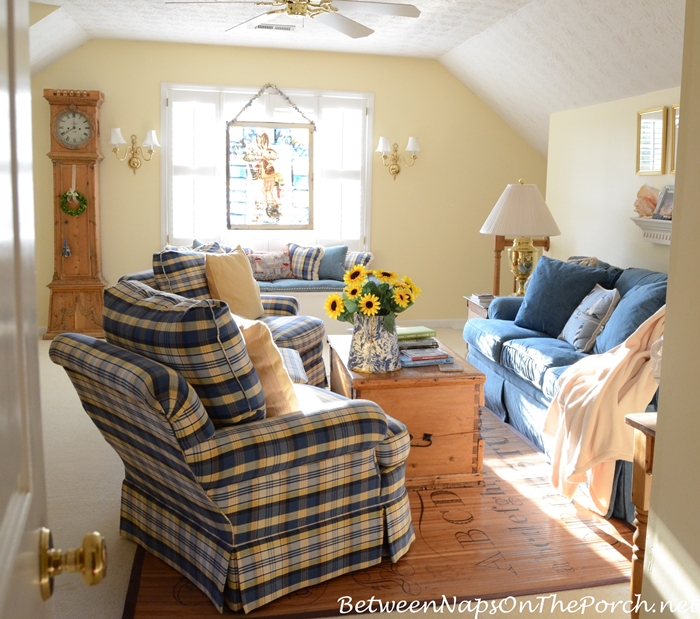 If you Google for Attic Bookcases or Attic Libraries, you'll see a bunch of photos with bookcases built into slanted ceilings and I love how it looks! What do you think about this idea for the upstairs living room area?
I have someone coming out to give me a quote tomorrow. I don't know when I'll do it since this is the year of the car for me. I HAVE to replace my 14-year-old car this year so I've been saving all my pennies for that purchase. But maybe I could make this change in the not-too-distant future and that would give me some time to think through all the details. I'll let you know what I find out after the estimate tomorrow. Let me know your thoughts!
Looking forward to all the great Before and Afters linked for this week's Metamorphosis Monday!
Pssst: Did you know Between Naps On The Porch is on Instagram? You'll find me on Instagram here: Between Naps On The Porch.
Like to know when a new blog post is up and available to read? Subscribe for email updates, it's free and your email will never be shared.
Subscribe for free post updates via email here: Subscribe.
Metamorphosis Monday
Metamorphosis Monday is a party that's all about Before and Afters. Please link up your Before and After projects like DIY projects, room makeovers, craft projects even recipes. Any Before and After is great! Please do not link up Table Settings, save those for our Tablescape Thursday party on Thursday.
If you are participating in Met Monday, please link up using the "permalink" to your MM post and not your general blog address. To get your permalink, click on your post name, then just copy and paste the address that shows up in the address bar at the top of your blog, into the "url" box for InLinkz when prompted.
In order to link up, you'll need to include a link in your MM post back to the party so the other participants will have an opportunity to receive visits from your wonderful blog readers.

This party has ended, click button below for the links to all who participated.
*If a post is sponsored or a product was provided at no charge, it will be stated in post. Some links may be affiliate links and as an Amazon Associate, I may earn from qualifying purchases. *