Have you ever read the book, Skipping Christmas, by John Grisham–THE John Grisham who normally writes exciting mystery/adventure novels? It's a good one if you haven't read it. It was eventually made into a movie that was similar but not exactly like the book.
So am I skipping Christmas? Well, not exactly, I did get my favorite Christmas decoration up–the wreaths. Those are always an absolute must, I just love how they look. I'm always sad when it's time to take them down. Think my neighbors would notice if I left them up to March? 😉
I don't think I'm going to put up a tree this year for several reasons. Family won't be coming here this year, instead, they've asked me to come there. My grandsons always get super car sick whenever they go on long trips. Even going to the beach in the summertime is a challenge each year. Plus, it's hard to pack presents, suitcases and all the stuff two adults and two kids need for a week into an SUV. So since I won't be hosting family here for Christmas this year, it just didn't make sense to bring the tree up from the basement, haul down all the ornaments from my bonus room/attic storage and decorate the tree without family here to enjoy it. Reason #485 why I should probably move to Ohio!
Also, if you've been reading BNOTP for a bit, you know I'm in the midst of some renovations right now. Since family won't be here this year, I decided to go ahead and get the drywall and molding installed in the unfinished part of the basement. I think that will take place next week. Today I have an HVAC guy coming out to advise me if I should go ahead and add a vent to this area. So there's a lot going on around here at the moment. Looking forward to sharing this room once the drywall is in.
Once Christmas is over, sometime in January I'm having Granite Garage come out and work their magic on the flooring. They have a winter special going on right now, so the timing is perfect to get that done and save a few $$$.
I'll be going with the same color that I used here in the garage, I think it's called Farmhouse Gray–love this color!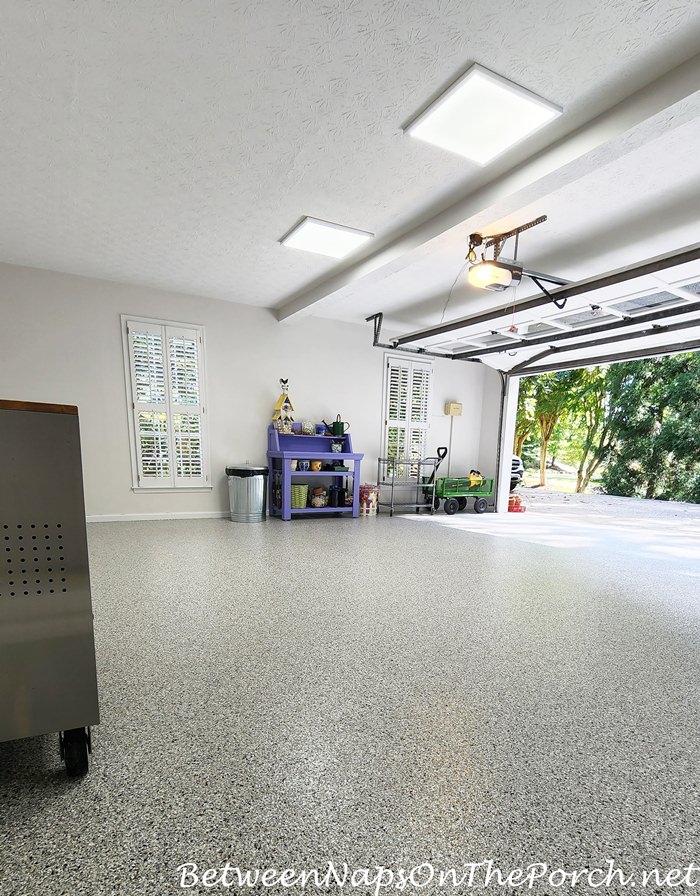 There's been a lot going on that I haven't shared…boring stuff like having the main water line to my home replaced after the other one started leaking recently. I don't share everything because frankly, water lines are boring!
They did a great job, you can't even tell where they dug now!
As if all of that's not enough, for the last few days I've been trying to figure out an issue with the blog's RSS feed. After a million emails between myself and the company that sends out email notifications to BNOTP subscribers, it looks like the issue is a rogue plugin update. Plugins for blogs are a lot like apps on phones. If you get a bad app, it can mess up a lot of other things on your phone. I think the issue has finally been fixed so hopefully emails will go out now shortly after a new post goes up on the blog, as opposed to 8 hours later, which is what was happening. This is the first post I've written since that was fixed, so we'll see if this one goes out in a timely manner.
On to more fun stuff–I've had a few emails the last few days asking for the recipe for this Christmas punch I make for parties or sometimes for Christmas breakfast or brunch.
If you would love to make this delicious champagne punch, you'll find the recipe here: Insanely Awesome Champagne Punch.
How about a little eye candy from the past–one year when my son, DIL, and grandsons were here for Christmas, I loaded up the porch swing with presents for my grandsons. I thought it would be hilarious to see their faces when they came out onto the porch. It was a big hit and they loved it! If you have a swing on your front porch, you could wrap a bunch of those Amazon boxes we all have waiting to be recycled and create this fun look for your porch…or your porch rockers!
Seeing these old pictures is making me nostalgic. I'm giving myself FOMO! Ha! I may have to break down and decorate the front porch this weekend.
Do you love decorating with pillows at Christmas time? If so, check out this post for some Christmas pillow eye candy: Decorate for Christmas with Whimsical Christmas Pillows.
Okay, I'm off to finish my table for Tablescape Thursday–hope to get it done before the Heating and Air guy arrives. See you tomorrow for Tablescape Thursday! If you're a subscriber, I hope this post arrives in your inbox by mid-day instead of tonight! If you're not yet a subscriber (it's free!) you can subscribe here: Subscribe for Post Updates.
*If a post is sponsored or a product was provided at no charge, it will be stated in post. Some links may be affiliate links and as an Amazon Associate, I may earn from qualifying purchases. *