Welcome to the 399th Tablescape Thursday!
When I was on safari in Kenya last September, I stayed in romantic Giraffe Manor for one of the nights I was there. Giraffe Manor, built in 1938 in the style of a Scottish Hunting Lodge, is truly like something out of a storybook. The Rothschild Giraffe is endangered and the good folks at Giraffe Manor are doing what they can to increase the population.
Did you see the new baby that was born recently to Kelly, one of the giraffes at Giraffe Manor? You can see a photo of him on the Giraffe Manor Instagram page here: Giraffe Manor. Scroll down a bit to see the baby since they've added a number of photos to their page since he was born.
Through the door of the breakfast room at Giraffe Manor is a beautiful garden. In the garden I stumbled across an adorable little gift shop filled with tempting giraffe-themed goodies.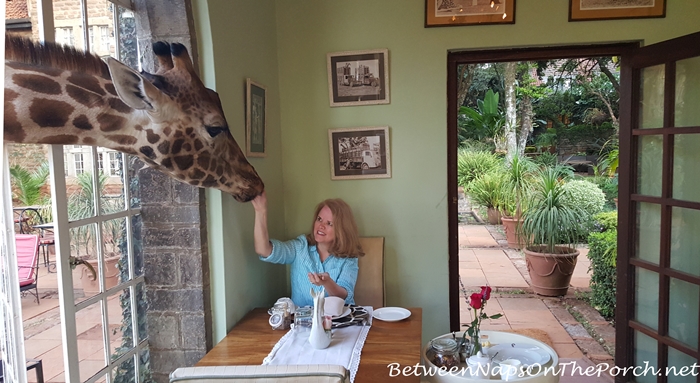 After I returned from Africa, I created a post answering a lot of the questions I got about the trip. In that post I also shared photos of some of the souvenirs I brought back. (See that post here: Answering Your Safari Questions and What I Brought Back From Kenya)
Among the souvenirs were six giraffe glasses I purchased in the gift shop during my visit. I hand carried them all back in a cute giraffe tote purchased in the gift shop that same day. I hoped one day to create a safari-themed table in honor of my visit to Giraffe Manor.
Fearing rain, the hardwood flooring company that was scheduled to re-varnish the porch floor, delayed their work until the forecast is showing no rain. Of course, it didn't rain a single drop the last two days, despite the forecast predicting otherwise. So, I brought the chairs I had taken out to the garage back in and created a whimsical Safari-themed table.
The beautiful table runner is actually a scarf/wrap, a lovely gift from my sweet friend, Linda. Isn't it wonderful!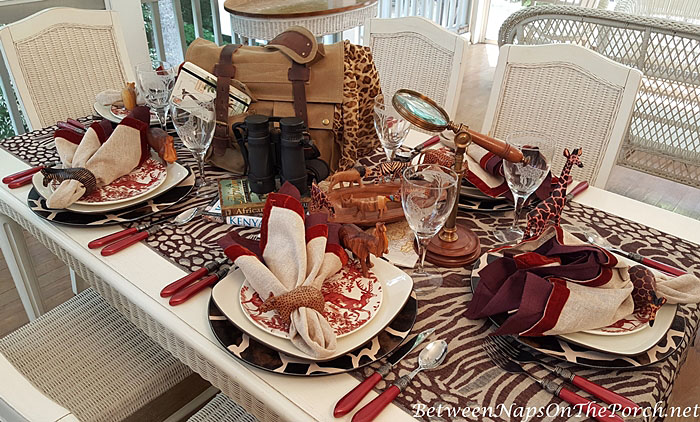 When setting a table, shop your house. It's amazing what pieces we already have that can serve a dual purpose and work beautifully in a table setting.
For this table I had three components I knew I'd be using for sure: giraffe chargers, animal napkin rings and the giraffe glasses from Giraffe Manor. I started with those three and filled in from there. Giraffe Chargers are available here: Giraffe Chargers.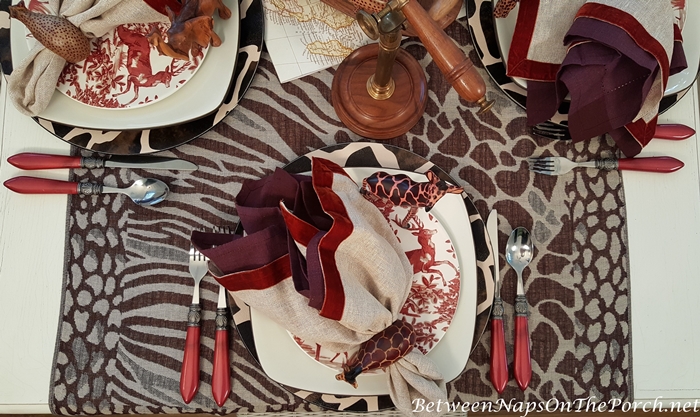 The little wood animals you see perched on each plate are actually a gift I brought back for my grandson. He's still a bit too young for those, so I'm saving them for him until he's a little older. They would make nice little gifts for each dinner guest to take back home, if this was a dinner party table setting.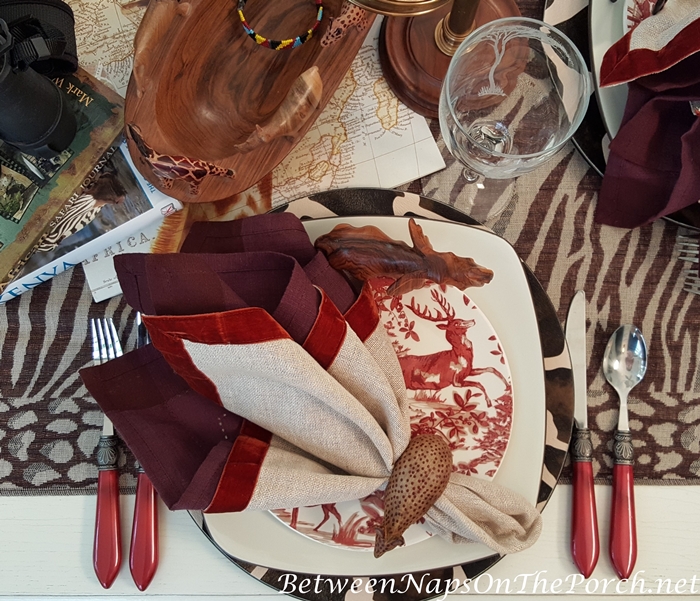 The napkin rings are available here: Animal Napkin Rings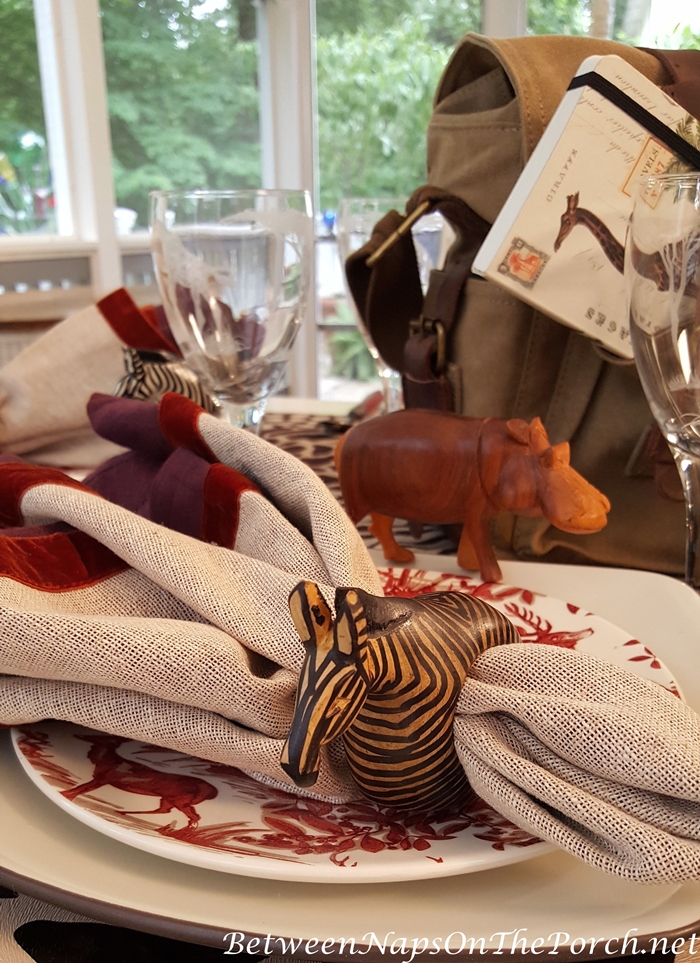 The red-velvet edged napkins are from Pier 1 several years ago. I've used them quite a bit for Christmas table settings. The plum-colored napkins I've had for ages but rarely use. They seem to fit well into this table with the deep browns and reds. I think I found those in either HomeGoods or Pier 1.
The dinner plates were a gift from Noritake a few years back. The color is "Chocolate" and they are from their Colorwave Collection available here: Noritake Colorwave Dinnerware. They have a chocolate-brown edging all the way around.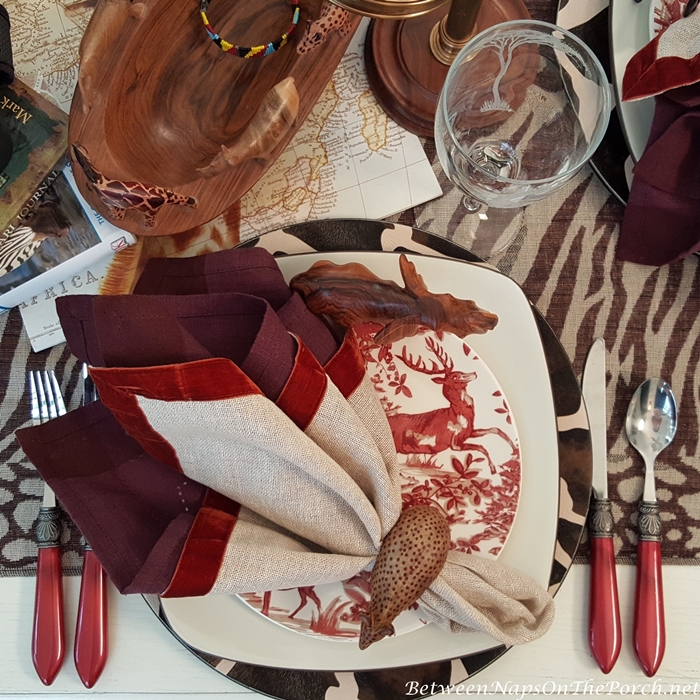 Do you recognize the salad plates?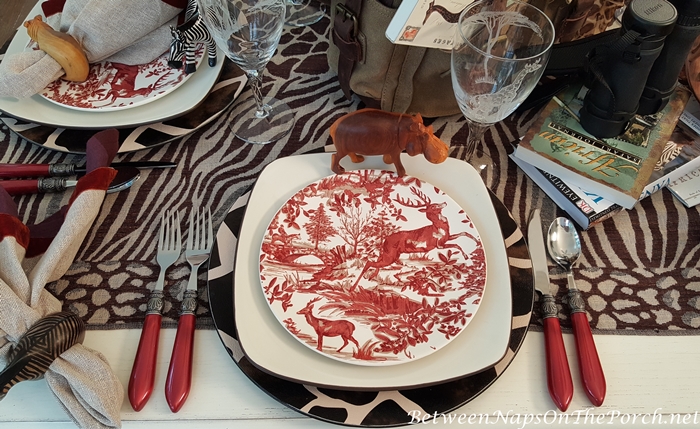 I found those in Pottery Barn last fall and used them in this previous Thanksgiving table setting. (See more of that Table Setting here: Thanksgiving Table with Spode Woodland)
Here's a close-up from that previous Thanksgiving tablescape.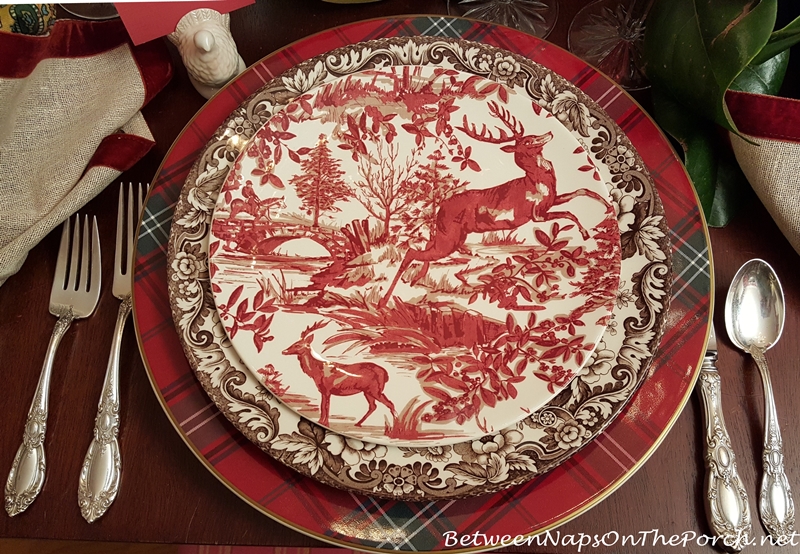 I wasn't sure which salad plates to use when I first started working on this table, but then the toile plates popped into my head. I had no idea when I bought them that they would be so versatile, but I really do love how they look in this animal/safari themed table.
The red in the plates guided my flatware choice. (Flatware is available here: Red Flatware)
I shopped the house for pieces I could use in the center of the table. The porch table is very narrow but hopefully this centerpiece will give you some ideas if you ever wish to create a safari-themed tablescape.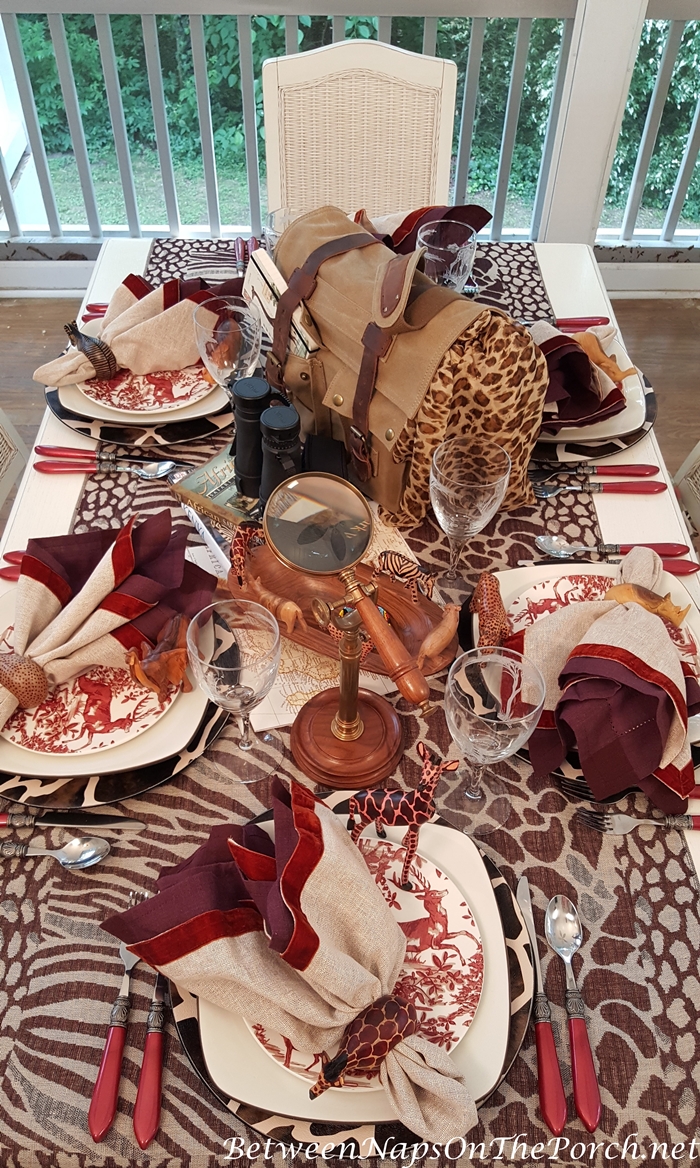 The animal-rimmed bowl is a hand-carved piece I brought back from Kenya. I'll have to share the story of what I had to go through to bring it (and the hand-carved animals you see at each place setting) back. It's funny to think about now, but not so funny at the time! Ha!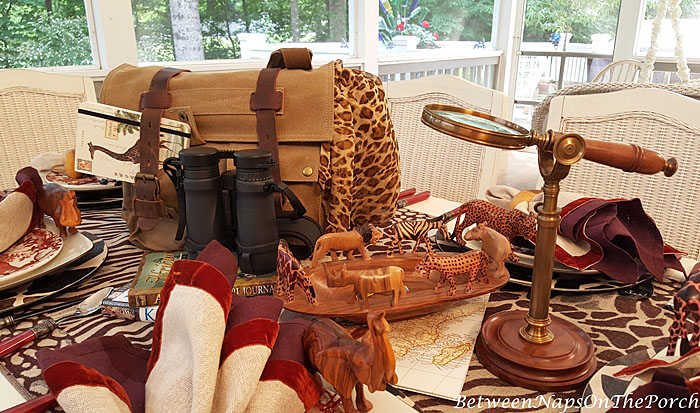 For the centerpiece, I incorporated in the camera/laptop bag I purchased for the trip to Africa. I love this bag and would buy it again in a heartbeat. It has a great padded insert that kept my camera, lenses and laptop safe during the many plane rides it took to get out to the bush. (Bag is available here: Camera-Laptop Bag)
I tucked in my travel journal and a leopard print scarf I purchased for the trip. I ended up not wearing the scarf because I later learned that it's recommended you not wear animal print clothing while on safari. I read it can confuse animals. An animal-print scarf may have been okay (as opposed to a whole shirt) but I decided to just leave it behind.
I also added in my binoculars and a few books I purchased for that trip. These are the best binoculars I have ever owned. After they arrived, I donated my others. Binoculars have improved so much over the years, had no idea how much until I purchased these. I guess it's like cameras and everything else. If you're in need of an excellent pair of binoculars for bird watching or taking to concerts and sports games, you'll find them here: Binoculars.
I tucked a map of Africa underneath the bowl. Of course, you must have an "antique" magnifying glass to read your safari map. 😉 The magnifying glass, purchased a few years back, normally lives atop a stack of books in my living room. Update: Just noticed that the magnifying glass is still available here: Magnifying Glass.
I would love to have had a large, antiquish-looking map of Africa to put under the whole centerpiece. Wouldn't that be beautiful layered atop the animal print table runner? Note to self: Check eBay for oldish looking map of Africa.
You may remember seeing the magnifying glass before when I used it in a "Cozy Mystery" table setting here: In the Library With a Candlestick: A Cozy Mystery Table Setting.
If you ever have an opportunity to visit Africa, do it!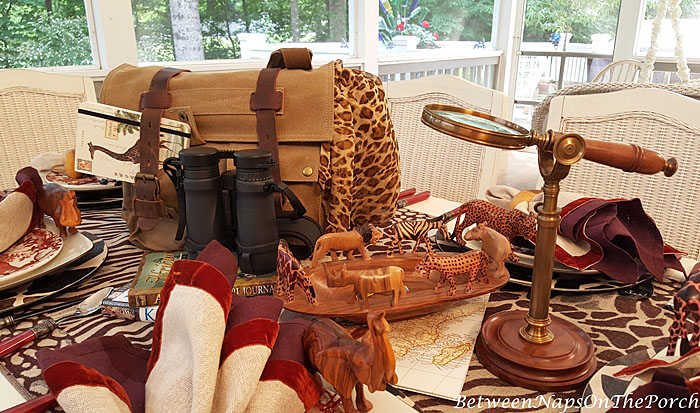 To date, it's my most favorite trip ever, even more than the trip to Italy last October and more than the one I just took to Holland and Belgium. I loved those trips but words just can't describe the experience of visiting Africa, going on safari and visiting Giraffe Manor. I'd love to go back some day! I am still going through all the photos I took of the animals we saw there, but you can see a few videos I shared on my YouTube channel here: YouTube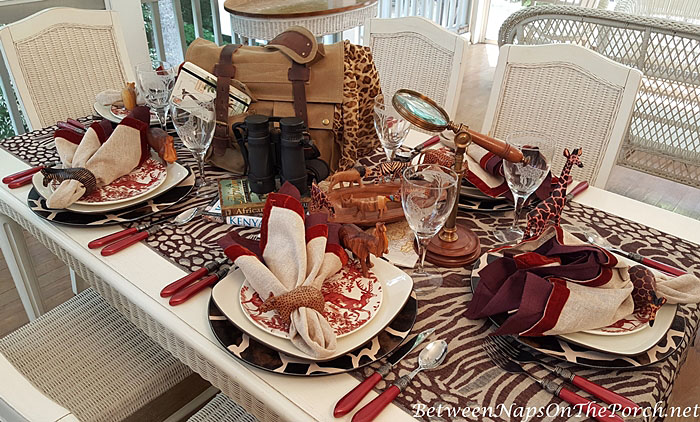 Looking forward to the beautiful tables shared for this week's Tablescape Thursday!
If you are participating in Tablescape Thursday, please be sure to add your permalink below, and not your general blog address.To get your permalink, click on your post name, then copy and paste the address showing in the address bar, into the "url" box when you link up. You'll need to include a link in your post back to the party to link up and participate.
That's so visitors to your blog will be able to find the party and the other Tablescape Thursday participants. Requiring a link back also prevents businesses and scammers from linking up to sell their products. (Yep, that really happens, unfortunately.)
Please, don't add your post name/blog name ALL IN CAPS…it tends to create big spaces between the rows of links.
Please do not link up table settings that were just recently shared in the last few weeks for Tablescape Thursday.

*If a post is sponsored or a product was provided at no charge, it will be stated in post. Some links may be affiliate links and as an Amazon Associate, I may earn from qualifying purchases. *