Welcome to the 348th Metamorphosis Monday!
What comes to mind when you hear the phrase, "Going on safari?" For the next few minutes, erase all the pre-existing ideas, thoughts and concepts you have about what it's like to go on safari. If there's anything I've learned from my recent trip to Africa, it's that safari camps and safari experiences can all be completely different. No two safari camps or safari experiences are ever the same. I had zero preconceptions when I first started researching a trip to Africa and a possible safari experience. I've never known anyone who has traveled to Africa and I've never known anyone who went on a safari. I had never even watched a movie about an African safari.
I blogged about this trip a little in advance of going. In reading the comments left on that post and on Instagram, I began to realize the idea of going on safari conjures up different ideas for each person. I guess what most folks think of when they hear the word "safari" is based on what they've seen in movies or what they've heard from friends or colleagues who may have gone on a safari sometime in the past. Or, maybe it's from their own past experiences. Erase it all! Honestly, if you've ever wondered about what it would be like to go on a safari, clear your mind of any past ideas and don't listen to what anyone (including Hollywood) tells you.
I lucked out, the fates must have been watching out for me. It all started with one obsession, my desire to visit Giraffe Manor. In reading reviews on Trip Advisor and other places online, I discovered that most folks who visit Giraffe Manor, do so as part of a safari experience in Africa. Ummm, I could do that, too. See what I mean, had no idea what I was doing, just figured it out as I went.
Next, I googled for safari trips that included a visit to Giraffe Manor. I stumbled across a company that was offering "low season" pricing even though it's still high season (migration is still going on) AND they had a special where you could stay three nights for the price of two. I decided to go with that plan and contacted them. They set up the trip, then I modified it until it was met my needs for the places I wanted to visit.
My Visit To Mahali Mzuri
A vacation to Mahali Mzuri, pretty much ruins you for life. Since I've been home, I've actually been having to cook for myself, make my own bed and do my own laundry. 😉
After arriving in Africa and spending my first night in Nairobi, I took a 45 minute flight from Wilson Airport on this plane. We were supposed to be traveling via a Safarilink plane, but I guess they didn't have one available. I didn't really care for this plane because there was zero headroom, unlike the Safarilink planes that are much more spacious. Fortunately, the return flight was via Safarilink.
Notice those tiny little luggage holes at the bottom of the plane. That's why I couldn't take a bag that rolled and had to take my small duffle type Pendleton bag. I think some folks cheated, though.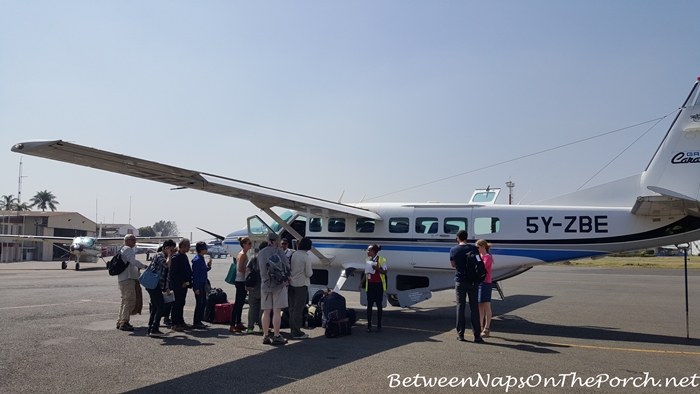 I saw them weigh my bag and my camera/laptop bag together while we were still inside the terminal, so I'm glad I stayed under the weight limit.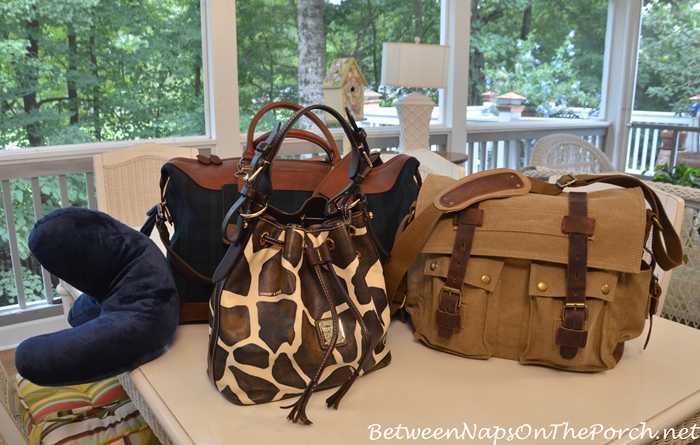 The view below was always changing during the flight. Kenya has a varied landscape from mountains to savannahs to Acacia forests to almost desert-like conditions.
We landed on a grass landing strip. I took this photo just as we were about to touch down.
Once we landed, I was met by a Mahali Mzuri guide who welcomed me with a cold glass of champagne and a lovely beaded bracelet made by one of the local Maasai ladies. On this particular day, I was the only one arriving. Each day is different as folks fly in, stay for a few days, and then move on to their next adventure.
After enjoying my champagne and completing a short registration card, we hopped into the safari vehicle and headed off on a bumpy, exhilarating ride to camp.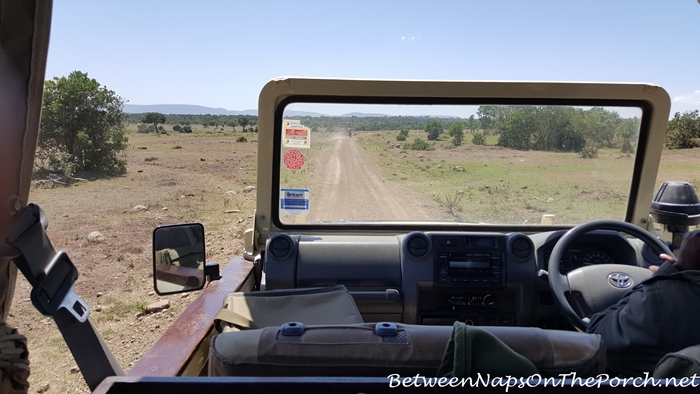 That first ride is really an impromptu safari as it's possible to see lots of different animals en route to camp. During the ride, I saw quite a few animals including wildebeest and zebras. You may remember seeing this photo when I shared it on Instagram.
So, you know those dusty tents you've been hearing about, the ones you supposedly stay in while on safari. At Mahali Mzuri, you do indeed stay in tents, but the tents look like this.
This really is a tent, it's just a tent gone hi-tech!
Life is so hard on safari, but I "made do" with the accommodations.
See, it really is a tent. It takes a little getting used to because on super windy days, the walls flex, moving in and out. At first, it's a little distracting, but after a while you hardly notice it. It becomes your new normal and it's wonderfully exotic.
The way the tents are built is amazing, really beautiful in their design. See that little bottle beside my bed? Each night when I turned in, it was filled with water for the night. I asked the camp manager if I could purchase one. It has the Mahali Mzuri logo on it and I thought it would be such an awesome souvenir to keep in my refrigerator at home.
Sadly, she said no, they didn't have them available for purchase. She added that they do disappear all the time, though. Was that a hint to help myself? lol So tempting, but I resisted–not being one to take anything I'm not supposed to. Dang, being honest is so inconvenient sometimes, ya know!
A lovely "Welcome" awaited me on the bed.
The tent I stayed in was designed with three separate spaces: the bedroom, a living room, and a bath. This deck was right off the living room.
On the website, they show this picture of giraffe and zebra down in the valley just below the tents. When I saw that photo on the website, I thought, yeah, that probably happens once in a blue moon.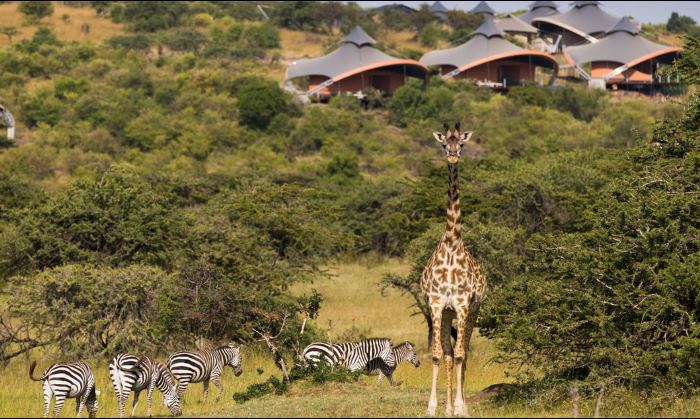 I was so wrong. I was there for three nights and each day I was treated to a safari right from the deck outside my tent. Giraffe came to play and dine on the trees.
African buffalo and elephants stopped by.
And Plains Zebra and Thomson's Gazelle dined on the grasses below. All these photos were taken from the deck at Mahali Mzuri. This is only a small sampling of the animals we saw each day right from the decks of the camp.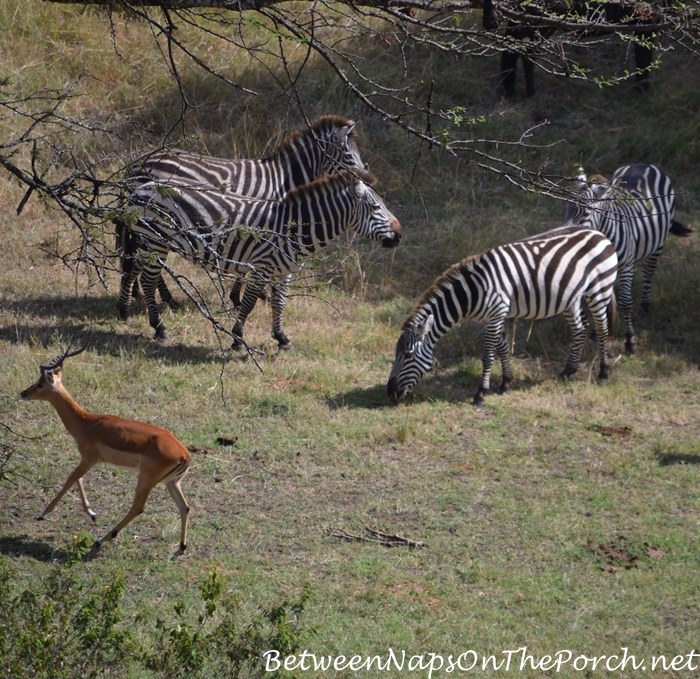 This was my bath (photo from MM website). I totally took advantage of this clawfoot tub and beautiful view several times during my visit. There's also a shower with a "rain" style shower head for those who prefer to shower.
I didn't try any of the products provided (brought my own) but I think they are all locally produced. One thing I really like about Mahali Mzuri is how Richard Branson has gone to great lengths to make this camp a true positive for the community. Mahali Mzuri provides income/jobs for those who live in the area and for the other businesses in this area.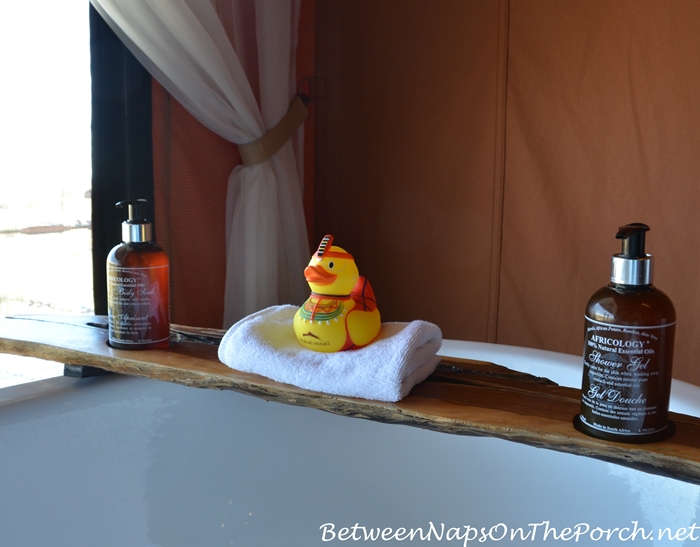 Each guest is given a rubber ducky to take home, dressed in a Maasai tribal costume.
The rest of the bath is just as lovely. Remember how I was so worried about drinking the water because of all the stuff I'd read online? Again, each safari adventure is completely different. At Mahali Mzuri they have a very sophisticated water filtering system that uses reverse osmosis, so the water is fine. You can drink, rinse your toothbrush, etc…with no fear of getting sick.
Each night a staff member would come around and close down the flaps over the screens of the tent for complete privacy. This was usually done while we were at dinner or on a nighttime safari, so we normally never saw this happen. The night I took this picture below, we were dining in the bush a bit later so I was actually present to see the lowering of the flaps. You can see one of the staff there in the window, lowering them. He knocked on my door to let me know he would be out on the surrounding deck before he began the process of lowering them. It was wonderful to see how the tent magically changed each evening for the night.
The flaps they pull down and secure also help keep the tent warm at night. It can get down into the 50s at night in Kenya. Each morning, while we were out on our morning safari drive, another staff person would come around and raise all the flaps back up so the rooms were bright and sunny upon our return. It made for an amazing transformation each day.
This is how the bed looked in the evening. I appreciated the slippers since I had no room in my small bag to bring them from home.
Staying warm at night was never a problem since one of these was always waiting under the covers. Amazingly, they really work! I was shocked by that, never having slept with a hot water bottle before.
Clothes placed in a small basket in the wardrobe were always returned by evening–washed and pressed.
I think all the tents have a comfortable living room, this was the one in my tent.
Notice the small refrigerator over in the corner.
The fridge was well stocked. Whatever I used was always replaced by the next day. There are those coveted water bottles again! The ones in the refrigerator were filled with sparkling water and it's the best I've ever tasted! One evening before dinner, I cracked open the little bottle of champagne and the orange juice and made myself a Mimosa.
As I was sipping my Mimosa out on the deck, this invite was hand-delivered to my room along with more champagne. I'll share photos and a video soon from this gathering under the stars.
I've also videotaped a little walk around the camp and hope to get that uploaded soon. Remember this funny little guy I shared on Instagram? He's a Rock Hyrax and he and his buddies live all around the camp.
That photo above was the tree that's just outside the back door of my tent. These little creatures love to sit in the tree. As you walk by, they jump down and scamper off. I managed to snap that photo above just before he hopped down to run hide. You can tell they are kinda used to people, but a bit wary of getting too close.
To make sure there's no negative impact on the environment in this area, the camp is mostly run via solar power. Between 1 AM and 4 AM each night, the lights go out and the generators all recharge for the upcoming day. Pretty amazing how this place was designed!
Standing on the boardwalk, this was a view of my tent overlooking the valley below. That looks like either Wildebeest or African Buffalo down in the valley. Such a gorgeous, gorgeous place!
We'll be dining under the stars and going out on safari in some upcoming posts. I can't wait to share the rest of this adventure with you! I know this wasn't exactly a typical "Before and After" but it was definitely a metamorphosis from my everyday life.
Looking forward to all the fabulous Before and Afters for this Met Monday!
Metamorphosis Monday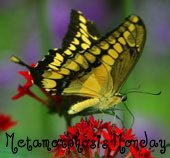 If you are participating in Metamorphosis Monday, please link up using the "permalink" to your MM post and not your general blog address. To get your permalink, click on your post name, then just copy and paste the address that shows up in the address bar at the top of your blog, into the "url" box for InLinkz.
In order to link up, you'll need to include a link in your MM post back to the party so the other participants will have an opportunity to receive visits from your wonderful blog readers.
Please observe these few rules:
Only link up Before and After posts that are home, gardening, crafting, painting, sewing, cooking, DIY related.
Do not link up if you're doing so to promote a website or product.
Do not link up a post that was just linked last week since a lot of readers will have already seen that post.

*If a post is sponsored or a product was provided at no charge, it will be stated in post. Some links may be affiliate links and as an Amazon Associate, I may earn from qualifying purchases. *