Tomorrow is the first official day of Autumn. Though the mid-day temps are still in the 70s and lower 80s here in the Atlanta area, you can sense that fall is just around the corner. Not sure why, but for once I'm not dreading the cooler weather as I normally would. Maybe I'm just relishing the return of all the hunkering-down coziness I associate with fall–like woolly, soft, throws, snuggly sweaters, crackling fires, and a reason (as if I needed one) to stay inside cozied up with a book, reading late into the night.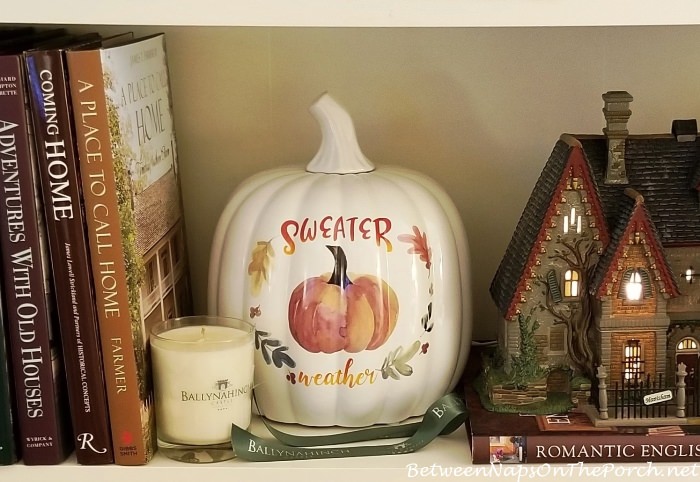 Since we're right on the cusp of autumn, I thought I'd share a few of my faves that always love for this time of year. Candles are definitely a must, especially the Woodwick candles with the long, fireplace-like crackling, flickering flame. My favorite scent by them is Fireside, but I really love any of their woodsy scents. (Fireside Candle is available here: Fireside Candle. Their Vanilla Bean/Caramel/Biscotti candle sounds wonderful, too! You'll find it available here: Trilogy Candle. (See all of their candles here: Woodwick Candles.)
A crackling fire is always a great way to cozy up the winter house.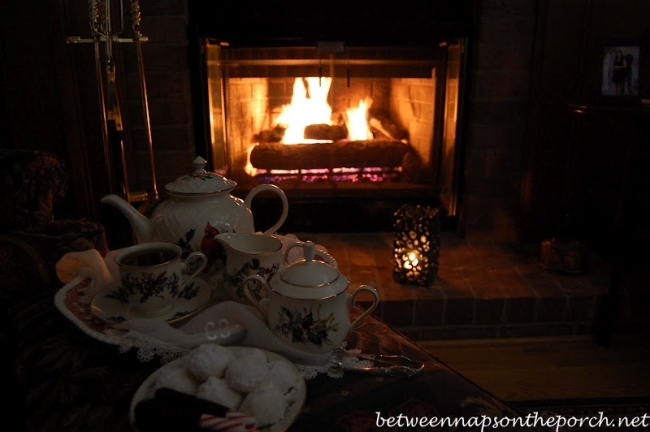 If you don't want to fool around with lighting a fire, do as my daughter-in-law, Nancy, loves to do and add faux-lit candles that come on automatically in the evening. I asked Nancy where she found the stand and candles for her fireplace and she found the candles here: Flameless Candles and the candle holder/stand here: Candle Holder for Fireplace.
Speaking of the winter house, I can't recommend this book enough. It's a great read for any fall/winter evening. You can read more about it here: Winter House.
You'll find it available here: Winter House. Based on the prices at that link, it may be out of print, but it appears they have some "used" ones for a reasonable price.
In addition to candles, during the fall and winter months, I love turning on lamps throughout my home. Lamplight really warms up a room and adds to that sense of coziness.
I lose one of my lamps at Christmastime since I have to move the table that's normally at the end of the room to make way for the tree, but of course, the lit tree more than makes up for the loss of the lamp. Another favorite during fall and winter and a must for every room in my home is a cozy throw. You may have noticed that I have them in almost all the chairs and on the sofa in my living room.
In addition to adding a touch of warmth, they can also be decorative. I love how they look casually tossed over an ottoman or across the arm of a chair.
I keep a few in my bedroom…
And there's always one on the ottoman in my office.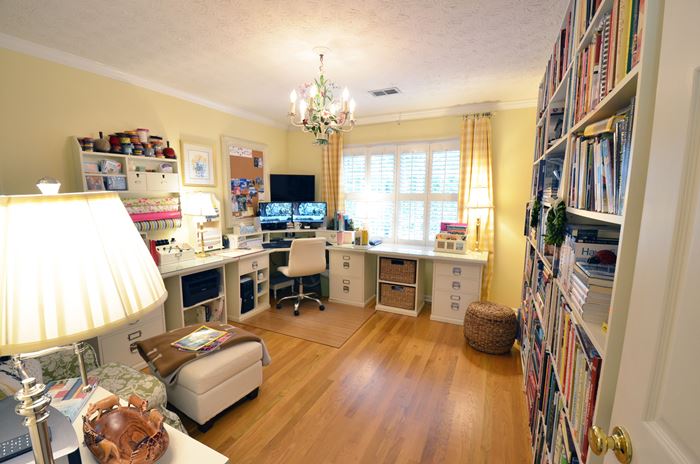 I even buy them when traveling because, like lamps, you can never have too many!
I've heard great things about the Barefoot Dream throws although I don't own one. They look super soft and always have amazing reviews. You can see a large selection of those here: Barefoot Dream Throws. I may buy one for this fall, I want to see what all the fuss is about.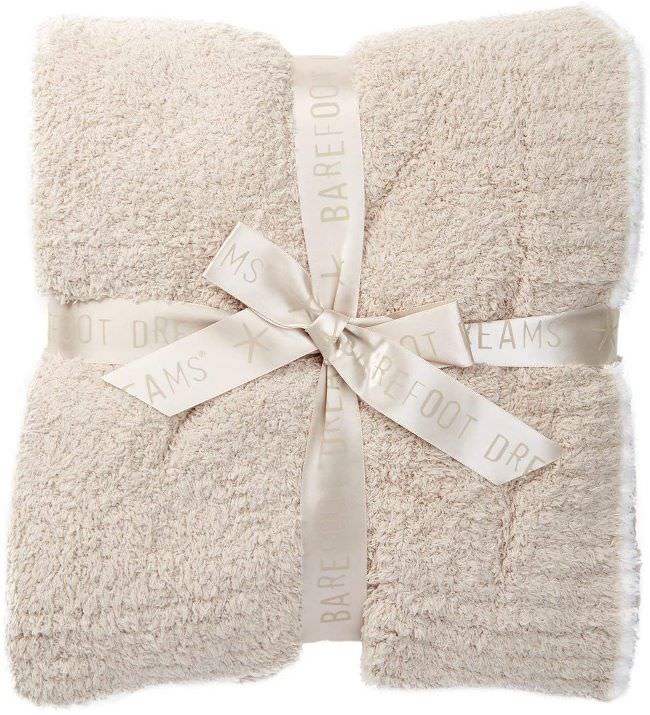 Another must-have for cold weather are my Ugg Boots. I love them so much! I first tried them after several BNOTP readers recommended them and they are amazing! Your feet never feel even a hint of cold when wearing Uggs!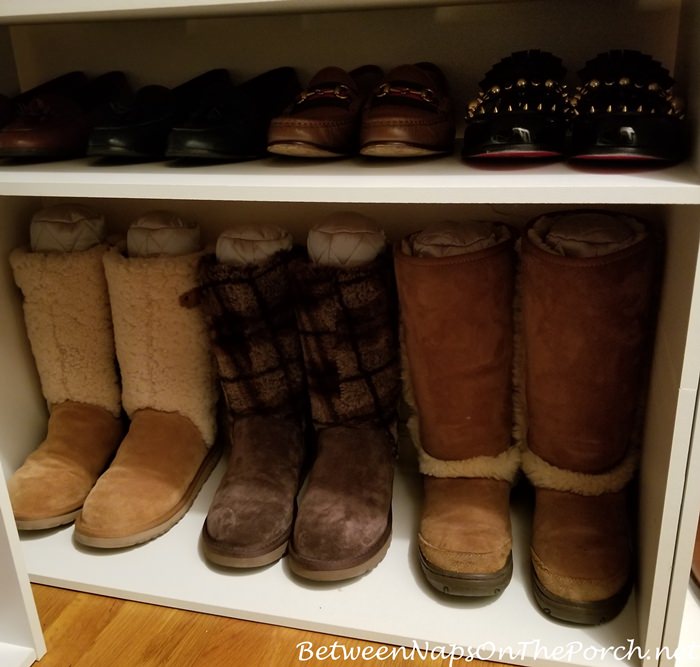 These are the two pairs I wear the most when running errands on those really cold days.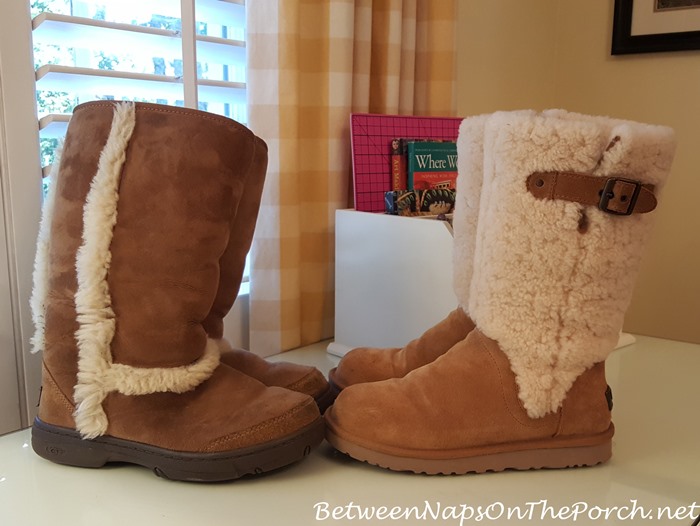 This past winter I purchased a pair in a practical black color since I live in them all winter inside, too. I actually ended up buying two black pairs, one for wearing outside and one for just wearing inside. You'll find a nice selection of Ugg Boots here: Ugg Boots, and an even bigger selection here: Ugg Boots.
I think these are sooo cute! They come in a lot of different colors and are available here: Ugg Boots. Any other big Ugg fans out there?
My daughter-in-law and son swear by their L.L. Bean Wicked Good Moccasins! They get a new pair every year for Christmas, they love them that much. They are definitely warm and cozy and are even designed where they can be worn outside. My son loves that for when he slow-cooking a big pork roast on his Big Green Egg during the fall/winter and has to run out to check on it throughout the day. Check out the slippers/moccasins they already have available for this fall here: Wicked Good Slippers. (Tip: They often sell out the closer it gets to Christmas and are usually on backorder, so don't wait too late into fall to pick up a pair, especially if it's going to be a Christmas gift.)
One more must for winter is cooking up a good, hearty, stick-to-your-ribs soup. This is my favorite for those chilly, fall-winter days! (Recipe is available here: Vegetable Beef Soup.)
Looking forward to autumn with you!
*If a post is sponsored or a product was provided at no charge, it will be stated in post. Some links may be affiliate links and as an Amazon Associate, I may earn from qualifying purchases. *