Thanks so much for all the lovely comments left on Monday's post where I shared a dramatic, long-awaited kitchen renovation my son and daughter-in-law just completed in their home. Just as their renovation was coming to a close, I came across an awesome coffee maker that I was pretty sure they would love, especially my son who has been literally searching for years for the perfect coffee maker. I am thrilled to say that he absolutely loves this one and it has completely lived up to its excellent online reviews. As my son was dropping me off at the airport on Monday, he said his biggest issue now is trying to limit himself to just 2-3 cups per day, because it's that good! Ha!
When I first shared this De'Longhi coffee maker 2-3 weeks ago, Cyndy (and a few other BNOTP readers) cautioned about using the coffee maker directly underneath their new kitchen cabinets since there could be some steam coming out that could possibly affect the cabinets over time. Thanks so much to everyone who mentioned that because I def would not want to see something like that happen.
I immediately looked online to see if I could find something that would make it easy to move the coffee maker out from under the cabinet when it was in use. I found quite a few choices and emailed the link to those to my son and DIL with my concerns about using it while it (or any coffee maker) was directly underneath the cabinets.
My daughter-in-law found the coolest appliance pull-out tray, and it works so well, I knew I needed to share it in a post. The coffee maker rests very solidly atop this slider platform so when my son makes coffee each morning, he is able to easily slide the coffee maker out. Once he's done, it easily slides right back into place under the cabinets. I was very impressed with how well it worked during my visit.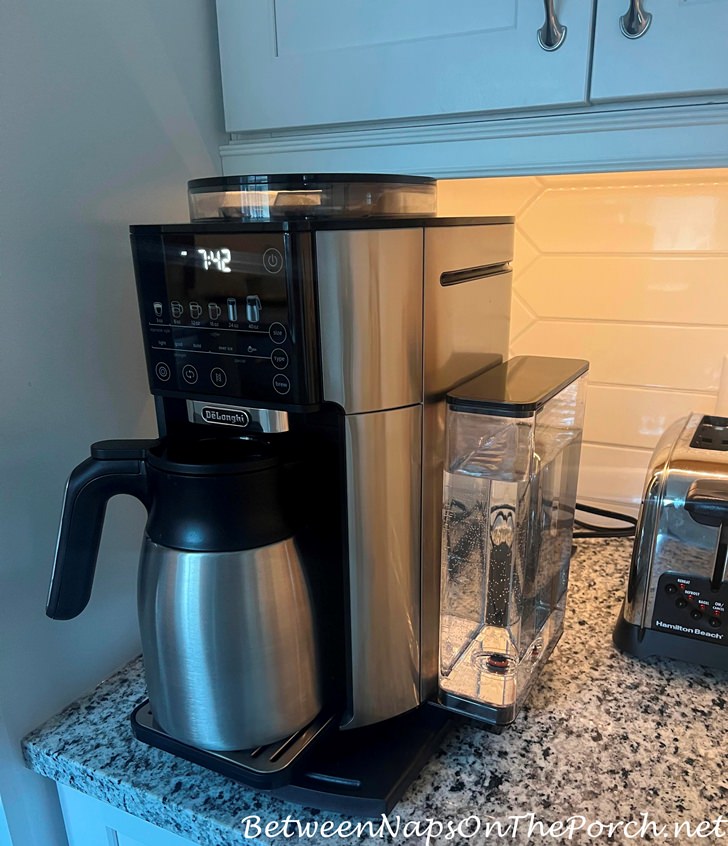 This is the slider my daughter-in-law chose. It's great for any appliance that you use on a regular basis, especially those that would probably be too awkward or heavy to pull out each time it was needed. You'll find it available here: Slide-out Appliance Tray.
I had a great question about this coffee maker recently in the comments of the kitchen renovation post. (If you missed that post, you'll find it here: 1970s Kitchen Just Got a Dramatic, Down-to-the-Studs Beautiful Renovation.)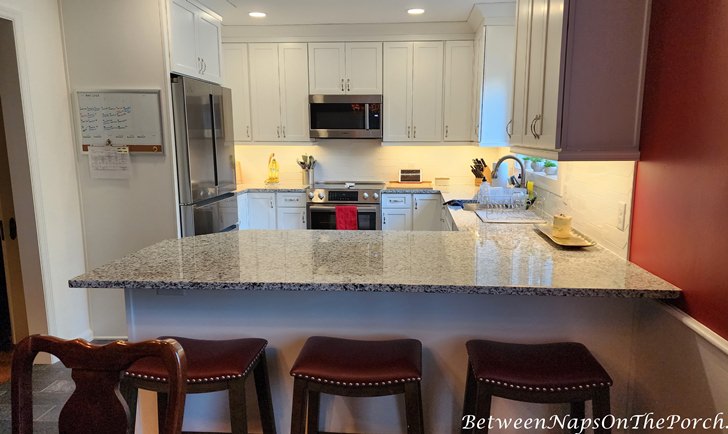 Someone asked about the carafe that comes with the coffee maker and how well it works. That conversation actually came up during my visit last week as my son was sharing how he's making his coffee each day. He said, initially, he thought they would probably make it by the cup during the weekdays, but would probably make a full carafe to enjoy on Saturday mornings. He has now totally changed his mind about that. He said since this coffee maker will make a cup of fresh coffee in less than a minute, including grinding the beans, he prefers to just make a fresh, hot cup each time. He was absolutely singing the praises of this coffee maker throughout the time I was there.
As we talked, I mentioned that maybe the carafe will come in handy when they have family or friends over for dinner or an overnight visit, and several cups are needed at once. So in summary, if you are a hot coffee lover like my son, you will probably find yourself preparing one cup at a time since it's super fast to do that, and you're getting a fresh cup from freshly ground beans every single time. But the carafe is there if it's ever needed. If you would like more information about this coffee maker, you'll find that (along with 400+ reviews) here: De'Longhi Coffee Maker.
*If a post is sponsored or a product was provided at no charge, it will be stated in post. Some links may be affiliate links and as an Amazon Associate, I may earn from qualifying purchases. *