It's been a while since I put together a post where I share the products I love, the ones that make my life better or a whole lot easier. This past weekend while visiting my son and daughter-in-law, my dil and I started talking about some of the things we enjoy using like hair products, lotions, etc…
Today I'm sharing them all with you and if they are still available, I'll link to them where I purchased them. I think most, if not all, are still available. Some of the items I'm sharing are the ones I most frequently get emails about, so hopefully this will answer some questions, too.
In this photo I shared when I changed out my winter bedding for summer bedding, you may have noticed a dark object on my bedside table.
Projection Clock Radio With Dual Alarm & Temperature Display
It's a clock radio with dual alarms, that also shows the indoor temperature and projects the time on the wall or ceiling. The arm adjusts so you can project it as low or as high up as you like. I purchased it last year and absolutely love it. It's awesome being able to wake up in the morning, open my eyes and instantly see the time in front of me.
It also comes in handy if you wake in the middle of the night and you're wondering what time it is. It interrupts your sleep less than rolling over and fumbling around trying to see the clock. When you walk into the room during the daytime, you can't see the numbers on the ceiling, which I like when I'm awake. They just show when the room is mostly dark or dark.
I would definitely buy this again if this one ever quits working. It's available here: Projection Clock Radio With Dual Alarm & Temperature Display
Anji Mountain Bamboo Chairmat
I've had several emails over the past year asking where I purchased my bamboo chair mat here in the office. I purchased my first one at a local office store. Recently, I wanted to purchase a second one to place in front of the area where I use my puzzle board.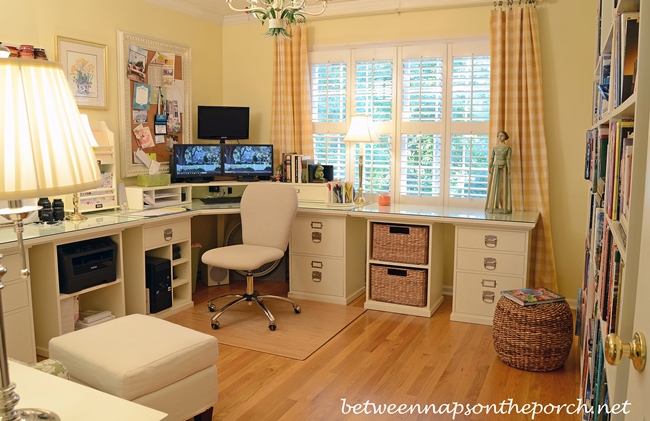 I found the exact same mat on Amazon for a good bit less. I was kicking myself for not having bought it on Amazon the first time. It comes in different shapes and looks great on hardwood flooring. I use the rectangle shape for my desk configuration and it measures 48 x 42. Here's where I purchased the one I bought recently: Anji Mountain Bamboo Chairmat
Magic Bullet NutriBullet 12-Piece High-Speed Blender
I love my NutriBullet! It stays out on my counter full-time and I use it 2-3 times a week. You can read more about how I use it in this previous post: Fast & Easy Juicing For The Lazy Cook. I was impatient and purchased mine from Target but later I realized I paid around $40 more than if I had purchased it on Amazon. I've learned the hard way, always check on Amazon before buying it in a big box store. Magic Bullet is available here: Magic Bullet NutriBullet 12-Piece High-Speed Blender
Hagerty Silver Holloware Storage Bags
Occasionally, I'll use silverplated candlesticks in table settings. In the past when I would get them out to use them, they would have tarnished and I'd have to polish them before I could place them on the table. That was inconvenient since I usually didn't have the time to stop and polish them right then. Also, I was beginning to worry that all the polishing would wear through the silver plate to the metal below.
I love Hagerty Silver Polish so I went online to see if they made storage bags that would keep my candle sticks looking good in between uses, and they do! I love these bags because they save me time and work. They come in a bunch of different sizes.
Since the smaller Hagerty bags worked so well for the candlesticks, last year I ordered their larger 25 x 30 inch bags for storing my silverplated Christmas ornament trees seen in this whimsical winter table setting. The larger bags are available here: Hagerty 24 by 30 inch Zippered Holloware Bag. You can see the various sizes they come in at that link, as well.
Brome Squirrel Buster AND Brome Squirrel Buster Classic
Recently I got an email asking what bird feeders I use and like best. I've tried a lot of feeders over the years and there are only two that I know of that actually prevent squirrels from getting to the seed. I put out some pretty expensive bird seed for my birds, so I can't afford to let the squirrels have it since they can clean out a regular feeder in no time flat.
The two feeders I having hanging out full-time are the Brome Squirrel Buster with Cardinal Perch Ring…
And the Brome Squirrel Buster Classic. The thing I love about both of these feeders (besides the fact they shut down under the weight of a squirrel) is birds that prefer a perch or platform to sit on while eating, love these feeders. Even fat blue jays and mourning doves can fit on the one above with the perch ring. My cardinals LOVE both feeders and have no trouble sitting on the perches below or the ring above.
Here's the older version of the one above, and you can see what happens when a wily squirrel attempts to steal all the seed. It closes down over the open ports and after a few minutes, he gives up and leaves. 🙂 Love both these feeders! They are available here: Brome Squirrel Buster with Cardinal Perch Ring AND Brome Squirrel Buster Classic.
But as you can see, it's not raccoon proof. 🙂
Electronics Recharge Station
A while back I went in search of a charging station so I could corral all my charging cables once and for all. I found one on Amazon but it was sold out at the time. I ended up buying a used one on eBay.
This little charging station has transformed my life! This is Grand Central Station, where I charge everything I use regularly including my fitness band, phone, iPad, wireless headphones, wireless speaker and the battery for the new camera I just purchased for travel.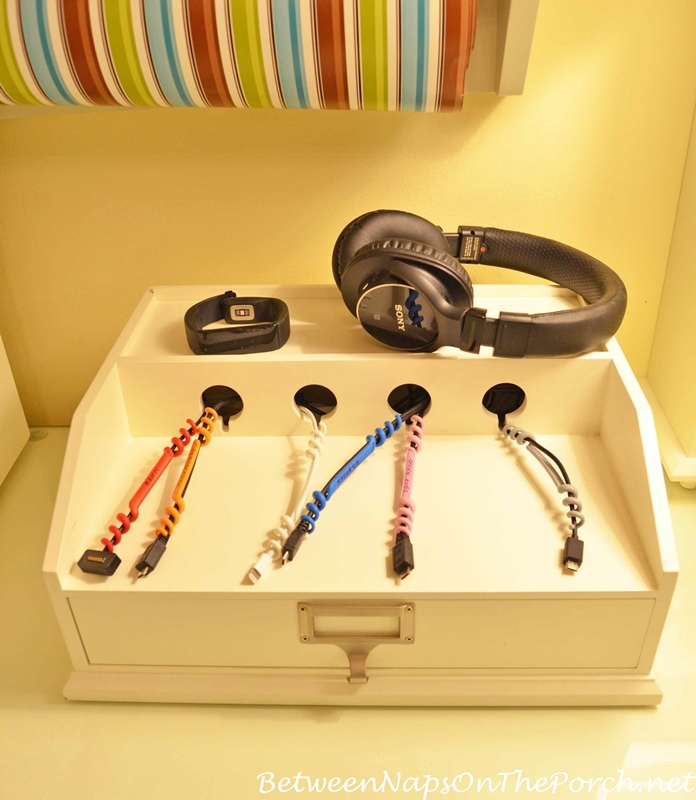 The station I had seen that's very similar is now back in stock here: Electronics Recharge Station I use the drawer on mine for storing adapters and instruction booklets. I think you may need to purchase a power strip to go in back. Mine already had one since I purchased it used.
Anker USB Charger
In addition to the outlet strip, I tucked my Anker USB Charger Unit inside the back because I find it's easier to charge a lot of my electronics via their USB cord. Since I charge so many things on a regular basis, it helps that I don't have to fit all those big plugs into the charging strip.
Sony Bluetooth & Noise Canceling Headset
Several months ago I began looking for a good pair of bluetooth, noise canceling headphones that were affordable. I've always wanted a pair of Bose noise canceling headphones but they were more than I wanted to spend.
I was looking for headphones that would pair with my phone so I could listen to books or music while vacuuming. Vacuuming is soooo boring, I'm always looking for ways to make chores like that more enjoyable or at least tolerable. Regular headphones wouldn't work since the music/book would have to be turned up way too loud which would be bad for hearing. If you've ever tried to listen to music while vacuuming, you know it's pretty much impossible.
This headset works perfectly, just as I had hoped. Whenever I vacuum, I fire up a good book on my phone that I've downloaded from Audible and enjoy it while I vacuum. If a call comes in, I can press a button on the headset and answer it right there. Once I hang up, I'm back to my book. It has a pretty good range, I'm surprised how far I can walk away before the connection is lost. I really like these a lot. They should be great for travel, too. They are available here: Sony Bluetooth & Noise Canceling Headset
Puzzle Sorting Trays
As an adult, I've rediscovered the joys of doing puzzles. When working on a puzzle, I needed a way to sort the pieces. I love these little puzzle-shaped sorting trays. They stack which makes it easy to tuck them away when I'm done for the evening. Here's where I purchased mine: Puzzle Sorting Trays
Ghost Eclipse Perfume
Several months ago I was watching a You Tube video uploaded by another blogger. She was raving about this perfume called Ghost Eclipse. I never, ever buy perfume without first smelling/trying it but after listening to her talk about it, I was super tempted. She said she had worn it while on holiday and the whole time she kept getting compliments. I loved the bottle it came in, too…so cute!
The more she talked about how much she loved it, the more I wanted to try it, only problem is, it's made in the United Kingdom and isn't available for sale in the U.S. I was thrilled when I found it online with just $8 shipping from the U.K.
Update: This shop has it with free shipping, an even better deal than what I found: Ghost Eclipse Perfume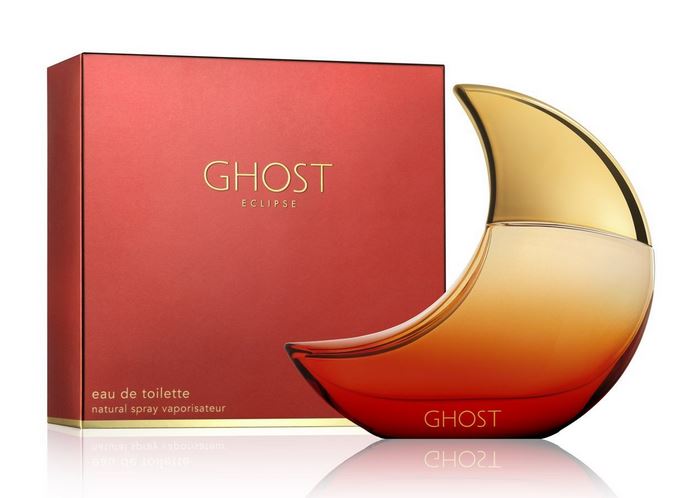 When Ghost Eclipse arrived, I loved it so much I turned right around and ordered their nighttime fragrance Ghost Deep Night. I like Deep Night a lot, too…but Ghost Eclipse is still my favorite of the two.
Mill Creek Biotin Shampoo
I've shared my favorite shampoo in the past but I was thrilled to discover it's now available on Amazon! I love this shampoo. I've been using it for a couple of years now and if they ever discontinue it, I'll be devastated. I love how it makes my hair look and feel and it doesn't have any of the bad stuff in it that is so terrible for hair. The info about it says: "Free Of Animal testing, artificial colors, sodium lauryl/laureth sulfate."
If you have a GNC near you, you can buy it there. That's where I first purchased it. If not, you'll find it here: Mill Creek Biotin Shampoo
A few months ago, after I ran out of the conditioner I'd been using, I decided to try the conditioner. Absolutely love it and wish I had bought it when I purchased the shampoo.
Conair Hot Air Styling Brush
I love to add soft waves and curls to my hair but all the curling irons I could find ended up making tighter curls than I wanted. I purchased this styling brush and use it every time I wash my hair. I usually blow-dry my hair most of the way, then finish with this styling brush.
The heat helps set the waves/curls and I love how it works. It comes with two styling brushes but I just use the 1-1/2 barrel since I want body and a big loose curls. I think this brush is more gentle on the hair than a traditional curling iron, too. It's available here: Conair Hot Air Styling Brush
Travelon Anti-Theft Cross-Body Bag
I'll finish this post with the travel purse I blogged about recently. I love this purse! It holds my iPad, my travel camera and everything I need for travel. Plus, it has tons of anti-theft features like RFID protection.
You can read more about it this previous post: A Peek Inside My Tavelon Travel Purse. It's available for purchase here: Travelon Anti-Theft Cross-Body Bag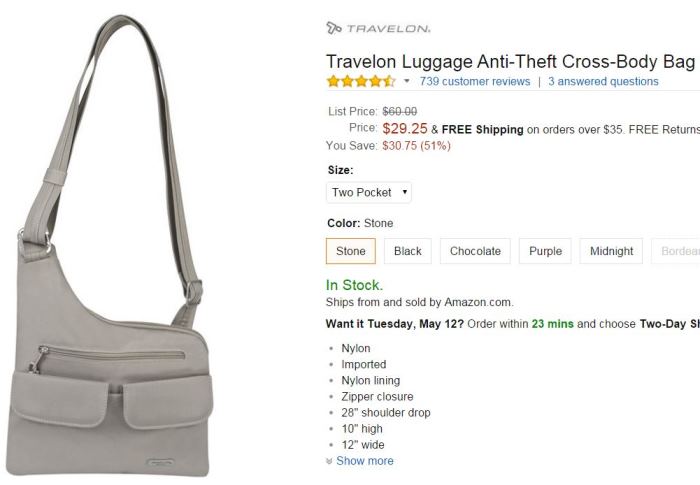 If you enjoyed this post, here's a previous post sharing other products I love and use regularly: 20+ Products I Can't Live Without
*If a post is sponsored or a product was provided at no charge, it will be stated in post. Some links may be affiliate links and as an Amazon Associate, I may earn from qualifying purchases. *