This morning a good friend emailed to tell me about an awesome deal from L.L. Bean. I jumped on it quickly because it ends today and I knew the popular sizes would go fast. I bought this Anorak pullover in two colors: red/blue and the olive/teal shown below.
It was already on sale and after using the code, Gift20, it brought the price down to just $27! Everything right now is on sale at L.L. Bean, but the sale ends today!
I also purchased one to give as a gift for Christmas…such a great deal! If you need something for those cold, rainy days or you're looking for a great gift for someone on your Christmas list, this would be perfect. You'll find it on sale here: Pull-over Jacket.
I just got a postcard in the mail, Talbots is celebrating Family & Friends with 40% off everything with the code FRIENDS40 at checkout.
I love, love, love this reindeer sweater! It looks so soft and comfortable, would be perfect to wear on Christmas Day and maybe even all winter. It's available here: Reindeer Sweater.
This is another one I've been eyeing…sooo cute! Santa looks as if he's about to take off into a starry night sky. It's available here: Santa Sleigh Sweater.
I have a thing for snowflake sweaters and this is one is just so elegant and pretty. It's available here: Snowflake Sweater.
I purchased my daughter-in-love a red puffer coat from Talbots last year that looked very much like this vest. Every time she wears, I kick myself that I didn't buy one for me. It looks so vibrant and gorgeous on her! I've been wishing they would bring it back again, it sold out very quickly. At least they have the same color/style in a beautiful vest this year. You'll find the vest here: Red Vest.
I have really started getting into animal prints more, it all started after my trip to Kenya. I mean, just look at this gorgeous animal! Sooo beautiful! I love the big cats!
This faux fur vest stole my heart this morning…it just looks so rich, soft and fluffy! It's on sale for 50% off, so I couldn't resist.
I purchased one for myself and one to give as a gift. It's a "Deal of the Day" so it may only be available for today. You'll find it here: Faux Fur Vest.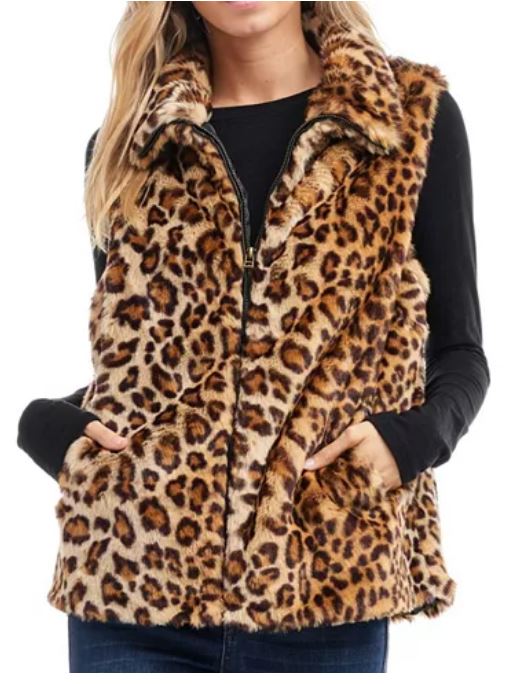 A Splurge
I made a bit of a splurge purchase today…a Christmas gift to myself. I've been wanting one of the fluffy, soft, teddy-bear style coats that are so popular. I did a bit of research this morning and this particular coat was listed as one of the best to buy if you're shopping for a faux fur, teddy-bear style coat. Since it was ranked so highly, I decided to go for it.
I love the rich color and it's currently 25% off. It appears to run true to size. I just ordered it and it should be arriving in a couple of days. You'll find it available for 25% off with free shipping: Faux Fur Coat.
A Classic You'll Wear Forever
If you really want to spoil someone with the best this Christmas, consider a Burberry Scarf. I purchased this scarf several years back after wanting one forever. I consider it to be one of the best clothing purchases I've ever made.
It goes with almost everything so I wear mine frequently during the fall/winter months. It's 100% cashmere and beautifully crafted in Scotland the old fashioned way. It will last the recipient a lifetime. Here's a short video showing how Burberry scarves are made: How a Burberry Scarf is Made. I love the part of the video when they show how they brush it with natural teasels, that just amazes me! I love it!
If you don't already own this scarf, get it! You will love it! You'll find it available here: Burberry Scarf.
Here's a post I created a while back sharing how to tell a real Burberry scarf from a fake: Burberry Scarf: Fake vs Real and How to Avoid Getting Scammed. Nothing compares to the real thing, they are definitely worth the splurge!
A Great Stocking Stuffer
These pearl hairclips would make a great stocking stuffer. They are only $5.99 and there's a coupon that gives you an extra 5% off. You'll find them here: Pearl Hair Clips.
There's an even larger set for $12.99. The reviews look great on both sets. You'll find this larger set here: Pearl Hair Clips. I think these would be wonderful stocking stuffers for anyone who wears barrettes or clips in their hair.
Okay, I'm off to do a bit more damage. The sales are so good right now!
Happy Christmas/Holiday Shopping!
*If a post is sponsored or a product was provided at no charge, it will be stated in post. Some links may be affiliate links and as an Amazon Associate, I may earn from qualifying purchases. *