Last spring, or maybe it was the spring before that…I forget, a friend and I went on a spring garden tour. Even though it was a garden tour, I couldn't resist snapping a few pictures of some of the wonderful houses we saw along the way.
I'm such a sap for a yellow cottage. Love the double peaks, the red chimneys on either end contrasting against the butter-yellow color of the home and of course that awesome porch!
This scene made my heart skip a little beat. I'm pretty sure Aunt Bee has just called Opie inside for some fresh baked cookies and a glass of milk. He hopped off the tire swing and in his haste, he left his bike underneath that big, beautiful tree. ~~~SIGH~~~ I love the person who created this lovely scene. It's like a little gift for all who pass by.
We came across this beautiful porch while on the tour. Notice how they created the corners of the porch. Such a unique way to finish those off. It compliments the brick of the home nicely.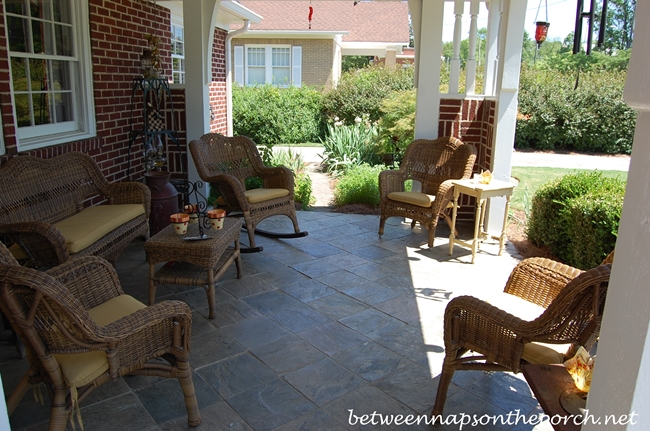 Perfect spot for a climbing rose…
Later on the tour we found ourselves in this area that was what I guess you would call a planned community.
There was a common area that was small park just out front and the homes surrounded it.
The backyard garden of this home was on the tour. I didn't take a picture of the front of the home since there were so many folks out front when we arrived. I loved how it looked from the back, though.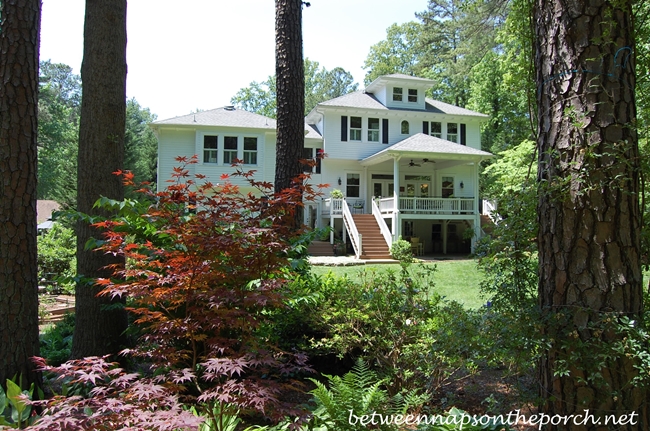 The area under the deck created a nice place for dining and if I am remembering correctly, there was a potting bench under there, too Since this was a garden tour, I didn't take a lot of pics up close to the homes themselves.
We loved the garden!
It was definitely a little paradise.
The homeowner loves frogs and they were everywhere throughout the garden.
Cute!
I especially loved all the little vignettes throughout the garden. Each turn in the garden path, brought another lovely scene to enjoy.
Mushrooms were another cute theme in this garden.
Wouldn't this be a great spot for a snooze at the end of a long day?
Now where's my margarita? 😉
Did you go on any garden tours this spring?
*If a post is sponsored or a product was provided at no charge, it will be stated in post. Some links may be affiliate links and as an Amazon Associate, I may earn from qualifying purchases. *