Ever since I ordered a new lamp for the guest room, I haven't been able to get this new lamp source I recently discovered out of my mind. Lamps are one of my favorite things in the world! Seriously! I always cram as many into a room as I can reasonably use, preferably one in every corner or area of a room. It usually works out where I end up with 4-5 lamps in each room.
The lamps I normally come across these days in local stores are so poorly made and they all have the dreaded drum shade that I don't especially like. If you love lamps with drum-shaped shades, I don't mean to offend–they just aren't my fave. I was shocked by how nice this lamp was when it arrived!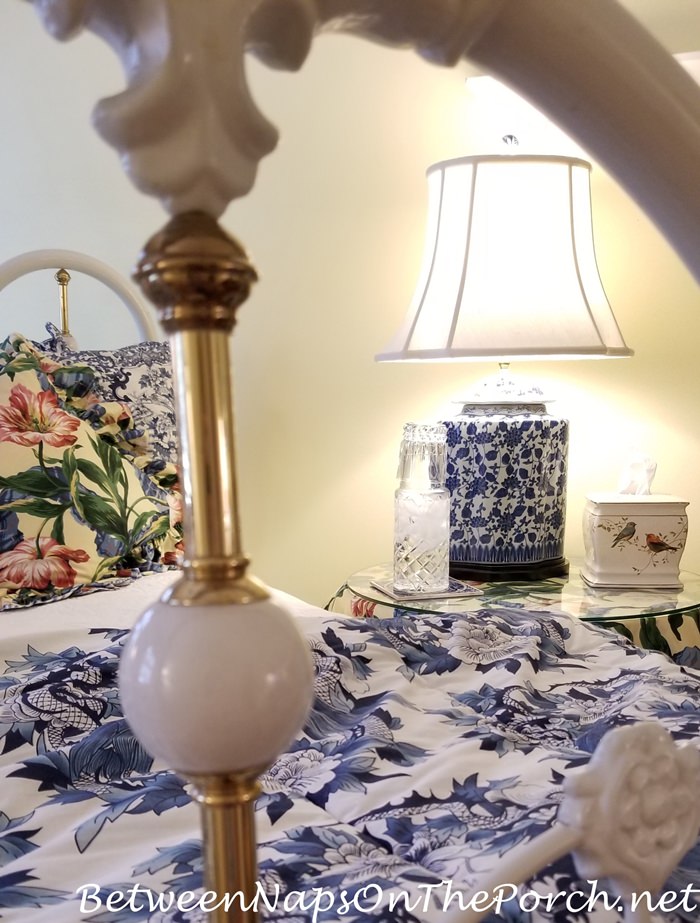 The price was awesome for a lamp of this quality and it really got me looking around my home thinking where else I could use more of their lamps before they vanish or their prices shoot up.
I have ordered two more lamps from the same company over the last couple of days and can't wait until they arrive! Green is my favorite color so when I saw this green and white lamp, I knew I had to fit into my home somewhere. It's so different–I never see green and white lamps! Would you call this a Chinoiserie design? Whatever it is, I like it!
I plan to use it here in the office. I'm going to replace the tall brass lamp you see there in front of the yellow and white buffalo plaid draperies. I already have 2 brass lamps and 1 chrome/silver lamp in this room so I think replacing one of the brass lamps with this lamp will be a nice upgrade for that spot.
The green and white design should work well with the green and white chair on the other side of the office.
Of course, they will be on opposite sides of the room, not right up against each other. Hopefully, the greens are not so different that they won't work in the same room. I'll know in a couple of weeks when it arrives. Fortunately, they offer free returns just in case it doesn't work.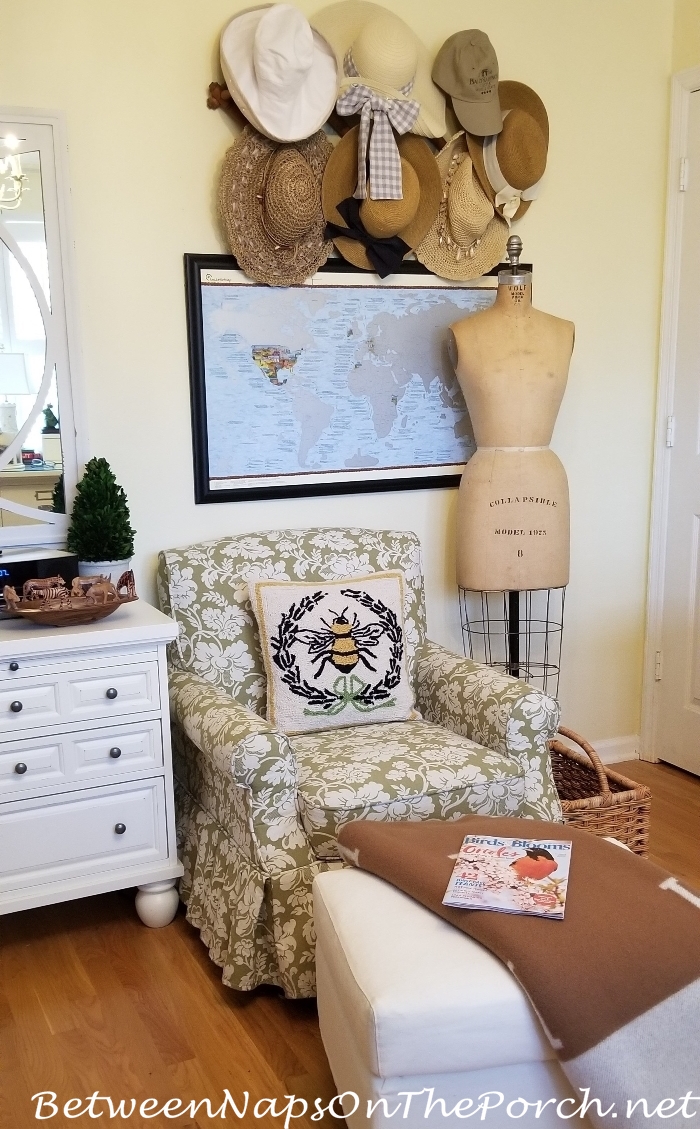 It's a large lamp, measuring 30 inches, which I love! I love big lamps and I can not lie! 😉 If you love big lamps, too…you'll find this one available here: Green and White Lamp.
This is the other one that I ordered. I am surprised how much I like it because typically orange is my least favorite color! Least! But I just ordered an orange and white lamp! What is becoming of me?! lol
This one is shorter than the blue and white lamp I just placed in the guest room and the green and white lamp I just ordered for the office. That should make it perfect for the two places I'm considering using it.
I'm thinking of using it here in the upstairs family room where I've been adding touches of orange over the past few years. It could go on the chest you see here in the background of this photo.
Or, I may use it on the blue chest in the corner. The white lamp I have there now has seen better days and it needs a new shade badly. (This is an older photo before I moved the grandfather clock to the top of the staircase in the upstairs hallway.)
If I don't place it in the upstairs living room, I may use it here in my dressing room off the master bedroom. I used to have a lamp there on the left atop the built-in drawer unit, but I stole it to use on a secretary in the bedroom. The orange would be a fun look with the framed orange Hermes scarf, I think.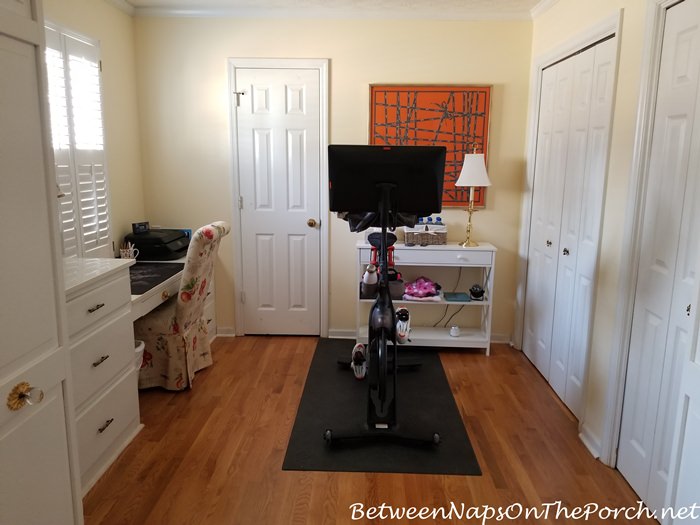 This sassy orange and white lamp is available here: Orange and White Lamp. This little lamp may turn me into an orange lover, despite myself! If you would like to see all the lamps they have in stock, you'll find those here: Lamps.
I can't wait to share what I've been up to in the guest room the last two days! I definitely got my exercise, so much so I couldn't even move yesterday! lol I hope to share it for this Metamorphosis Monday!
Sale on a Sale on a Sale!
If you love a great end-of-season sale, Talbots has an amazing one going on right now and today is the last day. The sale includes an additional 15% off all markdowns which were are already discounted, plus the discounted items are discounted again at 40% off! So it's a sale on a sale on sale! What?! (Note: The discounted/sale price appears once the item is placed in the shopping cart/bag.)
As if that's not enough of a sale, they are giving an additional 5% off for Talbots cardholders. Wow! As soon as this post goes up, I'm shopping this sale! See everything that's included in the sale here: End of Season Sale on Sale!
Happy Shopping!
*If a post is sponsored or a product was provided at no charge, it will be stated in post. Some links may be affiliate links and as an Amazon Associate, I may earn from qualifying purchases. *