Welcome to the 439th Tablescape Thursday!
Last week I used the very latest version of InLinkz for Metamorphosis Monday and Tablescape Thursday. For most folks, it worked fine, but I've heard from 4-5 readers who were unable to see the party links. Until we can figure out what's causing that issue, I've gone back to using the old version of InLinkz for today.
If you were having an issue seeing the party links last week, please leave a comment letting me know so I can let the good folks at InLinkz know, also. I was told that an out-of-date browser can sometimes cause these issues, but if your browser is up-to-date and you were unable to see last week's party links, please do let me know in the comments. Thanks for your patience with this issue.
Beautiful Valentine's Day Table Settings, Elegant and Whimsical
For her Valentine's Day celebrations, my friend, Marie, created several beautiful Valentine's Day tables. This beautiful table was set in her dining room when we got together a few days ago.
Marie found this gorgeous china while antiquing. It has a small crown and I had trouble reading it, but I think it said H & C on the back. It's so perfect for an elegant Valentine's Day or Christmas table setting. King and Queen of Hearts playing cards make such a cute place card for this stunningly elegant table.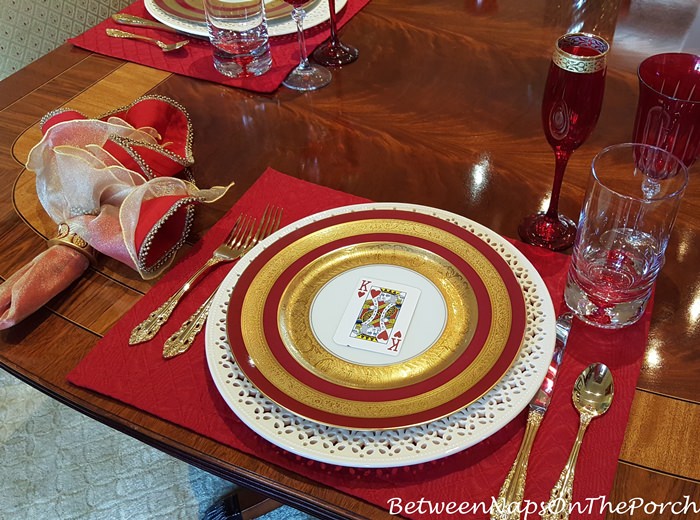 It's even more beautiful in person. Marie paired it with gold-rimmed stemware and gold-plated flatware. This flatware is currently on sale here: Gold-plated Flatware
The napkins are edged in gold-beaded fringe. Marie and I each purchased a set of those in Tuesday Morning on one of our shopping trips together. The beautiful pierced chargers are by Ralph Lauren and say "Ralph Lauren Dunham" on the back. Marie found those several years ago on the Ralph Lauren Home website.
In her breakfast room, Marie set a whimsical table for her grandchildren.
This table is the one that's closest to her fabulous Valentine's Day tree! You may have caught a glimpse of that table in a previous post where I shared Marie's Valentine's decorations. (See that post here: Decorate for Valentine's Day)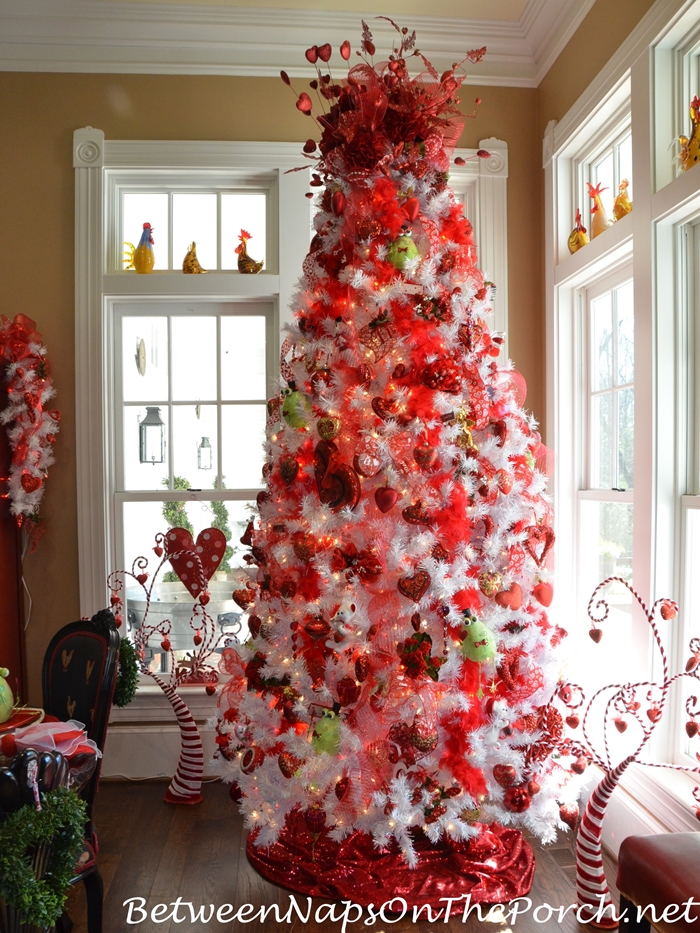 Marie found Mr. Frog in Pier 1 several years back. I think the red swirl glasses are from Pier 1 a few years back.
In another area of her home, she had this table set with beautiful heart plates, another find in HomeGoods many years ago. I love the little heart-shaped beaded bowls.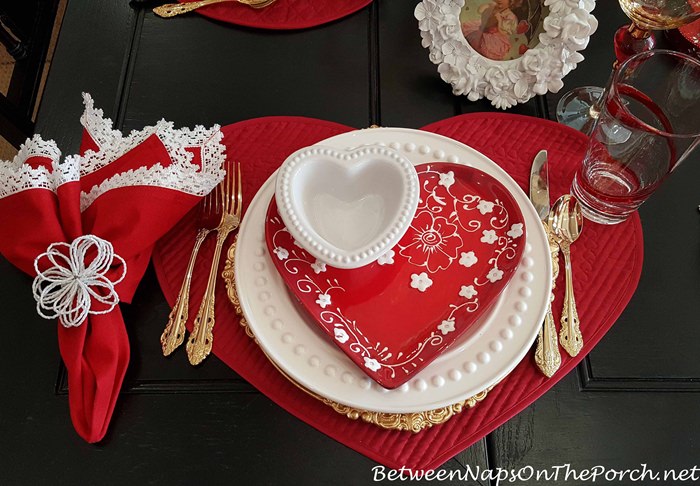 Remember the little children's table that Marie has always set for her youngest grandchildren? Marie use it for her own children when they were little, too.
Well, her grandchildren did that thing that all our children and grand-children have a tendency to do, they grew up and got too big for their wee table.
So sadly it was put away recently, definitely a bittersweet moment!
Marie still created a pretty little tree for this corner and I love how she decorated all the windows as seen in the photo above.
When I share Marie's beautiful holiday decorations and table settings here on the blog, Marie gets a lot of questions about where she stores her decorations. Marie's home has a lot of great closets and a full basement, so she has a lot of storage room for all the decorations she uses for each season and holiday.
She recently came up with the most clever way to store all the candles she uses around her home and in table settings. In one of the unfinished areas of her basement, Marie had 2 x 4 wood pieces nailed in place between the studs. It created instant shelving for her candles! The basement is the perfect place to store them since it's so nice and cool there.
So if you have an unfinished area, think about what you could store by adding a few little shelves between the studs. Love this idea!
Looking forward to all the beautiful tables for this week's Tablescape Thursday!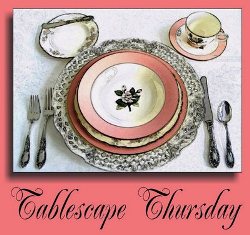 If you are participating in Tablescape Thursday, please be sure to add your permalink below, and not your general blog address.To get your permalink, click on your post name, then copy and paste the address showing in the address bar, into the "url" box when you link up. You'll need to include a link in your post back to the party to link up and participate.
That's so visitors to your blog will be able to find the party and the other Tablescape Thursday participants. Requiring a link back also prevents businesses and scammers from linking up to sell their products. (Yes, that really happens, unfortunately.)

*If a post is sponsored or a product was provided at no charge, it will be stated in post. Some links may be affiliate links and as an Amazon Associate, I may earn from qualifying purchases. *