Love this book…it's one of my favs. I look through it time and time again.
Inside, I found this. Know what it is?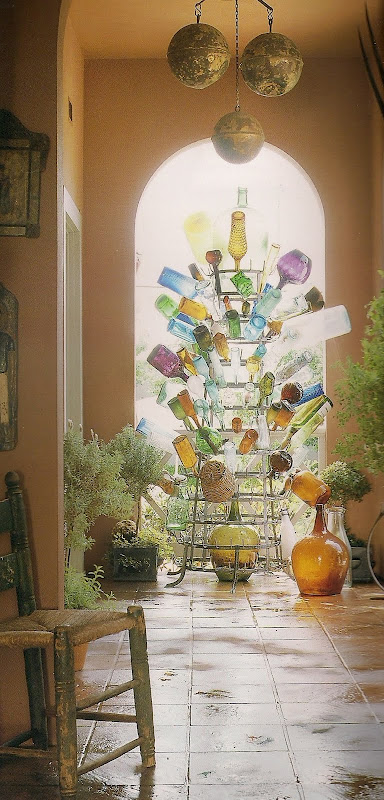 (Image from Southern Style by Mark Mayfield)
It's a bottle tree! Most often you see them in gardens, although this one looks pretty awesome on this veranda.
Bottle trees go way, way, way back. Some folks think the first bottle trees were created in Africa in the 9th Century A.D. Others believe their origin goes back much further…all the way to ancient cultures.
Why a bottle tree? Apparently, it was believed you could capture any roaming, up-to-no-good spirits if they were out roaming around at night. Superstition has it, they would be lured into the bottles where the morning light would destroy them. There must have been a real problem with bad spirits back in the day.
See some wonderful old homes with haint blue ceilings in this post: Paint Your POrch Ceiling, Haint Blue.
Bottle trees are often decorated with lots of different colored bottles, but a favorite color to use are blue bottles. Bottle trees were sometimes called the "poor man's stained glass" or "garden earrings." They add whimsy to the garden and look really pretty when the sun shines through the bottles.
Bottle trees can be made by using an old tree branch and sticking the bottles onto the branches. Another way is to take a center rod or tree trunk and attach nails or rods.
Do you have a bottle tree in your garden?

(Image from Southern Living)
Update: I finally added a bottle tree to my deck. You can view it in this post: Bottle Tree Dreams
*If a post is sponsored or a product was provided at no charge, it will be stated in post. Some links may be affiliate links and as an Amazon Associate, I may earn from qualifying purchases. *