When I added a screened porch onto the back of my home five years ago, I was very tempted to paint the ceiling haint blue. For years I had seen homes all over the south with porch ceilings painted a soft, sky blue. I ultimately decided it wouldn't work for my porch because of the gable ceiling.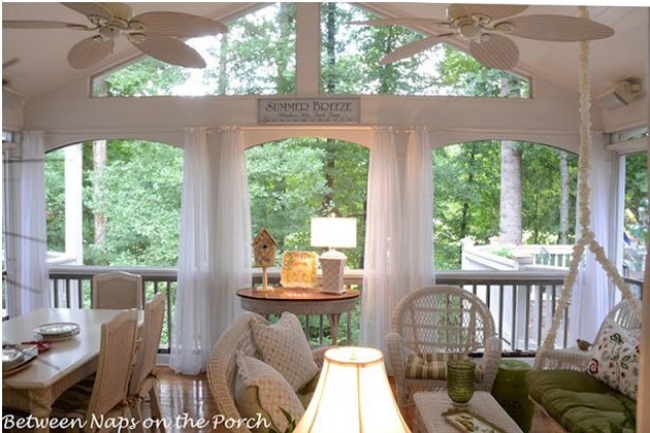 You may remember this home from our tour of Isle of Hope just outside Savannah Georgia. It's sporting a delightful haint blue ceiling.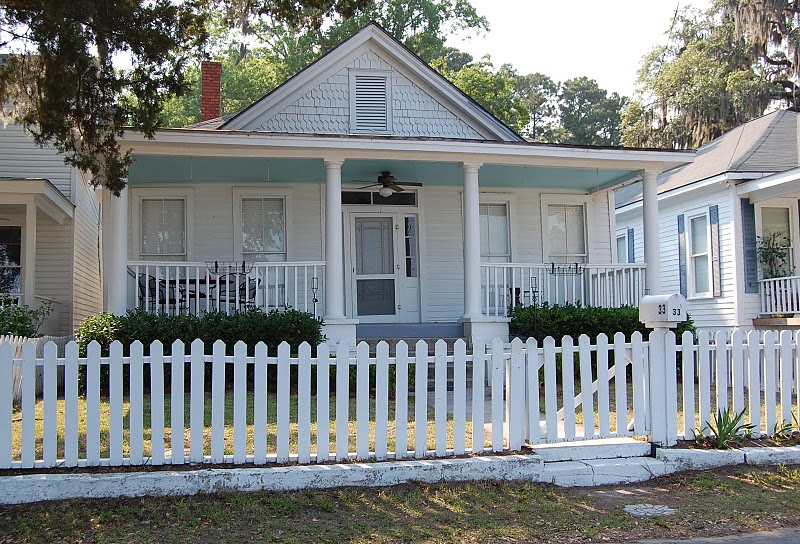 So where did this tradition of painting ceilings haint blue come from? (House below is located in Rome, Georgia)
Well, back in the day when air conditioning didn't exist, folks spent a fair amount of time sitting on porches in the evening. It was thought if you painted your ceiling light blue, bugs would think it was the sky and would not build their nests in the corners. This actually had a note of reality because historically blue paint was made with a milk paint formula and the formula really did help to repel insects. (Below: Home below in Greenwood, SC…take a home and garden tour in Greenwood here: Home and Garden Tour)
Another popular superstition was that haints (evil, restless spirits) would think the ceiling was water and would not attempt to cross the porch to the door. Sometimes the door and window trim were painted haint blue to help ward off those bad spirits, too.
(Below: Take the tour of the inside of this Savannah home here: An Historic Home Tour)
There isn't one specific blue color that's the official haint blue color. Painting ceilings a light blue started with the Gullah culture once found in the Carolina Low Country. They used whatever blue pigments they had on hand.
(Below: Historic Whitlock Inn in Marietta, Georgia with a haint blue porch ceiling.)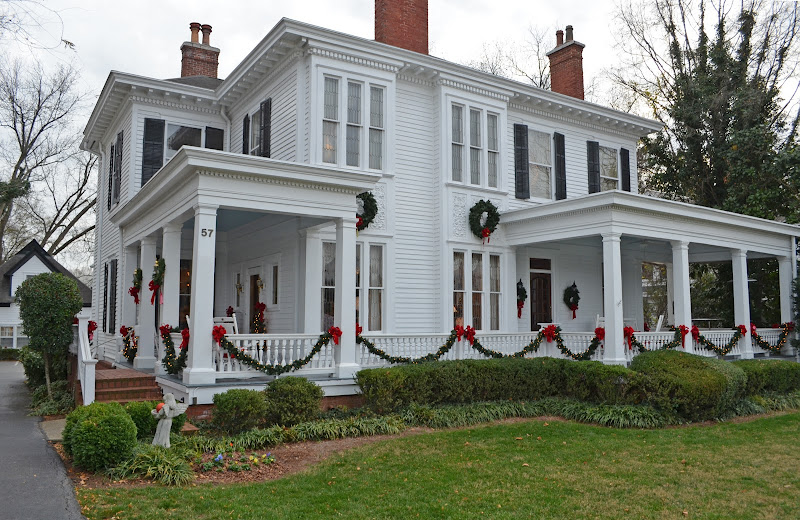 A lot of paint companies have come out with haint blue colors since they know the superstition lives on in folklore, plus folks just like a blue ceiling. Duron Gullah Blue is a color created for those interested in a haint blue ceiling.
(Below: Home in Newnan, Georgia)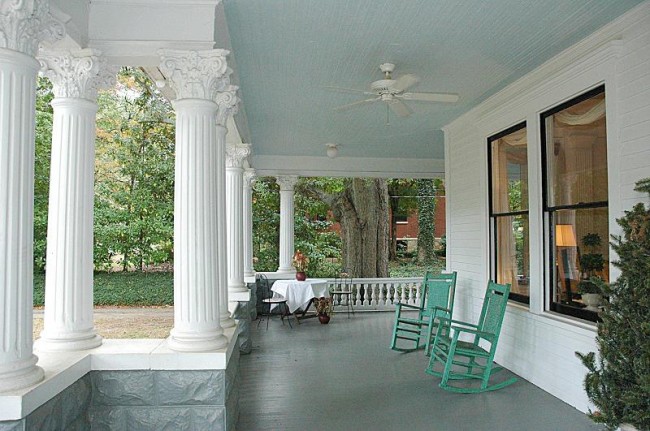 There are lots of Benjamin Moore colors that are popular for ceilings: Mystical Blue, Palladian Blue, Crystal Springs, Artic Blue, and Polar Sky. Some popular Sherwin Williams ceiling colors are Waterscape, Hazel, Atmospheric, Pool Blue and White Satin. But you don't have to limit yourself to just these, whatever blue you prefer will work just fine. (Below: Home in Grant Park )
You know, I think I just might paint my front porch ceiling, haint blue. I wasn't sure it would work well since I have a red door, but I think I'll check out some of the available blues and see if I can find one that works on my porch.
Would you paint your porch ceiling haint blue? If you already have, please share the color and brand. I would love to know what color you chose!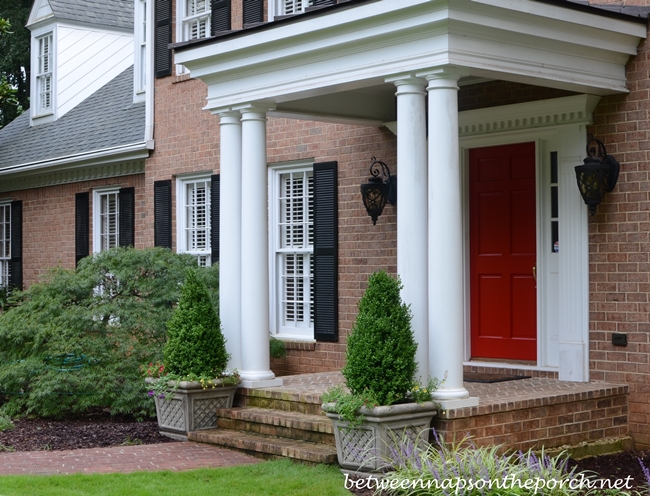 *If a post is sponsored or a product was provided at no charge, it will be stated in post. Some links may be affiliate links and as an Amazon Associate, I may earn from qualifying purchases. *