I'm declaring this the summer of the sneaker! lol I don't know what's gotten into me, but I'm on a sneaker tear. I think I could live the rest of my life wearing only Sperry Topsiders and Superba Sneakers!
Recently, after reading the book, Classic Style, I added a pair of Stan Smith sneakers to my shoe wardrobe.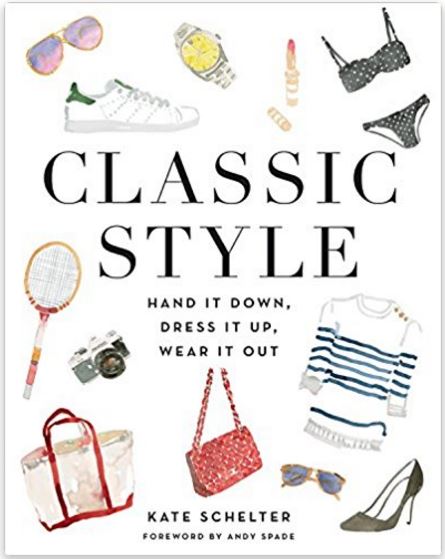 You can read more about these legendary sneakers in this previous post: Going Classic.
I had been eyeing some really cute striped Superga sneakers for a while. When I learned that Superga is the sneaker Kate Middleton wears, I decided to give them a try.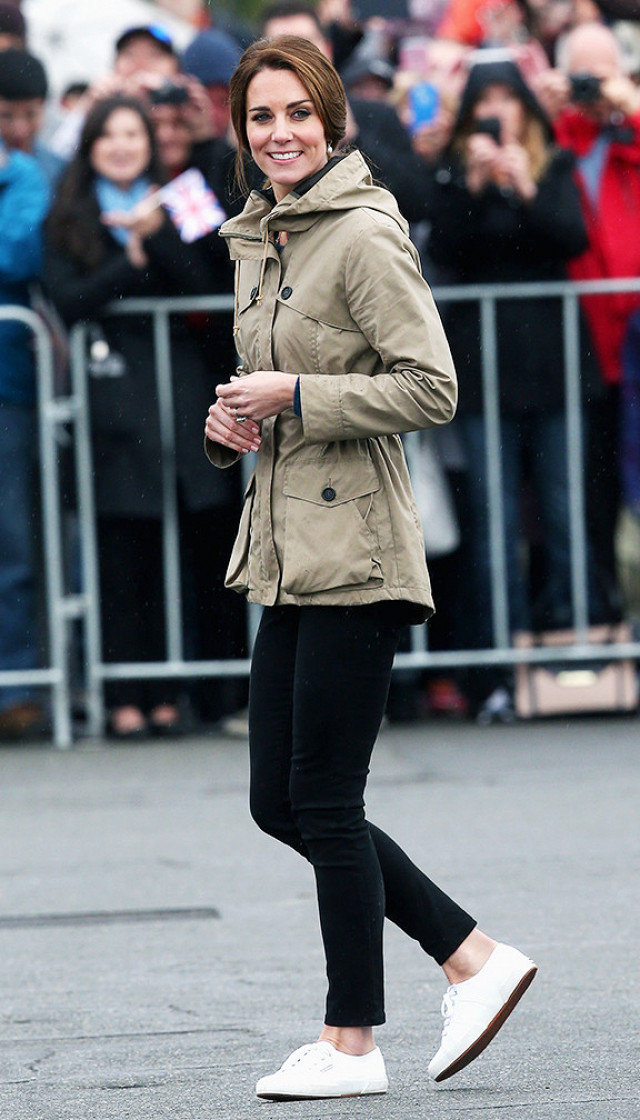 I normally just show a stock photo when I share shoes, but for this post I thought I'd share some photos of the shoes actually being worn. I started out trying to take photos in this little, antique, dresser mirror that I placed on the floor in my upstairs living room. Umm, not very exciting, huh? I nixed that idea and decided to share them in a more fun way, after all sneakers are a casual, fun shoe.
As I share the Superga sneakers I recently added to my summer wardrobe, you'll catch a glimpse of a new tray I just added to the "trunk" coffee table in my upstairs living room. I took all the photos for this post in that room this morning since the natural lighting is so nice in there for photos. Regarding the tray, I'll share more about it toward the end of this post in case you're interested.
I started out with plans to purchase two pairs of Superga Sneakers, including the white pair Kate was wearing in the earlier photo. White goes with everything, so it's always a smart option.
So many things I love about these shoes! I love the material/fabric used to make Superba shoes. I don't know if it's a canvas type fabric or maybe a heavy cotton, but whatever it is, it has a great texture and appearance. It looks so much more durable than your typical sneaker fabric, but mostly I just love the texture of the material.
Also, if you have bunions, this shoe may be a great option. They are nice and wide! Here I have them paired with denim jeggings from Talbots.
Here's how they look with white, denim jeans.
Cute! You'll find these available here: White Superga Sneakers. This evening I discovered they are currently on sale here: White Superga Sneakers on sale.
I saw these last year and really wanted a pair, but I passed them by. I was so glad they brought them back again for this summer!
I've paired them with my white denim jeans, but they would look great with blue denim, as well. They would also look super cute with shorts or a white summer skirt. You'll find them available here: Superga Striped Sneakers.
When my sneakers were first delivered, I couldn't decide if I wanted to stay with my regular size, which is a 7, or go down a half-size, so I drove over to the Talbots near my home and tried them on.
I found without a sock, a 6.5 was probably fine, but if I tried them on with socks, the 7's were a better fit. I prefer to wear my sneakers with "no-show" socks, so I stayed with my true size, a size 7. (Update: These are the two types of No-Show Socks I'm currently wearing with my sneakers and I like them both: No-Show Socks and No-Show Socks.)
While there, I spotted these adorable Superba sneakers in navy and white gingham. I had noticed them several times while shopping before, but had been trying to resist. lol
They only had one pair left in my size. I tried them on and once I saw them in the mirror, that was it. They had to come home with me!
You'll find these in both blue/white gingham and red/white gingham here: Gingham Superba Sneakers. They are also available on sale in limited sizes here: Gingham Superba on Sale.
Here they are, all lined up together. They look and feel very well made and are incredibly comfortable. I can see why Kate Middleton wears them!
Hermes Tray for Upstairs Living Room
A while back I came across a Hermes tray on Instagram. There was no mention of where the tray had come from, but I got the impression that Hermes had produced a tray many years ago. I don't know if the one I saw on Instagram was an original or not, but being a huge Hermes fan, I Googled to see if they were available anywhere.
In my Googling, I found a talented artist named Elizabeth who makes these trays in different shapes/sizes and in several popular, well-loved brands like Louis Vuitton, Chanel, Tiffany, Louboutin, etc… I thought I'd enjoy having one here in the upstairs living room which is a very casual, laid-back space, so I placed my order for a square one.
Ironically, someone recently told me that orange is the new "trend" color for this year. If you've been reading BNOTP for very long, you know I'm the absolute last person to give a hoot about what's on trend in decorating. I just do what I love and if it's on trend, that's nice. Trends come and go, but if you decorate with what you love, you'll always be "on trend" in your home–and truly, that's the only trend that matters.
I have to say, I love the pop of orange it adds to this room! I hadn't realized how the room was a little matchy, matchy in blue, white and yellow until I added the tray. It was just the pizzaz this room needed. It makes me smile every time I see it and it's the exact same color as a Hermes box. I compared one just for fun and it's pretty much a dead-on match. lol
Elizabeth custom makes all her trays so I'm guessing you can leave off the writing on the outside, or keep it like I did. The writing actually feels like it is carved into the tray, not like a sticker that's been applied to the outside. Love that!
If you're interested in a similar tray in the colors of your favorite brand, you'll find Elizabeth here: Elizabeth Ford Trays. She custom-makes each tray as they are ordered, so it takes a few weeks to get one. I really love mine, so it was definitely worth the wait. This isn't a sponsored post and I didn't get a discount or anything like that. In fact, Elizabeth has no idea I'm sharing my tray in a post, so if you order one, tell her I said, Hi! 🙂
Happy weekend, Friends! I'm off to sit and read a bit, my favorite thing to do on a weekend. See you on Monday for Metamorphosis Monday!
Pssst: I post almost daily to Instagram. Follow Between Naps on the Porch on Instagram here: Between Naps On The Porch.
*If a post is sponsored or a product was provided at no charge, it will be stated in post. Some links may be affiliate links and as an Amazon Associate, I may earn from qualifying purchases. *