Welcome to the 462nd Tablescape Thursday!
With all this organizing of my tablescaping goodies that I've been doing this past week, I couldn't resist taking all that organization for a spin and putting a table together for today's Tablescape Thursday. Just the little bit of organizing that I've done makes me wish I had done this a long time ago. (Read more about how I'm getting organized here: Storage for Flatware, Chargers, Napkins & Napkin Rings)
The inspiration for this week's table came from the two Limelight Hydrangeas that are still blooming so beautifully out front. If you don't already have a Limelight somewhere in your garden, I definitely recommend adding one. It's such a joy in the garden and provides beautiful flowers for a wonderfully long blooming period. Love this hydrangea!
Since I'm able to access a lot of my dishware more easily now, I decided to use a beautiful pattern that I haven't used in ages. I only have 5 of the soup bowls so this table started out with 4 place settings. (Note to self: Check eBay for a 6th cream soup bowl and under liner plate.)
I really prefer setting a table for six for Tablescape Thursday, so I put away the soup bowls and added two more place settings.
But before those soup bowls disappear, let's see how they look in a place setting. This vintage pattern is by the Syracuse China Company and was made here in the USA. The pattern name is, Orchard. I don't remember where I found this set, probably antiquing. I think the first time I used it was in THIS table setting back in 2009.
I chose a flatware with soft, cream-colored handles because I wanted this setting to feel soft and romantic, just like the Limelight Hydrangeas from the garden. This flatware doesn't have a cream soup spoon, so a regular tablespoon/soup spoon filled that spot. (Flatware is available here: Flatware.)
The green wine glasses are from HomeGoods, many years ago. I love the color and need to use them more often. Maybe I will now that I'm getting a bit more organized.
I think the napkin rings were a find in Old Time Pottery. I've paired them with vintage embroidered napkins found antiquing many years ago.
Here's a better view of "Orchard" with the soup bowl removed, but the under-liner plate still in place. These under-liner plates would work great as dessert plates, too.
This set included cups and saucers, as well as bread plates. Whenever I collect a beautiful vintage pattern like this, I feel such a connection with its previous owner. I know this pattern was special to them since they collected the cream soup bowls, bread plates and several serving pieces, too.
A view from overhead after the bowls had been removed…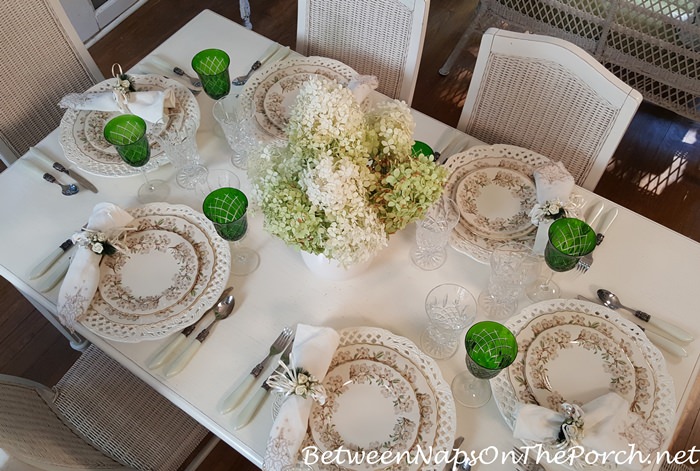 The flowers of the Limelight Hydrangeas have begun that transition where they move from white to a soft green. It's a gorgeous transition with a mauve pink coming in, as well.
Evening was approaching…time to turn on a few lights on the porch.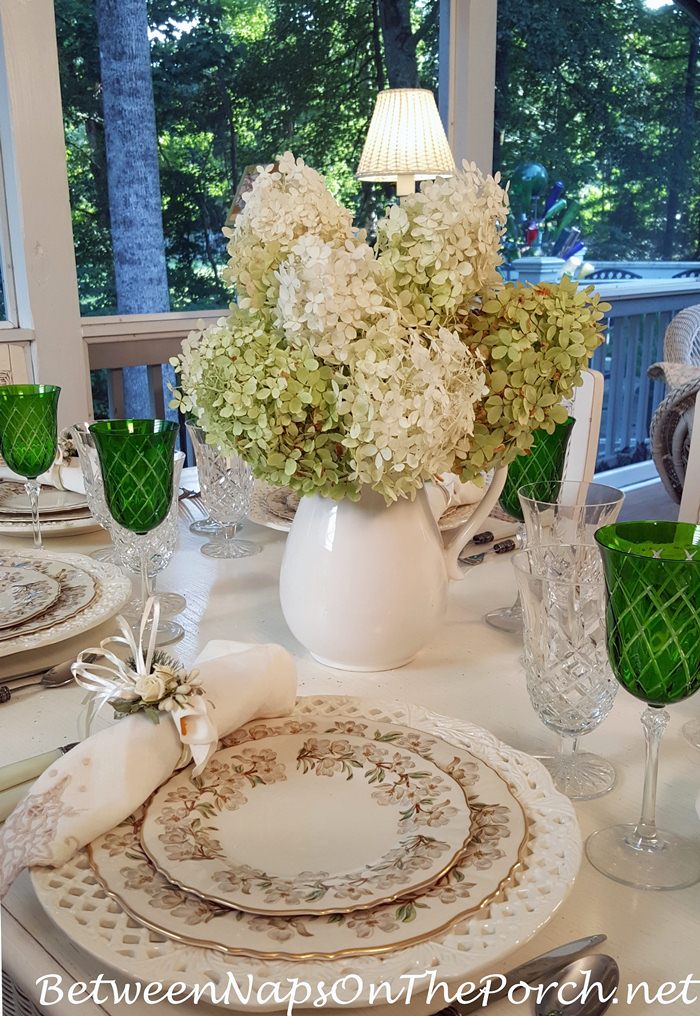 Hope to be sharing more tables with patterns I don't often use as the new cabinets arrive and I get more organized over the next couple of weeks. 🙂
Pssst: I post almost daily to Instagram. Follow Between Naps on the Porch on Instagram here: Between Naps On The Porch.
Looking forward to all the tables linked for this week's Tablescape Thursday!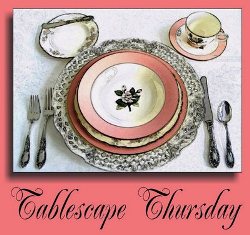 If you are participating in Tablescape Thursday, please be sure to add your permalink below, and not your general blog address.To get your permalink, click on your post name, then copy and paste the address showing in the address bar, into the "url" box when you link up.
You'll need to include a link in your post back to the party to link up and participate. That's so visitors to your blog will be able to find the party and the other Tablescape Thursday participants. Requiring a link back also prevents businesses and scammers from linking up to sell their products. (Yup, that really happens, unfortunately.)
Please Note: After 1 week, party links are still available to view by clicking on the blue button below.
*If a post is sponsored or a product was provided at no charge, it will be stated in post. Some links may be affiliate links and as an Amazon Associate, I may earn from qualifying purchases. *