I love Tiffany & Co. jewelry. For many years I falsely believed that all their jewelry was super expensive and beyond anything I could afford. It's funny how we walk around for years with misguided perceptions. One day I came across a video where a fashion vlogger was sharing her Tiffany jewelry collection and began to understand that Tiffany makes jewelry in all price points and for all budgets.
Since then I've purchased several pieces from their silver collection and the smaller size of their gold/diamond necklace from their whimsical "Smile" collection. They also have a beautiful line of leather goods and accessories, I've been eyeing one of their card holders. It's hard to resist that gorgeous Tiffany blue color!
Recently Regan, my wonderful Atlanta sales associate, invited me to a Tiffany & Co. breakfast held in the beautiful garden of the Mandarin Oriental Hotel in Atlanta. I had never been to one of their events so I wasn't exactly sure what to expect. I have to admit, I was a little nervous. I can tell you now, there was absolutely nothing to be nervous about. Everyone I met that day was just as friendly and lovely as they could be!
Shortly after arriving I asked Regan if it would be okay if I took a few photos of the pretty tables around the garden. She said, yes, definitely! Initially, it was quite chilly in the garden, but as the sun moved overhead it warmed up really nicely. In addition to water, coffee and hot tea, servers tempted us with trays of Mimosas.
The beautifully decorated tables were heaped high with breakfast-type, finger foods and the servers brought around more platters of food throughout the morning. All the tables were dressed with those infamous blue boxes that have a tendency to make hearts race. They were the perfect decoration for all the tables at this Tiffany breakfast in the garden.
I think I need to put together a "Breakfast at Tiffany's" tablescape one day for Tablescape Thursday. What do you think? Wouldn't that be fun?!
Amazing how something so simple and natural as flowers and lemon slices in water can create such a beautiful display.
Gradually more and more people began to arrive for our breakfast in the garden.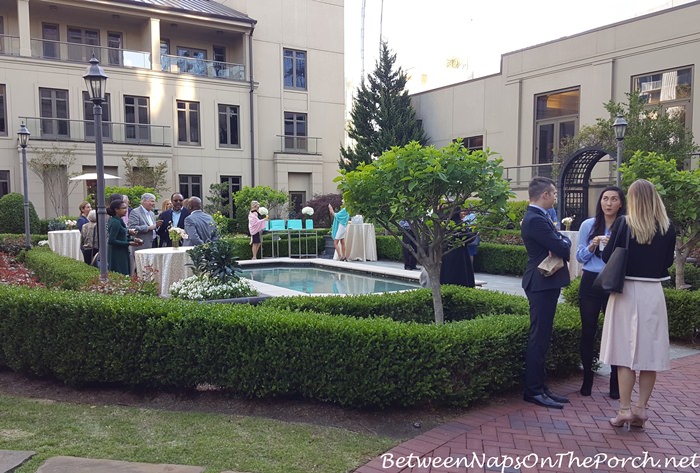 Two friends, Merry and Sandra (pictured with Regan below) were elegantly dressed with their hair up, beautifully representing the spirit of Audrey. I noticed their shawls were by Tiffany & Co. I had no idea Tiffany carried such a variety of products! I've definitely been missing out all these years!
It was such a fun morning! Bloomingdale's hosted a spring fashion show. Models wearing the latest spring styles walked around the large pond in the center of the garden.
I've don't remember the name of the designer whose clothes were featured, but they were all great!
This dress had a vintage feel and was really beautiful. The morning sun made it tricky to capture photos, so excuse the glare.
Another beautiful dress…
All these dresses should be available at Bloomingdale's this spring and summer.
Of course, all the models wore beautiful Tiffany & Co. jewelry. This is Tiffany's gorgeous Olive Leaf Cuff…love this piece! There's also a matching ring. You can read more about it here: Olive Leaf Cuff.
Another model was wearing a Tiffany & Co. watch on one arm and a bracelet and ring from the Tiffany T collection on the other.
I think every person attending had on at least one favorite Tiffany & Co. jewelry piece. This is the "Graduated Link" necklace from the "Tiffany Hardware" collection, a new collection for Tiffany. It's a substantial piece with a modern aesthetic and definitely eye-catching.
This is the matching "wrap" bracelet.
The biggest surprise that day occurred when I heard a lot of excitement going on directly behind me. I turned around to see a young man down on one knee proposing to his sweetheart. She was completely shocked, but through her tears she said, "Yes!" ♥
This was truly a magical morning and I'm so glad I was able to take photos to share it with you!
*If a post is sponsored or a product was provided at no charge, it will be stated in post. Some links may be affiliate links and as an Amazon Associate, I may earn from qualifying purchases. *