Recently I shared a little update to my home office…yellow buffalo check curtains. (You'll find that post here: Buffalo Curtains for the Office) I'm really enjoying them. They have me craving new curtains/drapes for my family room and bedroom.

After I shared the curtains in my office, I received an email from Marlene. She had read my post about how much I love the look of the buffalo check fabric and was nice enough to share some pics of her buffalo check curtains.

I fell in love with her traditional decor and couldn't wait to share her beautiful library and kitchen here on BNOTP.
I noticed Marlene changes out her floral arrangement for the holidays and seasons. This pic was taken around Christmastime. Cute doggie!
Marlene's sweet doggy reminds me of a book I just purchased at A Classy Flea today. I had been eyeing it forever online and was excited to find it locally. It's called, Living with Dogs. In addition to beautiful dogs, it's filled with gorgeous traditional interiors. Can't wait to pour through it this weekend.
Another wonderful floral arrangement…
The red buffalo curtains are really beautiful with Marlene's Christmas decor. Love the black leather wingback chair.
Beautiful library…great doggie lamp.
Marlene also has buffalo check curtains in her kitchen. Let's go inside for a better look.
Love a blue and white kitchen.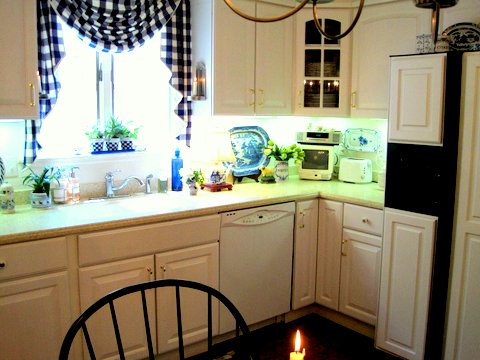 Noticed the blue and white transferware…pretty! Marlene, thanks so much for showing us how you've used buffalo check curtains in your home. We loved the tour!
Category Links Added to Sidebar:
Recently, a comment was left asking what happened to the picture category links I used to have on the sidebar. I removed those when BNOTP moved to its new WordPress address (betweennapsontheporch.net) since I was able to add categories with drop down menus across the top. Yesterday I added back some of the categories to the sidebar in case you've been missing those, too.
If you are looking for a past tablescape, they are easier to find now than ever before. Just click on the category heading at the top of BNOTP called "Tablescapes" and the menu will drop down revealing table settings sorted by Holiday, Season, Occasion, etc… You'll also find the Napkin Fold tutorials under the Tablescape heading, too.
Update: Today I added a picture link to all the spring/summer table settings on the sidebar. I'll change that out seasonally to keep it fresh. If you wish to see tablescapes other than the spring/summer tables, just click on the category "Tablescapes" at the top of the blog and you'll find all the others available for viewing under the different subcategories.
If there's a particular past post you wish to read again, and you can't find it under the drop down menus, trying searching for it via the "Search" box at the top of the right sidebar.
Okay, I'm off to drool my way through Living with Dogs. Should have known I'd never last to the weekend. 😉
*If a post is sponsored or a product was provided at no charge, it will be stated in post. Some links may be affiliate links and as an Amazon Associate, I may earn from qualifying purchases. *