Welcome to the 695th Metamorphosis Monday!
Over the past couple of months, without even thinking about it, I've gradually switched over to wearing some of my favorite fragrances for summer. The sunny days and warmer weather just naturally make me crave lighter, brighter scents. If you wear perfume, do you find that you move toward wearing lighter fragrances this time of year?
For this week's Before and After, I thought I'd share some of the perfumes I enjoy wearing in the spring and summer and a new fragrance house, well, new to me, whose fragrances I'm finding completely enchanting and addictive!
Over the past two months, I've been wearing a lot of the following fragrances: Viktor & Rolf Flower Bomb, Philosophy-Amazing Grace, Chanel-Chance Eau Tendre, Dolce and Gabbana-Light Blue, Juicy Couture-Viva La Juicy, and Ellen Tracy-Pretty Petals. It was actually a BNOTP reader who shared Pretty Petals and I was able to find it in my local Marshalls. Pretty Petals is very budget-friendly and so fresh and light. I liked it so much that I went back a few days later and bought a couple of more bottles so I'd have plenty on hand. Since the price point is so affordable, you can be a bit extravagant with this scent and spray it with abandon on pillowcases, sheets, napkins, curtains, whatever!
A few weeks ago I stopped by a new Chanel beauty store that opened up not too far from my home. I wanted to replenish one of my favorite fragrances, Chanel Chance Eau Tendre. In the past, Chance Eau Tendre has only been available in an EDT, which I've been totally happy with since it lasts a nice long time on my skin. I was surprised to learn they had come out with it in a parfum! My EDT version is the larger bottle in the photo below–the one that's getting close to being empty. I decided to try the parfum–visible upfront with the silver cap/top. I've only sprayed the parfum once so I can't really give it a fair review. I need to give it another try. Have you tried the parfum version of Chanel Chance Eau Tendre? If so, what did you think?
Falling Down the Rabbit Hole
Recently, I fell down a big, deep rabbit hole and I have to say, I loved every moment of it! When I discover something new that really captures my heart and imagination, I get ridiculously excited…like "can't-go-to-bed-or-to-sleep" excited." It's a curse, being that way sometimes, but I just can't help it! I'm such a big lover of perfume and I'm forever amazed by how a scent can completely lift my mood. If you're a lover of fragrance, I know you know, what I mean. Music can do that, too–right? I guess when our senses are involved, it can really impact how and what we feel.
So here's how I fell down this wonderful, beautifully scented rabbit hole: A while back I was watching a video by a British YouTuber and she shared a perfume that she planned to wear that day called, Empressa. I was enthralled by the bottle–it was just so pretty! I did an online search and started reading about the brand and the more I read, the more intrigued I became. Penhaligon's is a Royal Warrant holder, dating back to 1903 when it was issued its first Royal Warrant by Queen Alexandra. They received their second Royal Warrant in 1956, issued by the Duke of Edinburgh. Its third was issued by the Prince of Wales in 1988. Penhaligon fragrances have been popular with the royal family for many years. Though I don't really follow or keep up with news about the Royal Family, that history with Penhaligon's definitely piqued my curiosity about the fragrance. The Duke of Cambridge supposedly enjoyed wearing Penhaligon's Blenheim Bouquet, which has a long and hallowed history. The Eau de Toilette was originally commissioned for the ninth Duke of Marlborough in 1902. (Blenheim Bouquet is available here: Blenheim Bouquet.)
The more I learned about Penhaligon's, the more I wanted to try some of their fragrances. I decided to order one of their Discovery Sets and this is the one I ended up ordering below: Scent Library. At $40, it was an affordable way to try many of their most popular fragrances.
I really like the packaging this discovery set came in. I'm not sure how Royal Warrants work, but I read that two of the warrants are still in existence today, so does that mean they expire? Ummm. That explains why there are only two on the cover of this discovery set.
This discovery set included 10 nice size samples and I could not wait to try all of them! (This set is available here: Penhaligon's Scent Library.)
I purchased these perfume test strips to try out the perfumes in the discovery set. The test strips are nice and sturdy and really soak up the perfume. I very much recommend them if you occasionally like to test fragrances before wearing them. I couldn't wait to try all the Penhaligon fragrances and they were perfect for that. (Perfume Test Strips are available here: Perfume Test Strips.)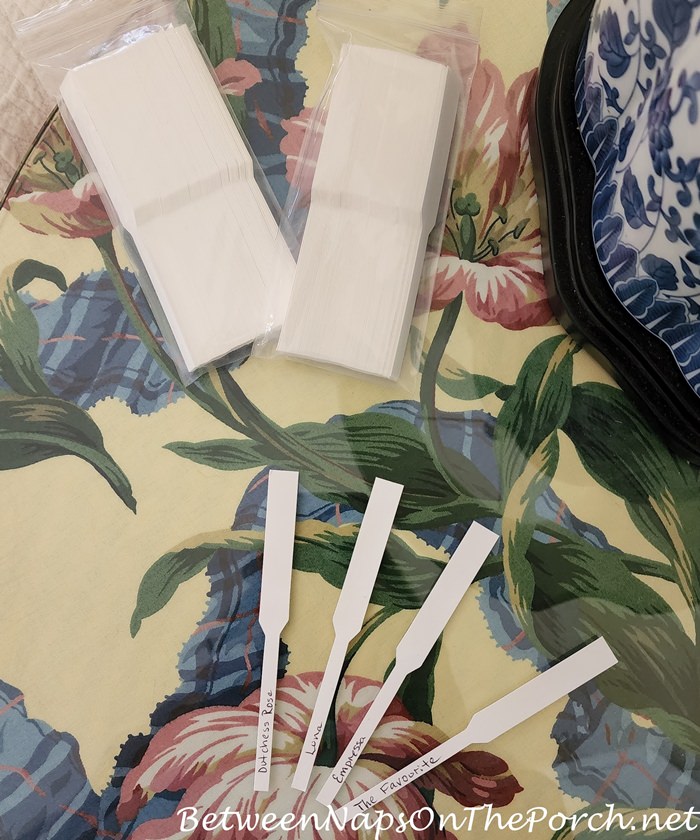 After trying and wearing several of the fragrances this weekend, I ended up ordering three that were instant favorites. I ordered Empressa which is an Amber Floral fragrance, originally launched in 2014. The nose behind Empressa is Christian Provenzano. The top notes are Blood Orange, Peach, Bergamot, Mandarin Orange, and Pink Pepper; middle notes are Rose, Dewberry, Cassis, Neroli, and Geranium; base notes are Patchouli, Brown sugar, Musk, Vanilla, Sandalwood, Cacao, Olibanum, and Amber. This was the fragrance I had seen in the video that first introduced me to Penhaligon and I think it may be their best known and maybe even their most loved scent. It's available here if you would like to read more about it: Penhaligon's Empressa.
I fell hard for the fragrance, Luna. Oh my gosh, it was definitely love at first smell! Luna is the lovely creation of perfumer, Alienor Massenet. It is described as a "fresh floral" with top notes of bergamot, lemon, and orange bigarade, heart notes of rose, jasmine, and juniper berry, and base notes of fir balsam, ambergris, and musk. It's available in two sizes at the Penhaligon's website and you'll find those here: Luna, 100 ml AND here: Luna, 30 ml size.
The 3rd fragrance that stole my heart (or should I say my nose?) was Penhaligon's The Favourite. The Favourite is a Floral Woody Musk fragrance that just launched in 2020. The nose behind this fragrance is Alienor Massenet. The top notes are Violet, Freesia, and Mandarin Orange; the middle notes are Mimosa, Iris, and Jasmine Sambac; base notes are Musk, Ambroxan, and Sandalwood. It's available here: The Favourite.

I just ordered another one of their Discovery Sets because I'm really intrigued by their Portraits Collection. The bottles are sooo cute with the animal head tops!
The Discovery set for the Portraits Collection is available here: Portraits Scent Library.
I would love to eventually purchase this miniature set for my guest bath. I have several miniature scents of perfume now and I recently realized they were perfect for keeping on a small tray on the counter in my guest bath–a fun way to pamper visiting family and friends. You can read more about this miniature set of some of Penhaligon's most popular scents here: Penhaligon's Miniature Collection of 5 Popular Scents.
I've read online and have heard several reviewers say that Penhaligon's Bluebell was one of Princess Diana's favorite scents. I would love to get a sample of it at some point. I love the color of the juice and that pretty blue bow! (Read more about this fragrance here: Penhaligon's Bluebell.)
I requested a sample of their Elizabethan Rose scent when I placed my order this weekend. Hopefully, they will include a small sample because the reviews I've read say that it is stunning and one of the absolute best rose scents available. I don't currently have a rose-scented perfume so would love to try this one. You can read more about the notes in this fragrance here: Penhaligon's Elizabethan Rose.
Do you have any of Penhaligon's fragrances? If you do, please share which ones in the comments. I would love to know! I can't wait until my Portraits Discovery Set gets here and I can sample them all!
Looking forward to all the wonderful Before and Afters linked for this week's Met Monday!
Pssst: Did you know Between Naps On The Porch is on Instagram? You'll find me on Instagram here: Between Naps On The Porch.
Like to know when a new blog post is up and available to read? Subscribe for email updates, it's free and your email will never be shared. Subscribe for free post updates via email here: Subscribe.
Metamorphosis Monday
Metamorphosis Monday is a party that's all about Before and Afters. Please link up your Before and After projects like DIY projects, room makeovers, craft projects even recipes. Any Before and After is great! Please do not link up Table Settings, save those for our Tablescape Thursday party on Thursday.
If you are participating in Met Monday, you'll need to link your post to the party using the "permalink" to your MM post and not your general blog address. To get your permalink, click on the name of your post, then copy and paste the address that shows in the address bar at the top of your blog, into the "url" box for InLinkz when prompted.
NOTE: Please do not link up more than 3 posts from your blog. In order to link up, you'll need to include a link in your post back to the party so visitors to your blog can find the other party participants. When linking up to the party, give the InLinkz system time to find the link in your post to avoid having your link held for moderation/approval. Thanks!
This party has ended, click button below for the links to all who participated.
*If a post is sponsored or a product was provided at no charge, it will be stated in post. Some links may be affiliate links and as an Amazon Associate, I may earn from qualifying purchases. *