I have become quite the Trader Joe's fan. I'm always amazed how much I can buy and not go into shock at the register when it gets rung up. Their pricing is so much better than the chain grocery stores, at least on the items I usually buy.
Today I stopped by and picked up some of my favorites, as well as a few things to take when I visit my son, dil and grandsons soon.
I love their ready-made salads. I always pick up a few because they are so convenient for lunch during the week.
Today I bought this chicken that was over near the salads. I thought I'd add it to the salads for lunch. Update: Opened and tried the chicken this evening, and it's good! It's real chicken breasts and tastes great, even by itself.
I Can Enjoy Cheese Again!
I read an article online a couple of weeks ago that said folks who can't eat cheese or who suffer with IBS symptoms find that they can often tolerate goat cheese quite well. It was something about how goat cheese has short chain fatty acids and not long chain like you find in cow's milk.
Apparently shorter chain fatty acids are much easier to digest. Goat cheese is made with cultures that help convert the lactose to lactic acid, which is also supposed to be a good thing.
I was skeptical, having dealt with this issue my whole life, but decided to give it a try because I love cheese and really miss it. Guess what, it actually worked! I can eat goat cheese with no problem! It's like a miracle!
I've bought the top one a few weeks ago and tolerated it great. So today I bought it again along with the one you see below it. Out of these two, the Trader Joe's Chevre with fine herbs is definitely my favorite. It's so good!
So if you suffer when you eat dairy, especially cheese, give goat cheese a try. I was so amazed when it didn't cause any tummy issues for me at all!
Wonder if ice cream can be made from goat's milk.? Maybe it's best I don't find out!
The other thing I've discovered recently is when I drink Trader Joe's 1%, organic milk and/or use it for cereal, it doesn't upset my tummy at all. I've tolerated 1% cow's milk okay with the occasional upset, but I've had none at all with this milk. Plus, it tastes great!
Whatever you do, when you go to Trader Joe's, don't buy these cinnamon rolls! lol They are so good, they are addictive! These are so much better than the "popular brand" I've always purchased in the grocery store. They will haunt you until they are all gone, I know from experience!
As I was checking out, the guy ringing me up started raving about these cinnamon rolls to another guy who was bagging the groceries. Glad to know I'm not the only one addicted to these! 😉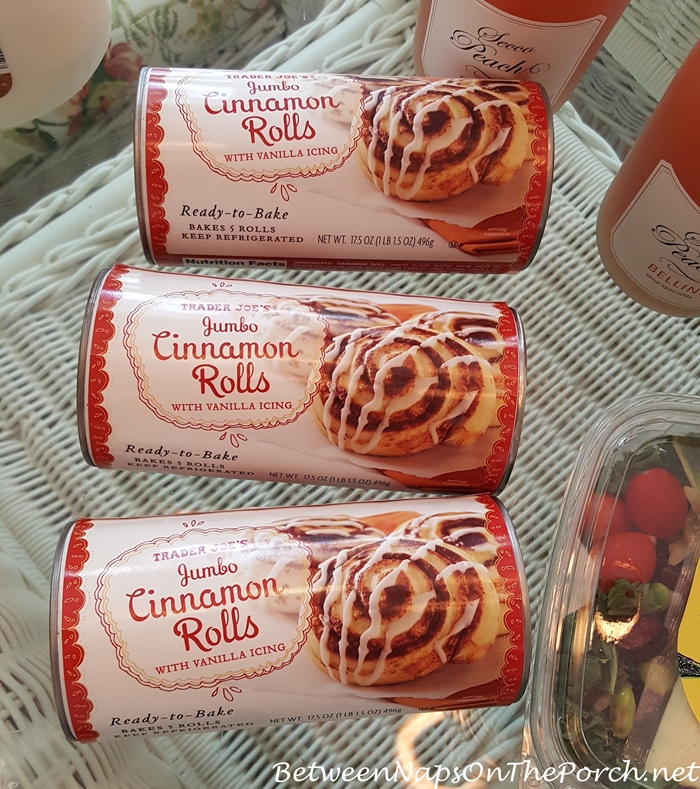 I tried their biscuits a few weeks ago since I like their cinnamon rolls so much. Here's what I discovered: Have you ever noticed when you sometimes eat canned biscuits, you can end up with kind of a yucky coating on the roof of your mouth?
It always feels like grease to me, like some type of grease or oil that isn't digestible. I hate that feeling, that coating on the roof of my mouth. In my mind, I always imagine it's something bad that's clogging up my arteries. Anyone else notice this with canned biscuits?
Well, these Trader Joe's biscuits don't do that. There's no coating left behind on the roof of the mouth. Sometimes in the morning I'll cook an egg and use these biscuits to make an egg biscuit. It makes for a fast and easy breakfast!
I picked up a couple of bottles of the Peach Bellini Trader Joe's carries, one for here and one to take when I visit family. One of their employees told me about this stuff when I was in there a while back. I've never tried making a Peach Bellini from scratch, but I should since Georgia is the peach state and we have some awesome peaches every summer.
If you don't want to make your Peach Bellinis from scratch, this is pretty tasty. It would be easy to serve for parties and great for warm summer nights out on the porch.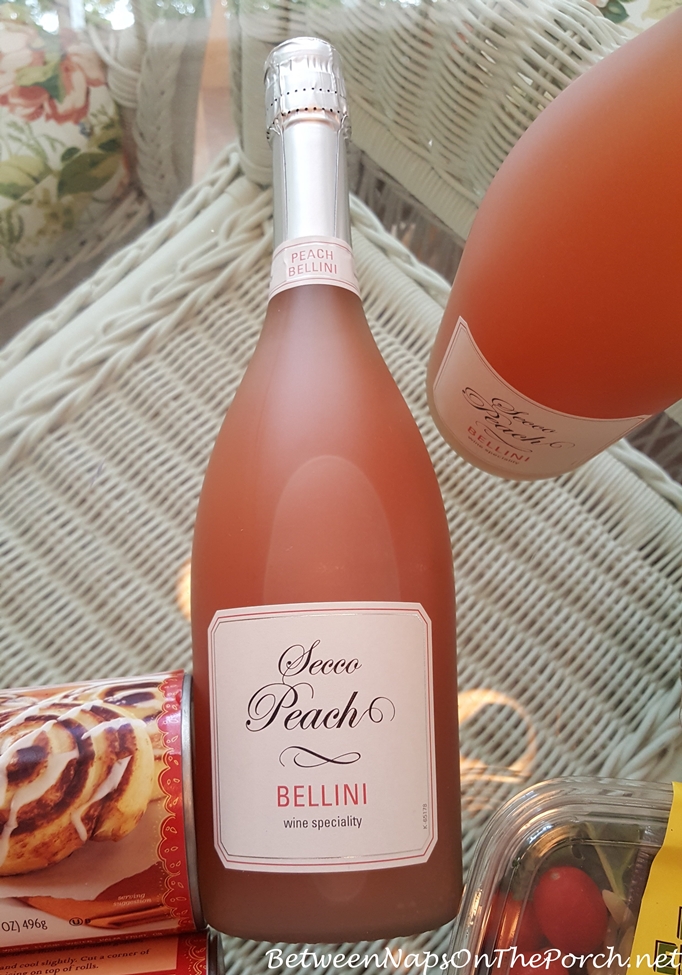 What's your favorite Trader Joe's product? I love trying new things each time I visit!
*If a post is sponsored or a product was provided at no charge, it will be stated in post. Some links may be affiliate links and as an Amazon Associate, I may earn from qualifying purchases. *