Yesterday we saw how Amy completely transformed a little used patio into a fabulous screened in porch. Today I'm back with another wonderful patio to porch transformation, although this one was done with Victorian flair.
Renee, a reader of BNOTP shared some lovely pictures of her porch addition. Is this not enchanting?! The lantern and the lovely silhouette draw you in. I want to follow that path and peek into the porch!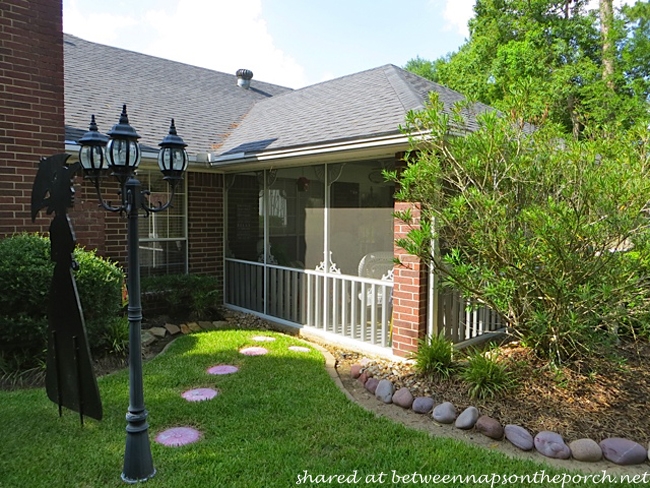 I love the design of the porch with the hip roof. The porch was already a part of Renee's home, she only had to screen it in to complete her screened porch.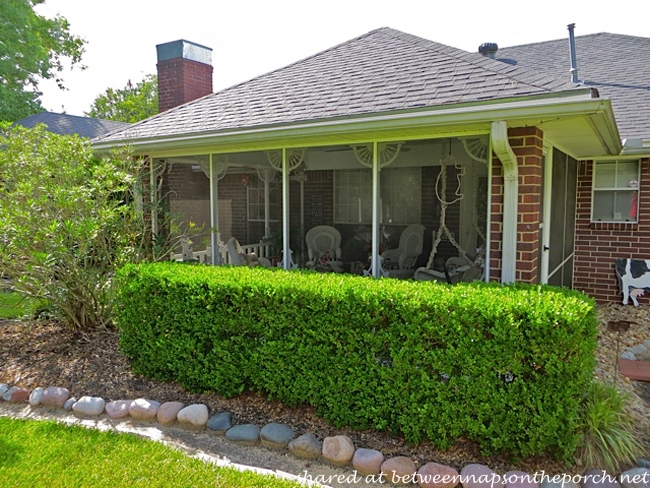 Let's go inside out of the afternoon sun and take the tour.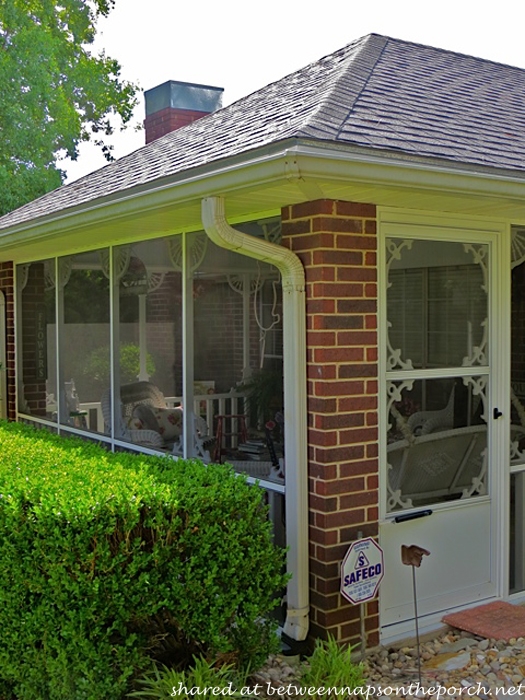 Porches are one of my very favorite "rooms" to decorate. The sky is the limit when decorating your porch. Make your porch whatever you want it to be! Renee envisioned an old fashioned Victorian era porch filled with lots of pretty white wicker. It feels so light and airy, just like summer.
The green and white striped cushions remind me of old photos I've seen of the Victorian era resorts where the very wealthy (and sometimes famous) vacationed on holiday. Good news! You don't have to be wealthy to create you own backyard escape, your own bit of paradise. 🙂
Renee loves to visit antique stores when traveling. During a previous trip she found the little wicker doll chair and stool.
Look at that glorious sunshine! Oh, how I love a porch! Imagine whiling away the afternoon on this settee with a wonderful book and a big kitty in your lap.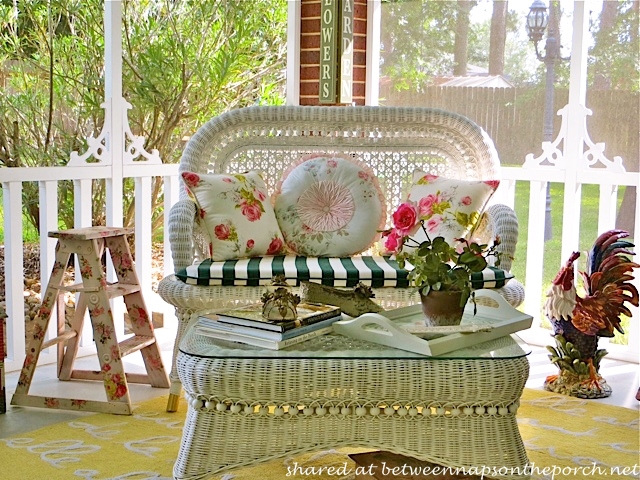 When Renee was a little girl, she had a dollhouse like the little one here on the porch. Renee said, "The dollhouse I found on Ebay…it is one like we had as kids that we wish we had not gotten rid of!" Haven't we all done that, gotten rid of things from our childhood to only wish we had them again. I love that Renee was able to find another one. It lends so much nostalgia to this wonderful porch.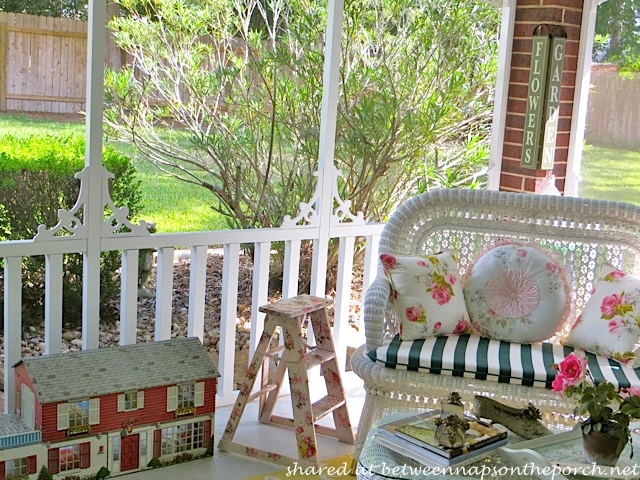 Renee told me she found the cute "hand" sign on Etsy.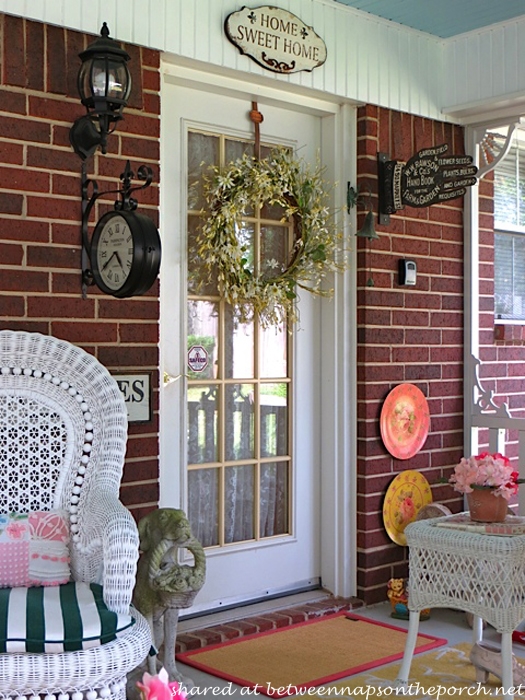 So fun…love the clock, too!
Renee gets a "helping hand" with her gardening tools.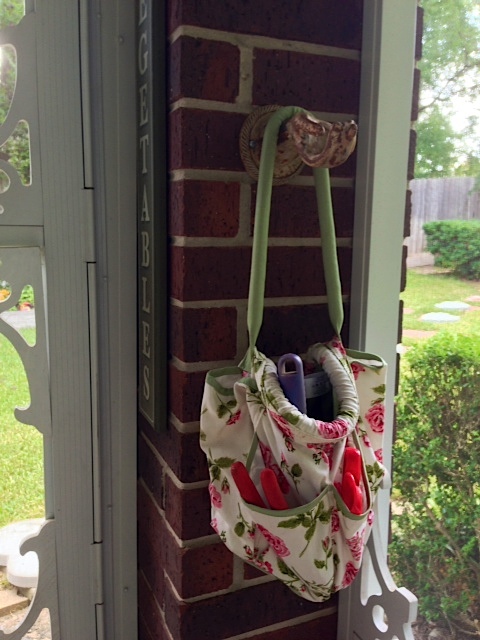 Whimsy and porches…they go together just like peanut butter and jelly!
Renee included a beautiful wicker swing on her porch. She said, "I took inspiration from your chain covers…great idea!" Thanks Renee! I do love hiding those metal swing chains. Renee used electrical cord covers, too. Looks like she may have used the same ones I did from Hobby Lobby. Pssst: You'll find more information about how I covered my swing chains with Hobby Lobby cord covers here: Easy Way to Hide Metal Swing Chains
Renee, thanks so much for sharing your wonderful Victorian-style screened porch!
Have a porch or a room makeover you would like to share with the BNOTP readers? Send me 6-10, large, non-blurry pictures taken without the use of a flash and if possible (can't promise) I'll try to feature it sometime here on zay blog. Photos should include a "room" shot along with lots of great detail/close-up pics, too.
You'll find the BNOTP e-mail address under the "contact" tab at the top of the sidebar.
Happy Summer!
*If a post is sponsored or a product was provided at no charge, it will be stated in post. Some links may be affiliate links and as an Amazon Associate, I may earn from qualifying purchases. *