I've been doing a fair amount of Christmas shopping for family over the last few weeks. Today I had planned to share some of my Christmas finds when I realized I had never done a favorites post for the month of October. So this post is a little of both–my favorites from October and some of the Christmas gifts I've purchased for friends and family.
This awesome storage pouch definitely makes the favorites list. It's giving me peace of mind that my cashmere scarves are not going to become a snack for a moth when I have my back turned.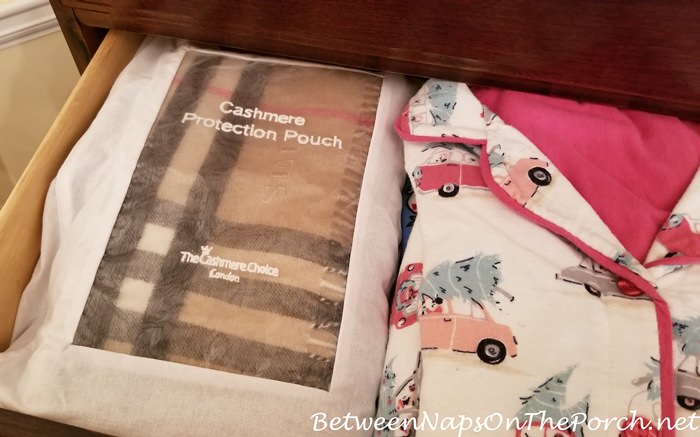 I bought the larger size bag and it would easily stores several cashmere sweaters, too. If you have wool or cashmere sweaters that you worry could be damaged in storage when they aren't being worn, you'll find this pouch available here: Cashmere Storage Bag.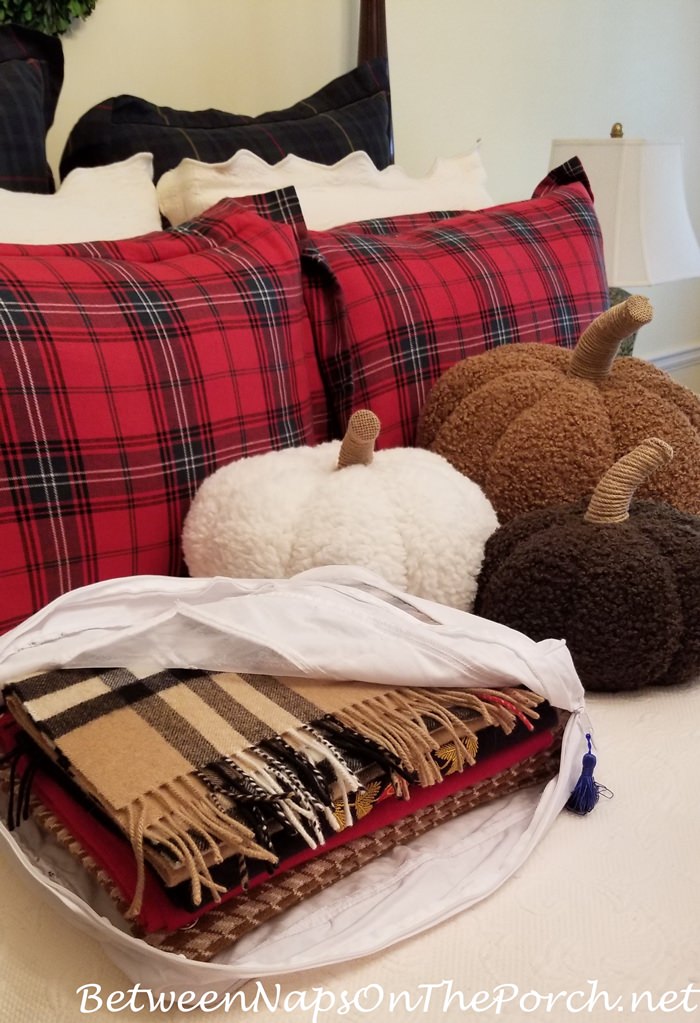 When I was visiting with family in Ohio several months back, I purchased a package of these micro cleaning cloths. I love using them for cleaning my computer glasses when I'm working at my computer during the day. They also come in handy for sunglasses, computer screens, and phone screens.
They are super reasonably priced, a package of 30 is only $13.99. When I got back home after my recent trip, I bought a set to keep here at home, too. You'll find them here: Microfiber Cleaning Cloths, Great for Glasses, Camera Lenses, TV, etc….
Of course, these battery-operated lanterns definitely have to make a favorites list. They were a lifesaver when my power was recently out for 35 hours after Hurricane/Tropical Storm Zeta came through. I just purchased another set of four to use in other areas of my home, they are great for closets and deep cabinets. I bought another set for my son/dil, too. You can never have too many lanterns when the lights go out! You'll find these available here: Lanterns.
Loved, loved, loved my Blackout Buddies automatically coming on during the time the lights were out. They burned the entire 35+ hours the lights were out! I had no idea they would last that long! I purchased two more so I now have one in every single room in my home. Love them! You'll find them here: Blackout Buddies.
You may remember this throw I purchased when I posted a photo of my autumn bed.
I purchased another one during the time I was in Ohio. I had been thinking about buying two anyway since I like it so much. Once I was in Ohio, I decided to go ahead and do that since I was missing mine back home. It's just soooo soft and warm!
I brought the one I purchased while in Ohio back home with me so now I have two of these here at home: one in my bedroom and one in my office. I think I'll take it with me whenever I head to Ohio since I love using it on my bed at night. You'll find this throw in several colors/designs here: Leopard Design Throw.
While in Ohio last month, I bought my grandsons a glow-in-the-dark dinosaur blanket. They love building forts with blankets between their beds so I thought they would enjoy having a fort with a dinosaur glow-in-the-dark ceiling. lol
Unfortunately, come nighttime, they both wanted to sleep with the blanket, so my daughter in law purchased a second one. My dil uses a blacklight flashlight to charge the blankets which only takes a minute or two, then the boys use them to create a big tent that stretches from bed to bed. You'll find this dino blanket here: Glow in the Dark Dinosaur Blanket.
I purchased one of these fleece pullovers for my son last year and my daughter-in-law says he wears it all the time during the fall and winter. So a few weeks back I purchased another one for him for Christmas. It's currently on sale in several colors here: Hi-Pile Fleece Pullover.
I just bought these slippers about two months ago, only I went with purple! I love them! In my opinion, these are the best bedroom slippers/house shoes I've ever had! They have great arch support and a no-slip sole. I had them with me when I was in Ohio and my dil loved them, too. The minute she tried them on, she commented on the arch support. I'm going to get her a pair in red (her fave color) for Christmas.
I love how easy they are to slip into and they are incredibly warm! I purchased mine one size up since I love to wear socks in the winter with all my shoes. But if you don't wear socks with your slippers, go with your normal size. You def don't need socks with these, they are soooo warm! You'll find them here: Wicked Good Slippers.
My son, daughter-in-law, and grandsons will be here for Thanksgiving. I have a little early gift for my grandsons. I purchased each of them this funny shirt below, I think they will love it! You'll find it in various sizes for a great price here: Dinosaur Gingerbread House Shirt.
I also purchased this shirt for each of them. If it has dinosaurs on it, I know they'll love it. This one is available here: Tree Rex Shirt.
Haven't bought these but I thought they were soooo cute! Very tempted to buy a pair. You'll find them available here: Pink Boots.
I'm also eyeing these! I can never resist a cute winter boot and the price is excellent! These are available here: Reindeer Boots.
A few weeks I purchased two of these Hermes Perfume Replica Sampler Kits. In this case, replica doesn't mean fake, by replica they mean that the bottles are small replicas of the full-size bottles. I was surprised by how much perfume each bottle contains.
This is such a great way to try four of Hermes' most popular scents without committing to a full-size bottle. Included in this set are the following perfumes: Jour d'Hermes, Eau des Merveilles, Twilly d'Hermes, and Eau De Rhubarbe Ecarlate.
I plan to give one of the sets I purchased to my daughter-in-law and kept the other one since I had been wanting to try three of these perfumes. I already have Twilly d'Hermes, a gift from my son. I'm super tempted to buy another set as a gift for a friend. Who doesn't love a little Hermes in their stocking! lol You'll find this set available here: Hermes Perfume Sampler.
Remember this Christmas table I shared a couple of years back?
It featured this wonderful "12 Days of Christmas" dishware.
They've brought this beautiful pattern back and you'll find it here: 12 Days of Christmas Dinnerware, 4 Place Settings.
I think the pattern is so sweet, really love it!
The beautiful Better Homes and Garden Heritage pattern is back again this year and they've added a few new designs.
This year's set includes this adorable bunny salad plate design that is one of my favorites from this collection. There's also a deer plate, a sled plate, and an adorable bear plate.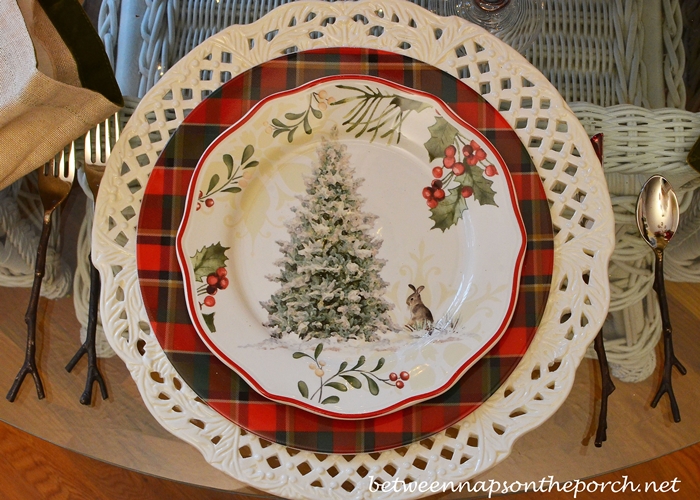 I've used this dishware in several Christmas tables over the years. If you need an inexpensive beautiful set of Christmas china, you'll find this set here: Better Homes & Garden Christmas Dinnerware and you'll find all the coordinating serving pieces here: Serving Platters Bowls, Tiered Servers and Other Serving Pieces.
See more of this table below here: Christmas Table with Magnolia Pheasant Centerpiece.
Notice the berry charger in this setting below.
I bought a bunch of these last year and absolutely love them! The quality is excellent and they are so beautiful in person! They must have sold well last year because I noticed they've brought them back again this year. You'll find them available here: Pine Woodland Chargers.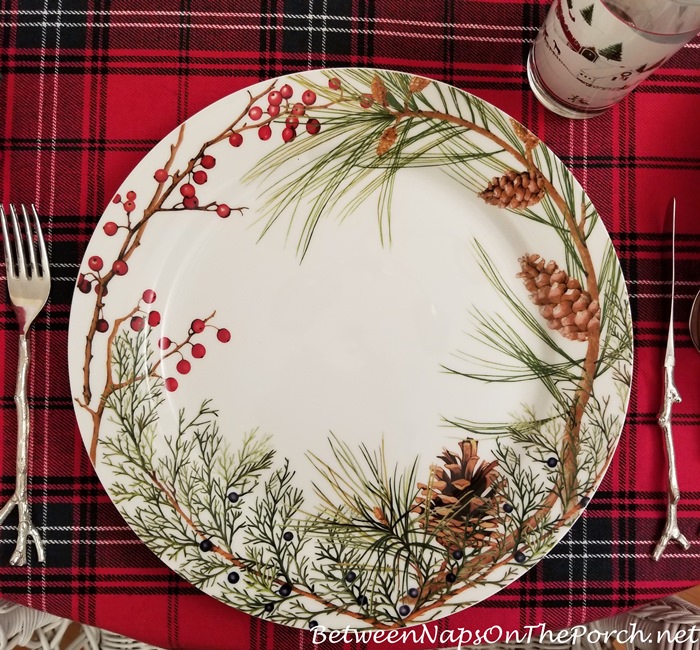 So, that's a lot of my favorites from the month of October and a few of the gifts I've purchased for friends and family. Have you started your holiday shopping, yet?
*If a post is sponsored or a product was provided at no charge, it will be stated in post. Some links may be affiliate links and as an Amazon Associate, I may earn from qualifying purchases. *