Welcome to the 430th Tablescape Thursday!
Amazing the healing effects of sleep, I feel so much better this evening as I type this after sleeping about 12 hours last night. I think I'm on the winning side of my cold virus now. Thanks for all your tips and advice in yesterday's post. I'm eyeing THIS after reading some of the comments. It sounds like it would be helpful for dealing with allergies and colds.
Before we get into this week's Tablescape Thursday, I just recently made two purchases that I'm super excited about. I decided to share them with you today while they are still available and/or on sale.
When I awoke late this morning, I was feeling so much better I decided to drive over to the J. Crew a few miles from my home and check out something I had seen online. After seeing and trying on this shirt-jacket, there was no doubt that it was coming home with me! Oh my gosh, I love, love, love it! They call it a "shirt-jacket" because it's a bit heavier than your typical shirt. I love how it zips up the front and love the little loop detailing toward the bottom of the zipper.
It is beyond comfortable and sooo warm. I'm guessing that's because it's 42% wool and 50% cotton. I'm always looking for clothes that aren't overly bulky but super warm, and this top is perfect!
I also love that it's not at all scratchy. I usually have trouble wearing wool sweaters, even over a shirt. After wearing it all afternoon and evening over a long sleeve t-shirt, I wasn't itching at all, not even around the collar.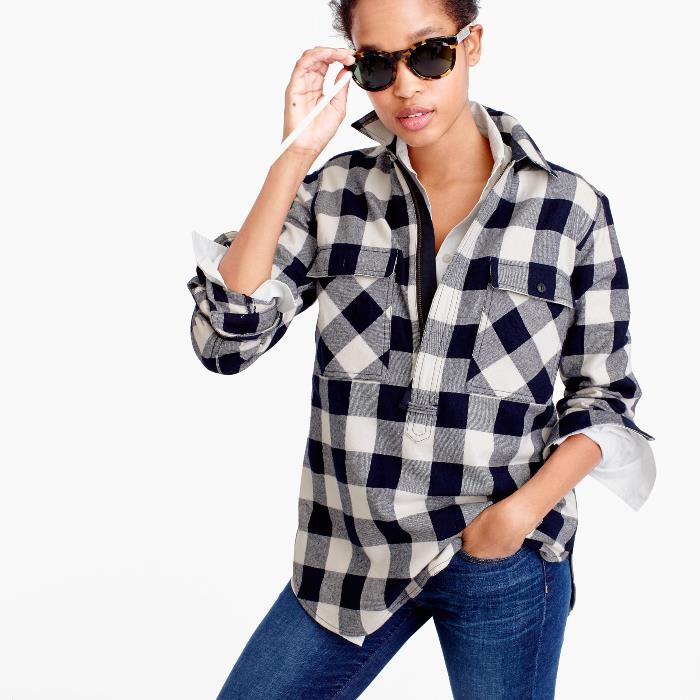 After I had made my purchase and was about to leave, one of the sales associates shared a bit more info about this piece. She said they used to sell something very similar for men, but women liked it so much, they were shopping in the men's section to get it, too. So J. Crew started making it for women, as well. She added that it sold out quickly last year.
She went on to say that she wears the one she purchased last year so much, she keeps it in her car with her at all times. I've been wearing mine all day/evening and am even tempted to buy another one for when this one eventually wears out. I can tell now this is going to be a favorite that I'm going to want to live in all throughout winter. I love how the back comes down nice and long, it's super flattering. I also so love how the pattern is matched up properly all the way around. I'm a stickler about that. This really feels like a quality piece that I'll enjoy for many years.
Anyway, I just wanted to share it with you now because it's currently on sale, 40% off. I'm sure it won't last long based on what the sales associate said about last year's version. I hope they keep making it in different colors each year, would love that! You'll find it available here: Buffalo Check Shirt-Jacket
The other item I wanted to share are these adorable Red Plaid Duck Boots. I just purchased these after seeing them on my friend, Lynne's Instagram. They are leather so I was surprised that they are only $39.99. I just ordered them a few days ago, so they haven't come, yet. So looking forward to getting them, though! You'll find these here: Plaid Duck Boots
As I come across things I love that could possibly work as Christmas gifts, or are just plain awesome like the shirt-jacket, I'll add them into the posts I publish between now and Christmas. That way if you're interested, you'll still have time to get them before they are gone or no longer on sale. Hope you find it helpful as you complete your last minute Christmas shopping.
Tablescape Thursday
For this week's Tablescape Thursday, I'm sharing links to some previous posts that are buried in the archives, but could prove helpful for this time of year.
Christmas Tree Napkin Fold for Your Christmas Table
Looking for a cute napkin fold for your Christmas table? This one is my favorites for this time of year. You'll find a detailed tutorial here: Christmas Tree Napkin Fold
Easy Centerpiece for Your Entry or Christmas Dinner Table
I love this centerpiece because it takes no more than 10-15 minutes to make, yet makes a beautiful statement in an entry or as a centerpiece on a table. I also like that it's made with simple, every-day elements. See how I made it in this previous post: 15 Minute Holiday Centerpiece
Looking for a something a bit more dramatic for your Christmas table centerpiece? This Colonial Williamsburg-style centerpiece is definitely a showstopper. When I throw a Christmas party, I love to create this centerpiece for my dining room table or sideboard. You'll find a detailed tutorial for making this centerpiece here: Beautiful Colonial Willamsburg Centerpiece
For more information about the exact measurements of the base on which I create this centerpiece, check out this post: Colonial Williamsburg Apple Tree Form: Make Your Own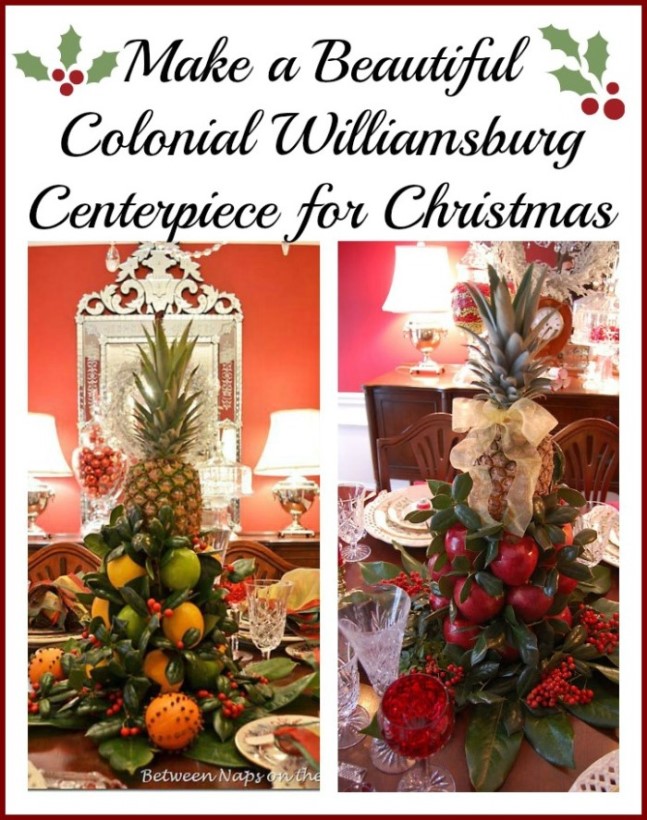 I love creating lighted/lit centerpieces for Christmas tables.
If you've ever wondered how I deal with the lighting, you'll find that information in this post: Create a Lit Centerpiece for a Table Setting
Check out this page for links to more of my Christmas tables and tips: Christmas Dining and Entertaining
Looking forward to the beautiful table settings shared for this week's Tablescape Thursday!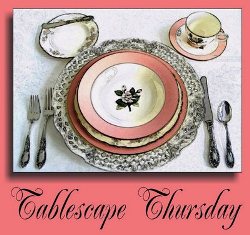 If you are participating in Tablescape Thursday, please be sure to add your permalink below, and not your general blog address.To get your permalink, click on your post name, then copy and paste the address showing in the address bar, into the "url" box when you link up. You'll need to include a link in your post back to the party to link up and participate.
That's so visitors to your blog will be able to find the party and the other Tablescape Thursday participants. Requiring a link back also prevents businesses and scammers from linking up to sell their products. (Yep, that really happens, unfortunately.)

*If a post is sponsored or a product was provided at no charge, it will be stated in post. Some links may be affiliate links and as an Amazon Associate, I may earn from qualifying purchases. *