Back in December 2008, just 3-4 months after I began blogging, I created this Colonial Williamsburg style centerpiece for a Christmas party I had coming up. I also used it for our Christmas table that year. I make this centerpiece almost every Christmas. It has to be my all time favorite Christmas table centerpiece.
Sorry about the awful photography. The camera I was using back in 2008 couldn't handle low lighting and my photo editing skills were pretty awful. All the fruit you see in the centerpiece is real, including the pineapple candle holders. This centerpiece will last around 5-7 days, sometimes longer. It smells wonderful during that time and makes the whole room smell great.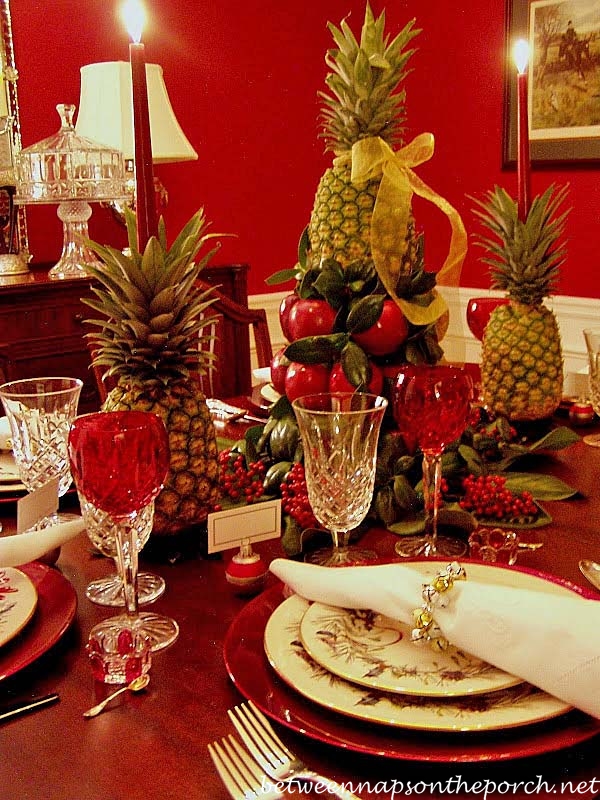 I usually tie a pretty ribbon around the top of the pineapple to finish it off. When my holly bush doesn't have berries, I incorporate berries from my nandina. Love those! Magnolia leaves create a nice finishing touch under the base.
Last year when I made my apple tree, I branched out and made it with lemons and limes. The limes I found were so big, they almost looked like green apples. Several folks asked how this centerpiece was made so I created a full tutorial showing all the steps in detail. You'll find the tutorial here: Make a Colonial Williamsburg Apple Tree Centerpiece for Christmas
The centerpiece starts with this form, given to me 20+ years ago by a friend. I believe she bought it at a craft type market after going on a Christmas home tour, but I'm not sure. You can tell that it is hand-made because the round base isn't completely round. That makes me love it all the more.
Each year when I create this apple tree centerpiece, I receive e-mails from folks asking about the form and where to buy one. I just received one of those emails a few days ago so I thought I'd share all the dimensions of the form, in case you have a crafty woodcutter in your family who can make one for you.
If you don't want to make your own, they used to sell similar forms at the Colonial Williamsburg Marketplace online. I haven't seen them there in a few years, but there are some similar ones on eBay right now.
Out of curiosity, I did a bit of "searching" on eBay and found forms using the following search terms: Apple Tree Form, Apple Form, Apple Cone. They vary a good bit in price since some are new and some are used.
Dimensions to Make Your Own Apple Tree Form:
If you would like to make your own form or know someone who can make one for you, here are the dimensions of the one I use:
The form (from top to bottom) is around 10 inches tall, including the base but not counting the nails that stick out the top.
The round base is 9 inches across.
The cone section is around 9 1/2 inches tall, approximately 2 3/4 inches wide at the top and approximately 5 inches wide at the base. It tapers from its 5-inch base to the 2 3/4 inch wide top.
The nails are spaced out about 1 1/2 inches apart where they stick into the base going around the form. Going from top to bottom, the rows of nails are about 1 1/4 inches apart. The nails, which appear to be "finishing" nails, stick out 1 1/2 inches all the way around.
To see additional photos of the apple tree form and for a detailed tutorial showing how to make the centerpiece, check out this post: Make a Colonial Williamsburg Apple Tree Centerpiece for Christmas
Christmastime in Colonial Williamsburg
Love all the natural Christmas decorations you find when visiting Colonial Williamsburg? Check out this previous post for loads of inspiration: Tour Colonial Williamsburg at Christmastime
*If a post is sponsored or a product was provided at no charge, it will be stated in post. Some links may be affiliate links and as an Amazon Associate, I may earn from qualifying purchases. *