Welcome to the 692nd Tablescape Thursday!
Though Christmas has passed, I couldn't pass up the chance to share three beautiful tables Warren set during the holidays. Warren said, "On 12/17, we held a family celebration of our son-in-law's 60th birthday. (I can hardly believe I am old enough to have a 60-year-old son-in-law!) In honor of his birthday, I set a new tablescape which I called the "Holly Berry.
About a year ago, Kathie found, during one of her shopping forays, this Lenox "holly" 60 x 120″ tablecloth and 10 matching 20″ napkins for under $10. At this price, she couldn't resist, brought her treasure home and told me to use it in a tablescape. (Yes, Dear.)
Since holly and its berries are green and red, I built the tablescape around these colors by alternating green and red water goblets and Lexox holiday flutes accompanied by colorless wine glasses. The 222 Fifth Winter Harmony plates display poinsettias with holly around the perimeter. I hid the poinsettia under the napkins so that only the holly was displayed."
Warren said, "I created my first floating candle centerpiece using a large center vase surrounded by three cylindrical vases. A sprig of holly-bearing berries was added to each vase, which were then filled to 80% capacity with water, Interestingly, this must be done 24 hours in advance because the holly "outgases" and becomes covered in bubbles, which disappear over time.
I also found that illumination from only the floating candles at the tops of the vases leaves the lower portion of the vases dark and the holly difficult to see. Accordingly, I illuminated the bottom of the vases by placing tea light candles around the bottom of the vases. A set of string lights was woven between the vases to provide still more illumination. I surrounded vases with a wreath of holly. All the holly was harvested from the bushes adjacent to our front porch. Kathie likes the centerpiece so much she wants to use it on the coffee table in the great room."
What a beautiful centerpiece Warren created! I've never seen this done with holly–have you? The floating candles are really beautiful! I love it all!
Warren shared another lovely table that he prepared for a special Christmas Eve dinner. Warren said, "Tonight we held our traditional family Christmas Eve celebration with gift-giving via Secret Santa."
"I used the latest iteration of the candy cane tablescape for a scrumptious dinner of two kinds of seafood chowder, seven-layer salad, sweet potato casserole, Cumberland chicken with red currant sauce followed by gingerbread with whipped cream, and angel cheesecake with tart cherry sauce. And of course, much yummy wine."
The menu sounds amazing! I love these whimsical plates depicting Santa in his sleigh with his reindeer. Just beautiful!
Warren carried the candy cane theme right to his napkins with these adorable candy cane napkin rings.
Before the Christmas holidays were gone for another year, Warren set one last beautiful table. Warren said, "After we had the big family Christmas Eve celebration we had a much smaller Christmas Day dinner where Kathie served a rack of lamb."
"I set a new tablescape — The Poinsettia — in which I highlighted the candles I decoupaged for the occasion,"
I remember when Warren decoupaged candles for his Peacock themed table and how beautiful those turned out–this is just as beautiful! If you love the beauty of the peacock, you'll find Warren's peacock-inspired table here: Beautiful Peacock Inspired Table Setting.
Thanks so much to Warren for sharing these three wonderful tables settings that he created for his family during the Christmas holidays. I couldn't pick a favorite–they were all truly beautiful with just the loveliest centerpieces!
Looking forward to all the wonderful table settings linked for this week's Tablescape Thursday!
Did you know Between Naps On The Porch is on Instagram? You'll find me on Instagram here: Between Naps On The Porch.
Like to know when a new blog post is up and available to read? Subscribe for email updates, it's free and your email will never be shared. Subscribe for free post updates via email here: Subscribe for Post Updates.
Tablescape Thursday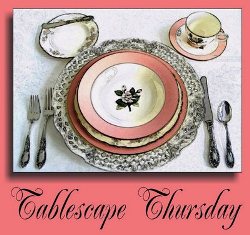 If you are participating in Tablescape Thursday, please be sure to add your permalink below, and not your general blog address. To get your permalink, click on your post name, then copy and paste the address showing in the address bar, into the "url" box when you link up. You'll need to include a link in your post back to the party to link up and participate.
That's so visitors to your blog will be able to find the party and the other Tablescape Thursday participants. Requiring a link back also prevents businesses and scammers from linking up to sell their products. (Yep, that really happens, unfortunately.) If you see a post that's not table-setting related, let me know and I'll remove it.
Please, don't add your post name/blog name ALL IN CAPS…it tends to create big spaces between the rows of links. Please link up table setting or table setting related posts only for Tablescape Thursday.
This party has ended, click button below for the links to all who participated.
*If a post is sponsored or a product was provided at no charge, it will be stated in post. Some links may be affiliate links and as an Amazon Associate, I may earn from qualifying purchases. *