Welcome to the 597th Tablescape Thursday!
Our 600th Tablescape Thursday is just 3 weeks away! Can you believe it? Wow, I wish I could slow down the passage of time, so scary how fast it's going by. Do you feel that way, too?
I finished this table late yesterday evening. The sun was just starting to go down and I caught a little of the Blue Hour. Some of the photos in this post were taken last night and others were taken this morning. You'll easily be able to tell which were taken this morning because the colors are much more vibrant and look the way they do in person. Amazing the difference natural lighting can make!
A photo from this morning…
As you can tell, I have a serious case of spring fever! The daffodils are all up and in full bloom here and the birds are active and singing. Spring is very much in the air. I think I'll go ahead and replace the header across the top of the blog today with the spring/summer header.
If it's not yet spring in your neck of the woods, take heart! It will be soon! In the meantime, I'll give you a big dose of spring with today's tablescape.
Another photo from last night…
A sweet bunny is holding up our dessert, a cake from the Publix Bakery.
The large bunny cake pedestal in the center of the table came from HomeGoods. A similar one is available here: Bunny Cake Stand. Here's another one to consider: Bunny Cake Stand.
I placed Mr. Bunny atop a regular cake platter/pedestal for a little extra height. The flowers underneath the bottom of the cake stand are actually hydrangea napkin rings. I have 8 and they were just enough to completely encircle the cake pedestal.
You may remember them from this previous spring table setting. (View this tablescape in full here: Spring Table Setting with Sweet Bath's Pink Dianthus.)
The bunny cupcake stands were a find in Pottery Barn many years ago. They are no longer available, but I found some that are very similar here: Bunny Cupcake Stands.
I baked these little cupcakes yesterday afternoon.
This was the mix and icing I used to make the cupcakes. When you take a bite, it's like a party inside! Ha! So ya know how sometimes cupcakes don't look that pretty when displayed in the paper cup they were baked in? The paper baking cup always starts out really bright and colorful but ends up darkening in the oven. Plus, the cupcake shows through, darkening the paper cup even more. I wanted the cupcakes to look pretty in this table setting so I baked them in the pink, polka-dot cups, then placed them (still inside the polka-dot cups) into the tulip cups afterward.
When it came time to ice them, I used a regular icing tip with plans to make swirls on top. I was not impressed with how that was looking! Looks like a pink snake curled up on top of our cupcakes.
I changed out my icing tip from the one on the right, to the one on the left.
Here's how that tip worked out. Much better! The design looks like flowers which works great for this spring table setting.
The salad plates for this table are from Pier 1 either last year or the year before. I think last year but my years all run together, so hard to remember now.
I brought out my Kim Parker, "Emma's Garden" chargers for this springtime table setting. They were a find in Marshall's many years ago. Green bamboo flatware works well with the colors in the chargers, the salad plates, and the glassware.
This table is all about bunnies and flowers!
I think I found the green stemware in HomeGoods many years ago. The clear tea/water glasses are Breeze Clear by Noritake. They are currently on sale here: Breeze Clear.
Hope you enjoyed this springtime table setting! Now we just need some leaves on the trees and spring will really be here!
Looking forward to all the beautiful tables linked for this week's Tablescape Thursday!
Pssst: Did you know Between Naps On The Porch is on Instagram? You'll find me on Instagram here: Between Naps On The Porch.
Like to know when a new blog post is up and available to read? Subscribe for email updates, it's free and your email will never be shared. Subscribe for free post updates via email here: Subscribe.
Tablescape Thursday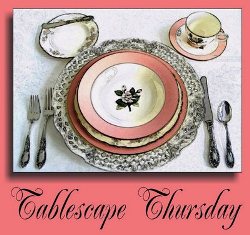 If you are participating in Tablescape Thursday, please be sure to add your permalink below, and not your general blog address. To get your permalink, click on your post name, then copy and paste the address showing in the address bar, into the "url" box when you link up.
You'll need to include a link in your post back to the party to link up and participate. That's so visitors to your blog will be able to find the party and the other Tablescape Thursday participants. Requiring a link back also prevents scammers from linking up to sell their products. Please let me know if you click on a link and find it isn't a tablescape or table related so I can remove it.
This party has ended, click button below for the links to all who participated.
*If a post is sponsored or a product was provided at no charge, it will be stated in post. Some links may be affiliate links and as an Amazon Associate, I may earn from qualifying purchases. *