I've received a few comments asking if I would share what I will be wearing during my upcoming trip to Germany. I'll be packing the usual suspects: pants, sweaters, turtlenecks, scarves and boots, but I'm finding packing for this trip a lot more challenging.
The problem is sweaters are really fat and fluffy, so they take up a lot of space. But I love sweaters so I'm determined to take several, even if I have to sit on my suitcase to get it closed. The good thing is, sweaters don't weigh very much so I don't have to worry about the suitcase being over the weight limit.
Below you'll find a few of the clothes I hope to take to stay warm in while in Germany, although there may be some last minute additions and subtractions as I begin packing.
Warning: If you're offended by travelers who check a large suitcase when traveling, you may want to skip this post because I don't pack light. After trips to 7 different countries over the past 2 years, I feel like I have a pretty good handle now on what works best for my needs when traveling.
If an item is still available, I'll link out to it. If I can't locate it, I'll link to the store where I purchased it and/or another item that's similar. Some things I've had for a few years, so the exact same item may no longer be available.
Remember this sweater shared in a post recently?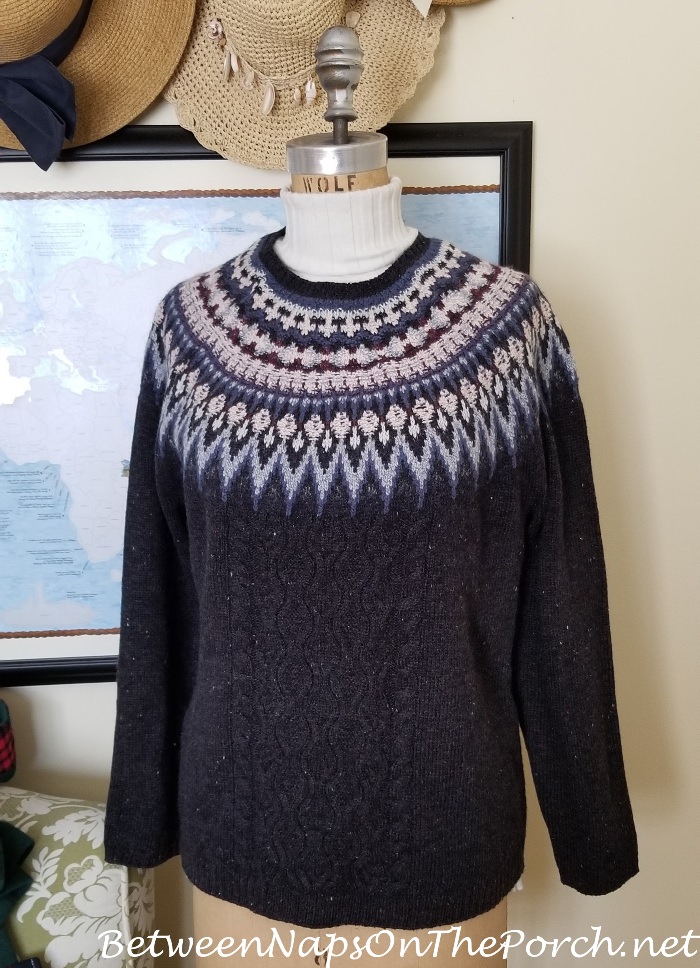 It will make the trip and I've paired it with black jeans/jeggings (looks good with dark blue jeggings, too) an ivory turtleneck and my favorite waterproof boots for travel. They saved me during the monsoons I encountered in Italy and since then they go with me on every trip, no matter the time of year. They are so comfortable, I've bought them in four different colors. I recommend buying them a half-size up if you wear fairly thick socks. I always buy them 1/2 size up and that works great.
Sweater looks great with jeggings and I love how it looks and feels on.
I just purchased this top from Orvis recently and I do love it. It comes in a bunch of different colors. I'm taking two scarves on this trip: 1 red and 1 plaid. I think they will see a lot of wear on this trip!
Source: Shirt/Black Jeans/Scarf.
Turtleneck is available here: Turtleneck.
Unfortunately, this L.L. Bean sweater is no longer available. I keep hoping they will restock their sold out items, but that doesn't seem to be happening. Does L.L. Bean ever do that? I've never shopped with them a lot until this year, so not sure.
I'm not sure if I'll take these duck boots along, but I am going to take at least one pair of duck boots since they are great for snowy/messy conditions.
Find these here: Boots/Jeans/Turtleneck.
Just recently purchased this sweater and I absolutely love it! I couldn't wait for the trip and have already worn it twice. It's comfortable and looks great with or without a shirt underneath. It would look great with any of the boots below.
I'm not sure if I'll take white jeans or not. I know a lot of folks are wearing white jeans in the winter now. I see them for sale in all the stores during the winter. If I don't wear the sweater with white jeans, I'll probably wear it with black jeans. I have it paired with both below.
Black Boots/Sweater/Jeans/Turtleneck/Brown Boots/Similar Buffalo Plaid Boots.
I love Barbour and was so excited to find this sweater by them. Though wool, it's incredibly soft and not heavy at all. I ordered it in my usual size and that worked great. It's designed to be loose and roomy. I have been wearing it with blue jeggings, but it looks great with white jeggings or jeans, too.
Find these here: Sweater/Similar Boots/Jeans
This is my first cashmere turtleneck and it feels luxurious. I saw them at the Ralph Lauren site, but the price was more than what I wanted to pay. Was thrilled to find this one on sale here for a much better price: Sweater. I'm thinking of pairing it with these heavy-weight, navy and red plaid slim-legged pants purchased at Talbots last winter.
I shared this sweater a while back. Every single time I wear this sweater, total strangers stop me with compliments and to ask where I found it.
I usually pair it with a red plaid flannel shirt. Find these here: Sweater/Flannel Shirt and Flannel Shirt/Scarf.
It's a Boy's size Large. I've discovered I can wear Boy's Large and Extra Large at the Ralph Lauren website. Save a lot of $ that way, too! 🙂
This is another Boy's sweater, only in this style I took the XL size.
I normally wear it with jeans and either a winter-white turtleneck or a plaid, flannel shirt. I think it will be perfect for this trip. I don't think the sweater is still available but if it is, it came from here: Sweater/Jeans/Flannel Shirt.
I just purchased this shirt when it was on sale…again it's a Boy's XL and fits great! For reference, I normally wear a size 6 shirt and either a Small or Medium sweater, depending on the brand and style sweater.
It's much prettier in person than my photo shows. I love plaid so it was calling my name. I will wear it under my black, L.L. Bean Fisherman's sweater with black jeans, if it goes on the trip.
Find these here: Jeans/ Sweater/Similar Shirt/ Scarf
I shared this top in an earlier post. It's fleece, but the fleece is on the inside. Love that!
It looks great with blue denim and the large front pocket works great for stashing away keys and sunglasses when you run into the grocery store.
Find these here: Jeans/Sweater/Boots
I just purchased these a couple of days ago and they arrived today. I thought they would work well under heavy sweaters and not be too bulky, especially when wearing a down coat. They are available here: Turtleneck Bodysuit
Another item that will be making the trip are these fleece lined tights. I've been wearing them under my jeans and jeggings for the past month and love them. They are incredibly warm. You'll find them here: Tights.
Update: I just tried these tights and like them even better than the ones above. The waist is a bit tighter so they stay up better. You'll find the tighter ones here: Tights.
Of course, I'll be taking along the down coat I just purchased. You can read more about it in this post: Down Parka for Very Cold Weather.
Coat is available here: Hooded Down Parka.
Update: Didn't take this coat afterall because Germany was having unseasonably warm weather in the 50's so no need for a really warm coat on this trip.
I think it will look cute paired with my heritage check scarf that I blogged about here: Burberry Scarf: Fake vs Real and How to Avoid Getting Scammed.
Scarf is available here and it appears they are still offering free monogramming on all their scarves: Check Scarf.
So those are some of the items that will probably make the trip to Germany, if I can squeeze the fluffy sweaters inside my suitcase. There will be one more post from home, then after that you'll be touring Germany with me. I can't wait to take you to there at Christmastime! Don't forget your snow boots and long underwear! 😉
I'll be sharing photos on Instagram each day, so if you're not already following BNOTP on Instagram, you can do that here: Between Naps On The Porch on Instagram. If you would like to subscribe for email updates that let you know when a new post is up here on the blog (it's free!) you can do that here: Subscribe for Post Updates.
Planning a trip sometime soon? Check out this previous post for items that always take without fail when I travel: 5 Items I Always Take When Traveling Internationally.
*This post contains affiliate links for some items.*
*If a post is sponsored or a product was provided at no charge, it will be stated in post. Some links may be affiliate links and as an Amazon Associate, I may earn from qualifying purchases. *