Welcome to the 463rd Metamorphosis Monday!
This has been such a wacky morning. When I "woke-up" my computer today to complete my post for Met Monday, the "Caps Lock" button was stuck in the "on" position. The key itself wasn't physically stuck down, but it was showing a little green light indicating the caps lock was on, and no matter what I did, it wouldn't turn off. Can you imagine me typing out and publishing an entire blog post all in caps?! Ha!
I decided to reboot my computer in hopes that would fix it. While the computer was rebooting, I ran downstairs to pop some cinnamon rolls into the oven. I thought I'd get those baking while I was working. After I had all the cinnamon rolls out of the can and onto the cookie sheet, I noticed mold spots on the inside of the can. Ummm. I had just purchased the cinnamon rolls about a week ago. I looked at the end of the can and it showed the "best used by" date as November 2017. Okay, skip that idea…back to work for me.
Back at my compute the Caps Lock light was finally off, thank goodness! I started typing out my post and just as I began to load the photos into my post, everything froze. I discovered my internet connection was gone. After rebooting the computer and the modem, everything seems to be working for now. I WILL get this post done–hear that universe! You tried to poison me this morning, but I foiled your plan! Bwaaaaaaa
So let's see, where was I before the crazy stuff started. Oh yeah, I have something kinda neat to share for Metamorphosis Monday that I hope you'll find helpful. I love me some sweaters! When I was in Ireland earlier this year, I purchased two wool sweaters as seen in this post: Answering Your Questions and What I Brought Home From Ireland.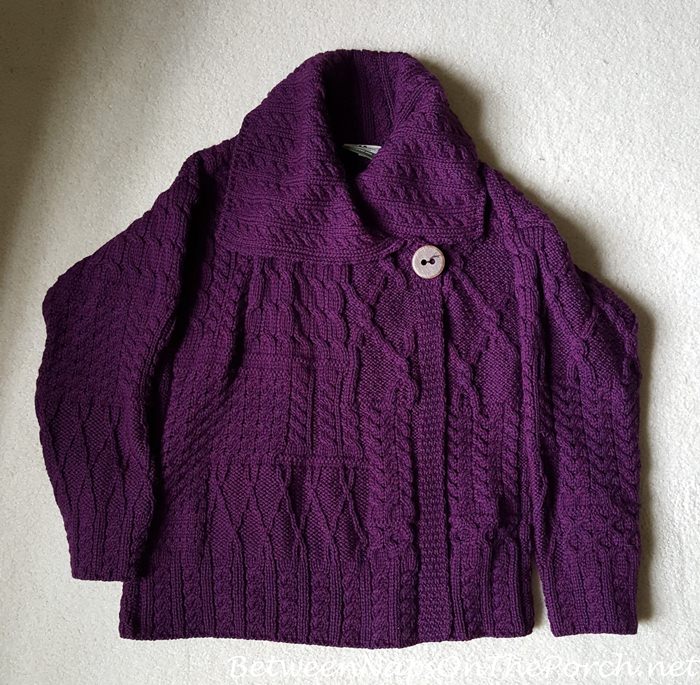 They aren't the pullover type, but more of a cardigan style. I've been on a wardrobe and closet re-organization kick lately and I've been having trouble deciding just how to store these.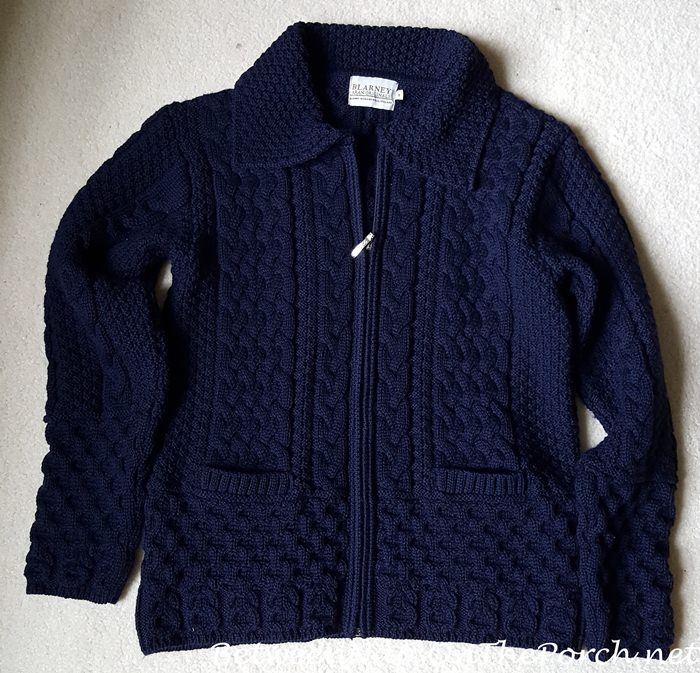 I like to fold my regular, pullover sweaters as seen in this photo below. By the way, I've been moving a few thing around since I last shared photos of this closet.
I was storing handbags on the shelf in this closet but decided I'd rather keep sweaters in here since this closet holds all my winter clothing like flannel shirts, boots, etc… That way when I get dressed in the morning, I'll have everything I need right at hand.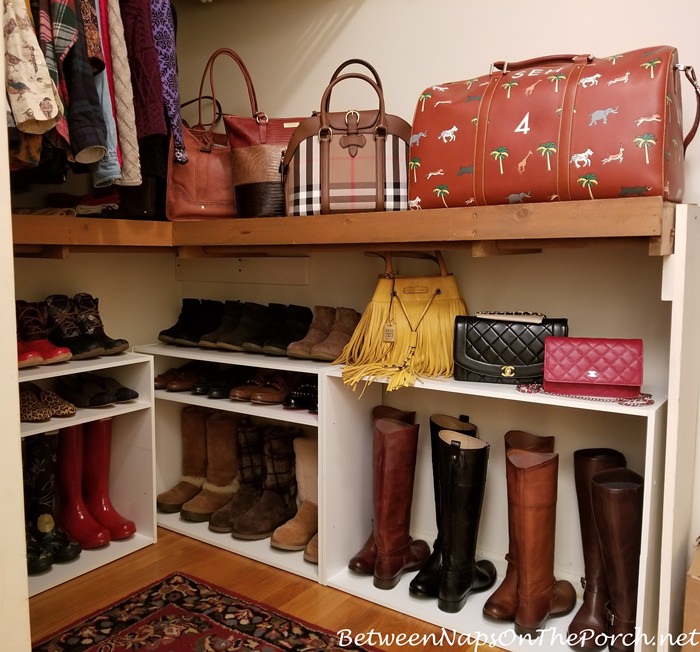 So the sweaters came to live here on this shelf, while the handbags are now on the top shelf of another closet where the sweaters had been. I can reach them much easier here, which makes more sense since I wear a different sweater every day but only change out my handbag occasionally.
So back to the problem of how best to store my cardigans: my shirts hang on wooden hangers purchased from Ikea, and if you look there toward the end on the right side, you can see that's how I was storing my Ireland sweaters and a few other cardigan sweaters that I've had for years. The problem with this was the wood hangers, though nice and wide unlike wire hangers, still had a tendency to leave bumps in the shoulders of the cardigan sweaters.
I tried folding them, but that was a pain since I typically wear and store them unbuttoned. I don't want to have to button them from top to bottom after I wear them, just so I can fold and store them. So I went in search of a better hanger for my cardigan style sweaters.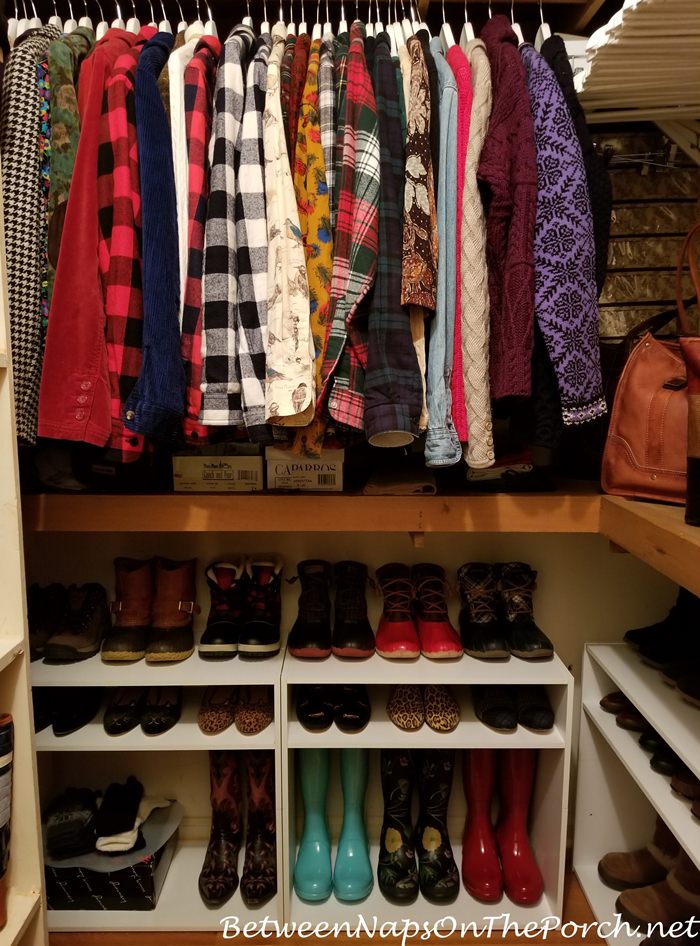 That led me to these. They are flexible hangers designed for holding sweaters without giving them bumps in the shoulders. They are available here: Flexible Hangers. Update: They are also available here: Hangers.
I ordered a set and liked them so much, I've ordered a second set. The second set will arrive today. I've got my snack bar out and ready. (If you're not sure what I'm talking about, check out this post: Snack Bin/Bar.) Anyone who makes it across the 8 inches of snow in my front yard or down the snow/icy walkway will need the sustenance to make it back to their car! It's definitely a challenge to deliver anything right now!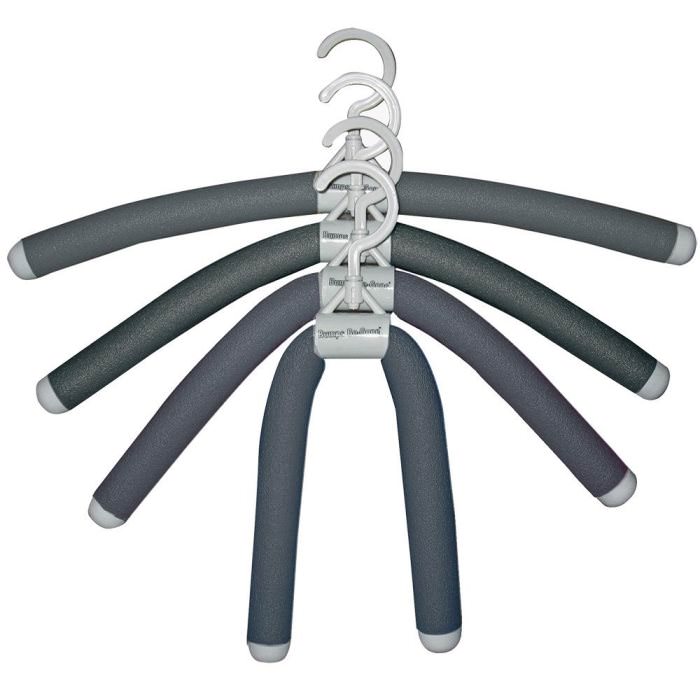 So here's how they look supporting four cardigan sweaters. They are very easy to bend down to the shape you need. Because they are a dense foam (or whatever that stuff is) the sweaters stay in place and don't slide off.
Here's a closer view of the hangers and how I have them bent to hold my cardigans. This is such a genius idea! Wish I had thought of it!
If you've been looking for better hangers for your cardigans, ones that won't cause bumps in the shoulders, you'll find these here: Sweater Hangers. Update: They are also available here: Hangers.
They would also make a great stocking stuffer or gift for anyone who wears sweaters. So far, I'm very pleased with how they've worked for my sweaters.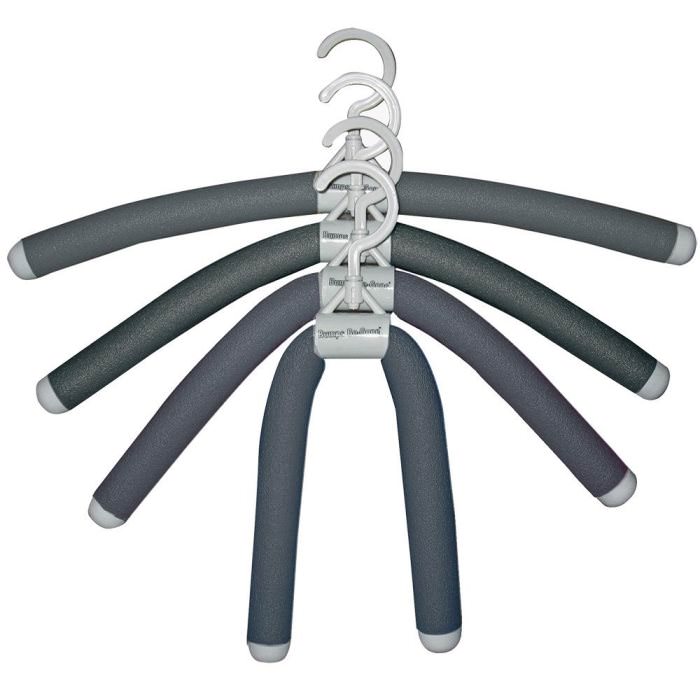 Pssst: I post almost daily to Instagram. Follow Between Naps on the Porch on Instagram here: Between Naps On The Porch. If you enjoyed this post, subscribe for free email updates when a new post is up here: Subscribe for post updates.
*This post contains affiliate links*
Metamorphosis Monday
Metamorphosis Monday is a party that's all about Before and Afters. If you are participating in Met Monday, please link up using the "permalink" to your MM post and not your general blog address.
To get your permalink, click on your post name, then just copy and paste the address that shows up in the address bar at the top of your blog, into the "url" box for InLinkz.
In order to link up, you'll need to include a link in your MM post back to the party so the other participants will have an opportunity to receive visits from your wonderful blog readers.
Please observe these few rules:
Please link up Before and After posts that are home, gardening, decorating, crafting, painting, sewing, cooking, fashion or DIY related.
Be sure to include a link back to the party in your post, so your readers will be able to find and visit the other bloggers who are participating.
Do not link up to the party if you're doing so to promote or sell a product.
To those who are linking up: If you notice a shop or store linking up to sell products (yes, unfortunately, that does happen) please let me know so I can remove their link from the party. No one wants to click a link expecting a Before and After, only to find a spam link to an online business/store.
*If a post is sponsored or a product was provided at no charge, it will be stated in post. Some links may be affiliate links and as an Amazon Associate, I may earn from qualifying purchases. *